10 Things to Do in Benidorm at Night
Benidorm is a tourist destination that is internationally known for the night activities it offers. For this reason I will tell you about some of the things you have to entertain yourself after sunset in this beautiful city.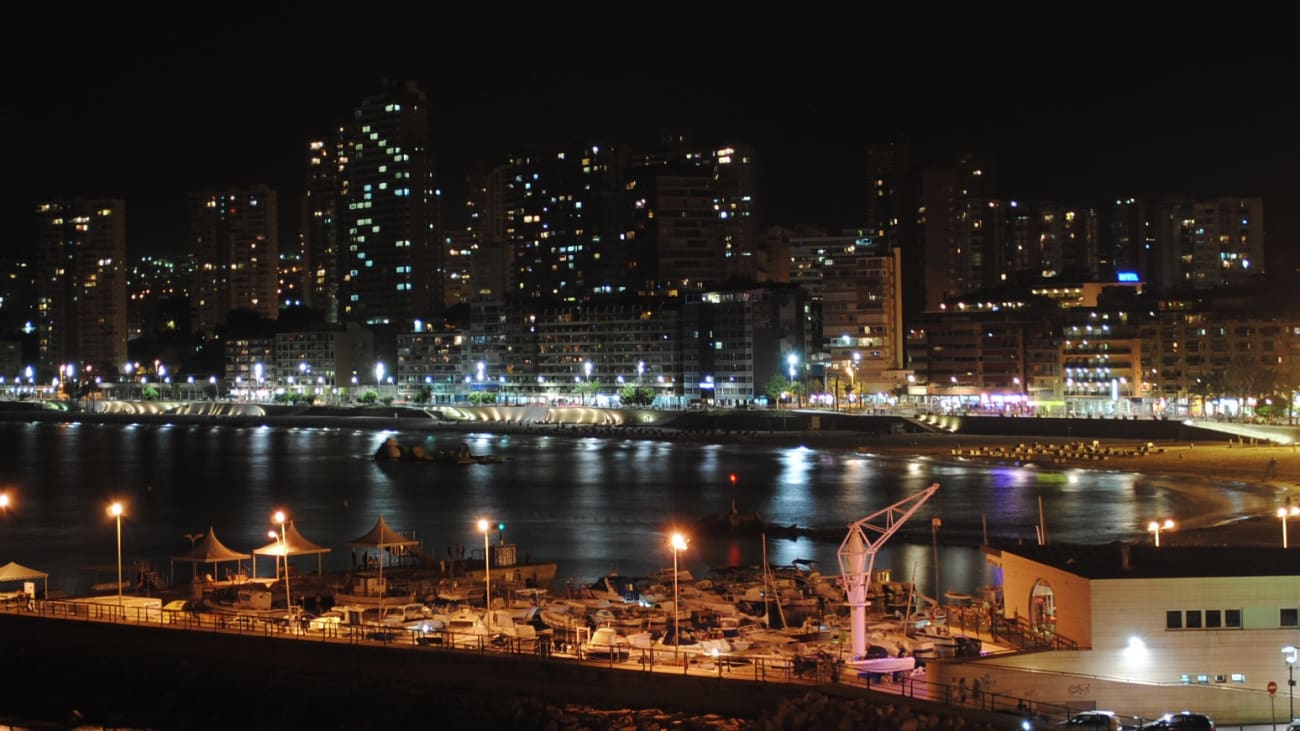 The plans to see and do in Benidorm do not end just because the sun stops shining in the sky. And it is in a city that has one of the most lively party scenes in Spain. In fact, for many tourists partying in a place like this is comparable to the experience of being in Ibiza in summer and visiting Rio de Janeiro during Carnival.
Taking that into account I invite you to continue reading this publication in which I tell you about what are the most interesting places in this city when it comes to looking for plans and activities to do during the night. Of course, always in a safe and entertaining way.
1. Party in the nightclubs of the national road
Benidorm is a community where all types of experiences you can imagine have a place and respect when it comes to celebrating the night in town. That has allowed the development of mythical places that are a must for the one who is having a three-day trip to Benidorm as well as for those who plan to spend the whole season in the city.
The section of the big discotheques located on the national road is one of these places and basically it is the favorite place to continue the party until dawn.
In this place there are several establishments that year after year accumulate thousands of visitors for the quality of their music, for their excellent atmosphere or for the security that they offer to their visitors to have fun without ties and without dangers. Penelope, Manssion and The Tropical House are just some of these establishments, but especially relevant are the after hours clubs that allow you to dance until after 6 a.m.
Keep in mind that this is a plan that you will share with a relatively young audience, because people who are interested in extending a night out are usually college students or those who are in their early adulthood. Therefore, an excellent way to attract the adrenaline of young people from the morning or afternoon could be your participation in one of the jet ski tours along the coast of Benidorm.
2. The Benidorm Palace is another place not to be missed
If I talk about mythical establishments within the nightlife in Benidorm and that have become an activity worth enjoying then you can not miss the Benidorm Palace. It is an iconic place in the world of cabaret in this famous city. For more than four decades it has become a reference of what can be live shows in a tourist destination in the Spanish Mediterranean.
It is a place that I recommend you to visit if you feel like enjoying a good dinner with a show included. And it is that during all the nights that this establishment remains open there are different spectacles among which the shows of vedettes stand out. Dance shows, live music and even shows specialized in magic and humor are another of the great attractions of this place.
Keep in mind that this is a site oriented exclusively to adult audiences. For this reason it is a good idea to participate in an activity such as boat rides in Benidorm during the afternoon in case you are traveling with children and you are going to feel a bit bad about making separate plans during the night.
3. Walk around the old town for a drink
The modernity of Benidorm with its hundreds of skyscrapers might lead you to believe that it is a city that does not have an old town. However, this is one of the most interesting areas of the whole town and there is no doubt that touring the area is one of the best things to do at night. Whether you are traveling with your family or you want to enjoy a stroll among adults.
The area itself is quite attractive from a tourist point of view, as it is the typical narrow cobblestone streets that characterize many Mediterranean cities like Benidorm. However, touring the area in search of partying means that you can go from bar to bar and pub to pub. Among them, those located in the street of the cats stand out with special relevance.
Marrs Bar, Bar 69 and El Callejón are some of the mythical establishments in this neighborhood. At night you can not miss the opportunity to observe the church of San Jaime or enjoy panoramic views of the bay from the Carrer del Metge Don Cosme Bayona.
Pub La Sal is a good alternative if you are looking for Spanish music and a visit to all these places is certainly part of the best things to do in Benidorm in August. In fact, a bike tour around Benidorm is a good alternative if you want to see the area during the day from a different perspective.
4. Do not hesitate to visit the Mediterranean Casino in Benidorm
The activities to do in Benidorm at night do not only have to do with touring its areas with the largest number of bars or with its best party atmosphere. The truth is that there are specific establishments that are an attraction of the city by themselves. The Benidorm Casino fits this description perfectly and its strategic location within the Rincón de Loix neighborhood makes it a place you cannot miss in this city.
The exact name of this place is Casino Mediterráneo de Benidorm and despite being a relatively new establishment it has become the favorite place for sports fans and true lovers of gambling. On its first floor you will find an infinity of televisions that make it the ideal place to enjoy sporting events at night or if you want to play a little of your luck you could also participate in sports betting.
On the second floor of the site are also organized tournaments of some of the typical games of chance such as poker or Twenty One Black Jack. In addition, there is an exhibition full of works by local artists that can be very interesting for those who do not wish to gamble, but are looking to admire a bit of Benidorm's culture.
As it is an evening activity it can be something to do after one of the best excursions from Benidorm. Especially if it is a hiking excursion to the nearby nature reserve of the Sierra Helada.
5. Take a tour of the guiris' area
The British public is one of the most profitable sectors for tourism in some Spanish cities such as Ibiza or Benidorm. In turn, visitors from the UK are known as guiris and their presence is so significant in Benidorm that they have their own party areas. Which stand out for an atmosphere that is designed to please and attract this type of tourist.
Therefore, if you want to witness the style of night that the British seek to live in their long summer vacation or spring break in Benidorm you can not miss the guiris area. This basically extends along the streets Gerona, Lepanto and Mallorca. Of the most famous bars I can highlight Jocker's and Red Dog and both are characterized by a predominantly carnival atmosphere.
So when visiting this area during the night will not be too complicated to find people with costumes, feathers and cowboy hats. In addition, all this is accompanied by attractions such as mechanical bulls or old record players inside this type of establishments.
If you want to get to know other great interests of British tourism in the city then you can not miss some of the best water parks in Benidorm. This is definitely a good plan for the next day and for the whole family.
6. Take the opportunity to see a flamenco show
Although Benidorm is a Valencian city located on the Costa Blanca and does not have much cultural connection with flamenco, it is true that this type of shows have become an important part of the things to see and do at night in this city. This is motivated by the large number of foreign tourists who come to this destination looking to know the most important aspects of the Spanish identity.
Exactly for that reason you can not fail to take advantage of this type of shows and there are different places in the city in which you could do it in a comfortable and safe way. Most of them are located in the surroundings of the old town of Benidorm and among all the establishments that I can recommend you stood out in the Taberna Andaluza located in Esperanto street. This is due to the fact that they regularly organize flamenco shows even when it is not the summer tourist season.
Keep in mind that this type of event is one of the few things you can do in Benidorm with children at night that involve a visit to a commercial establishment. At the same time, if you are left wanting to explore other places that offer you an authentic experience then you can't miss the nearby town of Guadalest with a short day trip from Benidorm.
7. Experience the LGBT party Benidorm style
In Benidorm there is room for all types of experiences and for the most diverse communities you can imagine. Exactly for this reason it has become a very important destination when it comes to live the LGBT night in the tourist destinations of the Costa Blanca. So it is recommended that you take the opportunity to meet such establishments when you are in this city after sunset.
Most of them are located in the old town and in fact this area can be considered as the gay area par excellence of the city, as there are more than 30 bars focused on this type of parties in the area. I can advise you to opt for those that offer you a casual drink if you are not very interested in a full and hard night out without a doubt the Drags Queens shows is another thing you should not miss.
Brief Encounter, People Disco Pub and Sensations are just some of the establishments you should visit. At the same time, you have to know that Benidorm gay pride is celebrated after August and just for this reason a visit to this kind of establishments can be one of the best things to do in Benidorm on a trip during the month of September.
8. Have a night walk along the Levante and Poniente beaches
There are times when after a day too exhausting for a considerable physical wear only a small walk outdoors to clear the mind and recharge energy is sought. This to give it all the next day, which would be filled with another bunch of tourist activities. If this is the case then an evening stroll along the Levante and Poniente beaches becomes one of the best things to do in Benidorm during the night.
These two sites are the kilometer-long beaches that stretch along the bay of this city and are divided in the middle by the oldest section of Benidorm. In this part stands out the famous viewpoint of the Balcon del Mediterraneo, which has panoramic views of the entire region.
Keep in mind that in Poniente you will find a much more familiar atmosphere with fewer people and its modern promenade will allow you to enjoy the night in all its splendor. At the same time in Levante you will get very close to the epicenter of the English party in the city and in any case, walking along both promenades is one of the best activities to do in Benidorm.
9. Enjoy a dinner with an authentic Valencian paella
As Benidorm is a city within the Valencian community, one of the best night plans is the possibility of having an authentic paella dinner in the best style of this Spanish region. Throughout the city you will find dozens of restaurants dedicated to the Iberian gastronomy, however, there is a list of very modest establishments, but with a significant quality in their products that will make you live an excellent dining experience.
El Bar Cofradía in the city center, the Marisquería Córdoba which is also in the same area, the Restaurant Aitona and El Pescaito are some of these places worth visiting. I advise you to visit these places after participating in some of the best kayaking activities in Benidorm, as you will have enough appetite to properly enjoy such a hearty meal as paella.
At the same time, if you are left wanting to further explore the origins of this famous dish of the Spanish culinary world then don't hesitate to go for a day trip to Valencia from Benidorm. It is something that will also be worth it for the beauty so characteristic of that city.
10. Don't hesitate to enjoy a festival if your visit coincides with it
Benidorm is a place that has absolutely everything to do with the world of summer vacations and with the multitudinous events that are celebrated in this season of the year. For this reason to participate in the festivals that are organized in this city is something you can not miss for the nights of the trip if your visit coincides with the organization of these events.
Among the different festivals that I can highlight is the Low Festival which has a repertoire of artists who are mainly British bands. There is also the Benidorm Sound that has a slightly more varied musical repertoire and stands out with special relevance the famous Reggaeton Beach Festival. All these take place in summer dates, such as the end of July or mid-September.