Casa Batlló Tickets and Tours in Barcelona
Barcelona would not be Barcelona without its Casa Batlló: don't just admire the façade and marvel at the interior of this Gaudí's jewel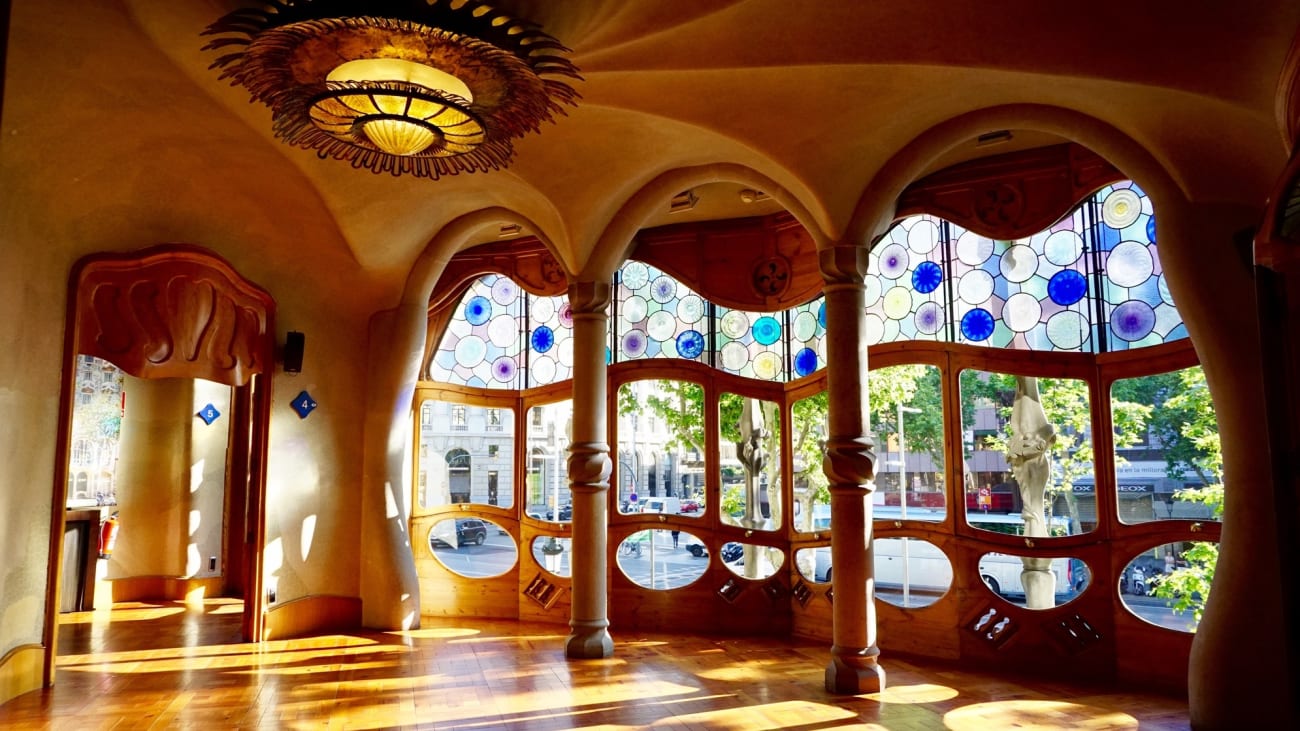 The Batllós, another of the great Catalan bourgeoisie families of Gaudí's time, commissioned the architect to renovate an old building on Passeig de Gràcia and thus was born what we know today as Casa Batlló.
1. Tickets and guided visit to Casa Batlló
2. Tickets to Casa Batlló with audioguide (Early Bird option)
When it comes to going to either of the two residential buildings designed by Gaudí, whether it's Casa Batlló or La Pedrera, the time you choose on your ticket makes the difference between a memorable experience and a visit to a more crowded attraction.
With these Early Bird tickets to Casa Batlló, you can enter first thing in the morning and tour it at your leisure with an audio guide narration. The great advantage of these tickets is that you avoid the hustle and bustle of tourists and the bustle of Passeig de Gràcia the rest of the day, and you can enjoy the rooms of the building at your own pace and with natural light.
Casa Batlló is full of small details and plastic forms designed by Gaudí in his iconic style, and you can even find some furniture designed by the architect on the main floor. During your visit, you'll see the beautiful interior courtyard flooded with natural light that reflects the bluish tones of the interior, and climb to the rooftop to get a close-up view of the tile-covered structures and observe Passeig de Gràcia from above.
Duration: 2 hours.
Recommended: If you've already seen La Pedrera and want to explore another of Gaudí's iconic buildings.
3. Tour of La Pedrera and Casa Batlló
Visiting Casa Batlló without going to La Pedrera is like going to Figueras and not entering the Dalí Museum. Therefore, combining two of Barcelona's most important buildings in one visit makes this half-day tour a very interesting experience.
In addition to the complete tour of La Pedrera and Casa Batlló in which you will visit his residences, corridors, rooftop, and courtyard, as well as the museum dedicated to Gaudí, you will discover another of his emblematic works, Casa Batlló, located in the so-called Manzana de la Discordia, known by this name because in it you can find buildings of other modernist artists such as the Amatller house by Josep Puig i Cadafalch or the Lleó Morera House, work of Lluís Domènech i Montaner.
Casa Batlló is different from La Pedrera in the sense that it is not a building designed and built by Gaudí, but a remodeling of an existing building in which the architect added the façade, modified the interior courtyard, created its iconic rooftop, and included all kinds of jaw-dropping decorations. The advantage of this tour: you won't wait in line at any of the entrances.
Once inside Casa Batlló, you will be able to marvel at its exquisite interiors, its winding staircases, and the main floor where you can appreciate an infinite number of details created by Gaudí to the delight of, originally, its residents.
Duration: 3 hours 30 minutes.
Recommended: If you have already been to Barcelona, or if you will be in the city for more than a week.
Alex's Traveller Tip

Start your visit to Casa Batlló by taking the elevator up to the rooftop and touring the house from top to bottom, which will save you from crowds of tourists.
4. About the entrances to Casa Batlló
When you book your ticket to Casa Batlló you will receive a confirmation email that you can print or show directly at the ticket office. With the tickets to Casa Batlló, as with La Pedrera, it is essential to buy them in advance to avoid waiting in not one, but two lines to buy your tickets at the box office and then enter the building.
Both the Early Bird ticket and the combined ticket for Casa Batlló and La Pedrera that I recommend above, have no queues, something that is definitely worth it to get more out of your trip without unnecessary waiting. In addition, if you go during the week, you are assured to find fewer crowds in any of the two attractions.
5. Get everything ready for your visit to Casa Batlló
How to get to Casa Batlló
Casa Batlló is located at Passeig de Gràcia, 43, just a few blocks from La Pedrera. To get there by metro, the best way is to go to Passeig de Gràcia station on lines 2, 3, and 4, take the RENFE to Passeig de Gràcia or go by buses 7, 22, 24, H10, and V15.
Days and opening hours of Casa Batlló
Casa Batlló is open from Wednesday to Sunday from 10:00 am to 5:00 pm, and the last entry time is at 4:00 pm. A typical visit to Casa Batlló lasts about one hour, although I recommend you calculate at least half an hour more to explore it quietly and be able to stop at the rooftop and marvel at its structures and decorations.
Where to eat near Casa Batlló
As in my guide to La Pedrera, these are what in my opinion are the two best restaurants in the l'Eixample area:
El Principal de l'Eixample, a restaurant with an interior courtyard to fall in love with and market cuisine with typically Catalan dishes with a modern twist. It won't be cheap, but rather than pay a fortune in a dodgy restaurant for tourists, I wouldn't think twice about paying the same but eating at El Principal.
La Pepita, a place for tapas and sandwiches but very well presented and elaborated, perfect if you don't want to break the bank on a proper meal and prefer to have a yummy snack and continue exploring Barcelona.
6. Practical information to visit Casa Batlló
Casa Batlló has an impressive elevator from the modernist period that encloses a travel hack inside: if you start your visit by taking it up to the roof, and then make the tour of the house from top to bottom, you will have the rooftop all to yourself for a while and you will also encounter far fewer tourists during your tour.
Inside Casa Batlló there is a gift and souvenir store but it always has a long queue...and overpriced prices. In my opinion, it's not worth wasting time on your trip to Barcelona to go inside the store, as you can find most of the prints in other stores or even online.
Like La Pedrera, Casa Batllo also offers night tours and rooftop concerts on certain nights of the year. Tickets are a little hard to come by as they won't always coincide with your travel dates, but it might be worth booking if you're really interested in the experience.
Inside Casa Batlló there is WiFi, so if you need to plan the rest of the day you can connect to their network for whatever you need. But do it after the visit, don't even think about going with your eyes glued to your cell phone while you're there!
What to see inside Casa Batlló
You should keep an eye open for the most photogenic spots in Casa Batlló. If you're on the hunt for the corners that are going to look the best on your Instagram feed, take note:
The rooftop: the textures of the marbles and the sinuous dragon-tail shapes of the rooftop of Casa Batlló are a marvel.
The interior courtyard: the bluish tones of its cladding are perfect for a blue-centric feed.
The living room on the main floor: whether for its diaphanous space or for the swirl from which the ceiling lamp hangs, you'll find plenty of details to take pictures of.
The attic: its beautiful pure white arches are a fantasy for the eye and for the lens of your cell phone.
7. Other visits that may interest you
If you have to choose between La Pedrera or Casa Batlló, I would definitely recommend the former. To help you organize your visit, you can read my :La Pedrera Tickets and Tours guide, where you will find how to get the best tickets and practical tips that will be very useful.
Anyone in Barcelona will tell you that it is essential to visit the Sagrada Familia. In this guide from Sagrada Familia - Skip The Line Tickets you will find tips and tricks to visit it like a local. I also recommend you not to miss Park Güell, and if you are looking for how to get your tickets and some tips to visit it, check out my guide to Park Güell Tickets and Tours where I tell you everything you need to know.
Do you love soccer? And even more, are you a Barça fan? Then head over to my guide to Camp Nou Experience Tickets where I give you all the tricks to get the best tickets and visit the FC Barcelona stadium and museum.
Frequently asked questions
Is Casa Batlló a museum?

Casa Batlló, originally built by the world famous architect Antoni Gaudí to be used as a house, is now a visitable building that showcases the style of the artist and forms part of what is known as the "Block of Discord", a row of houses that exemplify the Catalan Modernism.

Is it worth it to visit Casa Batlló over other landmarks?

It depends on the length of your stay in Barcelona. If you are only going to stay for a couple days, our recommendation is to skip it and explore other landmarks such as Park Güell and Sagrada Familia. If you are planning on staying a bit longer, it is definitely worth it to visit Casa Batlló as well as other modernist buildings such as La Pedrera or Casa Amatller.

How long does it take to visit Casa Batlló?

Most tours take 1 to 2 hours. However, after the guided tour, you can stay and visit the house for as long as you like.