Flamenco Shows and Activities in Barcelona
Flamenco is part of the Spanish culture and tradition and for the enjoyment of the visitor, there are tablaos where you can enjoy a good live show.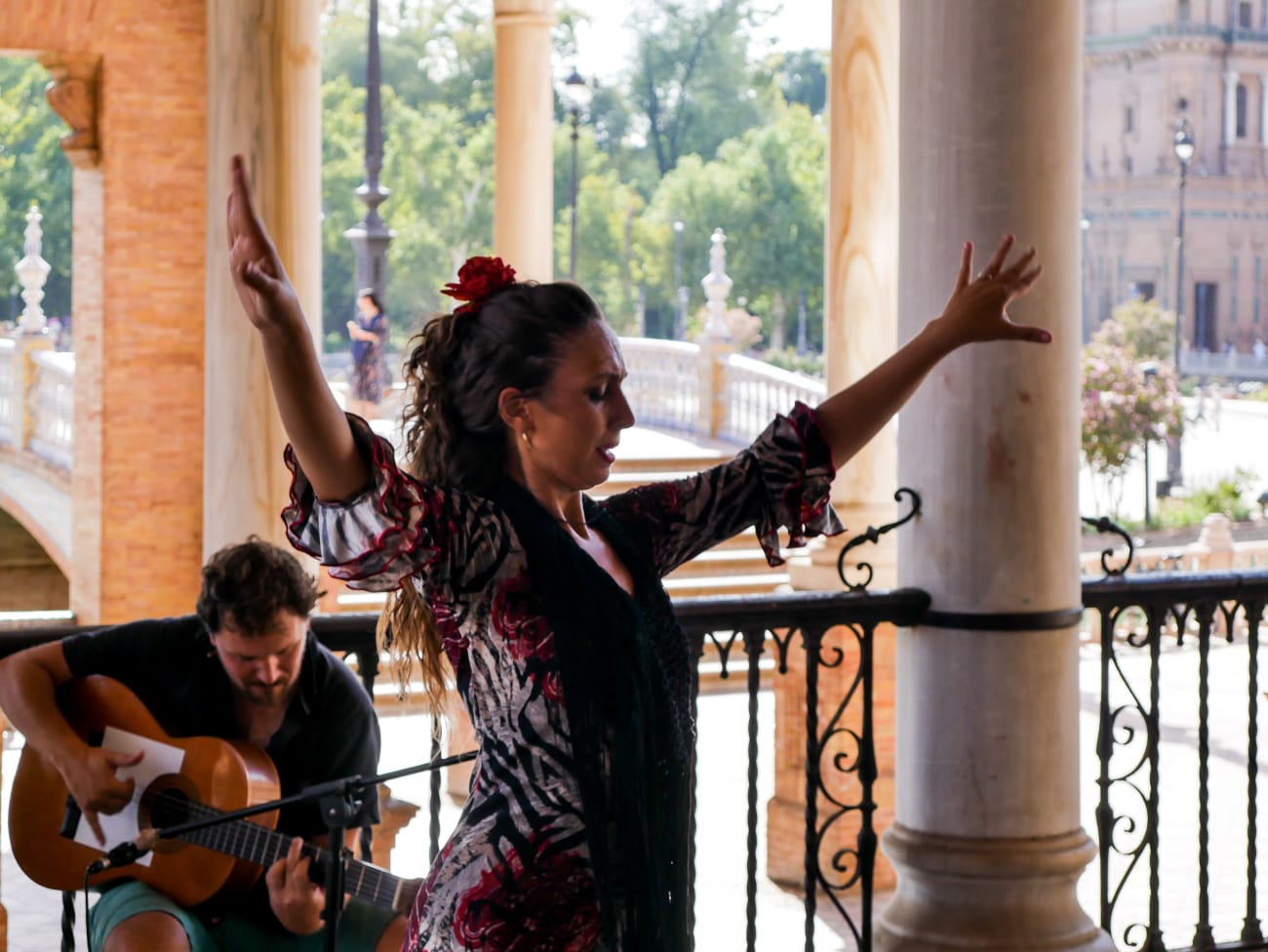 Flamenco is much more than a passionate dance and exciting music. It is an art. A feeling difficult to describe in words. The best way to experience it is to see a flamenco show in an authentic tablao, letting yourself be carried away by the sound of guitars and hand clapping.
Barcelona is one of the great capitals of flamenco in Spain, along with Andalusia and Madrid. Immerse yourself in the magical atmosphere and enjoy the "duende" of this art declared Intangible Heritage of Humanity by Unesco!
My favorite
Live the passion for flamenco music and art!
This is the perfect option if you want to enjoy an authentic flamenco show in a historic tablao in Barcelona where the best artists of the genre perform. You can include a drink or dinner at the tablao if you select the option.
El Tablao Cordobés is the place to go if you want to visit a genuine flamenco temple where stars such as Camarón de la Isla, Carmen Amaya, Tomatito, Bambino or Farruco have performed.
Located in La Rambla de Barcelona, if there is something I like about this tablao is that the atmosphere is that of a great family flamenco party, where in addition to listening to good music you can also dine and spend a most pleasant evening.
It is not the typical product to attract tourists but the Tablao Cordobes is living history of the city and a true benchmark of flamenco culture in Barcelona. The only tablao that survives from the golden age of the Catalan tablaos. It must be for a reason, right?
And it is that since its origins, its commitment to flamenco is indisputable. They have always strived to bring to their audience the best artists of the genre, both flamenco legends and young promises.
In addition, the Tablao Cordobés, with its Nasrid-style decoration, its wicker chairs and its vaulted architecture as if it were a cave, reminds me a lot of Sacromonte, a picturesque neighborhood in Granada where gypsies have lived since the sixteenth century and where there are also some fabulous flamenco tablaos famous for their magnificent parties.
Why I like this option... This is a historic venue in Barcelona where this genre is pampered as in the golden years of the flamenco tablaos and it shows. The artists leave their skin on stage and you can breathe pure talent. Highly recommended to live a unique night!
Recommended if... You are looking to witness an authentic flamenco show in a unique scenic setting and enjoy the best Spanish cuisine.
---
The cheapest
The best flamenco fusion of dance and music at the best price
Discover the roots of traditional Spanish music in the magical setting of the Palau de la Música Catalana with prestigious artists and composers.
Another place to see a great flamenco show in Barcelona is the mythical Palau de la Música Catalana, a beautiful modernist-style auditorium declared a World Heritage Site by UNESCO.
For several seasons now, the festival "Maestros de la Guitarra" has been held here, one of the most successful in the city and an essential concert to discover the roots of traditional Spanish music.
If you are passionate about flamenco or want to approach the genre in its purest form, I recommend you to do it with three internationally renowned guitarists such as the masters Manuel González, Luis Robisco and Xavier Coll who interpret with great talent the scores of some of the best Spanish composers such as Isaac Albéniz, Francisco Tárrega, Joaquín Rodrigo and Manuel de Falla.
In such a wonderful environment as the Palau de la Música de Barcelona they are accompanied by the dancers José Manuel Álvarez and Carolina Morgado, two of the most brilliant dancers in Spain.
Why I like this option... The expression "music to the ears" takes on its full meaning in this spellbinding flamenco show. Undoubtedly, one of the essential festivals to see in Barcelona.
Recommended if... You want to soak up art in all its aspects. Not only is it an exciting performance that fuses music and dance, but it takes place in the Palau de la Música, the only concert hall declared a World Heritage Site by Unesco. That's nothing!
Other experiences that may interest you
Besides attending a flamenco show in Barcelona there are many other things you can do in the city to enjoy a memorable vacation. If you want to know everything you can see in Barcelona, do not miss the article The best things to see and do in Barcelona.
And if you want to know like a local all the secrets of the city and its best anecdotes, book your place in a guided tour. In the post City Tours in Barcelona you will find a selection of the best we have done for you.
It is true that Barcelona has a lot to offer to the traveler but also its surroundings. If you have time to make a getaway outside the Catalan capital take a look at the best excursions from Barcelona, you will discover incredible places that you will love!
Frequently asked questions
What is the best flamenco experience in Barcelona?

The Flamenco Night at the Tablao Cordobes is the best rated experience in our catalog, where you can enjoy an authentic flamenco show of dancers and musicians.

What makes up a flamenco experience?

A flamenco show consists of the performance of flamenco guitarists and percussionists among other occasional performers and a dancer performing a traditional taconeo.

Are tapas served at a flamenco show?

Some flamenco experiences include a dinner option, where you will be served tapas among many other typical delicacies such as paella, sangria, ham, pinchos, meats and seafood.