Day Trips and Excursions from Barcelona
Barcelona has a lot to offer to the traveler, but so do its surroundings. Let me tell you what are the best excursions from Barcelona.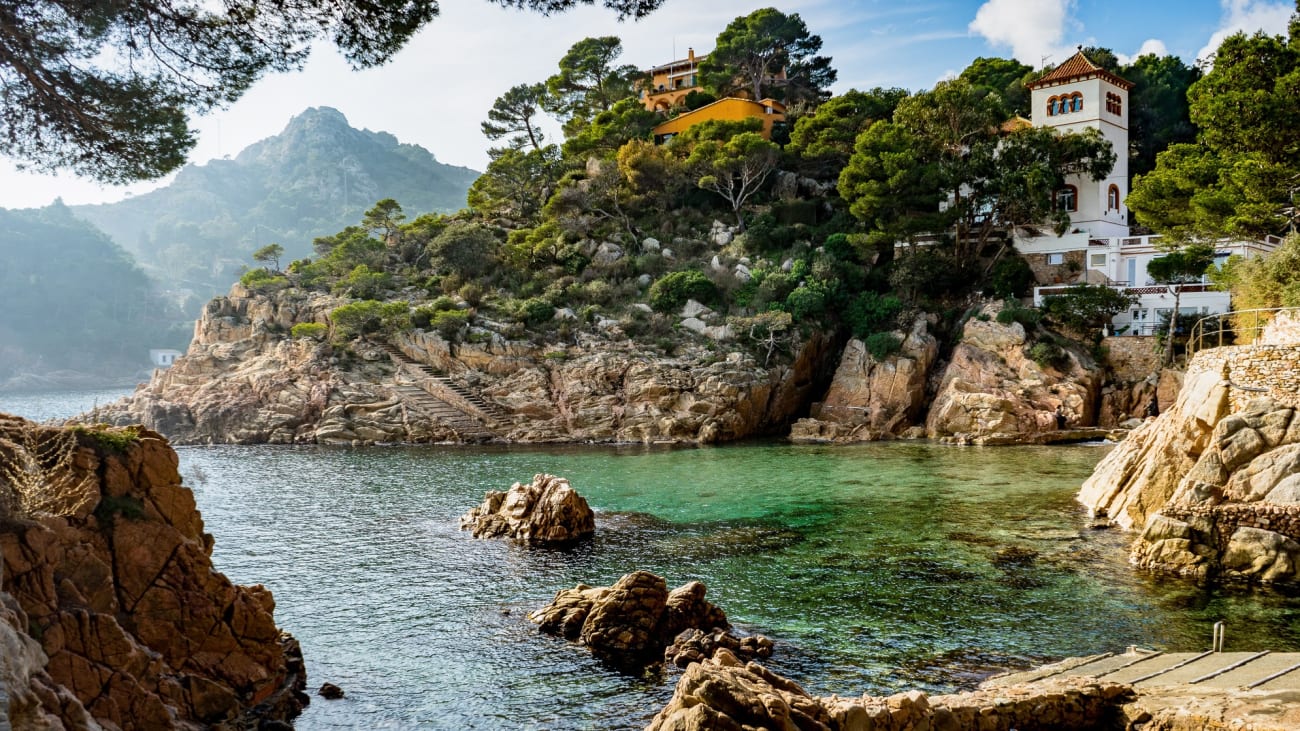 Although you could spend days and days touring Barcelona and visiting its monuments and iconic buildings, you would be missing part of what makes Catalonia a place full of beauty. A visit to the Costa Brava will enrich your trip even more.
1. Excursions near Barcelona
2. Day trip to the Costa Brava from Barcelona
The towns of the Costa Brava are undoubtedly some of the most beautiful places on the Iberian Peninsula. Even Dalí himself said that Cadaqués was the most beautiful village in the world, and although perhaps he was being somewhat impartial, the truth is that its beauty is undeniable.
Similarly, the villages you will visit on this day trip to the Costa Brava are worthy of admiration, both for being the visual representation of the Mediterranean aesthetics and for its historical interest. Especially in the village of Pals, whose medieval legacy can still be visited today.
Delving even deeper into history, you can also visit the Greek and Roman ruins of Ampurias, which are worth visiting both for their size and their good preservation. This excursion includes a boat trip of about an hour and a half, along the beach of Estartit, a relaxing and perfect experience for a summer day.
Duration: 9 hoursRecommended: If you want to visit the coast of Catalonia and discover its villages in a single day.
What you will see
Calella de Palafrugell
Ronda Road
Llafranc
Pals
Estartit
Ruins of Ampurias
3. Day trip to the Penedes vineyards
If there is one product that has earned its fame in Catalonia, it is the one that comes out of its vineyards. Catalan sparkling wines have no boundaries and since you have such a prized wine region just over half an hour from Barcelona, it's well worth a visit to the Penedés with wine tasting.
This is a guided tour to two wineries in the Penedés with wine tasting included in each, with tapas appetizer and transfer to and from the winery. During the excursion both your guide and the hosts of each winery will guide you through the tasting process after teaching you about the winemaking process and the treatment of the vineyards, which makes this a very complete experience if you are passionate about wine.
Duration: 7 hours 30 minutesRecommended: If you are interested in discovering the wine region of Barcelona and enjoy a day of wine tasting.
4. Small group excursion to the Pyrenees from Barcelona
Another essential excursion on your trip to Barcelona is the one that takes you to the Spanish Pyrenees. On this guided tour you will visit mountain villages such as Vic, Queralbs or the Nuria Valley, which you will cross with a rack railway train that allows you to get close to the top.
On this trip to the mountain range, a tour guide accompanies you in a small group for a more personalized attention and tells you the historical details of the places you will visit.
Duration: 11 hoursRecommended: If you like the mountains and don't want to miss the impressive landscapes of the Pyrenean villages.
5. Day trip to Tarragona and Sitges from Barcelona
If you are in Barcelona for several days and you also want to get to know its culture, don't forget to visit popular places like Tarragona and Sitges. In this excursion that combines the visit to both places so different you can experience the duality of a Roman city of great antiquity and historical richness as Tarragona and the leisure of the tourist town of Sitges.
After walking among monuments of such cultural value as the Devil's Bridge or the Amphitheater and the Roman Forum of Tarragona with a local guide who will be telling the details of every corner of the city, you will have the opportunity to know and enjoy in a relaxed way the beaches of a town with great tourist atmosphere as Sitges.
Duration: 10 hours and a halfRecommended: If you like to move through different environments and know two opposite but essential places on the outskirts of Barcelona.
6. Day trip to PortAventura Amusement Park
If spending a whole day in an amusement park is a perfect plan for you, don't think twice: PortAventura is one of the biggest in Europe and its most famous attractions are an adrenaline rush. The park is designed thematically and divided into zones, inspired by the Mediterranean, China, Polynesia, the Far West or Mexico.
Within each zone, you have attractions such as Furius Baco, a roller coaster that will put you at 135 kilometers per hour in three seconds, the Shambala, a giant roller coaster in which you will have the sensation that your seat shoots out, the classic Dragon Khan that for a long time was the star of the PortAventura poster, the Hurakan Condor, a shuttle that will throw you into the void from 100 meters high.
In addition to the attractions, a large part of the attraction of PortAventura are the shows inspired by the traditions of each of its areas. If you are traveling to Barcelona with children, this is the excursion I recommend.
Duration: 12 hoursRecommended: If you are traveling to Barcelona with children or you love amusement parks.
7. Day trip to the shopping outlet La Roca Village
Spending a whole day shopping can be the best way to relax after so much sightseeing in Barcelona, and the best way to do this is to visit the city's brand outlet, La Roca Village7.
It is an open-air shopping mall in the style of American outlets, with premium brand stores and a few restaurants and cafes where you can stop to rest. In La Roca Village you can find almost any store you can think of: Bimba y Lola, Burberry, Calvin Klein, Desigual, Gucci, Jimmy Choo, Karl Lagerfeld, Loewe, Prada...and also cosmetics and casual wear stores such as Vans, UGG or The North Face.
You can choose a simple transfer to the outlet in Barcelona or choose a premium experience with discounts and food included. In either case, a bus will drop you off at La Roca Village in the morning and pick you up at the end of your shopping day to take you back to Barcelona.
Duration: 7 hoursRecommended: If you are going to be in Barcelona for more than five days or you can't resist a shopping haul.
Alex's Traveller Tip

I recommend taking a tour from Barcelona if you are going to be in the city for four days or more, to make sure you see all the sights on your trip.
8. Best time of the year to take a day trip from Barcelona
Not every month of the year is the ideal time to take a trip to Barcelona, especially when it comes to the Costa Brava. In any case, to help you decide between one excursion and not another, here are the best times for each excursion throughout the year:
Excursion to the Costa Brava
The best time to visit the Costa Brava is from May to October, with temperatures ranging from 20 to 27 ºC, and days of splendid sunshine with few exceptions, which will offer you the most beautiful views of the coastal towns and the Mediterranean Sea.
Excursion to the Penedés
Almost any time of the year is a good time to take a wine tasting excursion to the Penedés, but I would say that the ideal time would be during the grape harvest, between the end of August and September, as you can explore the process of harvesting and elaboration of the wine in person.
Excursion to PortAventura
Logically, the best time to visit an amusement park is during the week if possible. The best time of the year to go to PortAventura is between the end of June and the end of July. The park is open until midnight and you can see one of its most famous shows, the one that takes place in the Mediterranea area.
The trick for PortAventura is to go at the change of fortnight, for example, July 1, 15 or 30, this way you avoid the large crowds of tourists from both inside and outside Spain.
8. Last tips
As a general advice, the more you can get up early to make an excursion from Barcelona, the more you will enjoy a day without crowds and to make visits with tranquility. If you go on a weekday excursion, you will usually find cheaper set menus in restaurants than on weekdays, when they may not even offer this option and only let you order a la carte.
As a rule, you should bring a backpack with sunscreen, a bottle of water and something to snack on to any excursion. This way you will avoid having to buy some of these things at the last minute and in the tourist area where you will be charged unappetizing prices. Likewise, comfortable shoes are always a good idea.
Also, I recommend paying as much as you can with a credit card but carry some cash on you. Most restaurants and stores will accept credit cards, Barcelona and the surrounding area is very tourist friendly.
9. Other excursions from Barcelona
If you have run out of things to do from Barcelona, don't worry, there are more! To enjoy Dalí's art live, you can take a trip to the Dalí Museum in Figueras and visit Girona or the villages of the Costa Brava in a day trip experience. See all the details in my guide on Figueres and Salvador Dalí Museum Day Trips from Barcelona.
On the other hand, one of the excursions from Barcelona that I consider among the essential ones is the excursion to Montserrat, where you will climb the mountain, discover its monastery and museum and enjoy spectacular views of Barcelona from the top. You can read my guide about Montserrat Day Trips from Barcelona here.
Or maybe you are interested in this 3 countries in 1 day trip from Barcelona (France, Andorra and Spain), a unique opportunity to take advantage of your trip to Barcelona.
Frequently asked questions
What places can I visit outside Barcelona?

The most popular places to visit outside Barcelona are Girona, Montserrat, Figueres and the Costa Brava. However, there are also many other options, such as Sitges, known for its beaches, restaurants and LGBT atmosphere, Tarragona, for its coliseum and old town and the Pyrenees, between the borders of Andorra, France and Spain.

How far is Sitges from Barcelona and what can you do there?

Located 34 km (21 miles) southwest of Barcelona, Sitges is about an hour's drive from Barcelona making it an ideal day trip to a beautiful beach. Some tours to Sitges also stop in Tarragona, giving you the best of both places.

How far are the Pyrenees from Barcelona? What can you visit in a day there?

The trip to the Pyrenees from Barcelona is usually about 4 hours, so be prepared to leave early if you want to make an excursion from the city. With this in mind, spectacular mountains, beautiful scenery and charming villages await you, making the trip totally worthwhile.