City Tours in Barcelona
Discovering Barcelona on your own is a fascinating experience, but not the most complete. I tell you how to make a tour of the city to discover everything you can't miss on your trip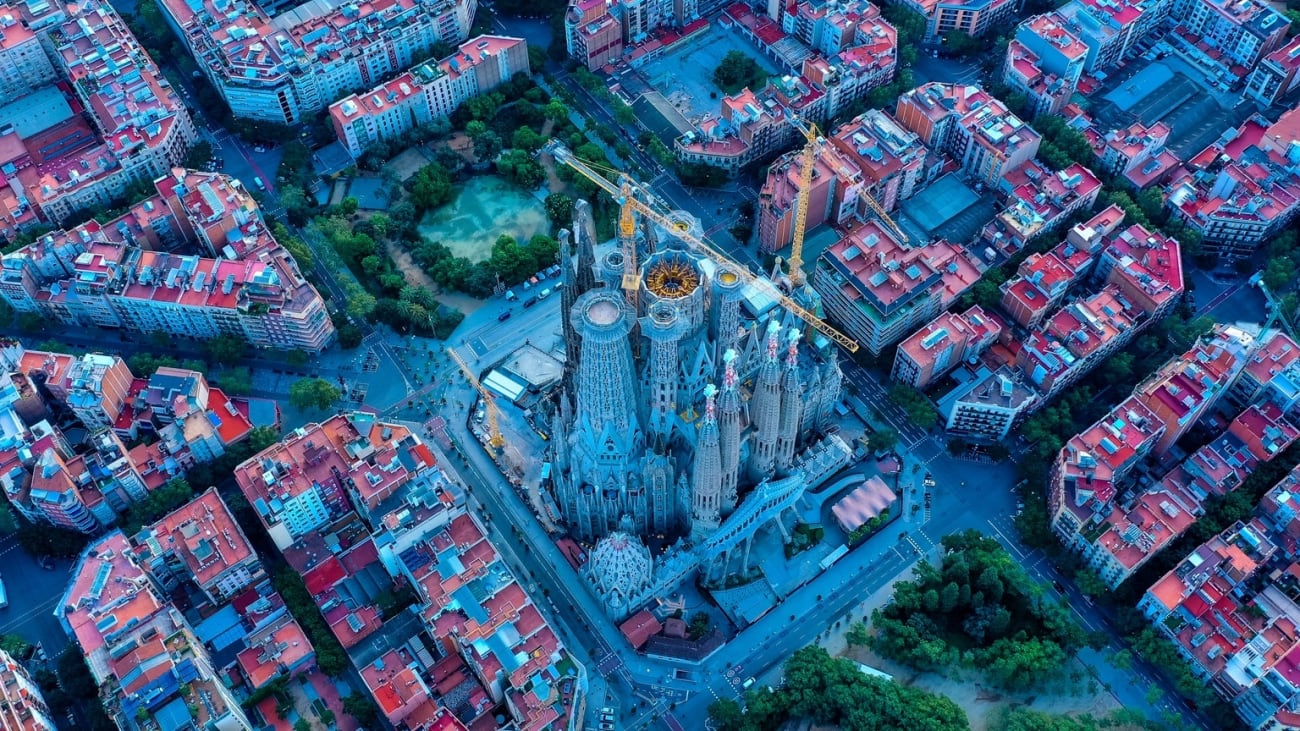 Barcelona is one of the most visited cities in the world, thanks to its beautiful architecture, incredible gastronomy and a nightlife atmosphere with a light of its own. To enjoy the real thing like a local, here are the best tours and key tips.
1. The best city tours in Barcelona
2. Half day tour of Gaudi's Barcelona
This guided tour of Barcelona takes you on a walk through the main areas of the city where you will see examples of modernist architecture and some of Gaudi's most outstanding works such as La Pedrera, Casa Batllo, and the Sagrada Familia.
As you walk through l'Eixample along Passeig de Gràcia in the company of an expert guide, you will learn about the history of Barcelona and how the bourgeoisie of the early 20th century laid the architectural foundations for what are now the city's main tourist attractions. One thing to keep in mind is that on this tour you will not enter any of the buildings, as the tour focuses exclusively on walking through one of the main areas of Barcelona.
Duration: 2 hours 30 minutes
Recommended: As a first tour of Barcelona it is a good option, as it will show you one of the main areas of the city that you can then walk around on your own.
What you will see on this tour
Plaza del Angel
Passeig de Gràcia
La Pedrera
Casa Batlló
Basilica of the Sagrada Familia
3. Tour of Barcelona by bike
Another tour that is perfect for getting to know Barcelona to do in the first days of the trip, is this bike tour through the highlights of the city. Its streets are very flat and exploring them by bike is very comfortable and allows you to see the whole city in a couple of hours.
Accompanied by your guide, you will pass through the Barceloneta area, l'Eixample where you will see Casa Batlló and La Pedrera, and some of the main squares of the city in the company of an expert guide who will orient you about the historical context of everything you see. Regarding the route, it is perfectly safe and very easy to do, and it is recommended for all ages thanks to Barcelona's organized floor plan and flat streets.
Duration: 2 hours 30 minutes
Recommended: If you like to do alternative tours of the cities you visit or you will be in Barcelona for a few days.
What you will see
Ciutadella Park
The Face of Barcelona
Arc de Triomphe
Olympic Port
The Barceloneta
4. Alternative tour of Barcelona
I recommend this tour if you have visited Barcelona before or if you prefer to walk around the city on your own and do an alternative tour to steer away from the typical tourist attractions.
During this tour, your guide will tell you stories of illustrious personalities of Barcelona, anecdotes, legends, lurid details...everything you need to have a good time while you walk around the areas of the Rambla and the Gothic Quarter.
Duration: 2 hours
Recommended: If you already know Barcelona or you like off-the-beaten-track tours.
What you will see
Plaza de l'Angel
Gothic Quarter
Rambla del Raval
5. Ghost tour of the Gothic Quarter of Barcelona
This original Barcelona ghost tour, more than a touristic tour, it is an experience in which you will solve tests and find clues about an urban myth of the city of Barcelona. Using your cell phone you will enter a labyrinth of horror stories and mysteries.
Keep in mind that you will not have a guide during this tour, as you will be solving the tests set out in the game simply with your phone, which will guide you through the city. So you can do the tour in a group or privately, which is an advantage if you like customizable and unique tours.
Duration: From 1 to 2 hours.
Recommended: If you are visiting Barcelona as a group or family and you feel like doing a different tour to learn interesting facts about the city while having fun.
What you will see
Sant Jaume Square
Palau de la Generalitat de Catalunya
Basilica of Santa Maria del Pi
Canaletas Fountain
El Celler d'Estruc
Barcelona Cathedral
Gothic Quarter
Historic Center
Catalunya Square
Rambla de Catalunya
Alex's Traveller Tip

Try to take the Barcelona tour as early as possible in your trip, as it will allow you to get your bearings much better in the city and have a context for the places you later visit on your own.
6. About Barcelona tours
As with tickets to almost all of Barcelona's tourist attractions, it is highly recommended that you book the tour you want to take online and in advance. Your other option is, once in the city, to go to one of the offices of the different operators and book the tour on the spot, but I'm sure that you'll agree with me that this is mostly a waste of time.
Once you book your chosen tour, you will receive the confirmation in your email and you can either print it or show it directly to your guide at the meeting point indicated on the tour page. You will also receive the address and meeting time in the mail.
None of these Barcelona tours show you the whole city, rather, it is a guided tour of some of the main areas of the city with the context provided by a guide. The essential part of traveling, which is discovering and exploring at your own pace, starts after the tour.
7. Tips to get more out of a Barcelona tour
I'm going to share with you what I think is the great secret of people who travel a lot: walk whenever you can. This is something I love to do when I travel to a European city, as I find it the best way to get to know the neighborhoods of the city, discover the local atmosphere, the most genuine stores, restaurants and bars and in general feel for a few days like I have lived all my life in the city I am visiting.
Enjoy its architecture
Barcelona's architecture shines for its buildings created by Gaudí, but there are a plethora of modernist architects who also have their place in the urban modeling of the city. So remember to look up every time you turn a corner and you won't miss a single one of the unique facades that are scattered throughout Barcelona.
Visit its traditional street markets
There are a few flea markets that are held in Barcelona and are the ideal place to buy a couple of souvenirs, much better than any trinket you can find in the typical tourist store. If you pass by them during the tour or finish nearby one of them, some recommendations are the Mercat dels Encants, the Mercat Gòtic (in front of the Barcelona Cathedral), and if you happen to be in the city on the second Sunday of the month, you can visit El Flea.
Keep an eye on your belongings
Finally, a somewhat obvious tip you should follow on your trip to Barcelona, and especially while on a tour, is to keep an eye on your belongings. Going in a group with a guide will immediately identify you as a tourist, and especially in areas such as the Rambla de Catalunya or any of the central squares of the city, you should watch out for pickpockets.
8. What you should know before booking a tour of Barcelona
Days and times
The vast majority of Barcelona tours operate daily, and unless the weather is essential for the visit, they take place rain or shine. As for the schedule, it is usually fixed and in the morning or at noon, unless the tour indicates otherwise. In some cases you can choose morning or afternoon, giving you more customization possibilities when choosing your tour.
Duration of tours
If your tour indicates a duration of half a day, it will usually last about 3 hours. Short or express tours usually last around 1 hour, and day tours can last 8 hours or more.
9. Other tours you may be interested in
The Sagrada Familia is the most popular visit in Barcelona and in case you are looking for how to take a guided tour of this architectural marvel, I tell you everything you need to know in my guide on Sagrada Familia - Skip The Line Tickets.
Another place in Barcelona that you should not miss is the Park Güell, and before choosing a tour of this emblematic park I recommend you to read my guide on Park Güell Tickets and Tours where you will find all the tips and tricks to make the most of your visit.
There are several museums in Barcelona that might interest you, especially if you are passionate about the art of Picasso or Catalan artists like Tàpies or Miró. You can check my Museums Tickets guide to get your tickets and guided tours at the best price.
Finally, if you are into soccer and even more if you are a Barça fan, the Camp Nou Experience is something you can't miss, as it will allow you to tour the emblematic FC Barcelona stadium and its museum full of the club's history. You can read all about it here: Camp Nou Experience Tickets.
Frequently asked questions
What are the best sights in Barcelona?

The city is full of architectural marvels thanks to world-famous architect and resident Antoni Gaudí such as the Basilica de la Sagrada Familia, Casa Mila (La Pedrera) and Park Güell. While the city's areas such as the Gothic Quarter, Quadrat d'Or, Las Ramblas and the Jewish Quarter are just as impressive to visit.

Is Barcelona safe for tourists?

In general, Barcelona is a very safe city for tourists, both day and night, earning itself a 5th place position in the Economist's "Safe Cities Index" in Europe. What you will need to keep an eye out for is pickpockets. General advice includes keeping wallets and phones out of back pockets, phones and cameras off of tables, and making sure your bags closed at cafes.

How long does an average Barcelona City Tour last?

Most tours in Barcelona such as the Gothic and Jewish Quarter tours last between 2 to 4 hours. That being said, if the tours are combined with other visits, they may very well last the entire day, so you'll want to read the tours carefully.