La Pedrera Tickets and Tours in Barcelona
If you want to discover the insides of the emblematic building of La Pedrera, you're in the right place. Find here the best options for a tour!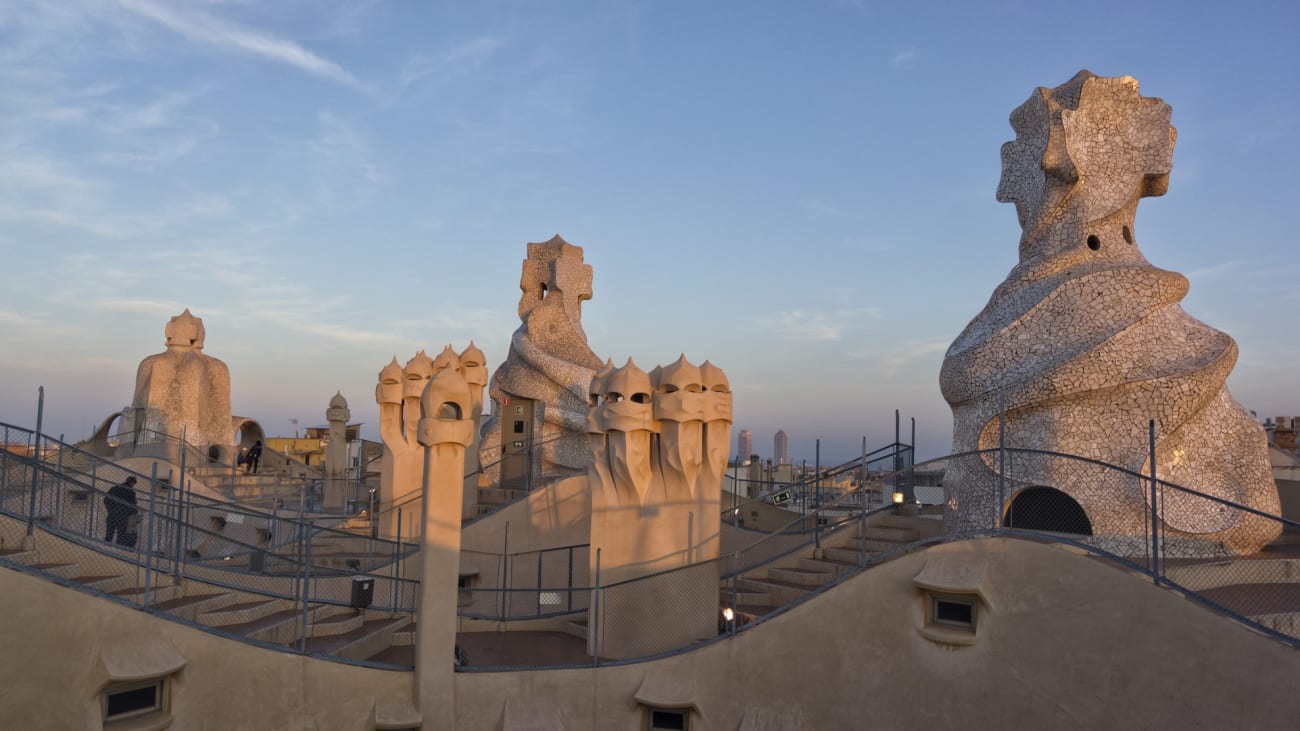 La Pedrera is the name by which Casa Milà is popularly known, a building with which Gaudí demonstrated his inexhaustible creativity inspired by the forms of nature. Casa Milà is a visual spectacle, inside and out.
1. Tickets and visit to La Pedrera
Being complementary to the rest of Gaudí's works, a visit to Casa Milà is a must if you are passionate about the creations of the Catalan architect: read on and I'll tell you everything you need to know to enjoy it like a local.
2. Tickets with audioguide to La Pedrera (no queues)
With this no queue entrance to La Pedrera, you will access directly skipping the queues at the ticket office and you will be able to visit the whole Casa Milà accompanied by an audio guide that will tell you all the details about every corner of the building.
La Pedrera offers a glimpse into a bourgeois residence from the turn of the century, with elegantly decorated corridors, murals, and mosaics in Gaudí's signature style. You can even explore one of the apartments, furnished in a recreation of the typical dwelling of the wealthy families of the time.
You can even go up to the building's penthouse and, in addition to marveling at the impressive helical-shaped chimneys, you can explore the Espai Gaudí, a museum where you can delve into the architect's mind and see the plans and models of his most iconic works. After the approximately one and a half-hour audio tour, you can continue exploring the building on your own.
Duration: 1 hour 30 minutes
Recommended: If you want to visit La Pedrera on your own but still have a narration to provide context to what you are seeing.
3. Tickets to La Pedrera and a visit to the terrace at night
The La Pedrera night experience is perfect for an alternative visit to this emblematic building, which allows you to tour it as in a conventional visit but enjoying a light show and projections on the roof that turns the shapes of the chimneys into surreal objects.
Another advantage of this option is to have a nice view of Barcelona illuminated at night, and this is a really great idea if you visit the city in summer and want to save the heat of the day for your visit to La Pedrera. At the end of the visit, you will be served a cava glass to enjoy the views and the inner courtyard of the building with a little extra.
Duration: 1 hour 30 minutes
Recommended: If you are going to Barcelona in the summer or you have already visited La Pedrera on another occasion and want to explore it in a different way.
4. La Pedrera Tour (Early Bird)
Like the other tours, this is an hour and a half tour of La Pedrera with the particularity that it allows you to tour the building at early bird in the morning (8:00) before the rest of the tourists enter. In addition, the group for this tour is small which means that there will be a maximum of 15 other people visiting La Pedrera with you and your guide.
You will see the corridors of the building, the reconstruction of the residence, the interior courtyard, and the Espai Gaudí, the museum of La Pedrera dedicated to the genius of the Catalan architect. After the visit, you can go to the Café de la Pedrera for a coffee or a drink included in the tour.
Duration: 1 hour 30 minutes
Recommended: If you are an early riser and you prefer to avoid other tour groups during your visit to La Pedrera.
5. Tour of La Pedrera and Casa Batlló
Combining two of Barcelona's most important buildings in one visit makes this half-day tour a very interesting experience.
In addition to the full tour of La Pedrera where you will visit its residences, corridors, rooftop, and courtyard, as well as the museum dedicated to Gaudí, you will discover another of his emblematic works, Casa Batlló, located in the area known as Manzana de la Discordia since in it you can find buildings by other modernist artists such as Casa Amatller by Josep Puig i Cadafalch or Casa Lleó Morera, work of Lluís Domènech i Montaner.
Casa Batlló is different from La Pedrera in the sense that it is not a building designed and built by Gaudí, but a remodeling of an existing building in which the architect added the façade, modified the interior courtyard, and created a rooftop in his particular style. The advantage of this tour: you won't expect queues at any of the entrances.
It is worth combining the visit to Casa Batlló and La Pedrera in a single tour to discover Gaudí's architecture in depth and how it became synonymous with the aesthetics of Barcelona.
Duration: 3 hours 30 minutes
Recommended: If you have already been to Barcelona, or if you will be in the city for more than a week.
6. Complete tour of Barcelona: Sagrada Familia, Park Güell and La Pedrera
This complete tour of Barcelona with a visit to the Sagrada Familia, Park Güell and La Pedrera combines the most outstanding points of interest in Barcelona, and can be very worthwhile to make these three visits in the company of a specialized guide and dedicate the rest of your trip to explore the city on your own.
You will visit, in addition to the Sagrada Familia, Park Güell, and La Pedrera, the main areas of the city such as the Gothic Quarter or the Basilica of Santa Maria del Mar.
Duration: 8 hours
Recommended: If you want to visit the essentials of Barcelona in the company of a guide with tickets included to the main attractions
What you will see
Gothic Quarter
Barcelona Cathedral
St. Jaume Square
Basilica of Santa Maria del Mar
Parc de Montjuïc
Basilica of the Sagrada Familia
Park Güell
La Pedrera
Alex's Traveller Tip

The night experience at La Pedrera is unique and has advantages such as avoiding the tourist crowds and the heat of the day.
7. About the tickets to La Pedrera
For tourists and art and architecture connoisseurs alike, La Pedrera is Gaudi's main work after the Sagrada Familia, and is, therefore, a very popular attraction. This translates into long lines waiting to buy tickets at the box office, so as often happens in these cases it is best to buy your tickets to La Pedrera in advance. In addition, at the box office, the tickets are $ 3 more expensive.
Even so, I recommend that you check the weather forecast for the day of your visit because on rainy days the roof of La Pedrera is closed. Therefore, it is best to buy your tickets at least five days in advance. Tickets to La Pedrera have a fixed time, so be sure to plan your day of visit well in order to be in the building at the time marked on your ticket.
If you plan to visit Casa Batlló as well, I would recommend buying your tickets or booking your tour after you visit La Pedrera, as they are very close, about a five-minute walk away.
8. Organize your visit to La Pedrera
How to get to La Pedrera
La Pedrera is on Passeig de Gràcia, 92 in the Eixample neighborhood, where there are several tourist attractions in the form of modernist buildings. As I have already mentioned, La Pedrera is in what is known as the Block of Discord because of its "competition" with other buildings by renowned Catalan architects on the same block.
The closest metro stop is Diagonal (lines 3 and 5). You can also go by RENFE getting off at the Passeig de Gràcia stop, and by buses 7, 16, 17, 22, 24, and V17.
Days and opening hours of La Pedrera
La Pedrera is open every day of the year, except for one week a year when it is closed for maintenance, usually during the off-peak tourist season. Depending on the time of year, La Pedrera has different schedules that are good to know to better plan your visit:
Between March 1 and November 4: from 9:00 am to 8:30 pm (night visit from 9:00 pm to 11:00 pm).
Between November 5th and February 28th: from 9:00 am to 6:30 pm (night visit from 7:00 pm to 9:00 pm)
Between December 26th and January 3rd: from 9:00 am to 8:30 pm (night visit from 9:00 pm to 11:00 pm)
Duration of the visit to La Pedrera
To make a complete visit to La Pedrera, I recommend you to reserve at least an hour and a half. If it's a nice day, it's also a good idea to stay a little longer on the rooftop, so two hours should be plenty.
Best time of day to visit La Pedrera
My recommendation is to go first thing in the morning, between 9:00 am and 10:00 am, as there are few visitors and you will be able to enjoy the tour much more. Another option is at 4:00 pm since you have a window of a couple of hours until 6:00 pm when most tourists go to La Pedrera.
Another option is to make a night visit, which as you know has many advantages such as avoiding the heat of the day and also avoid the crowds of visitors. If you are lucky, you can even enjoy live jazz music on the rooftop, which happens some nights during the year.
9. Practical information for visiting La Pedrera
Wearing comfortable shoes to La Pedrera is almost necessary: you have to climb a lot of stairs and you don't want to get to the rooftop with sore feet and miss the wonderful scenery it offers.
Still, there is an elevator to the roof if for whatever reason you can't climb stairs. My recommendation is that if there is no line for the elevator at the time of your visit, take it to the roof and take your tour of La Pedrera down to the first floor.
Although there may be more tourists, after 5:30 pm the light starts to change with sunset and the photos of the rooftop will be much more beautiful. If you are on the hunt for the perfect moment to capture with your camera, visit La Pedrera after that time.
10. Where to eat near La Pedrera
Some tours of La Pedrera include a coffee at El Cafè de la Pedrera, which is very close to the iconic building but not the best option for lunch. Here are a couple of recommendations:
El Principal de l'Eixample, a restaurant with an interior courtyard to fall in love with and market cuisine with typically Catalan dishes with a modern twist. It won't be cheap, but rather than pay a fortune in a dodgy restaurant for tourists, I wouldn't think twice about paying the same but eating at El Principal.

La Pepita, a place for tapas and sandwiches but very well presented and elaborated, perfect if you don't want to break the bank on a proper meal and prefer to have a yummy snack and continue exploring Barcelona.
11. Other visits that may interest you
Next to La Pedrera, you might want to visit Casa Batlló, for which you can read the best tips and find your tickets at the best price in my Casa Batlló Tickets and Tours guide. A must when visiting Barcelona is to go to the Sagrada Familia, and to help you organize your visit I have written this Sagrada Familia - Skip The Line Tickets guide with tips and tricks to visit it like a local.
Park Güell is another place you won't want to miss, so check out my guide on Park Güell Tickets and Tours and find out how to get the best tickets and everything you need to know before you go.
If you love soccer and even more if you are a Barça fan, read my guide on Camp Nou Experience Tickets in which I give you all the tricks to get the best tickets and visit the FC Barcelona stadium and museum. And if you are more into visiting art museums, here you have a Museums Tickets guide to help you choose the one you like the most and get your tickets at the best price.
Frequently asked questions
What is La Pedrera?

Officially known as Casa Mila, La Pedrera is an apartment block designed by the celebrated architect, Antoni Gaudí. While it is now a tourism hub, there are still parts of the building that are functioning as both residence and offices.

What is the difference between seeing La Pedrera during the day and seeing it during the night?

The difference between the two options really stands with what you want to see. Seeing La Pedrera during the day means you'll get to see how the apartments look inside, however the downside is, as it's the more popular option, you may encounter crowds.

What are the best things to see at La Pedrera?

You'll want to pay close attention to The Courtyard, The Attic and The Roof as all three areas exemplify Gaudí's architectural talents. Fortunately, all three of these sights can be seen during day and night.