Park Güell Tickets and Tours in Barcelona
If you add Gaudí's genius to the beauty of the park, the result is this: a mandatory stop during your trip to Barcelona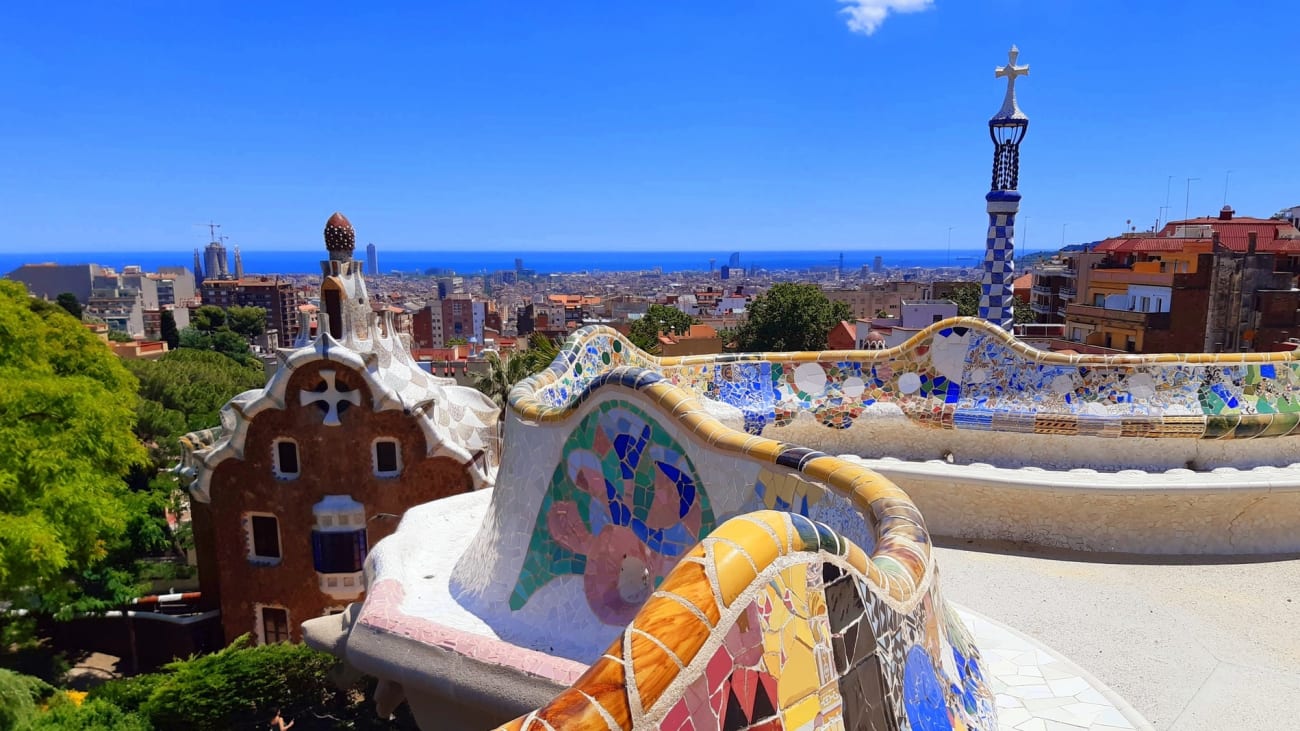 Park Güell is the living work of Gaudí, conceived as a refuge and resting place for the most important family of Catalonia in the early twentieth century, the Güells. It is a manifesto of modernist urbanism, with large green areas and incredible views of Barcelona.
1. Park Güell tickets and guided tours
Visiting Park Güell is something that any Barcelona local would recommend you, and in this guide, I'm going to give you all the tips to get your tickets at the best price and tricks to make your visit unforgettable.
2. Park Güell Tour with skip the line entrance (Early Bird)
This is the best value for money option to visit Park Güell, being its biggest advantage the Early Bird entrance to Park Güell, which will let you skip the queues and the crowds of tourists.
Once inside you will tour the main areas with a local guide, discovering every nook and cranny and learning about Gaudi's artistic vision at every turn, with beautiful views of Barcelona framed by the iconic tile-decorated structures. At the end of the tour, you can stay at Park Güell for as long as you like to explore it at your leisure.
Recommended: If you like to get up early when visiting a city and can't stand tourist crowds.
3. Tour of Park Güell and Sagrada Familia
You also have the option to combine the two most interesting visits of Barcelona in one tour, joining the Park Güell and the Sagrada Familia in a half-day tour.
You will take a tour with a similar route to the previous option, seeing the main points of interest of the park while learning about Gaudi and the importance of Park Güell for the modernist urbanism of Barcelona, and then you will head to the Sagrada Familia where you will take a tour of its exterior facades and its interior.
Something to keep in mind is that this tour is bilingual in English and Spanish, and your guide will be narrating in both languages in succession. Although it may seem a bit strange, the truth is that it won't affect the quality of the tour.
Recommended: If you are looking for a combined experience that will help you discover in-depth the two icons of the city.
4. Complete tour of Barcelona with a visit to Park Güell and the Sagrada Familia
If you want to tour Barcelona in the company of a specialized guide with a visit to Park Güell and Sagrada Familia, this is the tour for you. You will see the most famous sights of the city and its main tourist attractions.
The tour starts on the Rambla and takes you to visit various points of interest in the city, stopping for a coffee at Els Quatre Gats, which used to be frequented by Picasso and is the place where the artist had his first exhibition, and tasting a tapas lunch before visiting the two jewels of Barcelona, Park Güell and the Sagrada Familia.
Duration: 6 hours
Recommended: If you are going to be in Barcelona for a short time and can only choose one tour, this is it. It is also a good option if you usually like combined experiences.
What you will see
Güell Palace
Plaza Real
Boqueria Market
Basilica of Santa Maria del Pi
Els Quatre Gats
Passeig de Gràcia
Batlló House
Casa Milà (La Pedrera)
Park Güell
Sagrada Familia
5. About the entrance fees to Park Güell
When you buy your Park Güell ticket, you will receive a confirmation by e-mail and you can print it or take it with you on your cell phone. In either case, you must present the QR code at the access point.
Tickets have a fixed time and you are allowed to enter up to 30 minutes after the assigned time. For example, if you have a ticket for 10:00 a.m., you can enter the park from 10:00 a.m. to 10:30 a.m. Once inside, there is no time limitation and you can stay in Park Güell as long as you want.
In any case, I recommend that you arrive at Park Güell a little before the time marked on your ticket just to make sure because once you have passed the 30 minutes of margin your ticket will be considered invalid. Tickets to Park Güell only give access to the monumental area, which is the tourist part of the park. To the north of the park is the forest area, which is reserved for Barcelona residents only.
Inside Park Güell is the Gaudí House-Museum, for which a separate ticket is required as access is not included in the park entrance fees.
Alex's Traveller Tip

You have up to 30 minutes after the time marked on your ticket to enter Park Güell. After that time, your ticket is considered invalid.
6. Organize your visit to Park Güell
How to get to the Park Güell
To go by metro, you have two options. One is to take metro line 3 to Vallcarca station, and from there walk to the park (it is very well signposted, so it is a matter of following the arrows). There are escalators to help with the climb, as it is a bit steep. From the subway, it takes about 15 minutes to walk to the park.
The other option is to go on the same metro line 3 to Lesseps, but the downside is that although the way to the park is a bit shorter there are no escalators to get there so, in the end, it is better to go to Vallcarca.
You can also avoid the walk by taking the bus 24 from the Lesseps metro station to Park Güell, and it will leave you right at the door. The downside: it is always full.
Days and opening hours of Park Güell
The site is open every day of the year and the opening hours for visitors to Park Güell vary throughout the year, depending on the season and the season:
Between January 1 and February 14: from 8:30 a.m. to 5:30 p.m.
Between February 15 and March 28: 8:30 a.m. to 6:00 p.m.
Between March 29 and April 26: 8:00 a.m. to 7:30 p.m.
Between April 27 and September 23: from 7:30 a.m. to 8:30 p.m.
Between September 24 and October 24: from 8:00 a.m. to 7:30 p.m.
Between October 25 and December 31: 8:30 a.m. to 5:30 p.m.
Duration of the visit to Park Güell
A typical visit to Park Güell lasts around 1 hour 30 minutes, as just touring the monumental area alone will take you a long time. If you want to stop and enjoy the park and the views of Barcelona at your leisure, budget no less than 2 hours for the visit.
In case you visit Park Güell at the end of the day, you will probably want to stay a little longer watching the sunset over Barcelona. It is one of the busiest times in the park and the crowds are quite high, so whether it's worth it is up to you.
Best time to visit
The best time to visit Park Güell is as early as possible, if possible, at the opening time. You will avoid the large groups of tourists that visit the park in the middle of the morning and you will be able to enjoy the walk at your leisure.
If you are especially overwhelmed by tourists, remember that with the Park Güell Early Bird Tour you can visit the park before its official opening for visitors and experience it as if you were a local, as Barcelona residents are allowed to enter the park at special times before and after opening and closing respectively.
Where to eat in Park Güell
I advise you to bring your own food and water on your visit to Park Güell, as there are not too many options for eating and the places around the park are quite expensive and not particularly good. You might be able to wait for food if you visit the park early in the morning or at sunset, but whatever you do packing a bottle of water in your backpack is essential.
7. Why Park Güell is a must-see visit
Gaudí, through the patronage of the Güell family, was in contact with the elite of early 20th century Catalan society and set out to recreate the English garden cities that the Catalan bourgeoisie knew and admired.
With the creation of Park Güell, Gaudí elaborated a truly original urban model. In his conception, the park was to serve as a residence for Barcelona's wealthy families, and the pedestrian and carriage paths were organically intertwined, as was the large central square, which was to be used as a market, recreational and cultural space.
In addition to its cultural interest and for providing a glimpse into the tastes, aesthetics, and social dynamics of the era in which it was created, Park Güell is a must-see just for the artistic delight offered by the unique shapes of its structures and the creativity of its architectural design.
8. Bunkers of Carmel
The so-called Carmel bunkers are on a mound near Park Güell where, at the time of the Civil War, an anti-aircraft battery was located. Today it is the best viewpoint in Barcelona with breathtaking views of the city and a very popular place to watch the sunset. After you visit Park Güell, especially if you go in the afternoon, you might want to stop by the Carmel bunkers to put the icing on the cake to your day.
It is about 20 minutes walk from Park Güell, and you can also go by metro (Alfons X station on line 4). Remember to wear comfortable shoes as the climb to the bunkers is a bit steep, and I recommend wearing a sweater or sweatshirt if you are going to see the sunset. If you pack some snacks and water or a couple of beers in your backpack, you will be sure to have a great time.
9. Other visits that may interest you
Along with Park Güell, a visit to the Sagrada Familia is an experience not to be missed on your trip to Barcelona. Whether you are planning to visit it on your own or a guided tour, my guide from Sagrada Familia - Skip The Line Tickets will help you with the best tips to enjoy it to the fullest.
Another visit you might find interesting is Camp Nou. In the Camp Nou Experience you will tour the stadium, access the pitch, and immerse yourself in a retrospective of FC Barcelona and the club's greatest soccer achievements, read all about it here: Camp Nou Experience Tickets.
Barcelona also has a varied selection of museums that I recommend you explore. For that, read my guide to Museums Tickets to find out which one to choose and how to get your tickets at the best price!
Finally, if you want to continue exploring Gaudí's architecture, I recommend visiting La Pedrera and Casa Batlló. In their respective guides, :::link|element=sc-122-884-884::: and Casa Batlló Tickets and Tours you will find all the information and tips to get your tickets or take a guided tour.
Frequently asked questions
Why is Park Güell famous?

It was designed by Catalan architect Antonio Gaudi and it is a perfect showcase of the artist's style. Also, it is a unique area of Barcelona and a must-see landmark in your visit.

How long does it take to visit Park Güell?

The average visit time is about 1 hour 30 minutes, and an extra 60 minutes if you are visiting the Monumental Zone. This time comprises a walk around the park and some stops from its high areas to enjoy the stunning scenery of Barcelona.

Any tips I should know before visiting Park Güell?

It takes about 50 minutes to get there from the city centre. It is advisable to wear sunscreen in the summer since shade areas are scarce. If you can, visit in the evening for more comfortable temperatures and great photos of the sunset. Always book your tickets online to avoid hours of waiting in the queue.