10 Things to Do in Venice in January
Venice in low season is colder but much more manageable for tourists. I show you all the attractions you can enjoy in the city of canals in January.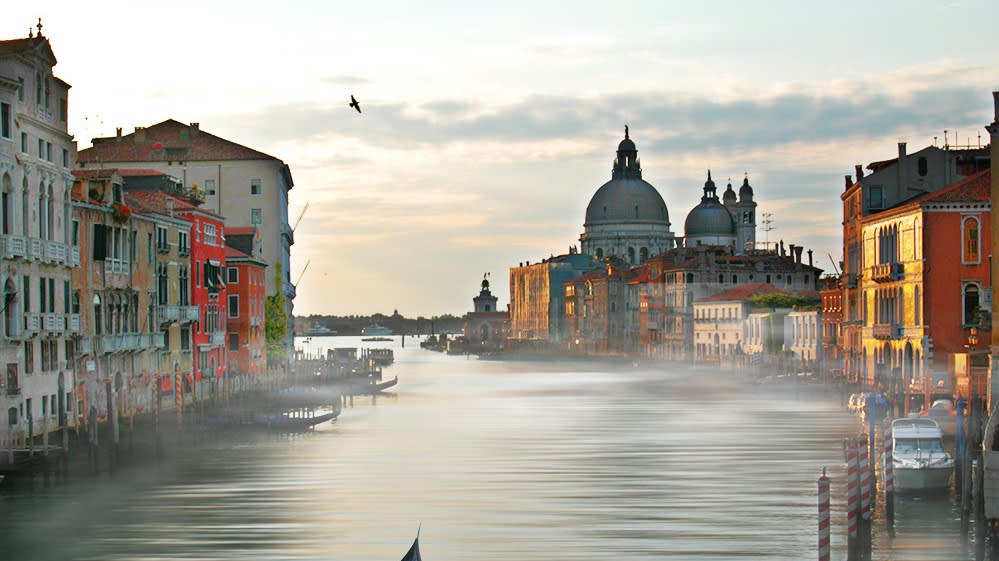 January is included in the Venetian low season. The cold and wet weather takes over the city, so visitors decrease considerably. This, far from being a deterrent to visiting Venice, can be a plus. In January you can see museums and cruise the canals without having to wait in long lines or pay very high prices.
But that's not all. Venice in January has a handful of colorful events that are worth knowing about. And that can be an extra motivation to visit the city of canals in low season. In this article I show you what options are available to you to make the most of Venice in January.
1- A visit or a swim at the Lido
It is very likely that your visit to Venice will coincide with January 1, New Year's Day. The city is intensely celebrating Christmas and New Year's Eve, so it is very likely that the streets will be emptier than usual on that day. However, there is one event you can't miss. It is the first bath in the Lido, the traditional way in which Venetians greet the coming year.
The best way to get there is to take the vaporetto. The trip does not usually take long, more or less between 15 and 20 minutes. Of course, there are several departure points.
Venice Central Station and Bus Station: about a 30 minute ride.
St. Mark's Square: more or less 15 minutes
From the Rialto Bridge: approximately 30 minutes
This information is enough to get you to the Lido; however, if you want more details, here is more information on how to get around Venice by vaporetto. It is also useful to check, more generically, the options on how to move around Venice with different transports.
If there is a perfect day to wander around Venice that is, without a doubt, January 1st. Here is all the information you will need about what to see and do in Venice.
2- Celebrating Tu Bishvat in the Jewish Quarter
Tu B'Shvat, also called New Year of the Trees, is a Jewish holiday that celebrates the appearance of the first green shoots. Although its origin has a lot to do with the Middle East, it is not exclusive to it. So, given that Venice has one of the largest Jewish neighborhoods in Europe, it might be a great idea to coincide your visit to the area with this day.
This holiday takes place in the second half of January, although it varies every year because it depends on the Jewish month Shevat, which is parallel to Gregorian January. Here you can check when Tu B'Shvat is every year. I advise you to take the opportunity to try some Hebrew culinary specialties. During Tu B'Shvat, fruit products and all those that come from trees are especially important. The most typical is either to eat or to incorporate the following products into recipes:
Grapes or raisins
Figs
Barley and wheat (in the form of bread or cake)
Pomegranate
Dates
Olives
3- Epiphany Regatta
The Epiphany of the Lord is represented in Spain by the Three Wise Men, but in Venice they have a no less original tradition. This is the witch Befana, a good witch who also brings gifts to children and, if they have misbehaved, coal.
In Venice this tradition is celebrated in a very curious way: with the Bufana Regatta. The city's best rowers take to the Grand Canal in their boats disguised as witches. It starts around 11:20 a.m. and ends at noon. The regatta goes along the Grand Canal and stops at the Rialto Bridge. A perfect opportunity to explore all there is to see on the Rialto Bridge.
4- The Tricolor Party
The Feast of the Tricolor is the :::|text=Day of the Italian Flag|url=https://www.quirinale.it/page/tricolore_en:::, which takes place on February 27th. On this day the Italian national ensign is exalted, which, by law, must hang from all institutional and governmental buildings. Also, meetings and parades through the streets wearing tricolors are common. Although it is one of the solemn festivities in Italy, it is not a public holiday, so do not expect large crowds and concentrations in the streets.
It is a day that suits the Italian streets especially well, given the display of color that it implies. I advise you to simply let yourself go and take advantage of this colorful day to take your best photos of Venice. In fact, I advise you to take a vaporetto and cruise the canal. Many institutional buildings overlook this waterway, so you can enjoy unusual views the rest of the year.
Check here for more details on what to see and do on the Grand Canal.
5- Feast of St. Anthony Abbot
On January 17 there is an interesting celebration that kicks off the Carnival season: the feast of St. Anthony the Abbot, patron saint of butchers. And also of domestic animals and gravediggers. On the occasion of this celebration, Venice becomes more lively than usual at this time of the year.
The most colorful part of this celebration is the lighting of bonfires in front of some churches. A vision that can be between beautiful and ghostly. Especially because in January fog is common in Venice. Be that as it may, it will give you the opportunity to take beautiful snapshots. What I do recommend is that, given the importance of the churches during this day, you take the opportunity to visit the most interesting temples of the city. Here you can discover more information about the :::|text=the monuments of Venice you can't miss|element=sc-126-2415:::.
6- January Sales in Venice
In Italy, the January sales (Saldi) are one of the most interesting shopping periods of the year. Especially because you can find sales of up to 70%. Which, in one of the fashion countries par excellence, is more than relevant. The date of the sales is not fixed, but always takes place in January. Often immediately after Epiphany. If you want to take advantage of your stay in Venice for shopping, I recommend the following places:
Fondaco dei Tedeschi: Especially recommended to buy beauty accessories and jewelry.
Marco Polo International: A spectacular store that is also an art gallery. It is dedicated to glass craftsmanship. A great idea, for example, if you want to buy a souvenir or make a gift to someone.
Nave de Vero: The best option if you are looking for a big shopping mall where there is everything.
7- A getaway to see the Giubiana
If you like folk traditions, here is one of the most interesting in Italy. It is picturesque, colorful and, above all, very focused on the figure of witches. Of course, to enjoy it you will have to move, but not far from Venice, since the Giubiana is a typical tradition of Piedmont and Lombardy.
The celebration consists of the lighting of bonfires in the squares of the towns and the burning of a doll, representing a witch, in one of them. As you can see, it is a festival with deep popular and folkloric roots, complemented by gastronomy and music.
It takes place on the last Thursday of January in several northern towns. I especially advise you, for its tourist interest, to discover the Giubiana in Busto Arsizio. A town very close to Milan, so you can take advantage and also visit the capital of Italian fashion (which at that time will be on sale). It will take you about 3 hours by car from Venice to this town.
8- Visiting Venice's museums without the crowds
The low season is perfect to enjoy Venice at a slower pace. In good part because the lower influx of visitors makes it more enjoyable. The museums are no exception. If you are in Venice in January it can be a great opportunity to explore them quietly, without queues or crowds. Here are the must-see museums:
9- Foggy views of Venice
That Venice is a city with a melancholic aura and a certain decadent grandeur is something we already know from movies like Death in Venice. However, you have to be there to see it. The good thing about visiting in the off-season is that often the streets and canal environs are filled with mist.
A picture that can be sad or of great beauty. It depends on each one, although I assure you that the photos you can take will be incredible. Especially if you take them in the surroundings of St. Mark's Square.
10- Having a good chocolate in a cup
Since the temperatures in Venice during the month of January are low and the humidity is more than noticeable, there is nothing better than fighting the cold with a good cup of chocolate. Italy is, as you know, an especially chocolate country, so there is no shortage of options to taste its various specialties. I recommend the following places:
Venchi: A chocolate shop located near St. Mark's Square. Particularly suitable for tasting different specialties and not just a cup of chocolate.
VizioVirtù: You will find not only hot chocolate but also cookies, chocolates and all kinds of sweets.
Nino & Friends: Ideal also for coffee lovers.
As you can see, January, despite being low season, offers many things to do in Venice. Just choose yours and... don't forget your warm clothes!
Venice weather and temperatures in January
The weather in Venice: January is cold. The average maximum temperatures are around 7 degrees and the average minimum around 0 degrees. There are colder places, it's true; but consider the humidity. The canals add to this cold a component of humidity that can make the wind chill even lower.
Visitors to Venice in January
In January, the number of visitors is much lower than at other times of the year. This is because January is in the low season. Therefore, you will not find the crowds and queues of the high season.
However, keep in mind that as January progresses, Venice will be warming up for its famous Carnival. This celebration increases the influx creating what is known as mid-season. Therefore, if you visit Venice in the second half of January you will probably see more movement.
Tips for visiting Venice in January
The advice I am going to give you is oriented, above all, to avoid getting cold and to be well equipped. Basically what you will need is the following:
Boots are by no means a bad idea, given that, with bad weather, in Venice the phenomenon known as Aqua Alta occurs. That is to say, eventual flooding of the roads. It is not a small thing at all, as it is not uncommon to see pictures in which St. Mark's Square itself is covered with water.