10 things to do in Rome in May
If you travel to Rome in May, feel lucky! An ideal climate and a moderate influx of tourists will allow you to enjoy, more than ever, its incredible events and festivals.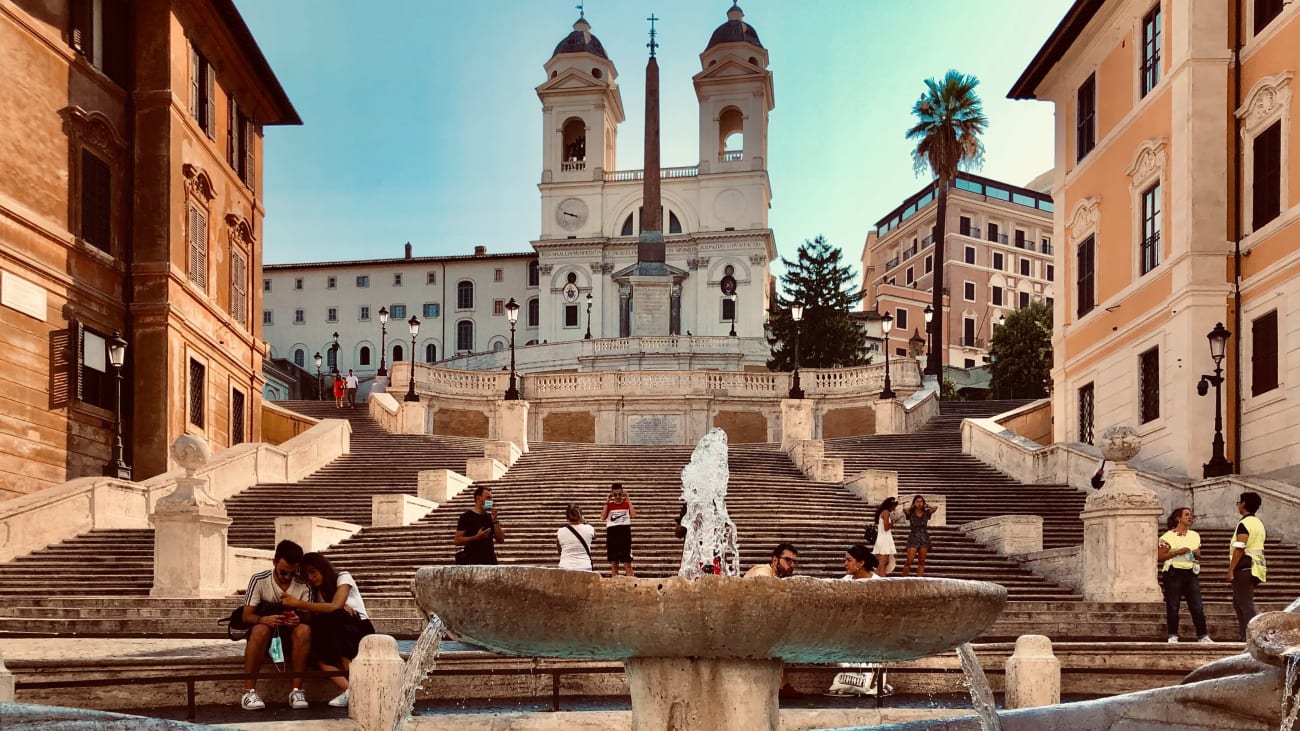 If you decide to embark on your trip to Rome in May, feel lucky because it will be a trip to remember. From May 1st (Primo Maggio Concert) to the end of the month (Roma Summer Fest) there are many exclusive events such as: Open House Roma, the 88th Edition of the Rome Horse Race, the Night of Museums or the opening of the Garden Rose, among other events.
In addition, in the same month of May, and thanks to its characteristics, you can appreciate more closely and accurately the many Roman architectural structures by purchasing tickets for St. Peter's Basilica, or immerse yourself in the depths of the ancient Roman city thanks to walks through the Roman Catacombs.
1. Enjoy exclusive musical concerts
If you are a classical music lover, you should not miss the opportunity to take a seat and feel the sounds materialize and the notes resonate in your senses. Enjoying an opera concert in Rome is a unique experience, simply something magical.
Moreover, the musical concerts at the Autditorium Conciliazion enjoy an unmistakable impact in spring, and especially in the months of March and May. So if you are traveling in May, and you like opera and symphony orchestras, it is a sin to miss such an opportunity.
2. See Rome by moonlight
We are not going to fool ourselves, Rome in May is high season, but unlike other months that also have a lot of tourism, in May the weather is stable and very mild, and even more so when the sun goes down. Therefore, it is a very good time to enjoy the Italian capital by moonlight.
But why would I be interested in seeing Rome at night? You may ask. For a very specific reason. Rome's main monuments are illuminated, giving the city a unique and beautiful look. I assure you that it will look like a totally different city than the one you have seen during the day.
In this case, I recommend you to hire a night tour of Rome, because this way you will be accompanied by a guide and you will be able to learn more about the history of the city.
3. Don't leave without discovering the Sistine Chapel and Catacombs
May is a special month to visit the catacombs of Rome, because it is a season when the good weather makes it possible to walk through the damp corridors that run through the bowels of the ancient city in a much more pleasant way.
The above case also applies to the Sistine Chapel, because you can enjoy this wonder with greater precision and comfort.
4. Take a pleasant bike ride in pure Roman style.
The month of May in Rome is undoubtedly the best month to enjoy a pleasant climate and an atmosphere that mixes spring beauty with the best summer touches. Therefore, it is almost a cultural sign to see both tourists and Italians moving by bike enjoying the views with a beautiful panorama.
You can cycle in the morning and enjoy with natural light the beautiful Roman squares or even the ancient streets with historical baggage. In this case, it can also be interesting to book a bike tour in Rome to go with a guide who will show you the best routes and places.
5. Explore the artistic beauty of Rome during the Night of the Museums.
If you love art and travel a lot, you may be familiar with the name of this event, as it also takes place in other European countries. In the case of the Roman capital this event takes place in mid-May, and in which most museums open their doors for free starting at 8PM.
Who knows? You might get the chance to see the statue of Apollo and Daphne in person, or even contemplate the artistic beauty that shines from **Caravaggio'**s paintings. If you love art, May should be your favorite month to get up close and personal with some of the most iconic paintings, sculptures and monuments in the history of mankind. Don't miss out!
6. Don't miss the Primo Maggio Concert
The Primo Maggio Concert is one of the most important events in Rome. It is a musical marathon where multiple Italian and international artists flood the atmosphere with incredible musical recitals.
There will also be room for multiple other cultural activities that make Piazza San Giovanni (the area where the concert will take place) shine brighter than ever.
The Piazza San Giovanni Concert has been held by the three Italian labor unions since 1990. An event exclusive to the month of May, falling right on the 1st of the month (hence its name); therefore, if your idea is to go in May, it is no nonsense to manage to be present there.
Information about the concert
The "Concertone del Primo de Maggio" is a free concert and usually starts around 14:00 and ends at the end of the day, i.e. at 00:00. Also, as a bonus, there are usually between 2 and 3 songs per artist and then give way to the next guest.
It would be advisable to arrive as early as possible to the square, because, being an exclusive event of the Italian capital, it is not uncommon to see the square full of tourists and Italians before the concert opens its curtains.
Traveler's tip

Keep in mind that this is a fairly busy day in Rome, as many stores will be closed and the streets more lively and cheerful than almost any other time of the year.
7. Take advantage of Open House Rome
Don't miss this exclusive and unique event in Rome, as it is a day in which public and private buildings, some even out of reach of most tourists, open their doors to receive guided tours and free of charge
This event occurs either the first or the second weekend of May, and you will have access to different cultural and historical buildings, from ancient to neoclassical. Whether you are an architecture lover or not, I have no doubt that you will nostalgically remember every detail.
To take advantage of these benefits, reservations must be made through the official website of the Rome Open House
.
8. Don't leave Rome without stopping by the Summer Fest
What better way to bid farewell to the month of May than with the Roma Summer Fest. This is a unique event with which we will close the chapter of May to see more and more clearly the arrival of summer. This event takes place at the Auditorium Parco della Musica, not far from Piazza del Popolo, and can be easily reached by bus or streetcar.
It is a program that includes mostly rock music, but without ignoring the latest in jazz and international music. It is also worth mentioning that just before the Roma Summer Fest, i.e. just before the last sighs of May, you will be able to know precisely all the acts that will be performing, including the names of the artists that will be present.
9. Enjoy the historic horse race in Piazza di Siena
The historic horse race competition is a Roman tradition. If you are a turf fan and you are in Rome at the end of May, you should not miss this incredible annual competition, as an unrivaled atmosphere is expected in the Piazza di Siena.
If witnessing the horse races from a distance already causes an important visual impact, imagine what it is like to see in person those strong horses, enjoy the show in real time, and hear every gallop they give in the center of the Roman capital.
You can check the program on the official website of the event.
10. Enjoy the Rose Garden in style
If you decide to go in May keep in mind that you will see a very green and beautiful Rome. What's more, you will be able to afford to visit the Rose Garden every day and totally free of charge. Not only that, but officially in mid-May all of Rome's gardens will be ready to receive tourist visits.
Rome has a very peculiar way of enjoying spring in full bloom, and its way of doing so is by inaugurating the opening of the Rose Garden, an unprecedented experience in which you will be able to witness with sight and smell a countless number of flowers and scents. It is undoubtedly a magical place with a unique atmosphere that will mark your stay in the Roman capital.
The weather in Rome in May
The weather in May in the Italian capital is usually quite pleasant and welcoming; indeed, it is undoubtedly one of the best months to enjoy this magnificent city and all that it entails. You will be able to enjoy a pleasant climate that will allow you to take part in almost any plan, from the most sedentary to the most dynamic, without fear that the weather may act as an antagonist.
In terms of clothing, it would be best to bring a little bit of everything, as there will be days with summer air and other cooler days. Rains, although scarce in that month, should not be ruled out either. However, for a more precise organization I recommend some of the official weather pages so that you don't get caught out by the bull.
What about Rome's gastronomy in May?
Rome's gastronomy in May takes on a special flavor that stands out like never before. Good weather and good harvests make gastronomic diversity in the Roman capital a considerable feature. Moreover, it should not be forgotten that the pleasure for good food was born in the ancient Roman city. Among the dishes most commonly served in Rome in May are:
La Sagra del Carciofo
The Sagra del Pesce
Spring Cake
Jam Crostata
Bruschetta
Crocchette di patate
If your mouth is already watering, I leave you with this article on the best places to eat in Rome.
The influx of tourists in Rome in May
The particularity of this month of the year in Rome is that it usually has summer and spring characteristics at the same time, this means that there are not as many tourists as it could happen in summer or other festive and punctual date of the year. Such a detail is a pleasure for those who want to enjoy this historic city without feeling so overwhelmed.
Also, being a month where the tourist influx is not so exaggerated it is possible to find interesting exclusive offers and price reductions that will make you allow certain whims and cravings for the memory.
Is May one of the best months to visit Rome?
If I had to decide what is the best time to visit Rome, May would be one of my choices. Indeed, May is undoubtedly one of the most attractive months to contemplate every corner of this beautiful city. The weather in Rome in May is quite pleasant and you can enjoy several days with an ideal temperature. In addition, you will be able to visit squares, fountains and other public areas with greater freedom thanks to the lower tourist influx.
And the best of all is that May is precisely one of the most unusual months for Rome, so you can sign up for multiple exclusive May plans and enjoy amazing events of all kinds.