Best Day Trips from Rome to Tuscany
Take advantage of your vacation in the transalpine capital to explore the nearby regions. Siena, Florence, Pisa and the most charming villages of Tuscany can be easily reached from Rome.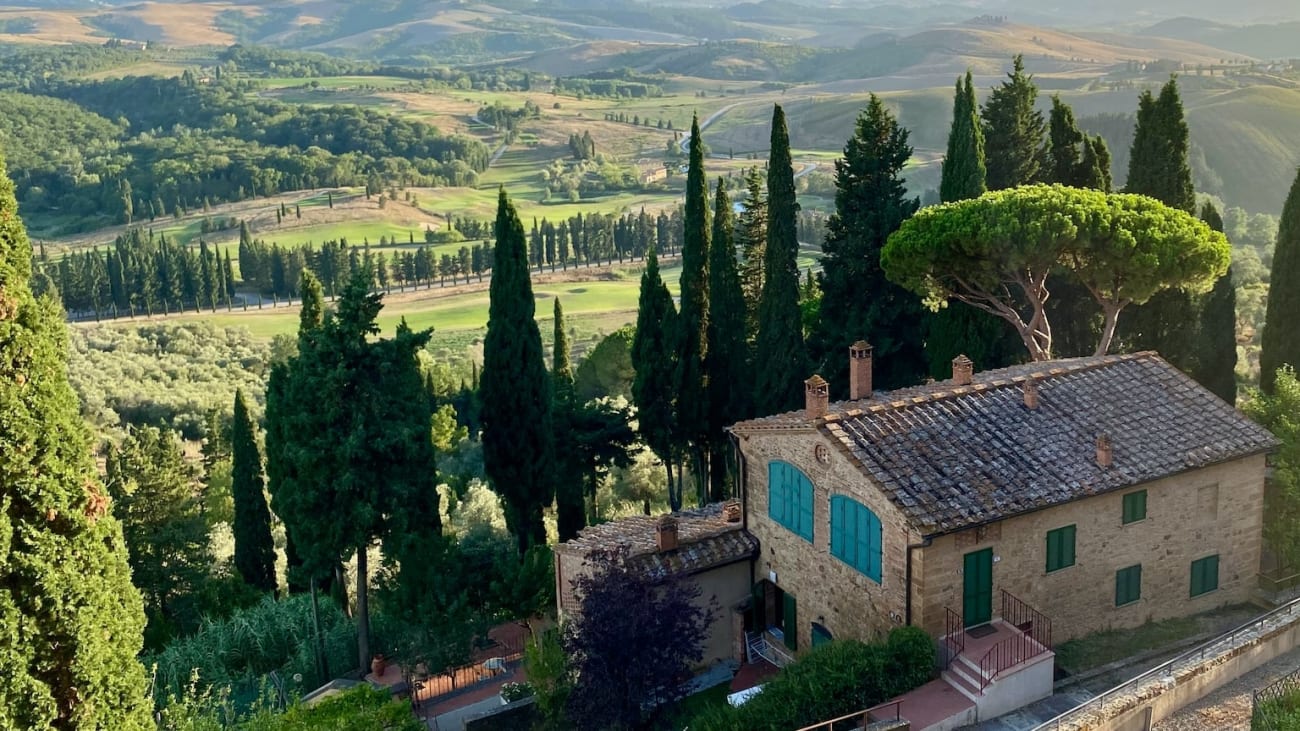 Staying a week or more in the Eternal City? Of course there is plenty to see and do in Rome but a longer stay can be a good excuse to escape to Tuscany. A few hours by bus is enough to reach the historic towns or the splendid countryside of the surrounding region.
If you don't feel like driving or looking for an alternative on your own, you can take advantage of the organized excursions that leave daily from Rome. Whatever your destination, this beautiful Italian region will not leave you indifferent.
1.Excursion to Tuscany with wine tasting and lunch
The Val d'Orcia is the typical postcard of Tuscany. It is located south of Siena and is famous for its beautiful hills alternating with olive groves, medieval villages and vineyards. Since 2004 it has been part of the Unesco World Heritage Site and is therefore a must-see stop on any trip to the region.
Montepulciano, a town known for the wine of the same name. Its heart is Piazza Grande which houses historic palaces and the cathedral with its unfinished facade. If you want to go home with a good bottle, I recommend you to go to the wine shop La Dolce Vita (Via di Voltaia nel Corso 80).
Pienza, the ideal city. By the will of Pope Pius II, it was razed to the ground and completely rebuilt. Therefore, today we can admire Renaissance buildings such as Palazzo Vescovile, the cathedral, Palazzo Piccolomini and other buildings. Pienza is also famous for its pecorino cheese. If you want to buy a wedge, you can buy one at the Caseificio di Mario (Corso Rossellino 16) or at the Taverna del Pecorino (Via Condotti 1).
Montalcino, a fortified town with a lot of charm. It was an important defensive stronghold on the border between the domains of Florence and Siena. The Rocca, a 14th century castle, is the silent witness of Montalcino's military past. The surrounding countryside produces Brunello, a ruby red wine with notes of vanilla, aromatic wood and undergrowth.
The tours usually include lunch with wine tasting, an expert guide and headphones so that you don't miss any explanations.
Price: around 120 €.
Duration: about 12 hours
2. Day trip to Pisa and Florence
The two cities are not too far from Rome. The capital region borders Tuscany to the north and 4 hours by road are enough to reach it.
The essentials of Pisa
The first snack on the route is Pisa, the city of Galileo. The bus usually drops travelers off near the Piazza dei Miracoli, a large space that houses the famous leaning tower, the cathedral and a cemetery.
The guide will explain the history of this place, which is not in the old town, but in an esplanade outside the medieval walls. The stop in Pisa usually lasts an hour or a little more.
Express tour of Florence
After a short bus ride, you will arrive in the cradle of the Renaissance: Florence. Normally, these tours include admission to the Galleria dell'Accademia. It is not as famous as the Uffizi but this does not mean it is not worth it.
Its most iconic work is Michelangelo's David sculpted in white Carrara marble (if you're wondering, yes, the statue in Piazza Signoria is a copy). Other pieces of art you can't miss are Botticelli's "Madonna with Bambino" and Paolo Uccello's "Tebaide". Of course you will see, Piazza della Signoria, the Basilica of Santa Croce, the Boboli Gardens and the Duomo.
At lunchtime, you can take the opportunity to try a lampredotto, a tasty snack based on tripe and green parsley sauce. Personally, I recommend Il Cernacchino (Via della Condotta 38), 'L Trippaio di San Frediano (Piazza dei Nerli) or L'Antico Trippaio (Piazza De' Cimator).
Price: about 200 €.
Duration: about 12 hours
3. Food and wine tour in Siena and San Gimignano
This tour departs early in the morning and heads towards the most famous medieval town in Tuscany: Siena.
The first stop is usually Piazza del Campo, the characteristic shell-shaped, russet-colored square. Typically, these tours include stops at the following points:
Palazzo Pubblico, a monumental building in the central Piazza del Campo. It was built between the 13th and 14th centuries and has remained unchanged over the centuries. It is flanked by the slender Torre del Mangia that reaches 87 meters in height.
Basilica di San Domenico, built in Cistercian Gothic style and austere appearance. Inside it preserves the head-reliquary of St. Catherine of Siena.
Duomo, the cathedral dedicated to Our Lady of the Assumption. It has two peculiarities: the unfinished facade and the splendid Libreria Piccolomini decorated with frescoes by Pinturicchio and Raphael Sanzio.
After visiting the town, the minivan will take you to San Gimignano, the New York of the Middle Ages. Between the thirteenth and fourteenth centuries, wealthy families showed their economic power by erecting high towers. The village is beautifully preserved.
Before returning to the capital, the vehicle will take you to a winery in the Chianti region. Here you will have the opportunity to taste wine and some varieties of extra virgin olive oil.
Price: 250 € or little more
Duration: about 12 hours
Are these excursions worth doing with children?
It depends on the age and interests of your children. Personally, I don't think it is the best option. Although Tuscany is not too far from the Italian capital, the bus rides are long, as are the walks at each of the destinations.
Also, some of these excursions to Tuscany from Rome are focused on wine, so they are not the most suitable for children.
If you are traveling with your family, there are other interesting activities. You can opt for a bike tour in Rome, explore the gardens of Villa Borghese or buy tickets for the Catacombs of Rome. If you want to know more about this topic, I recommend you to read the post about the 10 things to do in Rome with kids.
In any case, on all the above mentioned itineraries you can take baby carriages and the buses are provided with child seats. If you need one, be sure to indicate this during booking.
What will I see on this type of tour?
These excursions can be divided into two types: those focused on cities of art and those focused on natural beauties and gastronomic offerings.
However, this does not mean that the latter do not include stops in historic towns such as, for example, Pienza and Montepulciano.
When is the best time to visit Tuscany?
If you are thinking about a trip to Florence, Siena or other cities, you should visit the region in spring. So, if you are looking for what to do in Rome in May, for example, you should consider booking this activity.
Winters are quite cold and summers are hot, it is best to opt for the in-between season. In March the weather is usually not very stable - rains are lurking - but April and May are characterized by sunny days and longer days.
Instead, wine enthusiasts prefer to take advantage of a visit to Rome during the fall to visit Tuscany. In the famous Chianti wine-growing area, the harvest period is between mid-September and mid-October. The leaves turn red, orange and yellow adding a magical touch to the landscape.
If you are traveling to the capital in summer, I would recommend another option: an excursion to the Amalfi Coast from Rome. Sorrento, Positano, Amalfi and the blue waters of the Gulf of Salerno are not too far from the Eternal City.
Is Tuscany worth visiting at Christmas?
If you plan to visit Florence, the answer is yes. On December 8 the big trees in front of the Palazzo Vecchio and the Duomo and the rest of the city's festive illumination are lit.
The most famous Christmas market is located in Piazza Santa Croce and offers gastronomic products, decorative items, handicrafts and much more.
In Piazza Santa Maria Novella is the Scottish market, a tribute to the twinning between the capital of Tuscany and Edinburgh. In general, there are dozens of activities and events scheduled throughout the month. For more information, you can read the post on Florence at Christmas.
Also Pisa, Siena, San Gimignano and the other charming towns are filled with magic with Christmas lights. Plus, when the cold weather hits, you have one more excuse to recharge your batteries with the comforting local food and wine.
What typical souvenirs can I buy?
Tuscany is a region with many differences within it. It produces a little bit of everything, from excellent gastronomy to clothing or designer products. Below I leave you a small list that gathers the best souvenirs:
Cantucci, a crunchy, grainy cookie usually eaten dipped in Vin Santo. You will find them in many tourist stores and if you are not convinced, you can buy them even in larger supermarkets.
Leather goods (belts, wallets, shoes, etc.). In Florence you can shop at Benheart, Manninna or Missouri.
Red or whitewine. The best are Chianti, Brunello di Montalcino, Vernaccia di San Gimignano and Sassicaia.
Pecorino, a delicious cheese made from sheep's milk. You can also opt for other typical dairy products: Grande Vecchio di Montefollonico (long ripening and hard paste), Abbucciato (with a particular aftertaste of hay), Caciotta and others.
White or blacktruffles. If you go to Florence, you can be sure to buy them at Le Delizie di Toscana (Via del Sole 27).
Panforte, the typical sweet of Siena. It is prepared with dried and candied fruits, spices and honey. In the city of the Palio, you can buy it at Nocino (Via Aretina 13), Antica Drogheria Manganelli (Via di Città 71) or La Fabbrica del Panforte (Via Po 20).
Finocchiona, a sausage with a long history. It is made with fennel seeds that give it a very original aroma.
What are the must-see villages in Tuscany?
Tuscany is a beautiful region and if you travel on your own, you have plenty to choose from. The list below gathers some towns that you will fall in love with:
Pitigliano, the town of tufa. It rises on a very suggestive rock spur and a walk through its old town becomes a journey back in time. A short distance away are the famous Terme di Saturnia.
Capalbio, a charming village on the border between Lazio and Tuscany. Its medieval center, countryside and sandy beaches have made it one of the privileged destinations of the Italian jet set. One of its most famous attractions is the Giardino dei Tarocchi, a garden reminiscent of Barcelona's Park Güell.
Volterra, a very ancient center whose origins date back to Etruscan times. If you want to know more about this civilization, you can visit the Museo Etrusco Guarnacci (Via Don Giovanni Minzoni). A ticket costs about 8 €.
Porto Ercole, beautiful seaside town on the Argentario promontory. If you go in spring or summer, you can sunbathe on three beaches: Le Viste, Spiaggia Lunga and Acqua Dolce.
Loro Ciuffenna, known for hosting the oldest water mill in the region. It is very suggestive and if you want to stay for lunch, I recommend you to book a table at Il Cipresso (Via Alcide De Gasperi 28).