Danube Bend Tours
Don't miss the most charming villages of the so-called Danube Bend. I'll tell you here what you can't miss on this tour.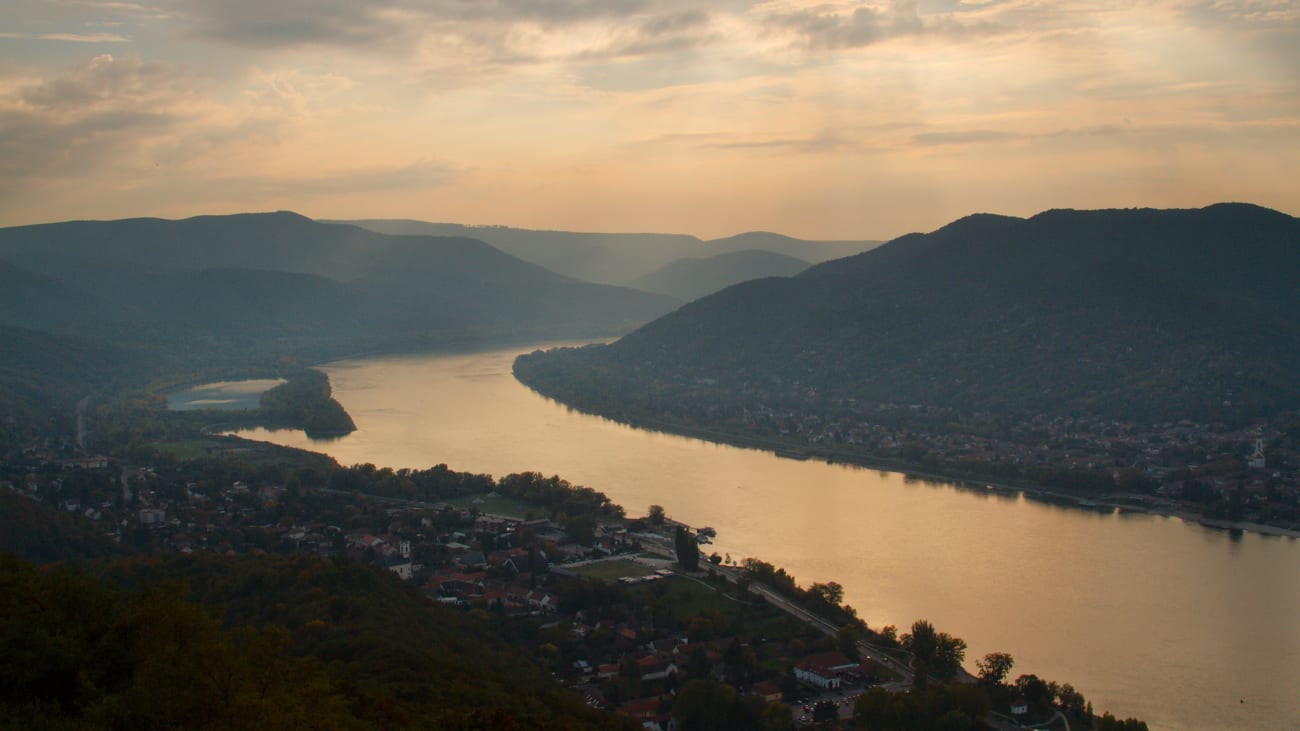 Among the best tours and excursions from Budapest, you will certainly always find the option of touring the Danube Bend, a walk that is worthwhile for its landscapes and history that keep each of the localities that are part of this area.
At 50 kilometers north of the city of Budapest, the Danube makes a curve to the south, where you will find towns that keep history, tradition and offer wonderful views, such as the small town of Visegrád, where you can visit a medieval citadel and the ruins of a royal palace.
You will see cobblestone streets, craft markets and small places to eat. This is definitely an excursion you should include in your itinerary. To do so, my recommendation is to check out the many organized tours available to you.
1. Day trips to the Danube Bend
Of the many options, my recommendation is that you look for organized tours that include a tour of approximately 8 hours by the three most beautiful and representative cities of this area as they are: Esztergom, Visegrád and Szentendre, a route that is known as the Blue Danube.
Why I like this option: It seems to me a complete option if you want to take something of each of these places and not focus on just one. The approximate cost of this alternative is 60€ per person, including, among other things, transportation and a professional guide.
It is also an ideal option, within the alternativetours and excursions that you can take from Budapest, if you have a tight schedule and want to make the most of your visit to Hungary.
What to see in Esztergom
This type of excursion usually starts in Esztergom, and almost always includes a visit to the Cathedral of St. Adalbert, considered the largest basilica in Hungary, and the main attraction of this population.
Some other interesting places in this place are the Vizivaros neighborhood, which extends along the banks of the Danube and where you will find beautiful architecture and places to eat. In addition to its castle, built around the year 1070.
What to see in Visegrád
Usually on organized day trips along the Danube Bend, this is the stop for lunch and enjoy this medieval-looking place with its breathtaking views, which make it the best setting to enjoy a delicious meal.
The Citadel is perhaps one of its main attractions. A superb fortress built in the reign of Bela IV to defend against Mongol invaders.
What to see in Szentendre
My favorite and in my opinion the perfect option to end your day of exploration. The small town of Szentendre offers you a bohemian and artistic atmosphere that will captivate you. You will find small galleries, squares and parks with a cultural vibe that will win you over. Some tours take you back to Budapest from here, offering a relaxing cruise along the Szentendre River, an ideal closure, as you can return to the city on a cruise, another of Budapest's not-to-be-missed plans.
Interesting details
Price: from 50 € to 60 € approximately per person, you can find this type of 1 day excursion touring these three small cities.
Duration: 8 hours approximately.
Type of transportation: air-conditioned vehicles. In some cases, and depending on the season, the return to Budapest is by boat.
What isincluded: professional guide, boat trip between Szentendre and Budapest (depending on the season), air-conditioned vehicles, entrance to the Esztergom Basilica and entrance to the Danube River.
Number of persons: generally these tours are organized for no more than 45 persons.
Advantages: a complete option if you do not have much time and want to know a little of the three most important localities of this region of Hungary.
Disadvantages: you may miss some of the attractions of the places, as the itinerary of the tour may not allow you to do free tours. If there are many people on the tour, it can be difficult to communicate with the guide.
2. Private excursions with cruise and lunch included
If the organized 1-day tours can be chaotic because of the number of participants, this option seems perfect to me if what you want is to have a more private space to get to know in detail the Danube Bend area. This type of excursion fits your family or travel group, so you won't have to share transportation with strangers and you will have a professional guide during the whole tour.
Including a meal, which is usually lunch, you can access this tour with an approximate cost of 90 € per person.
This type of tour also makes the route of the Blue Danube, through Visegrád, Esztergom and Szentendre. Including also the entrance to the Basilica of Esztergom, for example. This option also has the advantage that it gives you free time that you can use to explore each place independently, at your own pace and let yourself get lost in its beauty.
Details of interest
Price: from 90 € you can find private tours to visit this route of the Danube Bend.
Duration: approximately 8 hours.
Type of transportation: private transportation by minivan or air-conditioned car and return by river cruise (from April 30 to September 30 except Mondays).
What'sincluded: a 3-course lunch, private local guide, transfer to and from the hotel, private visit to Esztergom Cathedral, return cruise to Budapest.
Number of people: this is a private option, so it will be organized only for your tour group.
Advantages: this is a private tour so all the attention will be for you and your group. Multilingual local guides and the possibility of having free time to explore each place more independently.
Disadvantages: more expensive than a general organized tour option, but worth it if you are looking for a relaxing day with all the attention on you and yours.
3. Excursion to Szentendre village from Budapest
If you like to travel without haste, even if you have to know fewer places, the excursions along the Danube bend also offer options to visit exclusively some of its villages, giving you the possibility to know each place in detail. In this case, you can take an organized excursion to Szentendre, a place that will inspire the artist in you. This option, with an approximate duration of 4 hours, includes transportation, professional guide and has an approximate cost of 40 €.
An excursion to explore Szentendre at leisure, walking through its cobblestone streets, as well as enjoying restaurants and bars with bohemian and Mediterranean flair, where you can taste, among other Hungarian delicacies, a local specialty such as lángos, which is also popular in other European countries such as Austria, Serbia and Slovakia. It is a flat fried bread that you will love.
This tour may include:
Aquincumi Museum.
Ruins of an ancient Roman city.
Guided walk through the city center and along the river bank.
Cruise back to Budapest, depending on the season. This option is usually available between May and September, with a walk lasting about 1 hour.
Details of interest
Price: from 40€.
Duration: about 4 hours.
Type of transportation: air-conditioned transportation and return to Budapest by river cruise (from May to September).
What's included: professional guide, lángos (fried Hungarian bread), transportation, entrance to the Danube River.
Number of people: this activity is usually scheduled for 30 people maximum.
Advantages: you stop at only one place and one of the most picturesque and entertaining places in the region. You can enjoy an excursion with more detail and tranquility.
Disadvantages: you may be left wanting to see more of the area by choosing to visit Szentendre exclusively.
4. Excursion to Esztergom village from Budapest
Of the many things to see and do in Budapest, including a cruise on the Danube or an excursion along the Danube Bend is certainly a good decision. And if you want to focus on one of the most representative cities of the region, I recommend you to opt for this alternative with costs from 40€, which takes you on a tour of approximately 4 hours through Esztergom.
Here you will find the largest Basilica in Hungary, as well as explore the colorful neighborhood of Vizivaros to finish with a walk along the Little Danube, where you will enjoy beautiful views.
Details of interest
Price: from 40€.
Duration: 4 hours approximately.
Type of transport: air-conditioned transport, pick up from accommodation and return.
What's included: professional guide, transportation, entrance to the Danube River.
Number of people: it depends on the tour operator but it is usually scheduled for a maximum of 30 people.
Advantages: you get to know the largest cathedral in Hungary and visit a place with a wide historical richness in a detailed way and with a guided tour.
Disadvantages: it can be short the time to enjoy the attractions of Esztergom, apart from the basilica.
5. Excursion to Visegrád village from Budapest
Another recommended among the best excursions and tours from Budapest, is to dedicate an organized excursion exclusively to visit Visegrád. This point of the Danube curve offers you a walk through its incredible fortress and medieval buildings. With costs starting at 40€ and with tours that take about 4 hours, including transportation and a professional guide, you will be able to explore this magical place.
From Visegrád Castle, you can have incredible views of the landscape and the Danube River. You will also find here Solomon's Tower, located below the Citadel, and a structure that was part of the defense system of Visegrád Castle.
Details of interest
Price: from 40€.
Duration: 4 hours approximately.
Type of transport: air-conditioned transport, pick up from accommodation and return.
What's included: professional guide, transportation, entrance fee to the Danube River.
Number of people: this activity is usually scheduled for a maximum of 30 people.
Advantages: an ideal excursion for those who love history and are attracted by medieval architecture.
Disadvantages: Unlike Szentendre and Esztergom, this place does not have many highlights, but you can still enjoy the natural environment and beautiful views.
You will certainly have an unforgettable time if you decide to take any of these Danube Bend tour options. Your choice will depend on your specific interests, how much time you have and what budget you have for this type of activity.
If your visit to Budapest is for 5 days, for example, I think it is advisable to consider including an excursion of this type. It will offer you a different feel, another look at the region and many more travel memories.
What is the best season to make an excursion to the Danube Bend?
Without a doubt the sunny months with friendlier temperatures are my favorite. In April you have a lot to do in Budapest and it will be an ideal month to make an excursion of this type. The activities in September in Budapest are also ample. Also from April to September, you will have the possibility to return from these excursions by cruise ship, which will give your trip an extra fun.
When choosing atour or excursion from Budapest, please keep in mind:
What is included: check very well the specifications and what is included in the excursion of your choice. Very important if it offers hotel pick-up service, or if you have to travel to a meeting point.
Where you will eat: this is a key aspect to take into account. If you are traveling with small children, check the meal times and what your available options are included in the excursion. Don't forget to communicate any allergies or restrictions that should be taken into account by the tour operator.
Itinerary: check if you will have free time or which are the stops. This will allow you to have an idea of what you will see and for how long.
Enjoy the Danube Bend!