10 Best Ruin Bars in Budapest
Low lighting, original decoration and writing on the walls: three elements that have decreed the success of the ruin bars.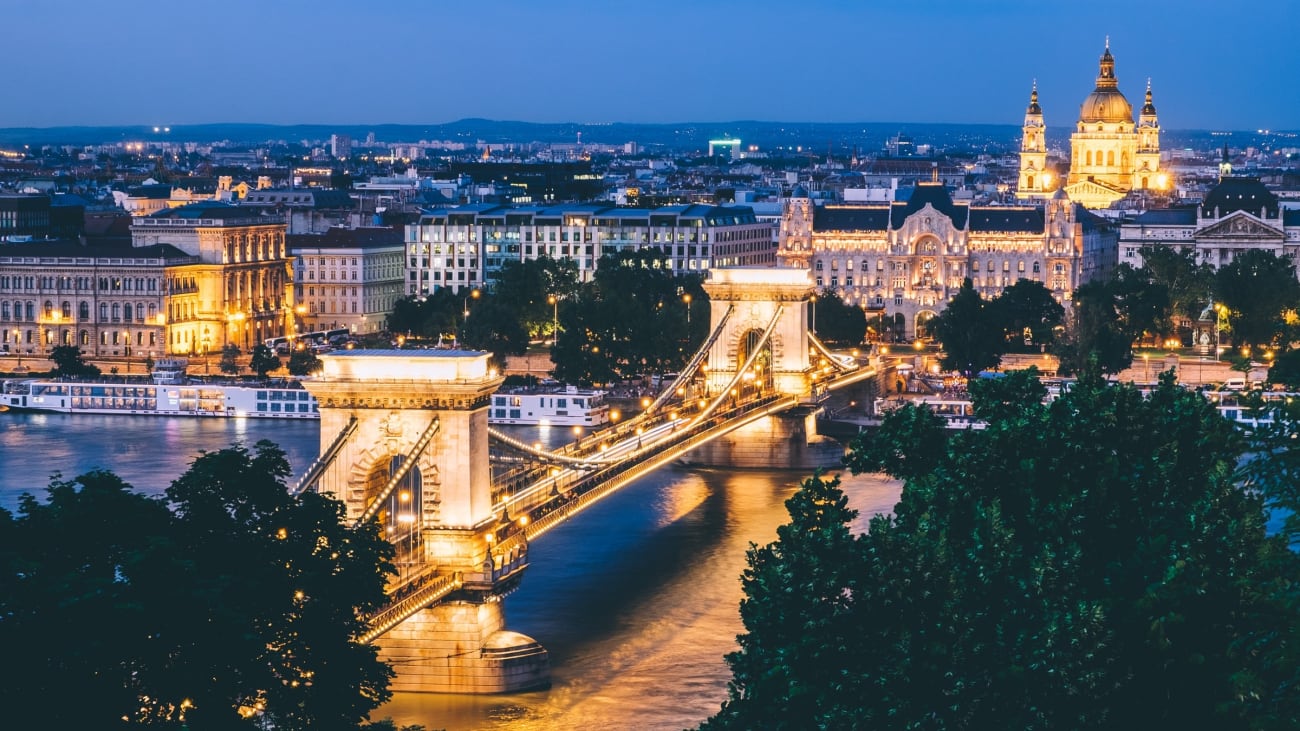 To understand the spirit of a city, you have to discover its nightlife. Budapest by night deserves to be discovered in depth, only then you will be able to enter into its soul and understand its secrets.
In Budapest, you can accomplish this task by exploring the ruin bars, some of the most neglected looking bars that attract tourists and locals alike. The list below gathers the best spots in the Hungarian capital.
Szimpla Kert, the pioneer of the ruin bar
What is now an unmissable attraction was born almost by chance. In 2002, the owners wanted to launch a new bar concept where you could do a little bit of everything, from listening to live music to smoking a bong in the company of friends. To realize their dream, they rented a building in the old town that was in a state of neglect. After some construction work, they decided to give the ambience a scruffy look and the formula hit the nail on the head.
Szimpla Kert is the most frequented dingy bar in the Hungarian capital and any long weekend should include a stop in this mythical place. It's a real labyrinth and I recommend you spend a little time exploring its atmospheres. You could end up having a pint in the old Trabant car in the courtyard or in the comfortable armchairs on the second floor.
Information of interest
Address: Kazinczy utca 14
Opening hours: Monday to Thursday, open from 15:00 to 4:00. Fridays, Saturdays and Sundays, it welcomes the first customers at 12:00 and closes its doors at 4:00.
Instant-Fogas, the solution that brings everyone together
In 2008, the legendary venues Instant and Fogas joined forces to create the largest ruin bar in Europe. This huge space has seven different atmospheres dedicated to different music genres: techno, live concerts, remixes of famous songs, rock, metal, edm and Latin music. Admission is free and the doors close only at six in the morning. In short, Instant-Fogas is the ideal place to let off steam after a day of sightseeing.
Useful information
Address: Akácfa utca 51
Opening hours: Instant and Fogas open daily from 6:00 p.m. to 6:00 a.m.
Csendes Létterem, the ruin bar on Akácfa Street
In an alley near the National Museum is Csendes Létterem, a ruin pub housed in an elegant 19th century building. If you don't see anything peculiar from the outside, go to the windows and take a look inside. From its walls hang objects of all kinds: a bicycle, mannequins, messages left by customers, mirrors, traffic signs and other curious objects.
Unlike many dilapidated pubs, Csendes Létterem opens early and is a recommended choice for breakfast. In addition to traditional recipes, its menu includes vegan options such as pancakes with maple syrup and fruit, chia pudding with coconut milk or mango puree. In the evenings, this peaceful place transforms into a dj set with soul, funk and jazz. To get an idea of the entertainment offer, I recommend reading the post about the 10 things to do in Budapest at night.
Interesting information
Address: Akácfa utca 51
Opening hours: Csendes Létterem open every day of the week from 10:00 to 2:00
Kőleves Kert, the "stone soup garden"
If you travel to Budapest in summer, you can't miss the terrace of the Kőleves Kert, a ruinous bar in the Jewish quarter. In the warmer months you can enjoy a pint of beer or a glass of wine at the colorful tables in the garden. The trees and plants form a green oasis and with a little luck you can relax in the hammocks. The drinks menu is varied as is the menu which includes salads, vegetarian recipes and heartier dishes such as roast duck (a Hungarian specialty) and baked beans with hard-boiled eggs.
Interesting information
Address: Kazinczy u. 37-41
Opening hours: Kőleves Kert is open daily from 11:30 a.m. to 11:00 p.m.
Mazel Tov, the place to be
Located in the heart of the Jewish quarter, Mazel Tov is a cultural space with an eye on gastronomy. Indeed, this ruin bar is more like a restaurant offering tasty Middle Eastern recipes. The establishment is very busy and it is preferable to book a table in advance on its official website. Classic dishes include hummus (served with tahini, parsley, olive oil and pita bread), falafel and sabich, an Israeli sandwich with fried eggplant, hard-boiled egg, tomato, cucumber and other ingredients. There is also no shortage of fusion recipes and delicious desserts to top off the meal.
At Mazel Tov, the most striking feature is the plants hanging from the second floor, creating a friendly and cozy atmosphere. After dinner, you can come here to enjoy a cocktail. The menu offers original drinks such as a Peach spritz (a variant of the Italian drink with peach puree and prosecco) or a Cosmojito (Absolut Blue, Mandarine Napoleon, Cointreau, cranberry syrup and cranberry juice).
Interesting information
Address: Akácfa utca 47
Hours: 17:00 to 0:00 (Monday and Tuesday) and 12:00 to 0:00 (all other days)
Grandio Jungle Bar, the urban oasis in the Jewish Quarter
A few meters from the Great Synagogue is the Grandio Jungle Bar, a newcomer that has quickly climbed the hierarchies. As the name suggests, the bar is located in an inner courtyard and its tables are sheltered by luxuriant vegetation. Many of its customers stay in the party hostel on the second floor, but you can access the bar even if you are not staying there. In addition to a few drinks, you can watch soccer matches or take part in a karaoke night.
Interesting information
Address: Nagy Diófa utca 8
Opening hours: Grandio Jungle Bar is open every day from 12:00 to 0:00
Élesztőház, the brewer's paradise
Hungary and beer are closely linked. The first document mentioning it dates back to 1152 and speaks of a funeral that was to be concluded with a "beer party". Today, the most widespread brands are Dreher (a pilsner-style lager) and Soproni, a refreshing IPA that you'll find in any bar in the capital. Clearly, the Eastern European country also brews craft beers and Élesztőház is the perfect place to taste them. If you get the itch, take a look at the menu. The establishment is known for its mushroom salad and incomparable burgers.
Interesting information
Address: Tűzoltó utca 22
Opening hours: Élesztőház is open all week long at different times: from 3:00 pm to 1:00 am (Sunday and Monday), from 3:00 pm to 2:00 am (Tuesday and Wednesday) and from 3:00 pm to 3:00 am on other days.
Dürer Kert, a boarding school turned into a punk and metal temple
Unlike the other ruin bars on the list, Dürer Kert is not located in the Jewish quarter but in Kelenföld, a district that saw the light of day in the 1970s. Although it is a bit far from the center, you can get here by taking a trolleybus or a bus. The trip takes about 30 minutes but I assure you it's worth it.
On the banks of the Danube stands a building with a unique history. Before the arrival of the Soviets it was a boarding school run by the French nuns of Sacré Coeur. With the establishment of the Hungarian People's Republic, the nuns left the building, which was destined for the big shots of the communist nomenklatura. Today it houses a dingy bar that has become a Mecca for punk, metal and trash fans. Its concerts animate the nights of Budapest since 2008.
It also has pinballs, ping pong tables, lounges with sofas and an old bus transformed into a rest area. Dürer Kert has a subsidiary: Dürer Part, a small bar on the beach of Lupa. This beach is located on Lake Lupa, a destination just a few kilometers from the Hungarian capital. It is the perfect place both for drinks and outdoor sports. If you are interested in activities outside the city, I recommend you to read the post about the best excursions from Budapest.
Information of interest
Address: Öböl utca 1
Opening hours: the concert space is open only if there are events scheduled. Before planning your visit, I recommend consulting the official website of Dürer Kert.
Szatyor Bár, a destination with a difference
Like the Dürer Kert, the Szatyor is not located in the Jewish quarter but on an elegant avenue of the capital: Bartók Béla. This residential street is home to bookstores, art galleries (Faur Zsófi, Gross Arnold, etc.), cafés (Addicted2Caffeine, Hadik, etc.) and some of the capital's best restaurants. Szatyor is located at Civic 36 and is one of the few ruin bars on this side of the Danube.
Unlike the other bars on the list, it is not much frequented by tourists who prefer downtown establishments. Its decoration has an unkempt touch although it does not reach the extremes of Szimpla Kert. To get here from the old town, you can take the streetcar from Deák Ferenc square (lines 47 and 49) and get off at the Gárdonyi tér stop.
Information of interest
Address: Bartók Béla 36
Opening hours: Szatyor Bár is open daily from 12:00 to midnight.