Spa Visits and Tickets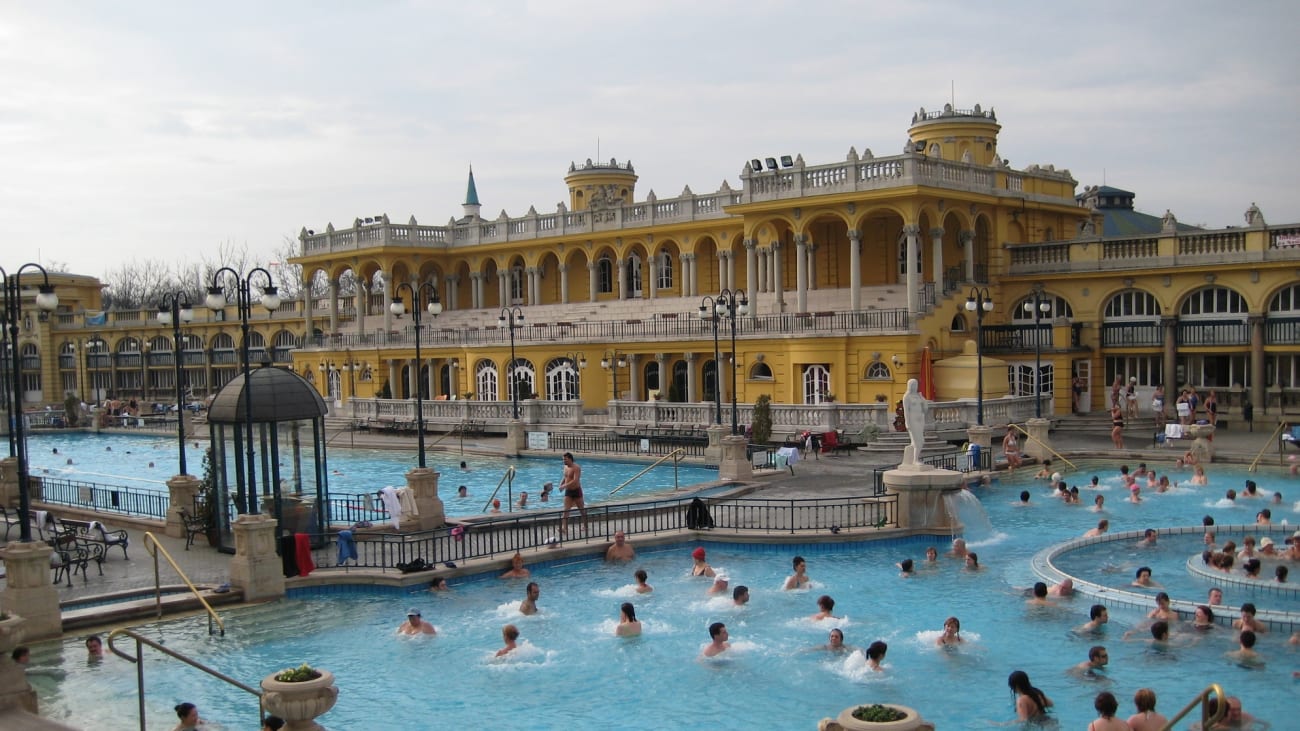 The first thing that comes to mind when I recall my Budapest spa experience is that, until then, I didn't know what a real spa was. In fact, I have never again visited any spa or spa that resembles them.
1. The best spas in Budapest
:
There are two main spas in Budapest and both offer different types of entrance tickets. You can buy a general full day ticket or a ticket with special services like massages or hotel pick up and drop off. I explain them all below:
:::link|text=Géllert Spa: full day entrance|element=pr-36771:::
2. Széchenyi Spa: full-day entrance fee
:
They are the best known baths in the city, both by tourists and locals, and also the cheapest. You have probably seen different pictures of its huge yellow facade and its outdoor pools with chessboards. The luxurious neoclassical decorated Széchenyi has a total of 15 pools, 3 of them outdoor including Jacuzzis, steam rooms and saunas.
Prices of added services
The total price you will pay for your full day entrance to the Széchenyi Baths depends on the services you add to your visit, such as, for example:
20-, 45- or 60-minute massage: the price difference between the normal ticket and the 20-minute massage ticket is minimal, so it is worth adding this service.
Towel rental: you can bring your own towels and save on the rental fee
Rental of private cabin instead of a locker: it is only one euro more and well worth it.
Package** I love Spa: includes hostess orientation, towel, flip-flops, bathing cap, shampoo, bath gel and bottled water.
Schedules
Széchenyi Spa is open from 6 am to 10 pm (although the indoor pools usually close at 7 pm). It can be visited both in winter and summer, but the experience of doing it in winter is unique because with an outside temperature below zero you can be outdoors in a pool of warm water without being cold at all, something unheard of in other places in the world.
Availability
The Széchenyi baths are considered the largest hot springs complex in Europe, so its large capacity makes it difficult to sell out except on dates such as Easter or holidays. Of course, it is better to book them in advance to avoid queues.
3. Széchenyi Spa: full day entrance and hotel pick up.
The Széchenyi baths are located far away from the city center, so the best way to get there from your hotel will be this entries with pick up at your hotel::. The specific location of this spa is in the inner part of the city in the Pest Ring, in the middle of the Városliget (city forest).
4. Széchenyi Spa: full day entrance and evening Danube dinner cruise
Since the visit to these baths is one of the most requested experiences by those who visit Budapest, there are different packages that include another tourist experience with the entrance ticket in order to save costs and offer the traveler a complete experience.
One of these options is the experience of first enjoying the Széchenyi baths and then a Danube cruise with dinner included: during which you can see monuments such as the Hungarian Parliament, Buda Castle or the illuminated Chain Bridge.
The dinner includes a hot buffet of traditional Hungarian dishes and during the cruise a Hungarian music orchestra will entertain the evening. This option is good if you have little time in Budapest and want to live an authentic and different experience, but if you want to see the baths in depth and enjoy them for a whole day, you may want to separate both experiences (baths and dinner cruise) on different days.
5. Géllert Spa: full day entrance fee
The second most famous spa in Budapest is the Géllert Spa, in art nouveau style. It is part of the hotel of the same name and is located on the bank of Buda next to the Citadel. The style is different from Széchenyi and it could be said that these baths have a more "exclusive" or luxurious touch.
The demand tends to be a bit higher, so we recommend that you purchase entries for the Gellert Spa:, it will save you from waiting and queues. The baths of the Géllert Hotel have been in operation since 1918 and are one of the most renowned in Hungary.
What you will see inside
Marble columns and statues
Glass roof
A two-story atrium
Two effervescent pools
Three outdoor swimming pools
Eight thermal baths
Children's pool
Sauna
Mud pool
Special services available
With 13 pools, including steam baths and saunas, there are also amenities you can add to your ticket such as:
Different types of massages: aromatic, refreshing, harmony, luxury... They are available from 9:00 am to 6:00 pm.
I love Spa Package**: with towel, slippers, shower gel, shampoo, cap and mineral water.
6. Géllert Spa: full day admission and hotel pick-up
In this package, in addition to the entry to the Géllert spa, you will be picked up at your hotel:. A private vehicle will pick you up at your hotel on the day and time scheduled for your visit and will take you to the spa comfortably so that you don't have to worry about anything.
Schedules
Something very important to know about the Géllert Spa is that it closes on weekends. During the rest of the week the opening hours are from 6:30 am to 7:00 pm although these conditions are subject to possible changes at certain times of the year. In any case, when you book your tickets online, you will know the dates that are not available.
7. Other Budapest spas
If you have already visited the two most important baths of Budapest, Széchenyi and Gellert, and you want to add some more to your visit you also have other options. They are smaller spas where you can enjoy the experience in a more intimate way.
Lukács
I recommend you to go on Saturday, since on this day in this bath that used the thermal waters of an ancient monastery in the twelfth century are mounted authentic parties known as spartys. You can also go any other day of the week to relax, but it is smaller than the rest of the options you have in the city.
Rudas baths
With a decorative style dating from the XVI century, these baths are very popular in Budapest. They are located on the Gellert hill facing the Danube (do not forget to take a walk around before entering) and highlights its octagonal-shaped central bath with a dome of 10 meters in diameter. When buying the ticket you will have the option to select only the morning schedule, which will save costs.
Császár Baths
It is the best option if you are looking for a smaller spa where you can relax without being surrounded by people. It only has five pools, so it is best to book your ticket in advance to ensure your place.
### Király Thermal Bath
Do not expect big structures in these baths, since its decoration is quite rustic, something that, on the other hand, make it the most authentic option of all those available in Budapest. These Turkish baths date from the XVI century and are not usually very crowded, especially if you go during the week.
8. Organize your visit to the Budapest spas
How to get there
Although there are spas like Széchenyi further away from the center, in the city of Budapest everything is accessible either on foot (depending on where your hotel is) or by cab (prices are quite affordable). Remember that you can also buy tickets with hotel pick-up included for a small supplement, but the return is on your own.
Where to eat
If you are going to spend a full day at the Budapest baths, you will probably be interested in where to eat. Most of the baths with full day entrance have inside restaurants or cafes with prices somewhat higher than the restaurants in the city center but still quite affordable.
In many of them you can also bring your own food and keep it in your locker or in your cabin to take it with you when you get out of the water. In any case, do not rule out going out in the middle of the day for lunch or a walk around; if you let reception know you will be able to access again with your bracelet at any time of the day, at least in most spas.
When to go
The spas in Budapest are open all year round and both in summer and winter the experience is worth it. In winter, you will be quite cold when you go from one pool to another, but it will be worth it in exchange for being in a warm water pool when outside the temperature drops below zero degrees.
Avoid holidays like Easter if you don't want the spas to be saturated with both tourists and locals. At night the magic of the pools is amazing, so try to be there when the sun goes down even if it is only for a while.
Hygiene
Although all these baths are duly taken care of, the amount of people that concentrate daily inside them makes it convenient to take some precautions. Above all, bring your own flip-flops or rent them on site and wear them whenever you are out of the water. Although a water cap is not mandatory, it is advisable to wear one to avoid leaving hair in the pools.
Health
In any of the spas that you can go to in Budapest you are going to find, above all, with great temperature changes. This is something very good for the circulation, but if you have any specific pathology that you think may affect you, consult your doctor or the spa staff before making use of its facilities. Also, make sure you stay hydrated during your visit.
9. Why visit a Spa or spa in Budapest?
:
There are many cities that lend themselves to visiting a spa or a spa during the trip, but in Budapest this goes beyond. Visiting the city's spas is a practically obligatory experience for visitors, as is visiting the Parliament or crossing any of the Danube bridges that connect the two banks of the city.
While in other countries this type of facilities are used as a place of relaxation, in Central Europe they are recommended for their medicinal properties. This is why the health systems of countries such as Hungary promote and pay for balneotherapy in baths like these.
The spas of Budapest, moreover, are not an attraction for tourists, however much it is recommended to visit them during the trip. The Hungarians themselves use these facilities as they did in the old days: as a medicinal therapy. This tradition has been in force for centuries and that is why in many of the city's baths you will find a decoration according to the time in which the baths in question were built and which is worthwhile in itself.
Finally, if you are wondering why the city of Budapest in particular has so many spas, perhaps the fact that in the city there are more than 100 springs of thermal waters that are used to provide these baths will clarify it for you.
10. If you are interested in the spas of Budapest, you will also be interested in...
©Robert Bortolin::::
Visiting the city's spas is undoubtedly one of the most authentic experiences you can have during this trip. If you don't have much time available, at least go to the baths one afternoon (most of them close quite late so you won't be crowded with other tourist activities) and reserve the morning for, for example, a cruise on the Danube. I tell you which are the best cruises here: Danube River Cruises.
The tour along the river that bathes the city is also a relaxed and authentic experience in which you can also see the main monuments of the city and learn about its culture with the indications of the guide. If you only have one day in Budapest, with the cruise and the visit to the baths you will leave the city with the feeling of having made the most of your time.
Frequently asked questions
Are Budapest baths free?

Unfortunately, none of Budapest's baths and spas are free, with prices varying depending on both what's on offer and also the setting eg. Palace, Modern or Medieval. That said the Szechenyi Spa tends to offer the best experience, at least based on the number reviews and 4.5 rating.

Is it worth visiting a Budapest spa?

If you've never been in a thermal bath, than Budapest's spas are a great experience especially during the winter, as the hot water against the cold air makes for a truly unique experience. On the medicinal side, the mineral-rich water is supposed to be great for those with skin conditions and muscle pain.

How many spas are in Budapest?

Budapest can boast 9 spas (thermal baths) all together, though there are actually 123 hot springs as most spas consist of multiple hot springs. That said, the most popular spas come in the form of Széchenyi, Rudas, and Gellért, as they can each boast varied yet impressive surroundings.