10 Things to Do in Budapest in Winter
If you're planning a snowy city break in Europe during the colder months, Budapest has it all: historic buildings, tasty goulash, elegant outdoor spas and a quirky nightlife. And it's all covered in a pleasant blanket of snow.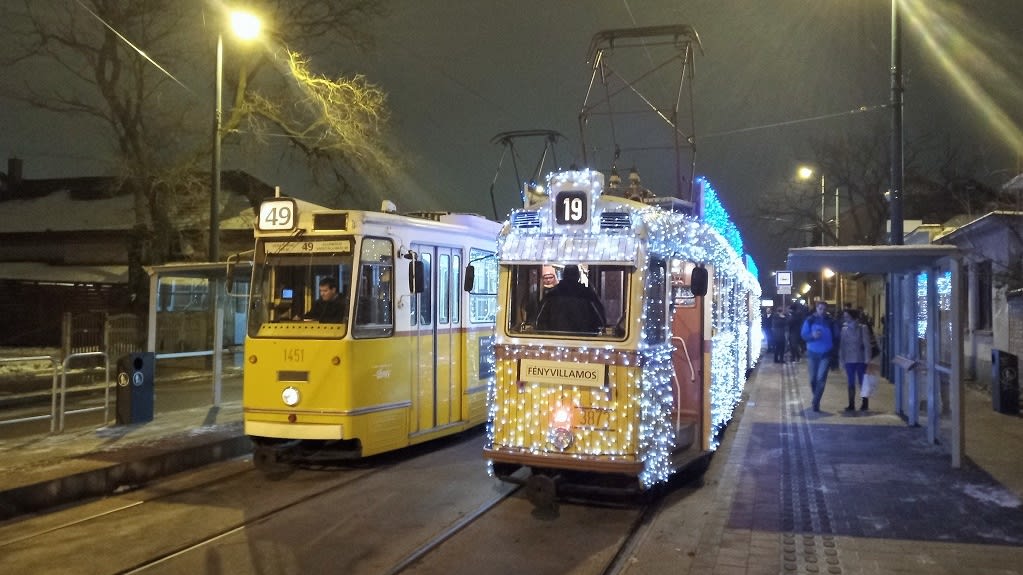 Winters in Budapest are cold, there's no denying that. However, there are also plenty of things to do indoors, such as a tour of the opera house, visiting the Christmas markets and visiting the ruin bars, the most atmospheric at this time of the year. And of course, don't forget to warm up and heal your body in one of Budapest's spas at this time of year.
1. Immerse yourself in one of Budapest's thermal baths
One of the most desirable activities in Budapest in winter is to soak in a warm thermal bath. Because they are fed by natural springs rich in calcium, magnesium and fluorine, these baths have great healing and cleansing properties. Ticket prices range from 12 euros to 22 euros, depending on the baths and package. The baths are open from 9 am to 7 pm every day of the week.
Among the best spas in Budapest is the Széchenyi, which has 3 heated outdoor pools. Other popular thermal baths to visit in Budapest are the Gellert, Kiraly or Lukacs Baths. Each of these has different features, some have pools with various temperatures, saunas, massages and spa treatments.
2. Refresh yourself in the ruin bars
As a tip for your visit to the city, I recommend a tour of these bars in the months of December and January. At this time these bars, in addition to their striking appearance and outstanding features, are a haven in those cold and windy days. Being able to enjoy a wide variety of drinks and seasonal delicacies is something to be appreciated.
Szimpla Kert: it was the first bar in ruins that was established in the city, and one of the most recommended places to visit on your tour of the Jewish quarters of Budapest.
Ankert: if you prefer nightlife in the city, this is located in district 6 and offers some of the best nightlife experiences with music and entertainment.
There are more than a dozen ruin bars around Budapest and they often allow special tours to let tourists experience the city while tasting some of their local wines and "unicum", Budapest's own herbal liqueur.
3. Skate at the City Park ice rink
Budapest's City Park ice rink is by far the most famous skating destination in the region, if not Europe. Located directly in front of Vajdahunyad Castle on the edge of the city park, skaters flock to the rink every winter between late November and mid-February.
Hours are 9am to 1pm and then 5pm to 9m. And admission rates are as follows:
Adults: €5.
Families: 11 euros (2 adults and a child).
Children, students and pensioners: almost 3 euros.
First opened in 1870, this ice rink is one of the oldest and largest in Europe. Of course, if you go to Budapest in summer, what you will see is a vast lake of water.
4. Enjoy the light show at the Basilica
St. Stephen's Basilica is a beautiful building, but what is even more pleasing to the eye is the wonderful light show during the winter, especially if you visit the city in December and January. The light show takes place every half hour between 4:30 p.m. and 10 p.m.
For more updates I recommend you visit this website.
The winter season offers the best light show experience, where religious stories and fables are recited with colored lights and sound. Dazzling 3D animations beamed on the front of the building create an incredible optical effect.
5. Discover Andrassy Avenue & Fashion Street
Shopping in Budapest during the winter is a magical experience. Not only will you be able to browse the best boutiques enjoying the best discounts of the year, but you will also enjoy the Christmas spirit on the beautifully decorated boulevards. Andrassy Avenue and Fashion Street are two of the most popular shopping and tourist destinations at this time of year. Stores here are usually open from 10 a.m. to 9 p.m. in the winter months.
Stretching between Heroes' Square and Elizabeth Square, Andrassy Avenue is home to Gucci, Ralph Lauren, Louis Vuitton, Burberry and Rolex, to name a few. In addition, the avenue is covered with thousands of lights and Christmas trees.
Meanwhile, on Fashion Street, there is a large selection of boutiques lining the walkway leading to Vörösmarty Square. The bustling street has become a major tourist attraction thanks to its displays and installations that help make the winter season even more special.
6. Taste traditional Hungarian winter food at the Great Central Market
Nagy Vásárcsarnok (the Great Market) is one of the ideal places for a gastronomic tour of Budapest and a must-visit if you're in town during the winter season. On the second floor there are some standing counters serving traditional Hungarian dishes and wines of the season. It's hard to resist the smell of homemade food and freshly baked strudels! I recommend you order the winter specials, if you want to try authentic traditional Hungarian cuisine.
The Grand Central Market is also a place to warm up, as it is always air-conditioned. And don't miss the famous lángos that fry right before your eyes, although it is preferable to eat them when you visit Budapest in summer.
The market is open from 6am to 6pm Monday to Friday, and from 6am to 3pm on Saturdays. On Sundays the market is closed.
7. Enjoy a winter streetcar ride
During the winter in Budapest, mainly December and January, there are special streetcars covered with fairy lights that run through the most touristic places of the city and attract attention for their outstanding exterior aesthetics. In addition, they are a perfect option for getting around on cold nights. These streetcars are known as Fényvillamos and, in addition to being a means of transportation, they are an attraction.
If you are interested in hopping on a streetcar to visit the city in style, you can find these illuminated streetcars along the popular routes of Budapest. They start operating after 5 pm every night. A streetcar ticket costs around 380 HUF ( 1 euro).
Remember that this line is out of service during Christmas Eve and New Year's Eve.
8. Don't miss the Hungarian State Opera House
The Hungarian State Opera opens its doors in winter for a warm evening of music and atmosphere. What better way to combat the dreary cold days than with rhythm and expressive art. Not only can you enjoy the music but you can also take a tour of the building, as it is a historic place with a lot to see.
Designed by renowned architect Miklós Ybl, the Hungarian State Opera House, which was completed in 1884, remains exactly the same as when it was built more than 130 years ago. The impressive building is regularly used in blockbuster films and has become an iconic national treasure. Fans of ballet and opera are attracted to this venue because of the high-quality performances of shows including "The Nutcracker", "La Boheme", "Billy Elliot", "The Magic Flute" and "Tosca".
And if you are passionate about classical music and want more, we also recommend going to the organ concert at St. Stephen's Basilica to delight you with pieces by composers such as Vivaldi or Beethoven.
9. Immerse yourself in the magic of the Christmas markets
While it may be a Christmas event in Budapest, it is still a tourist attraction if you visit the city in winter.Mulled wine, Christmas strudel, traditional dishes and handicrafts line the stalls of the Christmas markets at Vörösmarty Square and St. Stephen's Basilica.
Taking place from November to early January each season and open from 10 am to 10 pm, the markets welcome a large number of visitors from all over the world and offer an authentic Hungarian Christmas experience you will never forget.
The Vörösmarty Square market is one of the most popular in Central Europe, as well as one of the oldest in Hungary. This one is famous for its traditional Hungarian foods, which include chimney cake, local sausages and a plethora of goodies to choose from at the more than 120 stalls.
Meanwhile, the St. Stephen's Basilica Christmas market is located in front of the spectacular Basilica building, with more than 160 stalls filled with cakes, sweets, handicrafts, mulled wine and traditional Christmas gifts. Admission to both markets is free.
10. Don't forget the Budapest Carnival
The Budapest Carnival ("Farsang" as it is often called in Hungarian) is also celebrated in winter. This event always falls between Epiphany and Ash Wednesday. Therefore, if your main sightseeing plan is to see the Farsang you should visit the city in February.
The Budapest Carnival season is a festival of life, color and joviality to be enjoyed by all, regardless of religious beliefs. For many, it has become more than just a social event, with traditional events such as Busójárás expressing the country's roots and culture, while bidding farewell to winter and enthusiastically welcoming spring.
You can also check out Mohács' "Busó" parade without leaving Budapest. In the "Busó" men dress in terrifying costume wearing wooden masks and horns, and chase women.
---
Budapest weather in winter
Winter in Budapest is generally considered to be from December to February and with winter touches in November and March. The average temperature is between 1ºC and 4ºC. However, if you visit the city in January, you should not be surprised if temperatures drop to -7ºC.
Like most places in Europe that experience a winter season, Budapest tends to be cold and gray in winter, with few sunny days.
From mid-December to mid-February it is common to see snow around the city.
Must-haves in your suitcase for your trip to Budapest in winter
First, consider a heavy coat with a hood, or a down jacket. You will also need wool sweaters, long-sleeved shirts or turtlenecks, a good pair of gloves and a warm knitted or fur hat.
Since the people of Hungary are used to the cold, also consider leaving room in your suitcase for some fashionable Budapest clothing, remember that in winter there are offers in several stores, and more if you go to Budapest at Christmas.
How to move around Budapest in winter
Budapest has a varied and well-functioning public transport system. During the winter your best option is the metro: it has 4 lines and touches almost all the main tourist attractions.
The only exception is the Castle District, home of the Buda Castle and Matthias Church, but it is also easily accessible by bus or streetcar.
Tram 2 is one of the best tourist lines, be sure to use it! It will take you for a ride along the river as if you were hiking along the Danube Bend. It also offers the best views of the Gellért Hill, the castle area and the Parliament.