10 Things to Do in Budapest in April
Who would not want to go to Budapest in April? During this month spring is already here and the good weather encourages to celebrate Easter, to enjoy nature and to know the Hungarian culture. Are you going to miss it?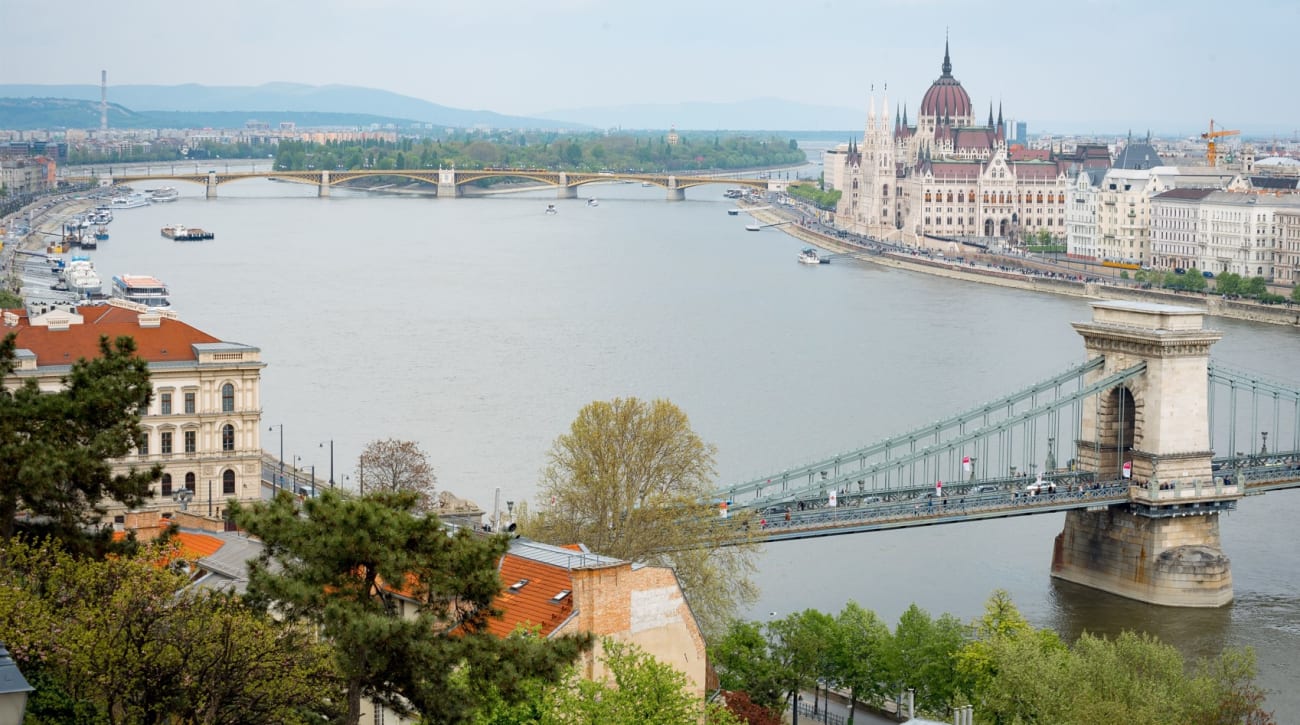 April is the month of spring and, although there are always things to see and do in Budapest, this month leaves you with many plans to make during your trip. The city seems to bloom at the same time as its cherry trees do, one of the best spectacles in the city during this month.
It is difficult to choose between all the activities that Budapest offers in April, although I have made a list of the ones I would not miss. In addition, you can combine more traditional events, such as the celebration of Easter or a visit to its museums, with other more modern and lively plans. Shall we start?
1. Visit Budapest's museums at a reduced price during its Art Week
During the third week of April, approximately, takes place in Budapest its Art Week. Take advantage of this opportunity if you travel on those dates, because you can visit 50 cultural places, such as museums, at a lower price, because you can access all of them with the same ticket (from 17 € approximately).
Indeed, the best museums in Budapest lower the price of your ticket during the Art Week of the city. It is the perfect opportunity to see them, although I warn you that like you many other people will want to do it, so buy tickets in advance and go in the hours of least crowded. In any case, here are some of my recommendations.
Museum of Fine Arts
The Szépmüvészeti Múzeum is one of the most visited by the city, and no wonder, because in it you can see paintings by Picasso, Cézanne or El Greco. As you can see, many of the great European authors have a place here. Obviously, these are not their most famous paintings, but they are worth your visit. There are also several objects from Ancient Rome, Greece and, above all, Egypt, so if you want to see a mummy, you can't miss it.
In addition to its pictorial collections, this museum impresses with its architecture. Its neoclassical design is a tribute to the Greek and Roman styles. The eight imposing columns on its facade will welcome you to one of the cradles of art in Budapest.
Hungarian National Museum
It is clear that the national museum of a country should be in its capital, so Budapest is home to the Magyar Nemzeti Múzeum. Here you can learn firsthand the history of Hungary since its birth until 1990. Although the building is beautiful on the outside, the most interesting thing is inside.
The National Museum is full of columns, marble sculptures and paintings on its walls and ceilings. However, if wealth is in its collections, which document the history of a country through archaeological objects and great relics, such as the coronation robe of the Kings.
Budapest History Museum
If what you want is to know the history of the city to which you have traveled, make a visit to the Museum of History of Budapest (Budapesti Történeti Múzeum). It is located in the Buda Castle, which you can also visit with a guided tour, and part of its collection is in the basement, so the tour is an experience in which you can see the subway ruins.
In the other three rooms, although not as striking as the basement of the castle, you can admire recreations of traditional Hungarian houses. There are also typical and everyday objects of their culture.
2. Stroll among the cherry blossoms of Budapest
No, you don't have to go to Japan to see the beautiful spectacle of cherry blossoms. Budapest in April is an equally wonderful destination to witness it, especially if you go to the Füvészkert Botanical Garden. In addition to the plants and flowers that remain throughout the year, at cherry blossom time you can stroll among Japanese-inspired stalls, take an origami workshop or attend a calligraphy exhibition.
During this cherry blossom festival, you can gaze at the delicate lilac hue of the blossoms, but there is much more. In April, the Füvészkert Botanical Garden looks like something out of Japan. One of my favorite plans is to stroll around the different stalls, look at the amazing origami figures and then sit on the lawn for a picnic or have a nice green tea accompanied by typical Japanese pastries.
If you want something more lively, you can always try your hand at being a samurai and learn to shoot the kyudo bow.
3. Celebrate Easter according to the traditions of Budapest
Easter in Budapest is a big event in the month of April, so you should make a note of all the things to do. The best thing is that you can enjoy traditional events, such as Easter eggs, in a unique setting. In addition to participating in other events, such as the great market that is organized every year.
Easter Fair
It is never a bad time to go to the Vörösmarty square, where a craft market is organized every April. In each hut you can discover the creations of local artists and, if you want, buy something to take a nice (and unique) souvenir of your trip to Budapest. If you feel like bringing out your creative side, you can sign up for a workshop and make a piece by yourself.
The most typical pieces of this market are undoubtedly the Easter eggs. Painting them is part of the Hungarian tradition, as they symbolize eternal life. Nowadays, different styles and colors are mixed, resulting in beautiful pieces.
Easter food
Both at the Easter market and in the restaurants of Budapest, you will notice that they serve many casseroles, as they are traditional at Easter time. Above all it is typical to eat langos, a cake made of potato with cheese, garlic and sour cream.
Undoubtedly the most delicious are the desserts, among which stand out the marzipans, gingerbread and Kürtőskalács, a baked and very sweet cake. To accompany so much food, nothing like a wine or a craft beer. If you do not want to miss anything and taste the best of traditional food, I recommend you to book a gastronomic tour of Budapest.
The tradition of Hollókő
Just an hour from Budapest is Hollókő, a village where a very traditional and unique Hungarian Easter event takes place. Men and boys here engage in throwing buckets of cold water on women and girls. This pagan rite was related to fertility, hence it was the male suitors who sprinkled water on young girls of marriageable age and having babies. Nowadays it does not have this meaning of courtship, but it has been kept as a celebration.
It is a somewhat chaotic celebration and you can end up wet, but it is a UNESCO World Heritage Site, so I recommend a trip from Budapest to witness it.
4. Commemorate the Memory of the Hungarian Victims of the Holocaust Memorial
During World War II more than half a million Hungarian Jews died. Every April 16 the city remembers them through solemn gatherings in schools and other public spaces. Usually, the main event takes place at the Holocaust Memorial Center in Budapest, where concerts are organized.
On April 16, 1944, ghettos began to be built in Hungary, from where Jews were later transferred to concentration camps. This fact is part of the history of the city, so I recommend you to know it a little more during the anniversary of this event. For this, nothing like taking a tour of the Jewish quarter of Budapest.
5. Inaugurate the best night parties in Budapest in April
April marks the beginning of the nightly pool parties. Every Saturday, the best electronic music, accompanied by a spectacle of lights and color, sets the Sparty to the rhythm. This night party takes place in the Széchenyi thermal baths, which is filled with young people, electronic music and disco lights.
The Sparty is one of the many activities to do at night in Budapest, that's why every year it gathers thousands of people. The party lasts about four hours and the atmosphere is spectacular, especially in the moments when the jugglers make their appearance. Fire, lights, DJs... The original idea came from a group of friends who wanted to combine the tradition of Budapest with modern electronic music.
Be careful, it is an event that, although held every week, has many followers, so I recommend buying tickets in advance if you do not want to miss this party.
6. Celebrate the beginning of spring at the Budapest Spring Festival
Is there anything better than welcoming spring in April? Yes, in Budapest. The most colorful season of the year arrives all over the world, that's for sure, but in Budapest it is celebrated as an event. Why? Because they organize the Spring Festival, in which art blooms at the same time as spring thanks to the exhibitions, events and activities that take place in the city during the first days of April.
What can you expect during the Spring Festival in Budapest? The artistic world is the main protagonist and there are several plans that you can make. In total, about 200 events spread over 60 stages of the city. The shows appeal to everyone, ranging from ballet and opera to jazz and folklore. Moreover, they are usually organized outdoors. The price depends on the specific show, but the average is that each one costs about 13€; they can be purchased through their website once the full program is announced.
Although you can find a bit of everything, my advice is to go to the more traditional shows, where Hungarian folklore is the main protagonist. It is clear that listening to a good classical music concert is always a great plan, but since you are in the capital of Hungary, I recommend you to discover its culture and talents in spring.
7. Relax in the spas of Budapest and take advantage of the good weather in April
If you have been to Budapest in winter you know that going to the spas is not always pleasant. Even if the water temperature stays warm in the pools, getting out of them and going for the towel leaves your body freezing. With the arrival of good weather and temperatures above 14ºC, April is the perfect month to relax in one of the best spas in Budapest without being cold.
There is a reason why Budapest is, since 1934, the City of the Spas, and it has more than one hundred springs (artificial and natural) from which millions of liters of thermal waters flow every day. In short, a luxury that you can not miss during your trip. In addition, in April the outside temperature accompanies the water of the hot springs, which reaches 80ºC. There are many to choose from, but here are my recommendations.
Gellert Spa
Scenery not only of moments of relaxation, but also of movies like Die Hard. Beyond its foray into cinema, the Gellert Spa is one of the most famous in Budapest and also one of the oldest. This certainly has its charm, but it also makes its facilities somewhat outdated.
If you decide to go to this spa, its pool is sure to catch your eye. Surrounded by columns, swimming in it is quite an experience. The rest of the space is not so worthwhile, especially considering the price of admission (approximately 18 €).
Széchenyi Spa
The Széchenyi Spa is one of the largest in Europe, and it is not surprising considering that it has fifteen pools. In addition, it is located in a neo-Gothic building that makes the visit even more incredible. In this space you can book a massage, play chess in the pool or just relax in the thermal waters, always hot even when the cool of the night comes to the city.
Beyond the dimensions of its facilities, the best thing about Széchenyi is its maintenance. Although it receives many visitors throughout the day, it is always clean. On the other hand, it is open almost all day long (from 6am to 10pm approximately), so you can make the most of your ticket. The value for money (approximately 16€ for a day pass) is unbeatable.
Rudas Spa
Undoubtedly, the Rudas Spa is known for its long history: the Ottomans built it more than 450 years ago! It is also worth mentioning that it is one of the most beautiful in the city, with a Turkish style. If you go, I recommend relaxing in its main hall, where there is a large octagonal pool, four side pools at different temperatures and a beautiful dome.
However, it has a big (and unfair) drawback. Since its beginnings it has been a place mostly open to men, and currently women can only access during the weekends. The entrance fee is approximately 12 €.
8. Take a cruise on the Danube during the afternoons of April
Booking a cruise on the Danube is always a good idea if you are in Budapest, but when the spring light arrives, the plan is even better. The good weather allows you to go out on deck to see in detail the buildings that are appearing before your eyes. Add to this a guide to explain everything and a refreshment (or a glass of champagne) and you will have little doubt about whether to sign up for the plan or not.
The Danube has witnessed how Budapest has been growing and becoming the city it is today. During the itinerary, you will be able to see emblematic places such as the Parliament or the Matthias Church, as well as passing under famous bridges such as the Elizabeth, the Margaret or the Chain Bridge.
The panoramic views are incredible at any time of the day, but if you want to make the ride even more special, my advice is to book a night cruise on the Danube. Why? Because seeing the city lit up at night fall is magical. Besides, if you don't mind paying more, you can also enjoy an area on board while you know Budapest from the waters of its river.
9. Take a trip to Gödöllo Palace to see its gardens in springtime
There is a place near Budapest, just thirty minutes away, that you can not miss: the Gödöllo Palace. It is the second largest Baroque castle in the world, but it is especially famous for having been the residence of the Hungarian monarchy, including Sissi, the queen who aroused so much affection among her subjects. Beyond that, its spectacular gardens stand out, which in April, when the flowers are out, look even more beautiful.
Visiting the Gödöllo Palace is the best way to understand all that was the Hungarian Empire. Its main facade, with its walls, has been restored and enjoys great historical richness, as well as its interior, which often hosts temporary exhibitions. During the tour of its rooms you can understand how Sissi and her husband Franz Joseph lived, as well as learn some of the secrets of this Palace, which has often been compared to Versailles.
Before leaving, remember to set aside time to stroll through the 26 hectares of the surrounding park. Designed in the English style, it was declared a Nature Reserve in 1998. There you will find one of Sissi's favorite places for horseback riding: the Avenue of Almond Trees. Going as you are in April, you will be able to see their flowers and make this ride even more special.
10. Visit Szentendre in spring
It is clear that Budapest is a cosmopolitan city with a lot to offer, but if you want to escape from its hustle and bustle, I recommend you to make an excursion from Budapest to one of the surrounding villages. In particular I recommend Szentendre, just 20 minutes from the capital. It is a beautiful and picturesque village where you can go by car or by boat.
Szentendre is a very international town, since during the Ottoman invasion of the 15th century it welcomed Greeks, Bosnians, Serbs... Nowadays there are still stores serving food from these places, or even a Serbian church.
This village is one of the most beautiful in Hungary, which is perhaps why it was the destination of so many post-impressionist artists during the nineteenth and twentieth centuries. Its narrow and colorful streets, full of rococo style houses, are made to be walked in good spring weather. When you feel like taking a break, sit down for a drink on one of its terraces, which will be open in April.
---
The weather in Budapest in April
You are right to go to Budapest in April! Spring has not only arrived, but it has settled, so temperatures reach 18ºC and, on the other hand, rain forecasts are only three days away. Generally, the minimum temperature is 11ºC, so take some warm clothes for the evenings, when it cools down.
The weather is somewhat dry, but it is nice to be able to enjoy the outdoors, take a bike tour of Budapest and not feel that the day ends at 17h, as it does in the winter months. On the contrary, in April, there are more than thirteen hours of daylight a day.
The tourist flow in Budapest in April
Although the high season in Budapest arrives in summer, April is a month with enough tourist affluence. Why? It is noted that the good weather has arrived and, in addition, this month coincides with important dates, such as the Easter vacations, which attract many visitors.
What does this mean? That it is better to book your hotel and flights in advance, as well as tickets for museums or excursions you want to do. On the other hand, keep in mind that prices will be somewhat higher, although not to the extent that they reach during the summer months.
Do you have everything ready to travel to Budapest in April? I hope my tips will serve you as a guide and you will enjoy it to the fullest.