Budapest Hop on Hop off Bus Tours
The tourist bus is all advantages: you can see the city comfortably and quickly, you can move from monument to monument for a fixed price, and many more things that you will discover in this guide.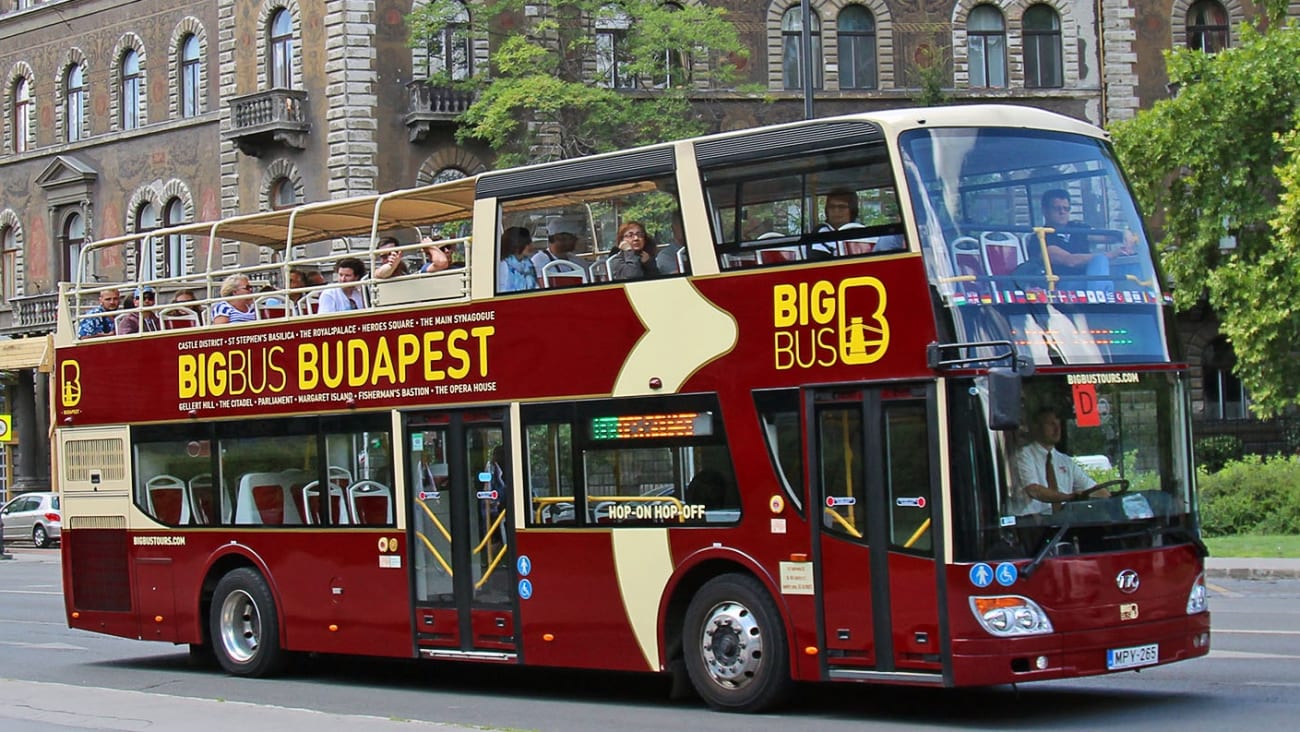 There are many ways to tour Budapest. Although much of the city is easily walkable, there are other points of interest away from the center and the tourist bus is an optimal way to reach all of them saving time.
1. The best tourist bus routes in Budapest
Booking a trip on one of the tourist buses that travel around the city is very simple and there are several options:
2. Sightseeing bus tour with free stops on City Sightseeing tourist bus
In many European cities you will have seen the red double-decker buses with an open top. They belong to one of the most popular companies for sightseeing bus tours of large cities like Budapest where the distances between different points of interest can be too great to walk.
These buses are based on the "Hop on Hop off" concept. This means that there is a route fixed in advance with several schedules throughout the day and buying a pass for the Budapest tourist bus for one or two days, you can take the bus at the point you want and get on and off as many times as you want.
This allows you two main things: to make a commented tour of the city and move between the different monuments quickly with 360 degree views.
How it works
Choose your pass for 1, 2 or 3 days (you can buy it online). For a supplement, you can add a cruise or a night tour and once you activate your pass you will have 24, 48 or 72 hours to get on and off the bus wherever you want, as many times as you want.
Advantages of this bus
In Budapest the public transport works well, but to visit certain areas can be complicated (the stops correspond to the names of the streets and it is difficult to relate them with the points of interest for the traveler) or insufficient (the city has only three subway lines). The tourist bus is therefore an option designed for the traveler and adapted to their needs.
With your pass you will get a card with which you will get discounts at different points of the city.
From the bus you will have a panoramic view of all the points of interest of Budapest.
During the tour you will have at your disposal audio commentary on the main stops and WIFI on board.
My advice is to go through each of the routes at least once during the time of your pass and choose in advance at which stops you prefer to get off to see the monument or point of interest more in depth. For this you will have to take into account the route of each of the routes.
Itinerary of the Yellow Route
Andrassy Avenue
New York Palace, The Dedica Anthology
Chain Bridge
15 March Square
Fővám Square
Kálvin Square
Corvin Square
Corinthia Hotel
Liszt Ferenc Square
Opera
Red Route Itinerary
St. Stephen's Basilica
Chain Bridge
15 March Square
Central Market
Kálvin Square
Anker Palace
Andrassy Avenue
Opera House
Liszt Ferenc Square
Heroes' Square
Keleti Railway Station
New York Palace, The Dedica Anthology
Astoria
Párizsi Street
Citadel
Castle Garden Hotel
Castle Hill Funicular
Batthyány Square
Margaret Bridge
Westend Shopping Center
Hungarian Parliament
Itinerary of the night tour
St. Stephen's Basilica
Chain Bridge
Opera House
Liszt Ferenc Square
Heroes' Square
Budapest-Keleti Railway Station
New York Palace, The Dedica Anthology
Astoria
Ferenciek tere
Citadel
Margaret Bridge
Alex's Traveller Tip

Be sure to take advantage of the night tour bus route; it's the best way to see the city lit up.
3. Tour with free stops in Big Bus tourist bus
The Big Bus buses belong to another tourist bus company operating in Budapest, which also has free stops along the route. You can buy, also online, a ticket valid for one, two or three days on the Big Bus tourist bus and during that time you can use the buses at your leisure getting on and off wherever you want or doing the whole tour. If you buy the pass for two or three days you will have services included that will complete your trip.
What is included in the Big Bus Tourist Bus Pass?
Panoramic views of Budapest's main points of interest
Audio commentary and WIFI on board
Guided walking tour in English
Danube River Cruise (with 2 or 3 day pass)
Panoramic night tour (with the 3-day pass)
Shuttle service to Buda Castle (with 3-day pass)
Tour
While the red route is designed to get off at the main stops to visit the points of interest and then continue the tour, the blue route and the night route function as a closed tour where the goal is for you to enjoy the ride while listening to the audio commentary available in several languages.
Red Route Itinerary
Heroes' Square
Keleti train station
New York café
Hotel Astoria
Váci Street
Castle Garden
Buda Castle
Batthyany Square
Margaret Bridge
Nyugati Station
Hungarian Parliament
Basilica
Chain Bridge
River Cruise / Dock 11
Great Market Hall
National Museum
Király Street
Andrassy Avenue
Opera House
Liszt Ferenc Street
4. Guided sightseeing bus tour and cruise on the Danube River
If what you are looking for from the tourist bus is a guided tour as complete as possible and with which to tour the entire city without having to change routes, this is your best option. The bus works here as a means of transport to cover everything you need to see in Budapest.
The tour lasts three hours, includes an expert guide throughout the tour and you can add an additional one-hour cruise on the Danube. You have several dates and times to choose from and you can book your place online; a voucher will be sent to your email which you can then redeem at the meeting point with your guide to start the tour.
Heroes' Square
It is located at one end of Andrassy Avenue and is one of the most emblematic places in the city. The statues in this square commemorate the seven leaders of the tribes that founded Hungary. The guide will tell you the history of the founding of the city during the tour.
Fisherman's Bastion
You will know it because if you have been in the city for several days you will surely have been recommended its views. From the hill on which it is located you will be able to see an unbeatable view of the city.
Hungarian Parliament
It is the largest building in Hungary and the main guardian of the Danube River. You should see it both during the day and at night when it is illuminated. Your guide will take advantage of this stop to tell you curiosities and interesting stories about Hungarian politics.
Hungarian State Opera House
One of the fundamental buildings of Budapest representative of the Hungarian architecture of the 19th century. This Renaissance opera house is the second largest theater building not only in Budapest but also in Hungary.
Gellert Hill
If the name sounds familiar it is because you have heard of the Gellert Spa, one of the two most famous spas in the city. You can't leave Budapest without trying the Hungarian bathing experience, but for now admire the views of the city as you pass by this stop.
St. Stephen's Basilica
This church located on the edge of Buda is beautiful on the outside, but inside is a mosaic spectacle worth seeing since in few cities you can visit similar temples.
Great Market Hall
It is the soul of the city: food, souvenirs, clothes... in the covered market you can buy everything and you can walk around it for hours. Your guide will give you some tips to find curiosities and souvenirs, but remember to write down the location to come back and enter as soon as you have the chance.
5. Why take a sightseeing bus tour in Budapest?
If you visit the city in winter
Tourist buses operate all year round and have an indoor and an outdoor part and on both you will enjoy panoramic views of the city's surroundings. If you travel to Budapest in winter the freezing temperatures can slow down your walking route, so a good option to save time is the tourist bus.
If you are traveling with children
Children get tired during the city tours and yet the transport in this type of buses distracts them by the views and by its totally safe and conditioned open air area.
If you want an overview of the city
As much as visiting specific monuments and museums you get to know the city, taking a walk around it without worrying about anything other than its views is always a luxury and with the tourist buses you have it available at an affordable price. In addition, this way you can discover places further away from the downtown area that you would not normally visit on your own.
To visit remote places
As an alternative to public transportation, a tourist bus with free stops can be a great solution. Although public transport works well, it is not always easy to find your way around, as its stops do not correspond to the parts of the city that you as a visitor want to see. If you want to get out of the downtown area during your visit, this service is a good option.
To learn more about what you see
When we arrive to a new city, we are amazed by the beauty of its main buildings or the charm of its corners, but many times we do not know their true meaning or the history behind them. This type of service is designed for you to learn what each building in the city means while you visit it from the bus.
Alex's Traveller Tip

Even if you use the free stop option, set aside time to enjoy the city during a ride where all you have to worry about is the view.
6. If you are interested in a sightseeing bus tour of Budapest, you will also be interested in
There are three main ways to see the city of Budapest while learning about its monuments and sights. One is from the tourist bus and the other two are:
Guided walking tour of the city center
By hiring a pass for some of Budapest's sightseeing buses, you can also have access to these two experiences. In the guided walking tour you will be accompanied by a professional guide and he will explain the history of the city from the perspective of someone who lives there and knows its customs and legends beyond historical data that you could find in a travel guide. In this article I wrote about Day Trips and Excursions from Budapest you can read all about guided tours of the city.
Danube River Cruise
The Danube cruise, meanwhile, is another popular experience for travelers visiting Budapest and offers a different perspective of the city with audio commentary included in several languages. You will also have the option to complete this experience with dinner or live traditional Hungarian music during the cruise. I have written a guide about Danube River Cruises in Budapest that may interest you if you are thinking of trying this experience.