Helicopter Tours in Oahu
Crossing the sky of Oahu aboard a helicopter is an unforgettable experience. The fluorescent green of its mountains and the turquoise of the ocean seem to merge from a distance. Enjoy the best views of the Pacific!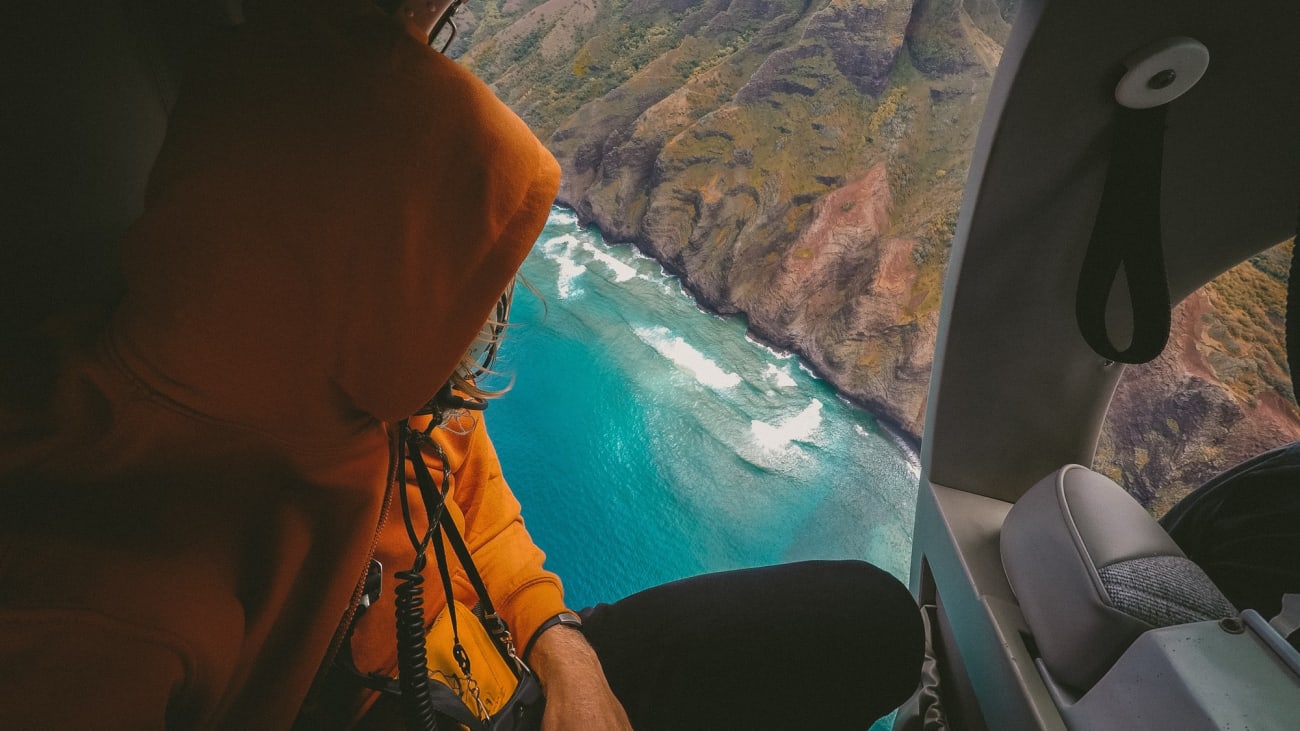 Flying over Oahu by helicopter and getting a bird's eye view of the island is a wonderful experience that you must live on your vacation, even if you have a bit of vertigo. Join this magnificent adventure and get ready to admire Hawaii's beautiful scenery from the sky - you've never seen anything like it!
1. Helicopter tours of different durations
Although Hawaii's main tourist attractions are easily accessible, the archipelago is made up of several remote islands that are difficult to reach. Many places can only be reached by air due to the geography of the place and considering that Hawaii's landscapes are enchanting, how can you miss the opportunity to see them?
Hawaii is a spectacle in itself and even more if its beauty is appreciated from a helicopter flight. It is an exciting adventure because, in addition to the fascinating views of Oahu, you can add the adrenaline of flying at more than 120 miles per hour over the Pacific and feel the impact of the wind in your hair.
During your vacation, you can choose from different durations of helicopter tours in Oahu. Helicopter tours are usually flexible so, depending on availability on your selected dates, you can choose standard or premium schedules and options to tailor the experience to your tastes or needs.
How to choose between them
It will probably be budget that determines which flight you take, but believe me: even if you choose the shortest itinerary, the experience will be equally unforgettable and the pilot will make sure you don't miss the best of the island.
The truth is that the experience of flying in a helicopter itself is brutal and regardless of the time you choose, you will hallucinate with the unique sensation of flying in a helicopter and especially if you do it in Oahu, where the mountains overhang the sea itself and the turquoise blue ocean will give you spectacular scenery.
2. Open helicopter tours
If in addition to wanting to get the most out of your helicopter tour you are a passionate photographer and you are into strong emotions, I recommend that you choose the open-door helicopter tour.
The sensation of flying will be even more literal when you feel that there is no barrier between your body and the landscape and the pictures you will take will be vertigo-inducing (literally).
If you are worried about safety, you should know that these flights are totally safe since you will be wearing an extra seat restraint, so don't worry about it. Just charge your camera or cell phone battery because you're going to be amazed during the trip.
---
How much does it cost to take a helicopter tour in Oahu?
A helicopter tour on Oahu can cost between 300 and 350 dollars per person approximately.
Everything will depend on the length of the tour, the number of tourist attractions visited, whether it is a private tour or not, the type of aircraft, or if it includes pick up and drop off from Waikiki hotels, among other factors.
How long are the helicopter tours in Oahu?
Helicopter tours on Oahu last between 45 and 60 minutes approximately. The great thing about flying in a helicopter on Oahu is that as soon as you start soaring, you will enjoy spectacular views, so no matter the duration of the flight, you will enjoy the main details of the island.
For example, the open doors helicopter tour lasts about 50 minutes, allowing you to have general views of Oahu but also to get closer to specific areas for a closer look. The great thing about booking online is that you can compare itineraries, prices, and length of tours before choosing one, so it will be hard to go wrong.
Of course, if you are one of those who think that this is a once-in-a-lifetime experience, go for the longest one, because it will still not be enough. This is one of those experiences you will never forget!
Can I take a helicopter tour with the doors open?
That's right! You might be a little apprehensive about flying in a helicopter without doors or with the doors open but there's nothing to be afraid of. Specifically in Hellotickets is available the 50 minutes flight in a helicopter with open doors that will make you enjoy the most of the views of Oahu.
They are very safe as you will be fastened to your seat with harnesses and belts and, unlike those with closed doors, allow you to enjoy the beautiful unobstructed views during the tour as well as taking fantastic pictures.
What will you see on a helicopter tour of Oahu?
Depending on the established route, you'll usually visit the island's most iconic sights by helicopter as you've never seen them before as you listen to the pilot narrate the tour.
Pearl Harbor and the USS Arizona Memorial
The city of Honolulu and its harbor
Sacred Falls
Diamond Head
Maunalua Bay
Ka'a'awa Valley
Ko'olau Mountains
Kāne'ohe Bay
Waimanalo Beach
Kaeohe Bay
Halona Blowhole
Sandy Beach
Makapu'u Point and its lighthouse
Dole Plantation
Lanikai Beach
Waimea Bay...
And much more!
Will I see the volcano from the helicopter tour?
Indeed, during the helicopter tour you will be able to see Diamond Head (a 760-feet volcanic crater southeast of Honolulu) and Hanauma Bay (the remains of a volcano crater that is now a popular marine sanctuary for snorkeling). Get your camera ready because Hawaii is a land of volcanoes!
What are the best helicopter tours in Hawaii?
Actually, there is no one tour worse than another. The main difference between one and the other will be the duration of the fact that they have the doors open or closed. I recommend you book online to compare prices, routes, and duration. In Hellotickets you will also have free cancellation in case you need it.
And one last recommendation: book the tour to enjoy it during your first days on the island to make sure that if one day it is windy or cloudy, you can change the date and enjoy a sunny day. Surely you will find the tour that best suits you!