Opening Hours of the Rome Capitoline Museums
Before going to the Capitoline Museums of Rome, take a look at their opening hours to plan your visit.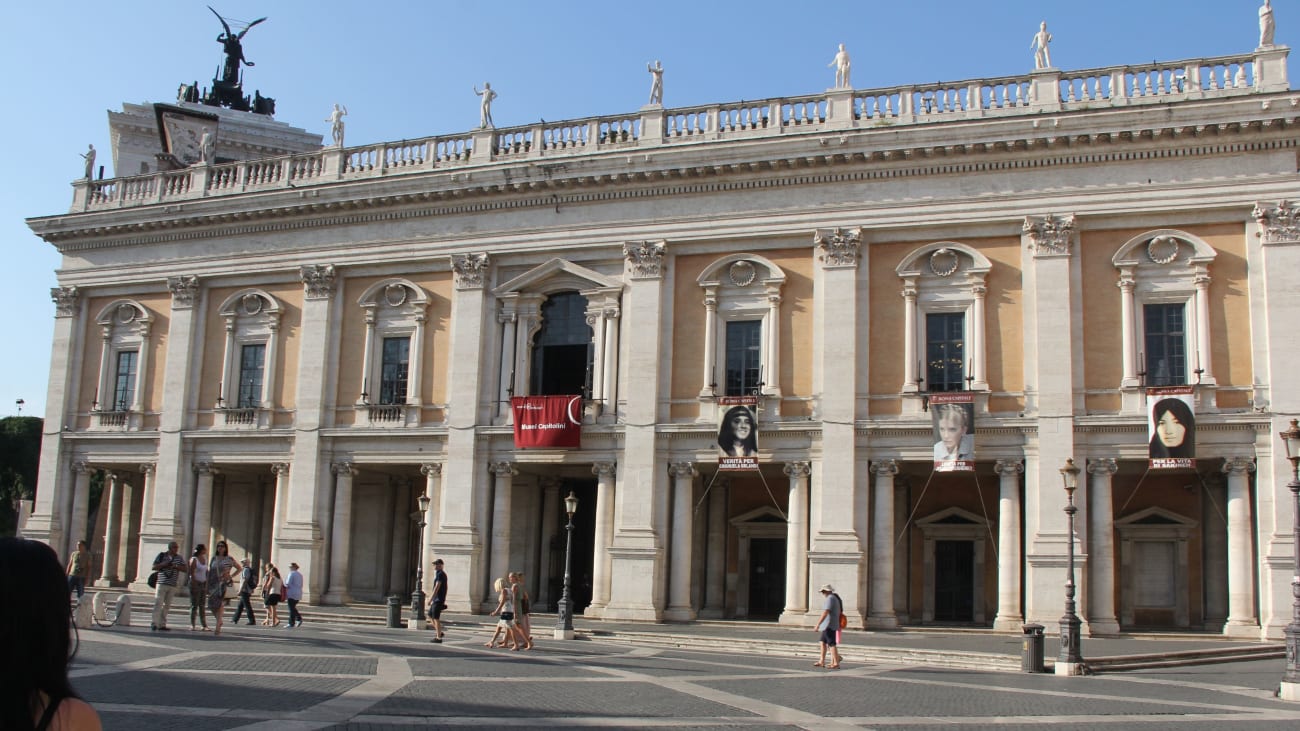 The Capitoline Museums of Rome are one of the most interesting and important cultural institutions of the city. In fact, they are considered the oldest museum in the world and exhibits pieces of great historical and artistic value.
It is, without a doubt, one of the must-see sights during your trip to Rome, but do you know when they open their doors and how long it will take you to visit them? And the best time to go? I will tell you this and much more below!
What are the opening hours of the Capitoline Museums?
The Capitoline Museums are open from 9:30 AM to 7:30 PM every day of the week.
In addition, these museums are also open on special dates such as Christmas Eve (December 4) and New Year's Eve (December 31) but with shorter hours, from 9:30 AM to 2 PM.
At what time can I make my last visit to the Capitoline Museums?
The last admission of visitors to the Capitoline Museums is 1 hour before closing, that is, at 6:30 PM.
However, I do not advise you to go to see these museums just in time because if you want to get the most out of the visit and amortize the price you have paid for the tickets to the Capitoline Museums, you will need to be inside more than 45 minutes to get a general and complete idea of all the collections that this institution houses within its walls.
If you are interested in visiting the Capitoline Museums, it is best to set aside a part of the day to visit them calmly and at ease or else it will not be worth your while to buy the ticket because you will hardly get to see anything.
When do the Capitoline Museums close?
The Capitoline Museums are open every day of the year except Christmas Day (December 25), New Year's Day (January 1) and Labor Day (May 1).
Keep these holidays in mind when planning your trip to Rome if you plan to visit these museums during your vacation. However, if you visit Rome at Christmas, you have plenty of other things to do on December 25 and January 1.
How long are the tours and how long can I stay in the Capitoline Museums?
On average, a visit to the Capitoline Museums takes about 2 hours although depending on how much you are interested in the art collections of the Capitoline Museums you may want to stay longer.
The ticket is valid for a period of 4 hours and you will not be able to enter after the time is up but once you enter the Capitoline Museums, you can stay inside for as long as you wish.
When is the best time to visit the Capitoline Museums and what is the best time?
The best time to visit the Capitoline Museums is early in the morning or at lunchtime on a weekday if you do not want to overlap with many people in the museums.
TheCapitoline Museums are most crowded on weekends, especially in high season. During the middle or low tourist season in Rome, crowds are usually not a problem.
Is there a free day to visit these museums?
That's right! If you want to enter the Capitoline Museums without opening your wallet, on the first Sunday of every month access is free for all visitors.
So if you want to visit the Capitoline Museums for free on this day, I recommend you get up early and go very early in the morning as places are allocated on a first come, first served basis at the museum, otherwise you could be queuing to get in for longer than you'd like!
Schedules of tourist attractions near the Capitoline Museums
After exploring the Capitoline Museums you might want to take a stroll around the area to check out other nearby tourist attractions. Check out the opening hours of some of the most popular sights next to the museums below.
Basilica of Santa Maria in Aracoeli: Open daily from 9 AM to 12:30 PM and from 3 PM to 6:30 PM.
Monument to Victor Emmanuel II: Open daily from 9:30 AM to 7:30 PM
Palazzo Venezia: Open Monday to Saturday from 10 AM to 1 PM and from 2 PM to 6 PM.
Roman Forum: Open daily from 8:30 AM to 7 PM. Closed on Christmas and New Year's Day.