Niagara falls from NYC: 1 Day Trip vs 2 Days Trip
If you are in New York and you want to visit Niagara Falls, you may have doubts about how you can make the most of your time. Don't worry, it's normal. So... just in case you need it, here are some very useful tips. Take a look at them!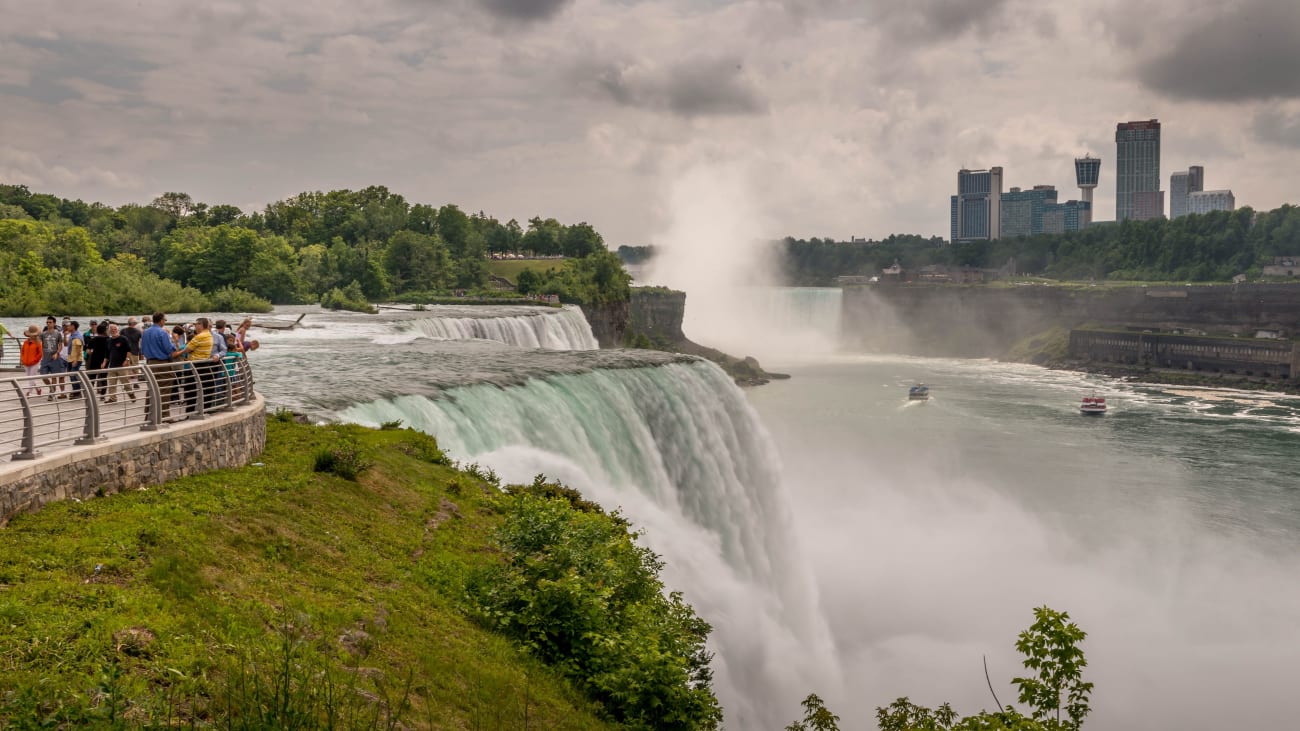 Visiting Niagara Falls is a safe bet. I assure you that you won't be disappointed, it is said to be one of the wonders of the world for a reason! So if you want to see live many of the scenes you've seen in the movies, take the opportunity!
If you've already decided to go, the next step is to know if you want to do a day trip or a two-day trip. Is one day enough to see enough? How long can I see everything? Is it worth spending two days there? Read on and I'll help you decide!
How much time do I need to see the falls?
I understand that you may be undecided, there is a lot to see at the falls... But... Surprise! You can spend as much time as you want. So, take a one-day or two-day trip to the falls from New York and your experience will be unforgettable. You can make the most of a single day and see a lot of things, but if you prefer to take it all in stride, I recommend you do the two-day tour.
Depending on the time you have, you can choose some attractions or others. But I assure you that there are many things to see and enjoy that you will want to visit again. Read on!
See Niagara Falls at night... A pleasure you will enjoy if you decide to spend two days.
In case you doubted it... the falls don't go out! That means that they are in constant motion and flow 24 hours a day, an incredible spectacle that you can enjoy if you decide to spend the night there. An incredible spectacle that you can enjoy if you decide to spend the night there- every night they are lit up so you can see the falls in all their splendor!
Apart from that, think about the feeling of seeing this natural paradise under the moonlight and the stars. Impressive, isn't it? And if that wasn't enough, several nights a week there are fireworks shows. This happens:
Fridays, Saturdays and Sundays from the second half of May.
From the middle of June onwards they are seen every night from 22h.
From the beginning of September to the beginning of October Fridays, Saturdays and Sundays for another month.
So... is a single day trip to Niagara Falls worth it?
Of course, Niagara Falls is worth a single day trip. Maybe your trip to New York doesn't allow you to enjoy more time than you would like. And in case you had any doubts, I 100% recommend visiting this paradise for a full day.
In addition, you can find many activities to do in a single day. Here are some examples adapted to all tastes and needs. Take paper and pen and... take note!
Best attractions to enjoy if you only go for a day trip
Here you will find the best activities you can do on your visit to the famous and impressive Niagara Falls in a single day. Of course, you can combine them as you wish to make the most of your time.
Cave of the winds
A unique experience at the foot of the falls. You will be able to walk at your leisure on these long wooden platforms and admire, and even feel or touch the force of the water. In this attraction, first, a video will explain the history of this natural museum. When it is over, you will be given a raincoat and sandals and you will be taken down to the platforms so that you can reach the lookout point and be surrounded by the sound and humidity that they give off. Visit Cave of the Winds , it is without a doubt a spectacle!
It is a good option, since you have no time limit and you can enjoy the attraction as long as you want.
Maid of the mist
Another of the most popular and used attractions in the visits to Niagara Falls. You will enter the falls from the base to the basin of one of the most impressive waterfalls and you will enjoy the ride like never before!** Best of all, it won't take much time out of your day, as the ride takes about 25 minutes. You can purchase tickets for the boat on the day and on the spot** up to 15 minutes before the ferry departs. The Maid of the mist
is a must if you decide to make it a one-day excursion.
Niagara Falls Scenic Trolley
The fabulous vintage style streetcar, which will be in charge of taking you around the waterfall park. A 5 km tour in which you will learn the facts and history of this natural oasis, sounds good, doesn't it?
Adventure Theater
It is the projection of a film that lasts about 30 minutes on a big screen. Knowing all the stories of the falls. Every hour there is a projection of the film
Extra attractions to enjoy if you go two days
If you decide to take a two day trip to the falls, I think a visit to the Maid of the mist or Cave of the winds is a must. You can also see the screening of "Legends of adventure", the movie of the Adventure Theater... and many other activities. And above all... with much more calm!
Apart from all this, there are other activities you can enjoy on your second day at the falls. Maybe you feel like guided tours or a little more at your own pace. Stay tuned!
Niagara Aquarium
An aquarium with more than 120 marine species, animal shows and talks by experts in the sector. It has more than 30 exhibits among which I want to highlight the penguins, rays and sharks. It is incredible because this aquarium emphasizes animal welfare in every way! Make up your mind to visit it, because it has many threatened and endangered species. You can find out much more on the aquarium's officialwebsite.
Hiking trails
In addition to all these attractions, you can take advantage of your second day to walk freely throughout the park, which I assure you, will not disappoint you. An endless number of routes through this natural paradise at your own free will and at your own pace, a marvel!
Best choice if you are a first time visitor to New York City
Youmay be traveling with very limited time. And sometimes, it's hard to fit everything we want to do into a few days, but we don't want to leave things out. If you're traveling to New York, you're sure to want to delve into the city, the hustle and bustle and the action... So if you're in the mood for Niagara Falls and want to take the edge off, it's best to take a day trip and make the most of it.
In this case, take the opportunity to visit Maid of the mist or Cave of the winds to soak up the best of the falls... and never better!
Two day tour if you are going to spend a lot of time in New York City
Sometimes we can afford to travel a few days longer than expected or, simply, you already know the city but you have missed some things to see and you want to dedicate some time to it. If this is your case, take advantage and enjoy two great days of sightseeing in Niagara Falls.
In this case it may be useful to travel by car or bus to enjoy more scenery while leaving New York City to reach this natural paradise.
Two-day tour, the best option if you are traveling with kids
Virtually every activity can be done with children. From the aquarium, to the Adventure Theater, to the Park Tram... and even the Maid of the Mist boat ride! They will have a blast as they watch the scenery and feel the humidity and water falling on their bodies. They will have a blast! In this case... I think it would be best for them to take a two-day excursion, so they don't end up exhausted.
I don't know if they will have a better time or you, what I do know is that it will be an incredible experience for the whole family and all this... In the middle of nature! I leave you this article about things to do with kids in Niagara Falls in case you want more information.
Choose the best option according to your budget
What is all this going to cost me? Sometimes it is difficult to economize when we travel to another country and above all, when we want to see so many things in New York... Let me tell you that... **Visiting Niagara Falls **can be a very economical option if you want to! In this case and to save as much as possible, the best thing to do is to take a one-day trip. Once there, you will be able to choose between many cheap and free options.
It is true that you will have to invest in transportation, but once there, you will be able to do very low-cost or even free activities. Among the cheapest options, we find the entrance to the theater to see the movie, the observation tower or hiking trails through the park.
If, on the other hand, you have no budget limit, my choice is clear: book a helicopter flight to see Niagara Falls from the air.
Choose between a one or two day Niagara Falls tour depending on the time of year you are traveling
I must tell you that you will not be able to enjoy all the activities I have told you about all year round. That's why you will need to consider what time of year is the best time to see the falls to decide whether to take your one or two day trip to the falls.
If you travel during the summer season, which usually runs from May to October, I recommend that you take the two-day trip, as you can take advantage of more time and visit more attractions that are closed during the winter, such as the Maid of the mist and the Cave of the winds.

If on the other hand you are going to see Niagara Falls in winter you should know that many of the attractions are closed. Especially the attractions directly related to water contact or the streetcar. In that case, I would do the day trip, where you can walk and hike trails or visit the theater or the aquarium.
I hope that after reading this article, you will have a better idea of what is the best option for you and whether it is more worthwhile to take a day trip or a two-day trip to the iconic and mighty Niagara Falls.