Best Places to Eat in Niagara Falls
From haute cuisine dishes at great viewpoints, Italian food, delicious grilled meats or the fluffiest sweets. Check out the best places to eat in Niagara Falls.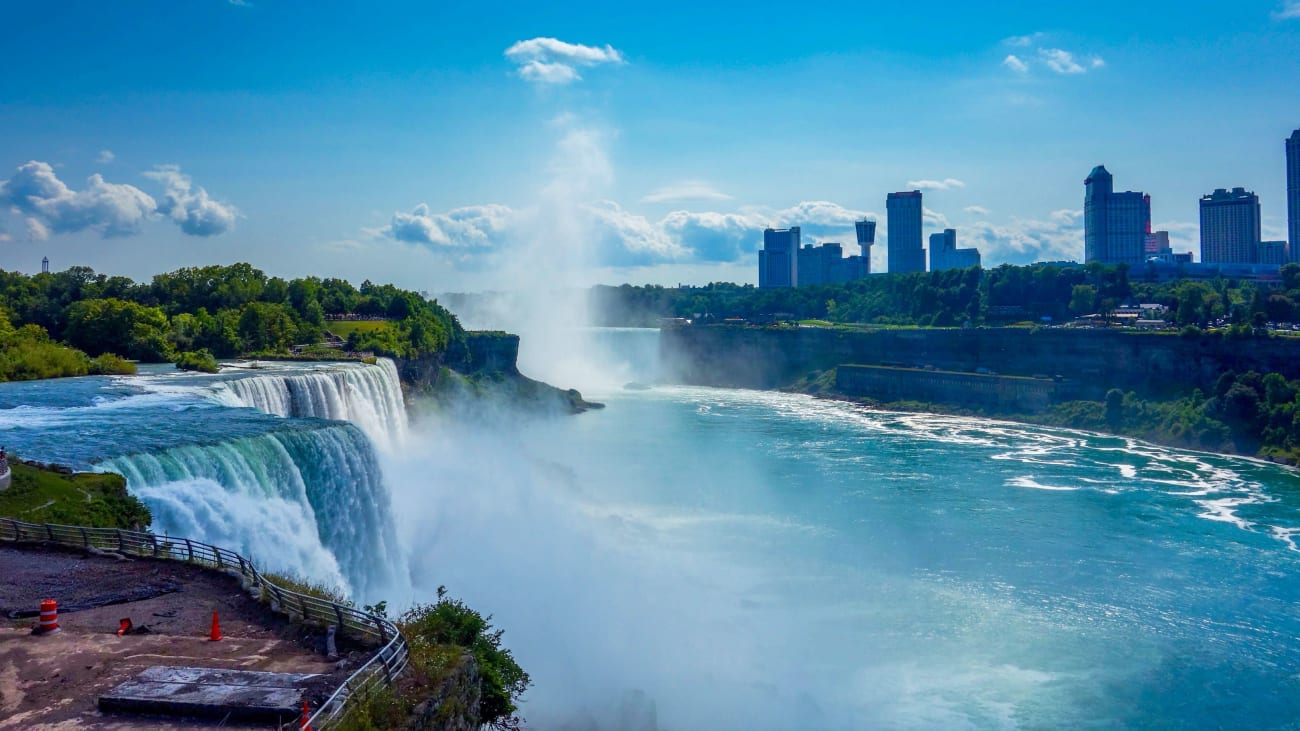 Accompanying the spectacular views of Niagara Falls with a good meal is one of the essential plans for your visit to this wonder of the world. However, throughout the year, thousands of tourists want to spend the day contemplating the imposing waterfall, so it is sometimes difficult to find a quiet and original place to eat.
Even so, the gastronomy of this border area between the United States and Canada is very rich and varied and we can find a multitude of offers adapted to all palates. With prices ranging from 20 to 70 euros, the streets around the falls have places to eat ranging from the local offer with the best views, to restaurants specializing in Italian food or even English brunch.
Where to Eat Near Niagara Falls
If your main goal when you come to visit this wonder of the world is to observe it and have it as close as possible, in this list I will summarize the three best places from which you can have quite privileged views, accompanied by a delicious meal. You may have to look ahead to make a reservation as it is such a touristy place, but it will be worth it.
Local food and scenery at Table Rock House Restaurant
If you are in love with Niagara Falls and what really interests you is to be able to access one of the most privileged views of the whole area, one of the best options to eat is at Table Rock House Restaurant. This place, literally, seems to be built on one of the slopes closest to the waterfall and offers an unparalleled landscape.
This restaurant has a varied menu of local and simple foods that do not overshadow its attractive location, but offer a pleasant evening. Its star dish, the Smoked Salmon Sandwich, is one of the most requested by tourists, who have to book in advance to get a table.
**Interesting details
**
Where: 6650 Niagara Pkwy, Niagara Falls
Average price per person: between 25€ to 40€.
The best views at Skylon Tower Revolving Dining Room
Another of the most spectacular views of the entire Niagara Falls environment is offered by the Skylon Tower building, a huge observation deck near the waterfall that, at the top, has a restaurant that makes a 360-degree turn, offering a panoramic view that can be accessed from helicopter rides.
The dishes prepared in the Skylon Tower Revolving Dining Room are ideal to celebrate dates or special moments for the experience of eating at heights and for its continental and varied style that conquers any palate. The marinated salmon or pasta with seafood are its most renowned dishes.
**Interesting details
**
Where: 5200 Robinson St, Niagara Falls
Average price per person: between 40€ to 60€.
Romantic date at Morton's Grille
Morton's Grille offers its diners a family and local food in the middle of Niagara Falls. Its grilled recipes and its variety of local products make it a safe bet to eat something tasty and of quality during your visit to the attraction.
In addition, it has privileged views of the Falls but being a little further away from the crowded tourist area, so it offers more tranquility and privacy if you are thinking of having a romantic moment with your partner or celebrate the vacations with your family. Its great variety of grilled fish and meat is its strong point.
**Details of interest
**
Where: 6740 Fallsview Blvd, Niagara Falls
Average price per person per visit: between 20 ¤ to 40 ¤.
Where to eat around Niagara Falls and the city of Niagara Falls
Having a good view of Niagara Falls is not bad, but if you want to immerse yourself in the charms and tradition of the city that encompasses these impressive waterfalls, the best thing to do is to go and try the wide range of restaurants on offer. From local dishes, based on meat and fish, to international cuisine. Everything is designed so that no diner is left hungry.
English distinction at Queen Charlotte Tea Room
For lovers of English cuisine and style, the Queen Charlotte Restaurant is undoubtedly the best option. Advertised as a "tea room", this picturesque place in the vicinity of Niagara Falls proposes to be a little piece of England in the new continent.
The recipes, aesthetics and style are clearly marked by the English trend, so if you feel like trying a fish and chips on your visit to Niagara or want to take a break with a delicious tea and some fluffy sweets, at Queen Charlotte you will have found your place.
**Details of interest
**
Where: 5689 Main St, Niagara Falls
Average price per person: between 10€ to 15€.
Try oysters at the Tide&Vine Oyster House
As its name says, this restaurant honors oysters and all the products that can come from the sea. With a wide variety of recipes and a strong attachment to seafood, Tide&Vine Oyster House is an experience for tourists who come to visit the Falls and want to enjoy a first class product.
In this restaurant, every June, they have an oyster festival, their star dish. However, no matter when you come, the restaurant will offer fresh seafood products so that you leave the place with a complete experience.
**Interesting details
**
Where: 3491 Portage Road, Niagara Falls
Average price per person: between $10 to $40
Craft beer at Taps Brewhouse
For people who aren't looking for a sit down first and second course but want to enjoy a good craft beer and a bite to eat, Taps Brewhouse is the place for you. This quaint spot is close to the park museum and offers very affordable prices.
Their specialty is craft beers, of which you'll find several options on tap to choose from. In addition, among their different meals, there are several vegetarian options to suit everyone. In this award-winning bar, what predominates is to have a good beer or lemonade accompanied by a pizza of the house.
**Interesting details
**
Where: 4680 Queen St, Niagara Falls
Average price per person: between 15 ¤ to 30 ¤.
The cellars of Two Sisters Vineyards
If we move a little away from the Niagara Falls park we can find a great experience for our senses in one of the most important wineries in the area. Two Sisters Vineyards is a young winery that began to be known in 2007 with its first plantation, which boasts of being bathed by the Niagara River.
Apart from a spectacular visit through the vineyards, this magical place also offers an extensive culinary menu that allows you to enjoy a good wine with appellation of origin. My recommendation is to try the tasting menu and let yourself be carried away by the flavors of these wonderful lands.
**Details of interest
**
Where: 240 John Street East, PO Box 608, Niagara on the Lake, Niagara on the Lake.
Average price per person per visit: between 80 ¤ to 150 ¤.
The best grilled meat at Brasa Brazilian Steakhouse
The border area between the USA and Canada may have a great tradition in meat, but if you are looking for a place where you can enjoy a delicious grilled recipe in the purest Brazilian style, you have to go to Brasa Brazilian Steakhouse. Enjoying one of the strong points of Brazilian food in a privileged environment such as Niagara Falls is a great experience.
With the best of the local meat and the typical preparation they do in Brazil, in this restaurant you will find a perfect balance with a mixture of cultures that will enhance and improve your visit. Its free buffet mode allows you to choose the type of meat and preparation that you like the most.
**Interesting details
**
Where: 6361 Fallsview Blvd, Niagara Falls
Average price per person per visit: between 30 ¤ to 40 ¤.
The best of Italy at Casa Mia Ristorante
Continuing along the line of international food, we find Casa Mia Ristorante, for all lovers of pasta and Italian cuisine. It may not be one of the most typical panoramas of the area, but this restaurant receives hundreds of tourists every day and is one of the best rated in the area.
Casa mía has several menus for different types of occasions, as well as a wide variety of pastas, pizzas and meats that will transport you to Italy. It is geared especially for couples and visitors who want something exclusive and intimate.
**Interesting details
**
Where: 3518 Portage Road, Niagara Falls
Average price per person per visit: between 40 ¤ to 60 ¤.
Family atmosphere at Betty's Restaurant
If what you are looking for is to integrate into the landscapes and typical spaces of the area, I recommend going to eat something at Betty's Restaurant. This place has an old and familiar air that makes it completely recommendable for families with children or vacation groups.
Its specialty is breaded fish and chips, although it also has several types of dishes based on vegetables and local products and delicious desserts ideal for those with a sweet tooth.
**Details of interest
**
Where: 8921 Sodom Road, Niagara Falls
Average price per person per visit: between 20 ¤ to 30 ¤.
Typical Niagara dishes
Although the park where Niagara Falls is located is a highly touristic area and has all kinds of local and international offers when it comes to eating, the Niagara region has its own gastronomy. The relevance of the river and the areas full of vegetation favor the local product and the English and American influence can also be seen.
Its typical dish par excellence is the poutin, a meal based on fried potatoes, granulated cheese and meat sauce. In addition, there is also a great variety of fish and meat, being the specialty to do it breaded or grilled.
Budget needed to eat at Niagara Falls Park
Approximately, the price per person for a meal at Niagara Falls ranges from 25€ to 80€, depending on what you are looking for.
We must not forget that we are in a place with a lot of tourist activity, so prices may seem a bit inflated when going out to eat. However, if we take it easy and check the surroundings, we can find real treasures with affordable prices.
Lunch, dinner and restaurant opening hours in the park
It is normal to have lunch around 12-1 pm and dinner around 8 pm. Therefore, you will find restaurants open as early as 11 o'clock offering their menus and menu.
It is typical in the Canadian area, as well as in the northern USA, that lunches and dinners are adapted to the sun hours which, in these locations, usually occur earlier than in the central areas.
How tipping works in Niagara Falls Park restaurants
Tipping in Niagara Falls is not mandatory, as well as in any area of the USA. However, due to its tradition and culture, it is very frowned upon if after a good service and a delicious meal, you are not encouraged to leave an extra. This tipping percentage usually ranges from 15% to 20% of the total bill.