Niagara Falls America-side Tours
Booking one of the best waterfall tours, especially on the American side, will allow you to admire a unique natural treasure in North America. Here I tell you which are the favorites so you can choose which of them you can't miss, it won't be easy to choose just one!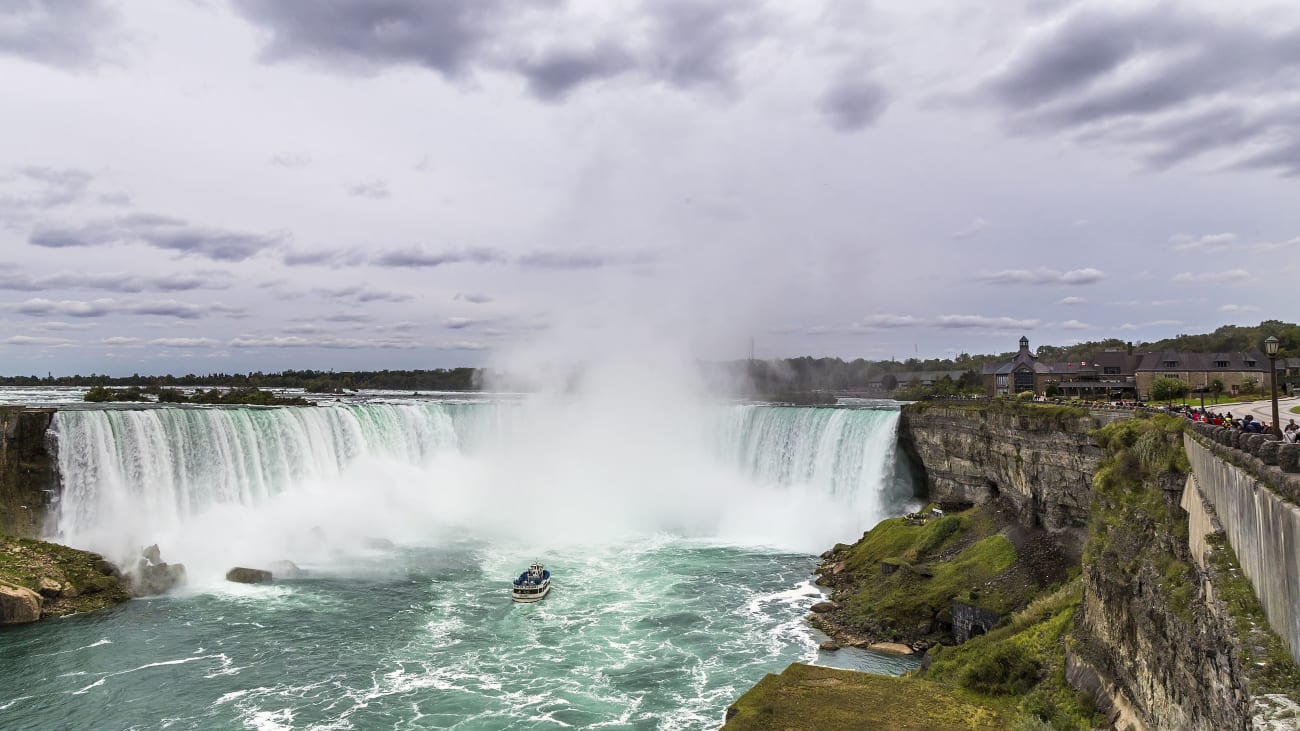 Enter a new world, full of mist, formidable rapids, powerful waters and occasional rainbows, with the best Niagara Falls tours. Niagara Falls is surrounded by vineyards, forests and other attractive places that you will love to explore, and you have the opportunity to do so.
Experience this tourist paradise for the first time or revisit it to admire it from a totally different perspective. After analyzing the available tours, I have gathered excellent options by land, water and even by air. So let yourself be surprised with this exclusive selection that shows you everything you can enjoy being there.
1. Tour on the famous boat called Maid of the Mist
One of the must-see tours, among the best tours of the Falls, is the tour aboard the Maid of the Mist. This is a boat that will take you completely into the very fall of these imposing waters. This way, you will live a unique experience that you will never forget in your life.
You will be surrounded by thousands of liters of water and **you will feel adrenaline from the force and roar of it. Thanks to the powerful breeze, the water will reach your face and body, wetting the clothes you will be given to protect you. Undoubtedly, it is not only about having wonderful views, it is about living an indescribable emotion.
This kind of tour usually takes less than half a day and includes more than just the boat ride. For example, they may pick you up at the hotel where you decide to stay in New York. They will even take you back there as soon as it's all over, without charging you anything extra for this service. So take advantage.
Characteristic details of this excursion
Price: Around 120€.
Estimated duration: 5 hours
Means of transportation used: Boat
2. Exciting boat tour
The Niagara riverboat tour is one of the most exciting Niagara Falls tours. Being aboard one, you will navigate these waters for a few hours of fun. These boats are modern, comfortable, fast and move at a speed that I bet will impress you.
They have a power that exceeds 1,650 horsepower, which will propel you all the way. You have to dare to go through this adventure where your adrenaline will be completely shot. Get ready to enjoy this classic ride where the waters will beat you in the swaying of the boat.
With this excursion, through the Niagara Falls, you will be among the gorge and its cliffs. Feel daring and take one of the open-air seats on the boat. If you are a little more reserved, enter the inner part of the boat; in either case, you will delight in the ride.
Characteristic details of this excursion
Price: Almost 60€.
Estimated duration: 45 minutes
Means of transportation: Boat
3. Night tour of the beautiful illuminated waterfalls
See the beautiful waterfalls in a completely different facet, during a night excursion. Your eyes will sparkle and light up thanks to the reflection of all the effects. The pyrotechnics, laser lights and fireworks that are used at night, provide an unparalleled and unforgettable spectacle.
This Technicolor night effect at Niagara Falls only takes place once the sun sets. So, if you are looking for something completely different, book a tour at night. This way you'll see a natural phenomenon, sparkling and brightly lit.
Contemplating the stars, under their light, will complement this amazing spectacle of color and impressive luminosity. This excursion also includes the possibility to see some attractions from a boat, which makes everything even better.
Characteristic details of this excursion
Price: From 120€.
Estimated duration: 4 hours
Means of transport used: Boat
4. Aerial tour over the impressive falls
Among the best Niagara Falls tours you can enjoy is the Niagara Falls airplane ride. You will be delighted with an aerial view in a flight that will take you on an extraordinary journey. From high above, you will witness all that the Falls encompasses like never before.
Tours take off from the small airport in the Niagara District. When you choose them, you will fly over many forests and see, from above, the bubbling waterfalls of these amazing falls. You will be fascinated to see how these strong waterfalls fall through the mist.
You will also feel very comfortable inside the plane, and you will be able to have a seat with a window view. This will allow you to appreciate every detail of the splendid scenery. So, have your camera at hand and get ready to capture those images that will stay with you as a souvenir.
Characteristic details of this excursion
Price: From 70€.
Estimated duration: 25 minutes
Means of transport used: Plane
5. Adventure and express passage to the great Cave of the Winds
There is a cave that lies beneath these roaring falls and it is called Cave of the Winds. Because it is a magnificent tourist attraction, it is included in one of the best tours of the Falls on the American side. By being in it you will get a new and amazing perspective of the canals.
In fact, you will be able to get so close to the falls that you will have the impression that you can touch it. You will have a guide who will hold your ticket in his hand so you can avoid a long and exhausting line. He will speak Spanish and will tell all kinds of stories of mystery, rescue and daredevils during the tour.
This will familiarize you with the park's past and make your experience even more enriching. Dare to descend up to 53 meters to reach the cave where you will feel the momentum of the falls. I assure you that you will find this entire tour very entertaining, from the beginning to the end.
Characteristic details of this excursion
Price: Approximately 50€.
Estimated duration: About 2 hours
Means of transport used: Walking Tour
6. Helicopter flight over the Falls
Another way you can see Niagara Falls from the air is by taking a helicopter tour. No one can deny that the views from the air are unparalleled. On the other hand, by limiting the number of people, you are guaranteed to receive a more personalized service.
Therefore, you will feel that you are elevating your visit to a luxurious category but, in reality, the price is quite good. There is nothing like being at an altitude of over 230 meters above this fantastic place. If you want to capture and take home those mind-blowing moments, be sure to take good pictures.
Usually this kind of tours also include a boat ride so you can enjoy the scenery from all angles. In case it is your first time there, you will appreciate even more to make such a complete visit. According to the choice you make, it might even include a delicious meal.
Characteristic details of this excursion
Price: From 280€.
Estimated duration: 5 hours
Means of transport used: Helicopter and boat.
7. City flight to Niagara Falls
Do you want to avoid wasting time on your way to the falls? If your answer is yes, I recommend this tour. It consists of a plane ride from New York to this point destination so visited by other tourists. Although you will have to invest a little more in this fun, the truth is that it is worth it.
Not only will you have at your disposal superior views of the amazing bodies of water, but also of the Big Apple. Imagine seeing from above one of the metropolis with the largest skyscrapers and then passing by the beautiful waterfalls, a wonderful contrast that will leave you open-mouthed!
Not encountering the busy traffic on the streets of New York will save you a lot of time. The same will happen if you don't have to drive through the forests and mountains. That time can be better spent on the Maid of the Mist ship and making your excursion longer.
Characteristic details of this excursion
Price: Approximately 500€.
Estimated duration: 15 hours
Means of transportation used: Plane and boat
8. Exploring the huge Niagara Park
It is clear that the waterfalls, as splendid as they are, are the main attraction of the place. However, you should not forget that there is a whole state park with 160 hectares or more. Don't leave without taking a tour that involves an excursion through these beautiful gardens full of life.
If you love being outdoors as much as I do, this is a unique opportunity. Get in touch with nature by taking a leisurely stroll through the park's spectacular trails designed by Frederick Law. There you will also find sites of great historical value and interest.
Therefore, going with a guide who will explain the secrets of the park in your language is the best decision. That way, you will learn about the most outstanding curiosities of this place, which has been used for filming movies. Luckily, this kind of combined tours offer that and much more.
Details of this excursion
Price: Around 35€.
Estimated duration: 1 hour
Means of transport used: Walking Tour
9. Walk from the American side to the Canadian side
There is the option of experiencing a Niagara Falls tour from the American side to the Canadian side. This is possible because the falls are swirling in the mist in both countries. That is to say, the enjoyment of seeing these falls will be possible in one country as well as in the other.
With a tour of this type, you will be able to see both sides from very close, passing through certain strategic places. For example, you can go from platforms at Cave of the Winds to the viewpoints at the high Skylon Tower. In this tour, an entrance to the famous "Maid of the Mist" is included.
This boat will take you to the thrill of witnessing or being in the heart of Niagara. On board, you will get to the part where the great river begins to plunge down all the cliffs. I can promise you that you will experience a very pleasant and satisfying sensation like no other.
Characteristic details of this excursion
Price: Around 130€.
Estimated duration: 7 hours
Means of transportation used: Boat
10. Bus tour from the city to the Falls
If you want to enjoy the best tours of the falls, you can do so by visiting them by bus from the city. On this trip, you will cross the Appalachian Mountains that are in New York, making a short trip and taking a short time to get there. This way you will not be in a long and constant wait or expectation.
As you exit the illuminating lights on Broadway, you will encounter the spectacular and majestic Niagara Falls. The buses used to get you around are very comfortable and functional. So you'll feel good about exploring the state parks and scenic overlooks throughout the trip.
These bus tours departing from New York to the falls are only available for a few months and sometimes include a ride once in the Falls Park. This ride is on the Maid of the Mist boat, but you can still explore the famous Cave of the Winds - enjoy a scenic tour before returning to New York!
Details of this excursion
Price: From 200€.
Estimated duration: 19 hours
Means of transportation used: Bus and boat.
The ideal time to visit Niagara Falls
The ideal season to make your trip to Niagara Falls is summer, from June to August. The warm temperatures at that time make it easy to enjoy all the activities that can be done there. On the contrary, during the winter, there are some Niagara Falls attractions that are not available, such as the Maid of the Mist.
That's because rides are cancelled due to the presence of ice all along the river. As the weather influences the best Niagara Falls tours, keep it in mind when planning your visit and don't rule out visiting Niagara Falls in winter because it can be an unforgettable experience.
Tips for your trip to the Falls
Some suggestions that will enhance your enjoyment of the best waterfall tours are:
Wear clothing that you are willing to get wet.
Check visa requirements for Canada if you are crossing the border.
Compare options and choose the one you like best and within your budget.
Take Canadian dollars in case you go to the other country.
Frequently asked questions
What can I see on the American side of Niagara Falls?

You can visit the Cave of the Winds, the Falls Observation Tower above the Niagara Gorge, Goat Island, and the Flower Clock.

When is the best time to take a tour on the American side?

The ideal time is between May and December, as the rest of the year Niagara Falls is out of season and most experiences and attractions are replaced by alternatives.

Do I need a passport to participate in these experiences?

Yes, you will need a valid passport to cross the U.S.-Canada border.