Best Places to Eat in La Gomera
Have you ever heard of papas arrugadas, gofio or guarapo? In La Gomera you can try these delicious dishes until you are full. Where? Take note of these fantastic places and... enjoy your meal!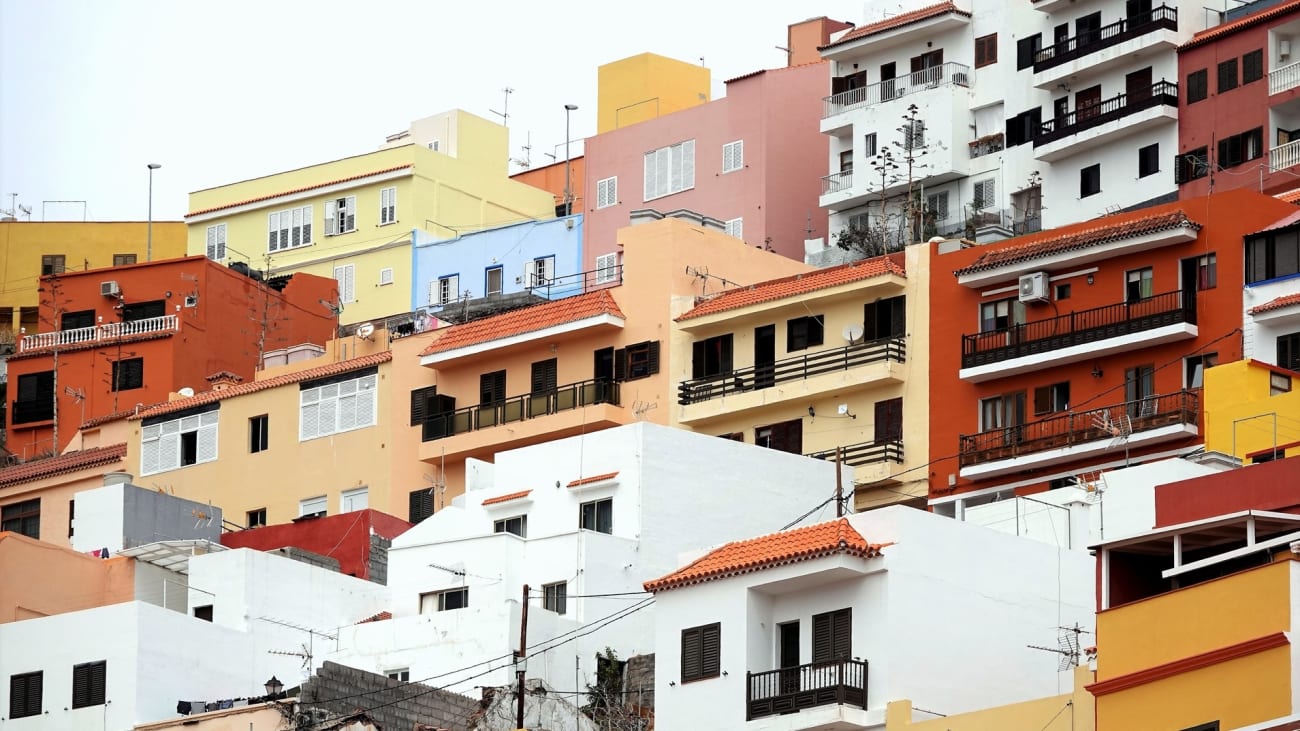 There is much to see in La Gomera to enjoy with all five senses, not only in terms of the natural treasures it houses but also in terms of its gastronomy. An authentic and diverse cuisine in its ingredients that is reflected in the character of its dishes.
Enjoying the local gastronomy is another way to do tourism on the island and to understand its culture. There are options for all tastes and pockets. If you want to spend a pleasant time tasting the genuine Gomeran food, check out these 10 restaurants in La Gomera that will turn your getaway into a memorable experience.
1. Feel like one of the locals in Gastro-Tasca Estadio
This restaurant located in the municipality of Hermigua is a charming place to sit down to eat and take a break on your route, especially if you come from hiking around the island.
The food at Gastro-Tasca Estadio is fantastic, simple and tasty. Highly recommended are the cod in leek and seafood sauce, the garlic mushrooms, the chicken in sauce and the almogrote. There are also hamburgers and sandwiches for children.
Many local people come to this restaurant, as the staff is friendly and contributes to create a pleasant atmosphere.
Details of interest
Where it is: Carretera General De Hermigua 129, Hermigua, 38820, La Gomera
Recommended dish: Cod in leek and seafood sauce.
Ideal for: Families, couples and alone.
2. The best escaldón de gofio in Bodegón Restaurante Agana
If during your stay in La Gomera you go to Vallehermoso, you must go to eat at Bodegón Restaurante Agana to taste the typical gastronomy of the island made with local products.
The food is spectacular, especially the watercress stew, tripe, ribs with potatoes or grilled cheese. The portions are abundant and the prices are quite reasonable.
The treatment of the staff is pleasant and fast, which is appreciated if you arrive hungry as it takes very little time to give you a table. The restaurant is well kept and clean.
Interesting details
Where: Avenida Guillermo Ascanio Moreno 5, 38840 Vallehermoso, La Gomera.
Recommended dish: Escaldón de gofio (gofio stew)
Ideal for: Couples and families.
3. The best almogrote of the island in Tasca Las Cruces
If you like traditional restaurants, in the old town of Agulo you will find Tasca Las Cruces, a small bar where you can eat the best of traditional Gomeran cuisine at affordable prices.
I recommend you try the almogrote (one of the best on the island) as well as the avocado omelette, tuna with mojo and wrinkled potatoes, cuttlefish or ensaladilla.
It is a place with a cozy and very quiet atmosphere. The staff is attentive and they make every effort to make you feel at ease during your meal. This restaurant does not have many tables so I advise you to book before you go.
Interesting details
Where it is: Calle de Pedro Bethencourt 15B, 38830 Agulo, La Gomera
Recommended dish: Tuna in mojo sauce.
Ideal for: Families, couples and alone.
4. Connect with the gastronomic tradition of the island in La Montaña - Casa Efigenia
Going to this restaurant in Las Hayas is an experience. The quality of the food is excellent and its recipes will allow you to connect with the gastronomic tradition of the island at a very good price. They are not sophisticated dishes but they will leave a good taste in your mouth.
In addition, the history of this place full of memories is striking, where you can still talk to Doña Efigenia, the owner, who started her business in the late 40's and since then has not stopped receiving customers.
The dishes at La Montaña - Casa Efigenia are tasty and healthy, which are made exclusively with products from the garden (no fish or meat) which is an option to consider for vegetarians. I recommend you to try the watercress stew, the puchero menu, the goat cheese with jam or the almogrote.
The service is friendly and efficient and Doña Efigenia, a sweetheart. If she likes you, she will tell you a lot of stories about La Gomera. For that reason alone, this restaurant is worth visiting.
Interesting details
Where: Ctra de Las Hayas-Arure, 38892 Las Hayas, La Gomera
Recommended dish: The puchero menu.
Ideal for: Families, couples and alone.
5. The best restaurant to go with the family, Sal & Pimienta
If during your stay in La Gomera you are looking for a quiet restaurant with a cool atmosphere where you can relax for lunch, Sal & Pimienta in Valle Gran Rey is a great option.
It is a fairly spacious place with spectacular views, perfect if you are traveling with a group of friends or with the family, as they have a children's play area for the kids to have fun there for a while after eating.
I recommend ordering the pizzas (they are delicious!) as well as the pasta with almogrote or the Sal y Pimienta salad. The dishes are well presented and the restaurant staff is friendly.
Don't leave the restaurant without trying one of their delicious cocktails, they are the finishing touch to a great meal!
Details of interest
Where: Avenida El Llano, 29, 38870, La Gomera Spain
Recommended dish: The pizzas
Ideal for: Families
6. The best gofio pancakes at Roger's Café
You will find this very original little café in the capital of the island, San Sebastián de La Gomera. The striking thing about this place is that its owner, Roger, is also the waiter and the cook, and believe it or not, the food comes out quickly!
The atmosphere in the place is calm and pleasant, perfect for couples or groups of friends. The menu is simple Roger's Café and not too extensive. The dishes are surprising and delicious. Special mention should be made of the burgers and the sweet and savory crepes.
Interesting details
Where: Calle de la República de Panamá 3, 38800 San Sebastián de la Gomera, La Gomera.
Recommended dish: The hamburger Roger
Ideal for: Friends and couples.
7. The best homemade food of La Palma in Pensión Víctor
Pensión Víctor is the place to go in San Sebastián de la Gomera if you want to have lunch with typical Gomeran food: watercress stew, almogrote, wrinkled potatoes, roasted cheese with palm honey... all homemade and cooked on the spot!
The dishes are plentiful, so you won't leave hungry. There are even vegetarian options, making it an interesting place to consider in the island's capital.
The treatment is pleasant and the quality-price ratio is unbeatable. The place is quite nice and original with an interior dining room that almost looks like a terrace. To repeat!
Details of interest
Where it is: Calle Real 23, 38800 San Sebastián de la Gomera, La Gomera
Recommended dish: Grilled cheese with palm honey
Ideal for: Solo and couples.
8. The homemade desserts that will take your breath away at Bar Restaurante Victoria
If you are looking for lifelong recipes in La Gomera, prepared with quality raw materials and a lot of care, you can not miss the Bar Restaurant Victoria during your stay on the island.
The restaurant staff is very friendly and the place is spotless. Among their dishes I would highlight the chickpeas, grilled cheese with mojo and liver in sauce. The desserts are homemade, so do not hesitate to try them! In addition, Bar Restaurante Victoria has a varied wine list.
As for the prices, they are quite economical. The overall experience is to repeat the next trip to La Gomera.
Interesting details
Where: Carretera General de El Cercado - Chipude, 38869 El Cercado, La Gomera
Recommended dish: The chickpeas
Ideal for: Alone, friends and couples.
9. Eat like a king at reasonable prices in Tasca Restaurante El Carraca
If you are visiting the town of Vallehermoso during your trip to La Gomera and you get the itch, I recommend you to go to the restaurant El Carraca.
It is a small but cozy place where you can eat deliciously. The waiters are very attentive at all times and make recommendations from their menu according to the tastes of the customer. The service is efficient and the dishes arrive promptly, something that is appreciated when hunger presses.
Some of the most delicious dishes you can try here are the black tomato with garlic, eggplant with honey from Palma, vegan croquettes or scrambled eggs, among others. As for the quality-price ratio it is adjusted.
Interesting details
Where it is: C/ Nueva Creacion s/n (Pedestrian street towards the Church), 38840 Vallehermoso, La Gomera
Recommended dish: Tomate negro al ajillo (black tomato with garlic).
Ideal for: Alone, friends and couples.
10. The best pizzas of the island in Pizzeria Gondola
Everybody likes pizzas and those of the Pizzeria Gondola in the municipality of Valle Gran Rey will surprise you. It will be difficult to choose just one! However, in this restaurant there are many more options to try, some of them with a fusion style of other cultures such as Asian, Peruvian or Mexican.
As I said, the pizzas are very tasty but if you want to take advantage of the visit to eat something different, I recommend the sea bream tempura, the traditional ceviche, the black rice with squid, or the paella with rabbit and boletus. You will not be disappointed!
The waiters are professional and helpful and the place is very cozy. As for the prices, they are quite reasonable. Undoubtedly, a good place to drop by during a walk in Valle Gran Rey.
Details of interest
Where: calle vueltas nº3, 38870, La Gomera, Spain
Recommended dish: Black rice with squid
Ideal for: Friends, family and couples.
---
Typical dishes of La Gomera that you will want to try
Although La Gomera is the second smallest island of the Canary Islands, it has a great gastronomic richness based on local products that have given rise to one of the tastiest cuisines of the archipelago, such as potatoes, Canarian cheese, gofio or guarapo. Among its most typical dishes we can highlight:
The almogrote: It is a kind of pate of aged cheese and mojo canario, slightly spicy that is very tasty when its texture melts in the mouth. Perfect as an appetizer to enjoy it spread on bread and with a glass of Gomeran wine.
Papas arrugadas: It is the star dish of the Canary Islands made with boiled and unpeeled potatoes served as a tapa or as an accompaniment to a meat or fish dish with the traditional sauces of mojo picón and mojo verde.
Watercress stew: A simple but very tasty stew that everyone likes. Eating it in winter is wonderful. It comes with or without meat (pork ribs), corn and accompanied by a little gofio, an essential ingredient in Canarian cuisine.
Gofio escaldado: It is actually a typical dish of Tenerife, which is prepared with great art in La Gomera and tastes great. It is made with meat or fish broth over which gofio is poured and then kneaded. You can add extra pork ribs, green mojo or onion to transform it into a main dish as it is usually served as a starter.
Guarapo: some dishes such as fried eggplants are seasoned with guarapo, the sweet sage extracted from the Canary Island palm tree and reminiscent of honey. It can also be used on meats and the result is delicious.
Torta de vilana: It is a typical dessert from La Gomera, which has a texture between pudding and sponge cake made with potatoes, almonds and raisins, among other ingredients. It is very appetizing!
Gofio mousse: It is a simple dessert made with gofio, almonds and guarapo that will delight the sweet tooth. Try it!
How much budget do you need to eat in La Gomera approximately?
In La Gomera you will find options adapted to all budgets to eat. Depending on what you are looking for you can go to fast food restaurants where you can order for less than 10 €, go to tapas bars where you can eat portions for less than 20 € or even in hotels for which you may need a larger budget.
Lunch, dinner and restaurant opening hours in La Gomera
As far as meal times in La Gomera are concerned, they are generally no different from the rest of the timetables in mainland Spain. Meals take place between 1PM and 3 PM while dinners are between 8:30 PM and 11 PM.
If you want to eat at a particular restaurant in La Gomera, I recommend that before booking a table you do a search on Google or on the social networks of each restaurant to find out the opening hours of the establishment as well as the days they are closed for rest or holidays. It will be easier for you to choose the day to visit them!
How tipping works in restaurants in La Gomera
Unlike in other countries, tipping in restaurants at the end of a meal is not mandatory in Spain as it is included in the price of the service.
However, it is customary to tip in restaurants depending on the generosity of the customer, how satisfied he/she is with the service and the total amount of the meal.
If you are very happy with the service when you go to eat at a restaurant in La Gomera, I recommend you do so to let the waiters and chefs know that they made an effort and did a good job.