Best Things To Do in La Gomera
Traveling soon to La Gomera? Check out this guide with the must-sees and must-do's on the island for a memorable vacation.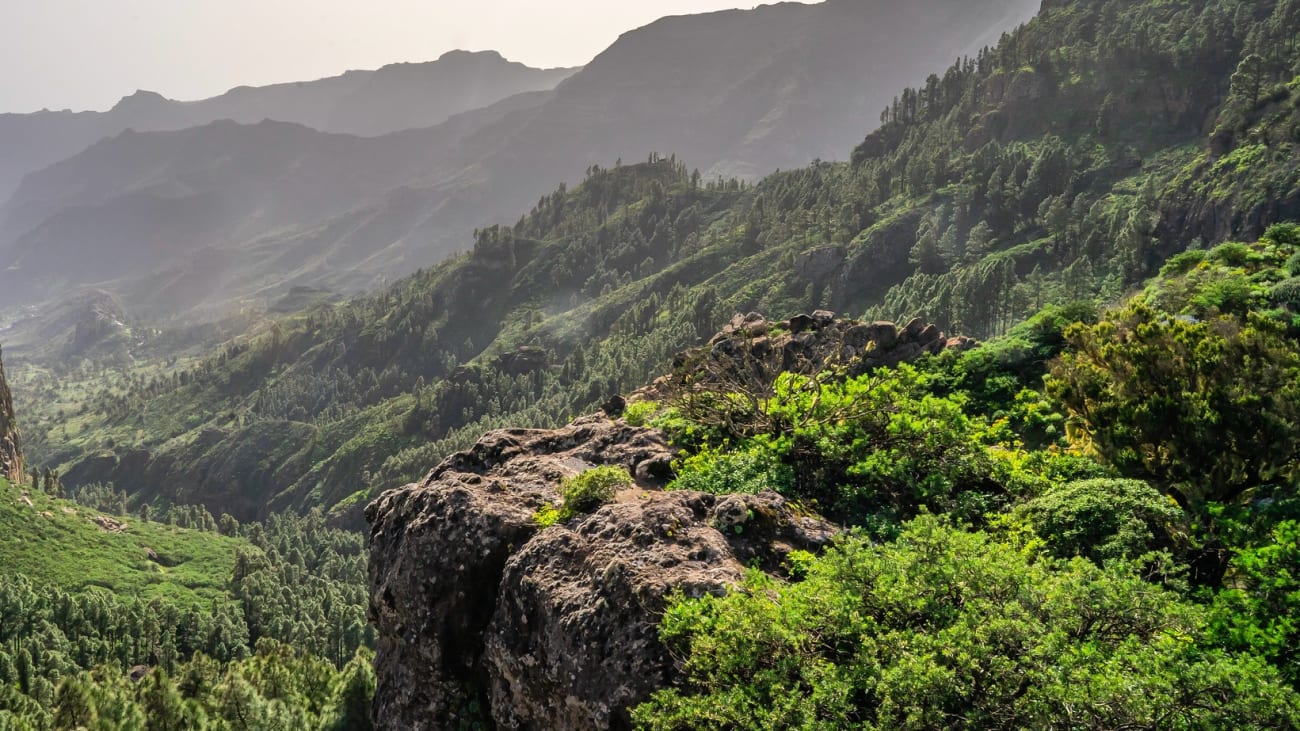 Thanks to its mild and temperate climate all year round, any time is a good time to escape to La Gomera and discover the treasures of this charming island close to Tenerife: wild nature, dreamy beaches, picturesque villages, delicious cuisine... Take note of everything you can do in La Gomera!
1. Discover the National Park of Garajonay
Many travelers visit La Gomera attracted by the spectacular scenery of the island and among all especially highlights the Garajonay National Park with the beauty of its ancient Canary laurel forests dating from the Tertiary era, after the extinction of the dinosaurs millions of years ago.
It is one of the essential sites to see in La Gomera and the most impressive jungle to know within the European continent. With its misty and mysterious appearance, full of large trees covered by vines, ferns and mosses, this place does not seem real but out of a fairy tale. It leaves no one indifferent!
To discover the Garajonay National Park you can go on your own by car or join one of the organized excursions that make the visit there as part of a tour of La Gomera.
2. Hiking in La Gomera
A very fun and interesting way to explore La Gomera is hiking along the more than 600 kilometers of trails that cross the island.
This way you can get to know step by step its rich landscape and incredible biodiversity while enjoying a day outdoors breathing fresh air.
Advantages of hiking in La Gomera
One of the advantages of hiking in La Gomera is that in its wide network of trails you will find routes of different duration and intensity adapted to all audiences, both to the most experienced hikers and to beginners or families with children.
Another advantage for hiking on this island, compared to other provinces of Spain where this sport is usually practiced, is that La Gomera is not yet splashed by mass tourism, so when it comes to sports or hiking you will not feel that everything is overcrowded. On the contrary, travelers choose it to enjoy a few days of rest in nature because it is a very quiet place where it seems that time stands still and you can disconnect from the routine.
For hiking in La Gomera you can choose to go on your own or join an organized tour that runs through the most beautiful trails of the island where you can take fantastic pictures as a souvenir.
3. Snorkel in the beaches of the island
There is no doubt that the interior of the island is home to spectacular landscapes that are in themselves a tourist attraction, but if you go a little towards the coast you will realize that the seascapes have nothing to envy.
Nature has blessed La Gomera with black sand beaches, turquoise waters and green palm groves that seem like the product of a dream. In the clean waters of the Atlantic you can snorkel and swim among colorful fish or take a walk along the ocean shore while sunbathing and relaxing with the views.
In La Gomera you will find beaches of all kinds (virgin, quiet, family, lively, naturist...) and for all tastes. In the post The best beaches of La Gomera you will find some examples where you can take a dip and contemplate the beautiful sunset over the sea, so grab your hat and swimsuit because the beaches of the island are waiting for you!
4. Take a jeep safari on the island
Another of the coolest activities that I recommend you to experience during a trip to La Gomera from Tenerife is a jeep safari around the island with which you will visit enclaves that are otherwise inaccessible.
You will take the vehicle in San Sebastian de la Gomera once you disembark from the ferry that will take you from Tenerife and together with a guide in just one day you will travel through some of the most striking landscapes of La Gomera that are inaccessible on foot or with a normal car. For example, some corners of the Garajonay National Park with its famous laurel forest or the spectacular Hermigua Valley.
Before returning to Tenerife you will have the opportunity to recharge your batteries with a delicious lunch and to attend an exhibition of silbo gomero.
Isabel's Traveler Tip

Doing a jeep safari is exciting and fun but also exhausting. The next day I recommend a quiet plan to recharge your batteries.
5. Tour San Sebastián de la Gomera, the capital of the island
If you have taken a ferry to get to La Gomera from Tenerife, it will leave you at the port of San Sebastián de la Gomera, the capital of the island.
What is the town like?
It is a small village of no more than 9,000 inhabitants, cozy, quiet and cozy where I recommend a walk to discover the old town and take the pulse of the island.
What will you see?
It is not a place with too many tourist attractions, so you can easily walk from one point to another, as the distances are not great. The main places of interest are located around Calle Real and there are plenty of stores and bars.
You will be especially struck by the colorful low houses with balconies in the Canarian style and you can also see some places of interest related to the voyages that Christopher Columbus undertook to America after the discovery of the New World as the Casa del Pozo de la Aguada (where it is said that he took the water to bless America) or the Church of Our Lady of the Assumption (where before there was a chapel where the navigator prayed before setting sail).
6. Visit the charming villages of La Gomera
San Sebastián de la Gomera is not the only village you can visit on the island during your stay, there are many more and they all have their charm!
Which beautiful villages to visit?
For example, Vallehermoso is located in a beautiful valley full of emerald palm trees that merge with the terrain under the gaze of Roque Cano, a rock formation that reaches 250 meters high and is a symbol of La Gomera. Entering the streets and squares of Vallehermoso is the best way to get to know the essence of the island.
Another very interesting place to visit on your vacation is Valle Gran Rey. A town full of tranquility and good vibes nestled in a narrow valley where traditional houses coexist forming farmhouses, Canarian palm groves and terraces in perfect harmony, resulting in a beautiful landscape. Take advantage of your visit to Valle Gran Rey to go to the Palmarejo viewpoint from where you will have breathtaking views.
In La Gomera there are many other picturesque villages. To get to know them I recommend you to take a road trip in a rental car or join one of the organized excursions that make a small tour around the island.
7. Devour La Gomera in bites
Surely you have heard about gofio, papas arrugadas or almogrote, all of them Canarian dishes that perhaps you have not yet had the chance to try.
This is yours! Take advantage of your trip to La Gomera to discover through the palate the ancient culture of the island and its popular recipes. A diverse and authentic cuisine full of character that will surprise you.
In the post Where to eat in La Gomera you will find several gastronomic proposals where you can live some of the best experiences of your trip. Do not miss it!
8. Practice the "silbo gomero
This is one of the most original activities you can do on the island to get in touch with the popular culture: practice the "silbo gomero". You will be amazed!
It is an authentic language based on whistles that since time immemorial the ancient inhabitants of the island developed to communicate due to the deep ravines of the region.
It is the most vivid custom that the island still retains from its pre-Hispanic past. Something that did not go unnoticed by UNESCO, which declared the silbo gomero Intangible Cultural Heritage of Humanity.
Take advantage of your getaway to La Gomera to attend a demonstration as ancestral and original as this one. You will take away with you a pleasant memory and learn a lot about the local culture. Who knows if you will even be able to communicate by whistling yourself at the end?
9. Be amazed by the views from the viewpoint of Los Roques
During your stay in La Gomera, I recommend that you go to the viewpoint of Los Roques from where you will have spectacular views of one of the most iconic natural monuments of the island, Los Roques, among which especially highlights the rock of Agando.
These are four large blocks of rock surrounded by the laurel forests of the peaks of La Gomera that were once volcanic chimneys that spat magma outward and were shaped by erosion.
From the viewpoint you can enjoy the views and take pictures from different angles of this imposing natural monument, as well as spotting the Teide peak in the distance over the Atlantic.
If you like nature, this is an indispensable place to see in La Gomera. Los Roques is located near the Garajonay National Park, next to the TF-713 road that connects San Sebastian de la Gomera and Valle Gran Rey.
10. Marvel from the sea with the cliffs of Los Órganos.
If you are going to visit La Gomera attracted by its beautiful landscapes, there is no doubt that you have to add Los Órganos to your list. You won't get tired of taking pictures here!
It is an imposing cliff of volcanic rocks located in the town of Vallehermoso (in the north of the island), whose name sounds like music and that draws attention for its unique silhouette, shaped like organ pipes, which flows vertically into the ocean.
To appreciate the beauty of this natural monument in all its splendor you will have to join a boat excursion along the coast as it is only accessible by sea. There are tours departing from popular tourist sites such as Santiago beach or Valle Gran Rey.