10 Things to Do in Krakow in November
Are you afraid that November will be too cold in Krakow? Don't worry because during this month there are many cultural and musical activities that will warm you up - discover them!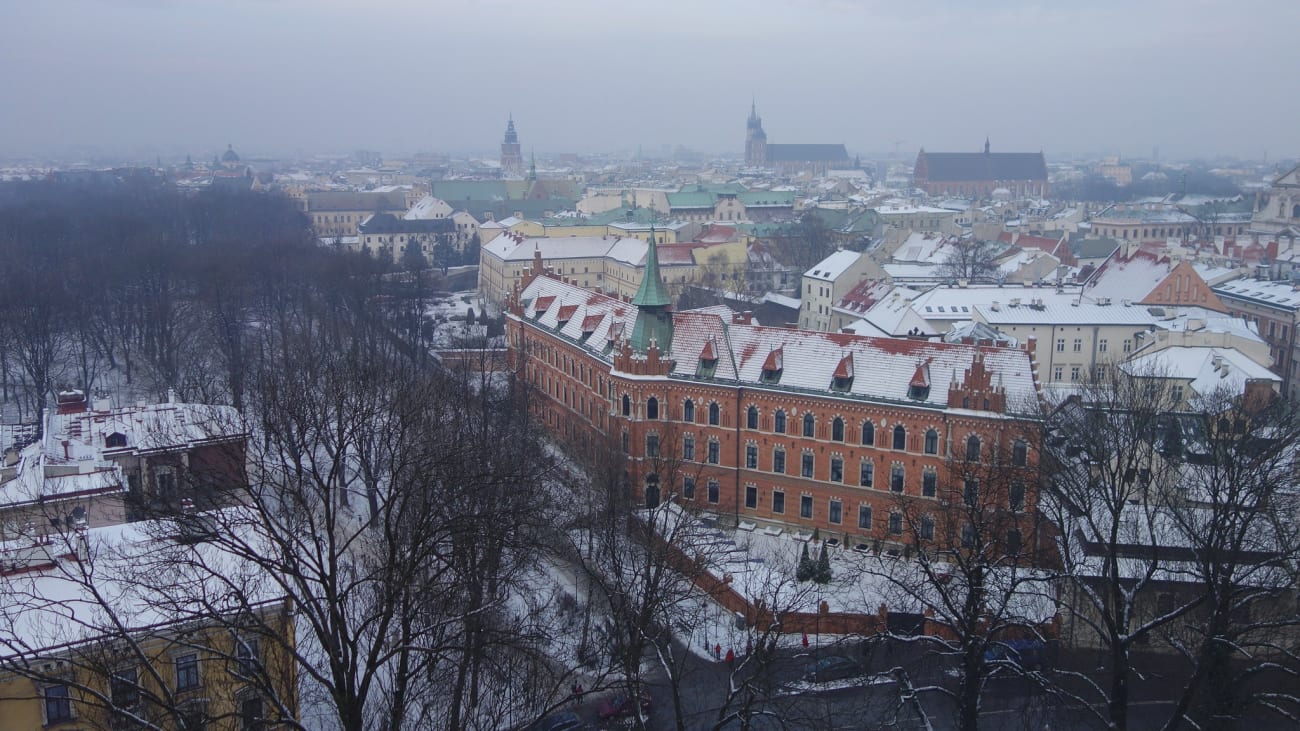 Are you organizing a trip to Krakow in November? I have very good news, although the weather is not always good, this is a month in which, in addition to the things to do on any trip to Krakow, there are many cultural events, such as music and film festivals, but also many other traditional celebrations.
In the penultimate month of the year the Polish city has a lot of life. Of course, you will have to prepare yourself for the cold weather and organize your agenda well, because you don't want to miss anything. Let me tell you more about all the things to do in Krakow in November.
1. Skiing on the newly opened slopes of Zakopane
Do you want to combine the most touristic part of Krakow with a more sporty one? In November the ski slopes begin to open, and in particular those of Zakopane are about two hours from the city, so you can make a day trip from Krakow.
If you're more of a snowboarder than a skier, Zakopane' s slopes will also welcome you. Generally, it's an area more than suitable for winter sports, but I particularly recommend the Białka tatrzańsk resort, which is also open until almost 10 pm, perfect for a last spectacular night run!
Do you need to travel with all your ski equipment - not at all! The prices in Zakopane resorts are low compared to those in other cities, so for about 40€ you will be able to access the slopes and ski clothes.
2. Visit a cemetery on All Saints' Day
Did you think that celebrations around death and ghosts end with Halloween? Well no, All Saints' Day (November 1) is almost as important, and more traditional, for Poles, who take advantage of that day to visit and fill the cemeteries with candles and flowers. It is a somewhat mournful celebration, but equally beautiful, so keep that in mind if you visit any cemetery to contemplate this festivity.
Flowers, candles and traditions on All Saints' Day
Poland is a country with deep-rooted Christian traditions, so the most common thing is to bury people underground and with tombstones. That is why during All Saints' Day you will find the cemeteries more crowded and decorated than ever, with thousands of "znicze" candles, the most traditional ones. In fact, families go to great lengths to create original candles and floral decorations.
Night visit to the cemetery
As you can imagine, the thousands of lit candles create a beautiful scene as night falls - never has a cemetery been less scary! If you feel like it and get ready for the cold (November nights in Krakow are close to 0ºC), you can take a night tour of one of the city's cemeteries, such as Rakowicki, which is one of the best known for housing the tombs of great personalities of Polish culture.
It is also a good day to learn first hand the mysteries of the city with the ghost tour, one of the best tours of Krakow, a walking tour of the city with which you will learn the mysteries and legends that hide its streets.
3. Take shelter from the cold and the rain on a visit to the Mines
If you are going to Krakow in November, you should know that it may rain and be quite cold on some of the days of your trip. At those times, my advice is to take a full day trip to the Wieliczka Mines which, being subway, are protected from the weather.
To go down these mines is to enter a hidden but very valuable world, since salt has been extracted from them for years and, in addition, it has important works of art in the form of chapels and liturgical decorations (many of them made with salt).
To get the most out of your visit and to make Krakow, even when driving, worthwhile, I recommend booking an organized tour with a guide. The mines are full of passages, galleries, monuments and secrets that you will not be able to fully understand if there is not someone specialized in the subject explaining them to you. In addition, you will also have included transportation to and from the city, much more comfortable.
4. Celebrate the Polish National Independence Day
How much do you know about the history of Poland? Maybe you know that on November 11, 1918 Poland achieved its independence after hundreds of years being its territory divided and its people punished for their culture or language. If your trip to Krakow coincides with this celebration, pack some red and white, the colors of its flag, and join one of the marches organized on that day.
Independence Day is a time to remember the courage and conviction of several Polish soldiers and politicians who put an end to 123 years of domination by other countries and empires. As Krakow is one of the most important cities in Poland, military parades and public demonstrations are organized every year, but the celebration also reaches homes in the form of traditional meals.
Taking advantage of the fact that November 11 is a day to bring out the Polish spirit, I recommend you to go to a typical restaurant in Krakow, where the dish of the day will probably be goose with apples and herbs, very traditional on this date, and for dessert croissant filled with almonds, raisins, walnuts and orange.
5. Guess your future on St. Andrew's Day
On the night of November 29-30, magic (and some witchcraft) will fill the streets of Krakow. Why? Because it takes place on St. Andrew's Day, when Poles perform a ritual with wax and water to make omens and omens.
The culture of this country has many traditions of this kind, as they trust in the power of predictions. Even if you do not have such conviction, I recommend you to join this tradition and, perhaps, return from Krakow with your future much clearer.
Although St. Andrew's Day is on November 30, it is the night before, the 29th, when the auguries must be made. There are different ways to try to predict the future, but the most common is by pouring hot wax through the keyhole into a container with cold water, so that a wax figure is created.
Do not think that this ends here, because then you have to take the small sculpture and, projecting light, see what shadow it creates; this silhouette can be interpreted to guess what tomorrow holds.
6. Stroll through Krakow to the rhythm of the Autumn Jazz Festival
In Krakow jazz is very popular, so twice a year, once in November, a festival of this style of music is organized. Even if you have never shown much interest in jazz, it is a great opportunity to appreciate the improvised art that makes this music so unique.
Still in autumn, the Autumn Jazz Festival in November brings together musicians from all over the world, as it has an international character, and in particular it is held in Kazimierz, the Jewish quarter of Krakow. It is clear that, with or without jazz, this area is a must-see during your trip to the Polish city, so I recommend you take the opportunity of the festival to give rhythm to your walk.
Without a doubt, Kazimierz is an idyllic setting for the Autumn Jazz Festival. Creativity runs through its streets, which are also full of vintage stores and alternative bars where you can enjoy a good cocktail after attending one of the concerts of the festival.
7. Kick off Christmas with the opening of the Krakow Christmas Market
I know, in November I start to get into the Christmas spirit too. The good thing is that in Krakow the big Christmas market opens its doors the last week of November, so you'll have no reason to take a walk around it, now that it's less crowded, and do some initial shopping.
Krakow is a beautiful city and when Christmas starts to arrive, it becomes even more magical; something that if you go to Krakow with children you will especially enjoy. It is something you will feel as soon as the Christmas market opens, where there are many stalls with decorations and handmade gifts, but also others with traditional food and drinks to warm up (and I'm not just talking about hot chocolate, because the high alcohol content of its vodka cuts the cold).
The market is located in the central Krakow Market Square, so you will find it hard to resist going through it. My advice is also that you take the opportunity to do so; Krakow at Christmas is usually full of tourists, especially in December, so November is the ideal time to start the holidays without crowds.
8. Warm up with a warm beer
Don't get your hands around your head, but there is one very typical winter drink in Krakow and that is warm beer. It may seem like something you don't want to try at first, but when you're having a cold November evening in Krakow, you'll appreciate going to a bar and having a glass of warm beer. It's nothing unusual; in fact it's quite a traditional drink, especially among young people.
If you go to Krakow in November you will see how with the first days of great cold in the city the bars start serving hot beer. Do not think that to make it they only put it in the microwave, because the Grzane Piwo, as it is called in Polish, also has ginger, cinnamon, cloves and other spices. In short, a delicious cocktail that will warm you up quickly. Be careful, drink it slowly to savor it and so that it doesn't go to your head too quickly.
9. Discover the most alternative Poland at the Audio Art Festival
You may find Krakow a bit traditional when you arrive, with its low houses and cobblestone streets, but it also has a very alternative and avant-garde side. If you don't believe me, you have to go to the Audio Art Festival, which every November fills the city with postmodernist, experimental and multidisciplinary art.
The Krakow Audio Art Festival welcomes every November artists from all over the world who want to exhibit their creations, which usually mix visual art with sounds. What can you expect? Installations, concerts and performances in which artists create sound on the spot thanks to technology, becoming composer and performer at the same time.
Most of the events take place in concert halls and cinemas in the city, and admission to some of them is free, so take this opportunity to get to know the hipster side of Krakow.
10. Discover a different kind of cinema at the International Film Festival Etiuda&Anima
Do you like art? Then you're in luck if you're going to Krakow in November, because during the last days of the month the Etiuda&Anima film festival is held, which gives visibility to the film creations of students, independent producers and artists from all over the world. In addition to workshops and talks, this festival, which has been held since 1994, also consists of two competitions.
The two names of the festival, Etiuda and Anima, refer to the two awards. Etiuda is a competition for students presenting feature films and documentaries, while Anima is a competition dedicated to animated films.
This is the oldest film festival in Poland. During the dates in which it is held Krakow is filled with art and gives prominence to auteur cinema, especially animated films that do not reach the general public, so if you are a fan of this type of art, you have to pay a visit to the festival. Tickets are quite affordable (15 € approximately the general and 5 € passes to see films), so it is well worth it.
What are the temperatures like in Krakow in November?
I only tell you one thing: be prepared for the cold. In November low temperatures arrive in Krakow, so you will have to travel with warm clothes to withstand the minimum temperatures of almost 0ºC. On the other hand, rainfall is quite frequent (it rains about half the days of the month), so remember to pack a good waterproof coat and several layers in your suitcase, you will need them!
Maybe knowing the weather forecast for November you are wondering if it is really the best time to go to Krakow, but I assure you that, if you are prepared, you will be able to withstand the cold. The nights are even colder, so take advantage of the daylight hours (approximately 8 or 9 hours) to visit the city and, when the sun goes down, go into a bar to have a hot chocolate.
What should I pack in my suitcase to go to Krakow in November?
Average temperatures in Krakow during the month of November are approximately 5ºC. One of my tips for traveling to Krakow is to pack wisely and logically, packing clothes that allow you to wear several layers during the trip (for example, thermal T-shirts, sweaters and fleece jackets or windbreakers).
Of course, don't forget your heaviest coat at home; if it's waterproof, all the better, as it usually rains half the month. I do not recommend an umbrella, as it is uncomfortable (especially if you are going to be entering places or if it is windy) and, in case you need it, you can buy one there. What you do have to pack in your suitcase are gloves, a hat and good shoes that are warm and allow you to walk comfortably.
Are you all ready to go to Krakow in November? Don't forget to let me know what you thought of all the plans I have suggested.