10 Things to Do in Krakow in December
December is one of the most dynamic months in Krakow's urban life, largely because of Christmas. Here's what to do in the Polish city during this month of the year.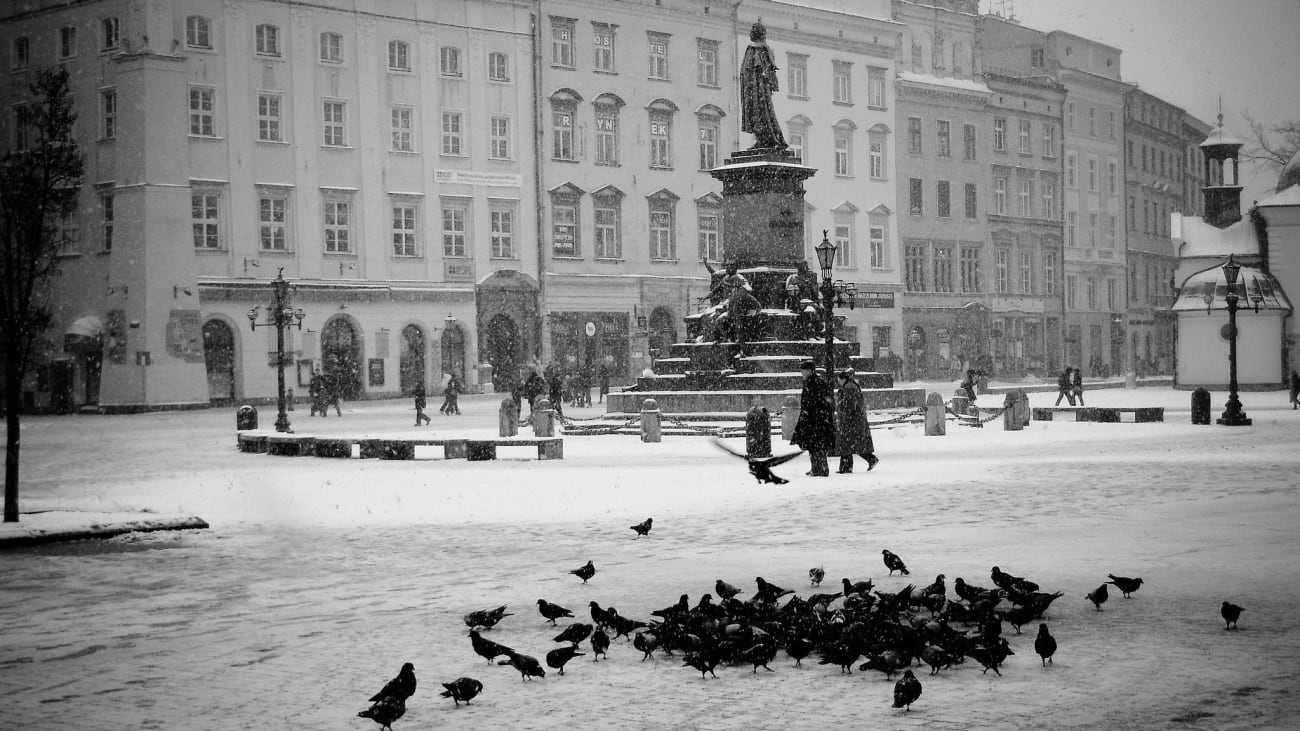 Krakow is a city that has no defined season: its charms can be enjoyed at any time of the year. However, in winter the cold and occasional snowfalls can make it difficult to explore it comfortably. The good news is that the Polish city has specific winter attractions that are well worth a visit.
If you have decided to travel in December, you will not be short of things to do in Krakow, especially because of the proximity of Christmas. That is, many of the plans that await you will not be possible (or will be more difficult to do) in another period of the year. In this article I bring you some ideas so you can plan your winter getaway to the Polish city.
1- Christmas markets
We start with what is probably the most colorful and festive event in Krakow in December. As you know, the Market Square, with its 40,000 square meters, is one of the nerve centers of Krakow. Its size undoubtedly contributes to this, but also the monuments located there: St. Mary's Basilica and the Cloth Market.
Between November 27 and December 26, the extraordinary Christmas Market takes place. During these dates the Market Square is filled with Christmas stalls with typical food, crafts, traditional cribs and many other objects. Although the protagonism is taken by the surroundings of the Market Square, I advise you to also drop by the Stary Keplarz Market, a market with a more gastronomic and Polish approach. There, for example, you will find:
Typical cheeses
Fruit
Vegetables
Mushrooms
Restaurants
And while you're at it, you can take advantage of the magnificent setting of this market to explore in more detail what there is to see in Krakow's Market Square.
2- Skiing in Zakopane in December
As it would not be very unusual for your visit to Krakow in December to be accompanied by snow, why not enjoy it? That's when a getaway to the city's surroundings is the best option. If I had to choose one I would immediately say Zakopane, located 1 hour and a quarter drive from Krakow.
Zakopane is a small town of just 30,000 inhabitants that has a natural mountainous environment due to its proximity to the Tatra Mountains. The activities that can be developed there are innumerable. Among the most interesting are:
Dog sled rides
Skiing
Skiing for beginners
Snowboarding
Thermal baths
Snowmobile tours
If you have decided to try this experience, I advise you to explore more about the possibilities offered by the surroundings of the city. Here is more detailed information about what to see and do around Krakow.
3- Take advantage of the great street atmosphere to try some Polish street food
With the Christmas markets proliferate in Krakow street food stalls. There is a gastronomic specialty of Krakow that is practically only served in this type of stalls: the maczanka krakowska. For brevity and ease of pronunciation, the maczanka krakowska is often referred to as the "Polish hamburger".
What makes it different from the conventional hamburger is that the meat, besides being fried, is also cooked in a broth with cream. It is usually accompanied by pickles and some sauce from the cooking. I do not recommend you to try it in one of the hamburger restaurants in the city. That type of establishment usually offers more conventional burgers or burgers with creative cuisine additions. The maczanka krakowska is, on the other hand, a very Polish and traditional specialty.
For this reason I advise you to try it at one of the many street food stalls. They are common in Kazimierz, the Jewish Quarter, and also in the Market Square. In fact, if you visit Krakow in winter you can do it without much effort: the Market Square is packed during Christmas.
And, if you decide to try it in Kazimierz, where food stalls are abundant, I advise you to take advantage of it and take a walk. Need some ideas? Here is all the information on what to see and do in Krakow's Jewish quarter.
4- Warm up with the delicious Polish chocolates
Although it may not seem like it, Poland is a country with a solid chocolate tradition. This came, of course, from a German chocolatier who gave his name to what is now the best known chocolate in the country: Wedel chocolate. A brand that has existed since 1851, so it is a guarantee of quality.
Christmas Day is a more relaxed day, many people stay at home with the family and it is not as vibrant as any other day. So, is there anything better than having a cup of chocolate and a quiet walk? I recommend a few places you can find in the center:
Karmello: There are several establishments throughout the city. The most central one is located in Florianksa.
Wedel: Located very close to Florianska is the famous Wedel chocolate shop. The best option if you want something more traditional.
Wawel: Also in the historic center. A high quality firm that has been awarded several times.
5- Immerse yourself in Krakow's nightlife on New Year's Eve
If there is one attraction of spending New Year's Eve in another country, it is being able to experience such a lively night in unfamiliar clubs and streets. In Krakow there is a wide range of nightlife. If you need some ideas, here are a few:
Single Scena Music Bar: Especially suitable if you want a lively but quiet New Year's Eve. This pub has a bar and a space with tables, as well as a stage to enjoy live music.
Forty Kleparz: Perfect if you want to dance but you don't feel like something too massive or too loud.
Frantic Club: The right choice if you are looking for a large nightclub, with several rooms and environments, and lots of people.
Just a word of advice. In Krakow it is not allowed to drink in the street, so, if you are with a glass outside, a policeman can approach you. Although it is not always easy to control this aspect, especially if you are used to the permissiveness in Spain on this point, I recommend you to remember this rule. It could save you uncomfortable situations.
6- Go for a cultural plan with the Krakow Mountain Festival
Between December 3 and 5, the Mountain Festival takes place in Krakow. A film event that brings together hundreds of mountaineers and climbers, as well as visual artists and documentary filmmakers. It is one of the largest audiovisual events in Poland.
If you are interested in climbing and mountain sports, it can be an interesting plan. Also, you should not worry too much about the language. It is an international festival, so not everything will be in Polish. In fact, there is a specific competition for works made in Polish, so if you want to make sure you understand everything, it is best to attend other parallel competitions.
7- Get to know the popular culture with the szopka (Polish nativity scene) competition
Nativity scenes are usually associated with the southernmost countries of Europe (basically Spain and Italy). However, Poland, faithful to its strong Catholic tradition, also has its own nativity scenes. They are called szopka and differ from the southern nativity scenes in that they usually represent typically Polish architectural elements. Even interesting reproductions of the most interesting monuments of Krakow. These szopka are, in fact, Intangible Heritage of Humanity by UNESCO.
It takes place on the first Thursday of December on the Market Square. Coming to this event can be an extraordinary way to get to know first hand one of the most important elements of Polish folklore. Usually between 100 and 200 people participate and tourists can also participate. So, if you're up for it... good luck! If you want to discover more Christmas plans, here is more information about what to see and do in Krakow at Christmas.
8- Say hello to Mikolajki (the Polish St. Nicholas)
If you are traveling with children, it is worth knowing the celebration of Mikolajki, the Polish St. Nicholas, which takes place on December 6. The day before, on the 5th, the celebrations of this special date for the little ones take place.
Everything there is to see is concentrated around the Christmas markets and, especially, in the Market Square. The stalls offer everything from Mikolajki figurines to sweets and products associated with this holiday. They are as follows:
Mikolajki-shaped cookies covered with powdered sugar.
Red apples
Oranges
In addition, children can enjoy seeing "Santa Claus" both on the Market Square and in the shopping malls. Of course, Mikolajki is very different from Santa Claus. He carries a miter and a crozier, as his appearance is linked to the 5th century bishop of Lycia... and not to Coca Cola! If that sounds good to you, I suggest you also check out what to do in Krakow at Christmas.
9- Ice skating in December
A great plan for December. You won't be short of ice rinks to do it. The most popular is the one located in the vicinity of the Market Square, although there are also other very appropriate places to do it. Here are the most important ones:
The opening hours of these rinks are usually from 09:00 to 21:00 hours, although it may vary slightly depending on the rink. I advise you to check this aspect, if you plan to visit them very early or very late. Regarding the price, you can skate from 3 €, a very interesting price.
10- Contemplate Krakow under the snow in December
December is a cold month in Krakow. You should not be surprised if you come across a snowfall. Which, on the other hand, would not be a bad thing given that Krakow is a particularly beautiful city covered in snow. If that happens, make your way to Wawel Hill. From the heights you will be able to contemplate the snowy roofs and the city that extends on both sides of the Vistula.
It may also be a good opportunity to visit the Wawel Castle. Here is the information on how to visit the castle, opening hours and tickets. If you are traveling with children, nothing better than approaching the Wawel Dragon, a sculpture located on the hill representing a legendary dragon that, it is thought, inhabited a cave located on this hill. By the way, if you want more plans with the kids, here you have more alternatives to visit Krakow with children.
What is the weather like in Krakow in December?
December in Krakow is a cold month. The weather in winter. To give you an idea, the highest average temperatures in this month are between 0 and 5 degrees. On the other hand, the low temperatures are between 0 and 5 degrees below zero.
Likewise, snowfalls are not rare in winter, as well as rains and winds. I advise you to dedicate your winter getaway to explore the city, a place where, well sheltered, you will have no problems. Things change if you want to explore the surroundings, such as Auschwitz or the Salt Mines. In this case, adverse weather could ruin your experience or make it less satisfactory.
What is the influx of visitors to Krakow in December?
Krakow is, together with Warsaw, the two most touristic destinations in Poland. However, you will not find overcrowding or crowds. However, December covers most of the Christmas festivities, as well as one of the city's main attractions: the Christmas Market.
It is foreseeable, therefore, that the city will see an increase in visitors during this month, although not in a way that might hinder your enjoyment. The holidays often attract a lot of domestic tourism and, although you may find more crowds in the "hot spots" (such as the Market Square), you will be able to visit all of Krakow's charms without much trouble.
What to pack in my suitcase when traveling to Krakow?
What to pack for your trip to Krakow is determined by the weather in December. I advise you to take warm clothes with you, as you may face temperatures close to or below freezing. Therefore, this is what you should take with you:
A thick coat
Thermal undershirts
Gloves
Scarves
Beanie
I also advise you to carry in your luggage a list of exchange offices in the center of Krakow. Or, also, saved in your cell phone. As you know, Poland is not yet in the euro area and its currency is the zloty. One euro is equivalent to approximately 4.50 zloty. Something that can easily vary. I recommend you to check the euro-zloty exchange rate before leaving.
Regarding where to change, at the airport the commissions are very high. My advice is to change there the essential for transportation and, once in Krakow, change money in the exchange houses that offer more advantageous commissions.