11 Things to Do in Milan in December
December is one of the most beautiful months in Milan, a time when everyone can feel like children again. I tell you all the proposals for your trip at this time of the year.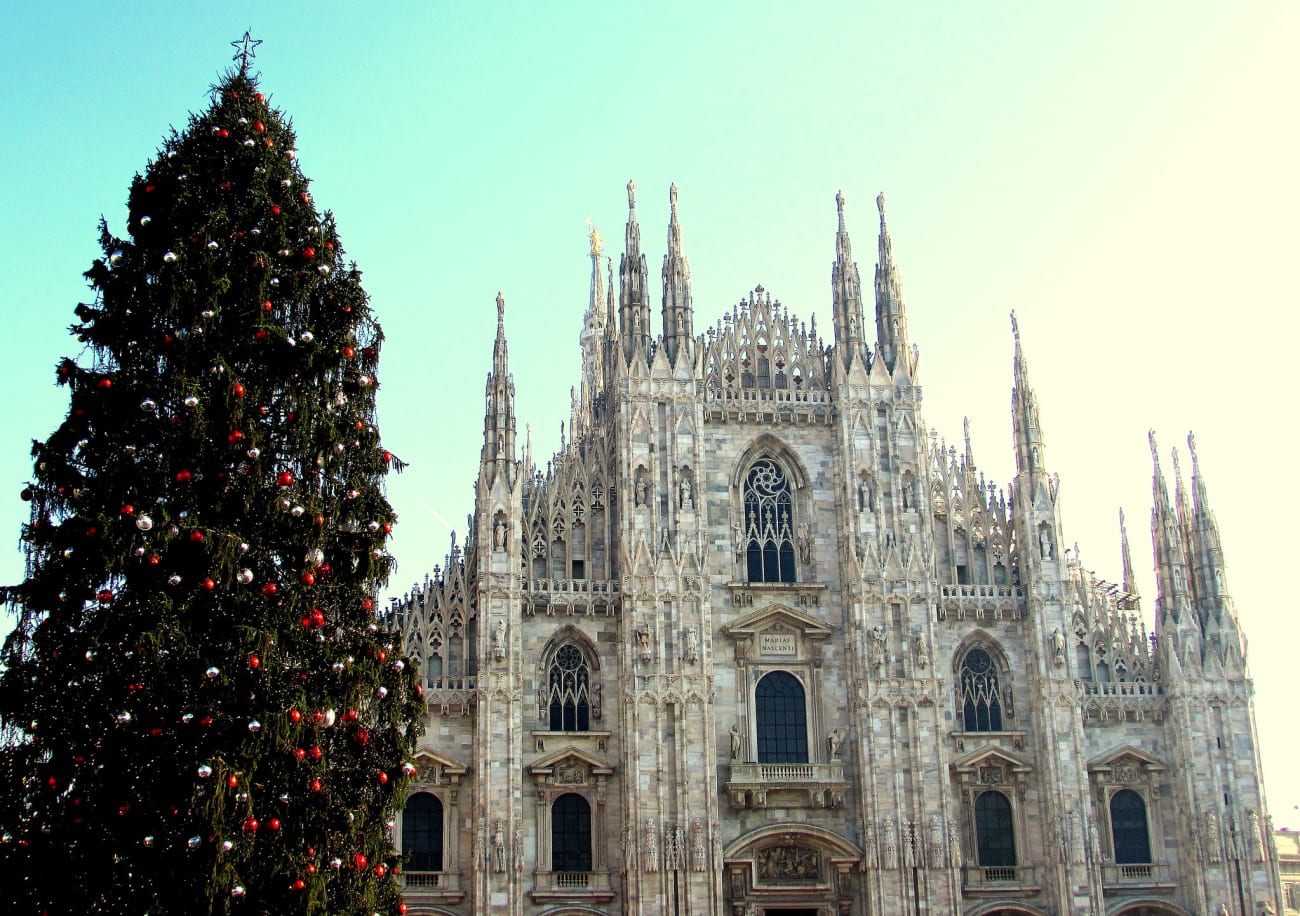 Milan in December gives us a magical atmosphere. Christmas markets, typical sweets, essential exhibitions and many other plans to discover.
At this time, the city prepares to welcome the arrival of the holidays with its illuminated boulevards and the big Christmas tree in Piazza del Duomo, which becomes the symbol par excellence of the city in December. But there are not only Christmas plans? there are many other things to do in Milan this month!
1. Visit the Village of Wonders
The Village of Wonders, or Il Villaggio delle Meraviglie, is a large space dedicated to Christmas that occupies more than 1,000 square meters inside the Indro Montanelli Gardens of Porta Venezia. Among its various attractions are:
Santa Claus' House, where the little ones can deliver their Christmas letters.
The House of Decorations, with numerous stalls where you can buy gifts to put under the tree.
A spectacular ice rink that you will love, even if you do not know how to skate.
This will be a ride that will positively mark your memories, because there are many attractions at your disposal. You will see that they are so much fun that you will not want to miss a single one.
Practical information
Location: The village of wonders is located in the center of Milan, in the Porta Venezia area in the Indro Montanelli Public Gardens.
Hours: The park is open from 10 am to 8 pm.
Price: Admission to the park is free.
Please note: Every year the activities are planned with different schedules, so it is advisable to confirm according to your travel itinerary.
Not to be missed
The crazy flying sleds: This is one of the most fun rides in the Village that you must go on to get your adrenaline pumping. Let yourself be carried away by the reckless movements of this fun ride: up, down, forward and then backward. Ready to experience a unique thrill.
The magical Christmas tree: In this Village of Wonders you will find a very special tree, 15 meters high, which you can literally climb and feel the Christmas atmosphere up close.
Santa's sleighs: Rudolf and Cometa are ready to take young and old on a truly sensational ride on Santa's sleighs, full of lights, sounds and colors.
Penguin fishing: Catch as many penguins as you can and discover fabulous prizes in this fun game - there's so much to do with kids in Milan!
Glacier Climbing: This attraction is for the intrepid, prepared with harness and helmet, to face a real obstacle course among snow-covered trees, Tibetan bridge, ropes and nets.
The Journey to the North Pole: Climb aboard the Polar Express and begin the journey to the kingdom of ice, where you will see characters along the way, such as bears, penguins and yetis. This is a fabulous journey through the ice and snowy caves.
2. Take a stroll through the flea market "Oh Bej! Oh Bej!"
This fabulous market showcases a variety of Christmas stalls- more than 300!!!, with gastronomic products, antiques, home decor, toys and clothing. It is set up every year in a place you may have met during your stay, as it is a must for any traveler. Milan Castle: opening times, guided visits, tickets, etc.. is a must for any traveler.
The origins of this fair date back to the 13th century and the reason why it takes place on December 7 is because it is the day on which the Milanese celebrate St. Ambrose.
It was on this date that he entered the city and, in order to endear himself to the Milanese, he began distributing packages of sweets and toys.
Practical Information
Location: around the Sforzesco Castle.
Hours: from 8:30 am to 9 pm.
Price: admission is free, but take into consideration that once inside you will want to buy some souvenirs and taste some of the delicacies sold there.
3. Skiing on snow less than two hours from Milan
Walk in the fresh snow, admire the mountain ranges and enjoy excellent local food. If you are a snowshoeing enthusiast or just want to spend a different kind of day, there are several itineraries less than two hours from Milan suitable for all levels of fitness.
Bormio and Livigno are two of the closest ski resorts to Milan. They also have a good variety of places to stay and spend about three days enjoying the snow.
The slopes are quite long, with many kilometers to cover. Definitely a great choice. If you are up for it, you can even go to the Swiss Alps and visit this magical and enchanting place.
4. Buy the best Christmas gifts at Serravalle
And what better plan for December than to book a shopping trip to the Serravalle outlet. Located about 100 kilometers from Milan, it is considered the capital of fashion, so much so that it is home to more than two hundred stores of top brands such as Dolce & Gabbana, Timberland, Prada and Jimmy Choo. An ideal place to start shopping for the long-awaited Christmas gifts.
In this tour, which lasts approximately 11 hours, you will have the opportunity to get items with discounts of up to 70%. In addition, it includes round-trip transportation, so you won't have to worry about how to get there and if you've overdone it with your shopping, you'll be able to return comfortably.
And you'll also get an optional 10% discount shopping card - don't wait any longer!
5. Be dazzled by Milan's Duomo
On your trip to Milan in December you can not miss the guided tour of the Duomo of Milan, an ideal proposal to know the most emblematic of the city's monuments, as you will have priority access and you will be free from the queues that characterize it and you will go with a professional guide who will inform you of all the architecture and history of one of the most representative icons of Gothic style worldwide.
The visit to this building with 11,000 square meters that took more than six centuries to build lasts approximately 1 hour and is done both in the morning, around 10:30 am, and in the afternoon, around 3:30 pm.
I recommend you to choose a sunny day because you can have the opportunity to see from the rooftop the Italian Alps, a spectacular postcard. Don't forget your camera!
6. Take shelter from the cold in the best museums in Milan
Milan has an important list of museums for all tastes where you can take shelter from the winter cold. Here are a few suggestions:
7. Get to know the city comfortably by tourist bus
What better way to get to know the city than by booking the Milan sightseeing bus. Choose the ticket that best suits your interests depending on your stay**(24, 48 or 72 hours**) and get ready to discover Milan with the freedom to hop on and off whenever you want at the 40 stops available.
In addition, you will have at your disposal an audio guide in several languages so you can learn all the details of the places and monuments that appear on your way: the Piazza di Duomo, the Teatro alla Scala or the Galleria Vittorio Manuelle II, among many others.
8. Walk on the rooftops of the Galleria Vittorio Emanuele II
Would you like to enjoy a breathtaking view of the beautiful city of Milan? One of the most exciting things to do this time of year is the suspended walkway along the rooftops of the Galleria Vittorio Emanuele. A 250-meter walkway that will allow you to touch the dome and admire the city from another point of view.
At this time of year, the view is especially magical, thanks to all the Christmas decorations and colorful lights. If the sky is clear, you can catch a glimpse of the Alps and then the enchantment will be complete. An image to remember forever!
Of course, once you are at the Galleria Vittorio Emanuele, it would be unforgivable not to take a tour and enjoy this architectural marvel, which was the first of its kind. There you can enjoy a delicious meal in any of the restaurants or cafes. And speaking of tours, how about one of those tourist buses to enjoy the Christmas decorations of the city.
The legend of the bull's balls, be sure to come back to Milan!
If you take one of the side paths located in the center of the gallery, you will find on the floor a mosaic of the Turin Bull. Many people crowd around it and wait patiently for their turn to perform the ritual that, without fail, every visitor should do.
It is to make three turns, with eyes closed, on the testicles of the bull. After doing so, and according to legend, good luck will smile on you from then on, and best of all, you will be assured of an early return to Milan!
Practical Information
Location: Piazza del Duomo, 20123 Milan, Italy.
Hours: Open 24 hours a day.
Please note: The gallery has stores, restaurants and cafes, so don't forget to go prepared.
Other ski slopes near Milan
There are many ski resorts near Milan. Before deciding on one, we recommend you to consider the distance, deciding if you will stay for a couple of days or if it will be a round trip.
Piani di Bobbio - Valtorta, is one of the closest, just an hour's drive away. It has 35 km of slopes and a park for other snow sports.
Monte Pora and Presolana are an hour and a half drive away. The two resorts together have 30 km of fun, suitable for all levels of experience.
Mottarone, has a wonderful view of Lake Maggiore, something that adds a magnificent touch to the enjoyment of this activity, so it is highly recommended. In addition, it is also possible to practice other snow sports.
9. Christmas markets in the Piazza Duomo
You will be realizing that there is a lot to see and do in Milan. Another must-do bread is to visit the Christmas Markets, perfect for both an afternoon and evening stroll. There are many in Milan, and they are all charged with that magical Christmas air - you'll find it practically impossible to go home without a purchase! In Piazza Duomo, for example, you'll find great charm in its 65 wooden chalets selling ceramics, handicrafts and original accessories.
This market also offers a wide range of food and wine, from nougat to Piedmontese gianduiotti and local cured meats and cheeses. And while you're at it, why not enjoy a visit to Milan's Duomo.
If you love Christmas, you can't miss the most beautiful Christmas markets in Piedmont and Lombardy. Another mandatory visit to stroll among the thousands of colorful lights, listen to Christmas carols or eat the typical sweets of this season.
10. Ice skating in Gae Aulenti square
With the skyline of Milan and the Library of Trees as a backdrop, you will have the opportunity to get excited and have fun on the coolest ice rink in Milan.
The organization collaborates with the Italian Ice Sports Federation, which organizes classes for adults and children. What are you waiting for to try it?
In fact, Milan has several rinks to enjoy this winter sport, with a variety of sizes, shapes and attractions. Some of them are even specially designed for the little ones.
Wonderland Village has a special area for the little ones, and for the older ones, the attraction of being the largest skating rink in the city.
Piazza Gramsci, where in addition to the rink you will find a carousel for the enjoyment of the little ones and complete the dream landscape.
Ai Bagni Misteriosi, to skate, imagining that you do it directly floating on the water.
Practical Information
Location: Piazza Gae Aulenti, Milan, Italy
Hours: Monday to Thursday from 10:00 to 00:00, Friday and Saturday from 10:00 to 1:00 and Sunday from 10:00 to 23:00.
11. Eat roasted chestnuts and sweets
In the short evenings of late autumn, there is nothing more pleasant than going for a plate of roasted chestnuts. Now, the traditional Italian chocolates and sweets of this time of the year are something you can't miss, especially the artisanal ones.
There are many pastry shops in Milan that prepare these delicate and delicious treats, which are even perfect as Christmas gifts.
Taste a delicious hot chocolate
Unlike spring and summer, when it's all about tips for running, cycling, swimming and any other outdoor activities, the tips in the cold months are much lazier and more affordable.
For example, take a break from the Milanese humidity and sit down at a nice cafe for a chat over a hot chocolate and cream. Smiles and good humor are enough.