How to Get to Belfast from Dublin
Film landscapes, urban art, lots of history... Belfast has a lot to offer to the traveler. In this post I tell you how to get from Dublin to make your trip perfect.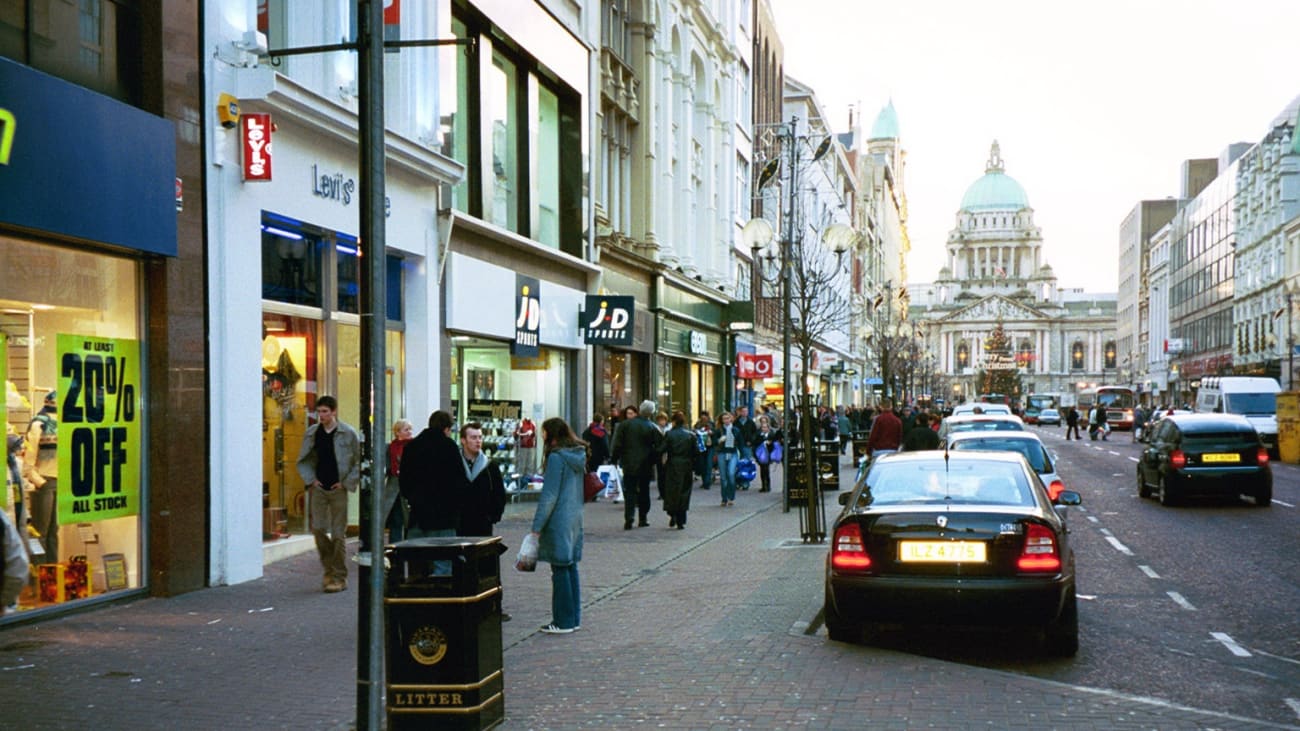 167 kilometers from Dublin, Belfast is a visit not to be missed. Whether for its nature, its museums of recent history, the charm of the city or its gastronomic culture, the capital of Northern Ireland will conquer you. The average journey time is an hour and a half, but whether by road or rail, it is a journey of breathtaking scenery that you will not forget.
Although Dublin has a lot to see and do, if you spend a few days in the area, a visit to Belfast is a must. In this article I will tell you about the best transportation options, depending on your travel preferences: from an organized guided tour to a rental car or public transport (you can make this trip by train or bus).
1. The most comfortable and complete option: hire an organized tour
The advantage of hiring an organized tour to visit Belfast from Dublin is to forget about the preparations. You don't have to set schedules, plan itineraries, or book transportation, because everything is organized for you. So you can spend the whole day enjoying your trip, listening to the guide and not missing anything.
If you decide to take an organized tour from Dublin to Belfast, you have several options. Some tours prepare one-day trips from one capital to another in which you are picked up at some point in the city of Dublin, they take you by bus to Belfast with a guide who tells you the history and anecdotes of the tour.
Once there, the tours usually offer a walk through the most emblematic places of Belfast or give you the option of taking a political tour by cab. This is one of the most popular ways to visit the city and learn about its recent past. The guide tells you about the conflicts that took place in the area while you see the city's famous street art.
I found it very handy to have these explanations because in Belfast there is a lot to see and experience, yes, but also a lot to understand. The trip from Dublin takes about two hours, so you can take advantage of this time to listen to the guide's explanations and make the most of your trip.
In addition, if you decide to make this trip with an organized tour, another important advantage is that it allows you to visit places between the two cities. Many tours have very interesting stops between the two cities. Here are the ones I think you should not miss.
Don't miss the treasures along the way: The Giant's Causeway
If you decide to hire an organized excursion, I advise you to choose a tour that includes a visit to the Giant's Causeway. Are you familiar with this place? UNESCO included it in the list of World Heritage Sites, and when you see it you will understand why.
It's on the east coast of County Antrim and is a landscape of thousands of basalt columns that cooled millions of years ago. The result looks otherworldly, perhaps that's why it has given rise to so many legends.
Since it is a tourist attraction, there are many options to visit the Giant's Causeway from Dublin. The truth is that the trip is worth it and the journey to Belfast is a good opportunity to enjoy this visit: choose an excursion that includes it, it is on the way.
In the mood for adventure? Take advantage of your trip to Belfast to cross the Carrick-a-Rede Bridge
Another very cool stop sometimes offered by organized tours on the route from Dublin to Belfast is the famous Carrick-a-Rede bridge. It is a rope bridge that has been suspended for over 250 years between County Antrim and Carrick Island.
Do you dare? The distance covered by the bridge is only 20 meters, but you have to cross it at 30 meters above the sea ... The truth is that it impresses! A challenge very much to go with desire, I recommend the visit to make the most of the journey from Dublin to Belfast.
Interesting facts
Price: The price of tours between Dublin and Belfast varies depending on the route you choose, but you can find one-day options with stops along the way for about 55 euros.
Travel Time: Day trips to Belfast usually take the entire day, as there is roughly four hours of travel time alone.
Is it direct?: You can choose a direct tour. My advice is to choose one that shows you the most interesting of the coast to take advantage of the journey and visit the magical places that lie between the two cities.
And if this tour makes you want to try other tours, I recommend you to take a look at the visits to Wicklow and the visits to the Cliffs of Moher. They are places close to Dublin and certainly leave an impression.
2. Travel at your own pace: rent a car
If you like to drive and create your own route, I advise you to rent a car and travel on your own. Although I recommend that you only choose this option if you have experience behind the wheel: it is not so easy to get used to driving on the left.
Both in Ireland and Northern Ireland you have the service of the best car rental companies: Sixt, Europcar or Avis. You can rent your own car as soon as you land in Dublin: these companies are based directly at the airport.
If you like this option, I advise you to book in advance: you can check online the models of each company and the availability for the dates you are going to travel. This way, your adventure begins as soon as you get off the plane. And if what you need is information on how to get from the airport to Dublin, I'll give you a hand.
If you want to stay longer in Belfast, some companies offer to rent a car in Dublin and return it in the capital of Northern Ireland.
Driving your own vehicle gives you the freedom to make your own travel plan. And the truth is that near Dublin there are very interesting places that you can reach by car, to make a route exactly to your liking.
Interesting facts
Price: The price of renting a car depends largely on the vehicle you choose. As a guideline, renting a mid-range car in Dublin costs around 50 euros per day.
Duration of the trip: The road trip, non-stop, takes about two hours. The most comfortable route is by freeway (A1).
Is it direct? It can be, of course. You drive, you decide.
3. Flexible and economical: the bus
There are three transport companies that make the journey between Dublin and Belfast. The trip takes about two hours and some of them offer direct routes, so they are a very comfortable alternative. The average price per person is 10 euros and there are bus departures available every hour.
The changes between each company are regarding the places where the stops are located and intermediate stops. Whichever one you choose, I advise you to book on their website before you go. This way you ensure your seat and avoid possible mishaps.
I tell you about these companies in detail, so you can decide which one best fits your travel plan:
Aircoach: The advantage of this company is that it has two stops in the center of Dublin (one in O'Connell Street and one in Westmoreland Street) and two other stops at Dublin Airport, in terminals 1 and 2, that is, they offer a very accessible service.
In addition, the buses travel directly to Belfast, so they are quite fast (less than two hours) and depart every hour. The Belfast stop is on Glengall Street, also a convenient location.
Bus Aireann: This company also stops in the center of Dublin (at Busáras bus station) and at the airport, and also has buses available every hour. The difference is that it makes more stops on the way to Belfast, so if you plan to go all the way, it will be a bit heavy.
I only recommend choosing this company if your place of departure or destination is very close to any of these intermediate stops (see their website for routes).
Translink also uses the Dublin Busáras stop and also arrives at the Europa Buscentre bus station in Belfast. It has buses available all hours and offers both direct services and services with intermediate stops, so if you decide on this company pay attention to the details of the trip.
Traveling by bus is a comfortable and economical option. In addition, it offers good views during the trip. I like to use it especially within the cities, with organized tours to see the most emblematic places. If you choose this option, I recommend reserving a seat by the window.
Facts & Figures
Price: With any of the 3 companies, the trip per person costs around 10 euros.
Duration of the trip: It depends on whether or not the bus makes intermediate stops. The average travel time is approximately 2 hours.
Is it direct? You have two options, direct buses or buses with stops.
4. Take in the sights: book your train journey
The train is also a good option to travel from Dublin to Belfast, because it is a means of transport in which you can enjoy the scenery at your leisure.
If you are one of those who like to travel on rails, I advise you to book your seat next to the window. Some areas along the route have breathtaking scenery on this route.
Trains depart from Connolly Station, in the center of Dublin, and travel to Belfast Central Station, so you can start your journey as soon as you get off the platform (to give you an idea, from this station you get to Belfast City Hall in less than ten minutes on foot).
The tickets are a little more expensive than the bus but it is also a cheap way to travel: the trip costs about 19 euros.
Fancy a ride? You can book on the Irish Rail website. There are departures for this route approximately every two hours.
Facts & Figures
Price: The economy fare is approximately 19 euros.
Travel time: About two hours.
Is it direct? No, the trip has intermediate stops.
We compare the different options
Want to see all the information in this post compared? Take a look at this table. Here you have all the data to help you decide which mode of travel best suits your plans.
Organized excursion
Direct: No
Price: From 55 euros approximately
Rented car
Direct: Yes
Price: From 50 euros
By bus
Direct: Yes
Price: 10 euros approx.
Train
Direct: No
Price: From 19 euros approx.
Now you have all the information, which means of transport do you choose? Whatever it is, I wish you a good trip and that you enjoy this very special journey.