10 Things to Do in Dublin in November
November in Dublin is a month where temperatures drop but the rains stop. Take the opportunity to enjoy the first landscapes of autumn in the Irish capital with these 10 essential plans.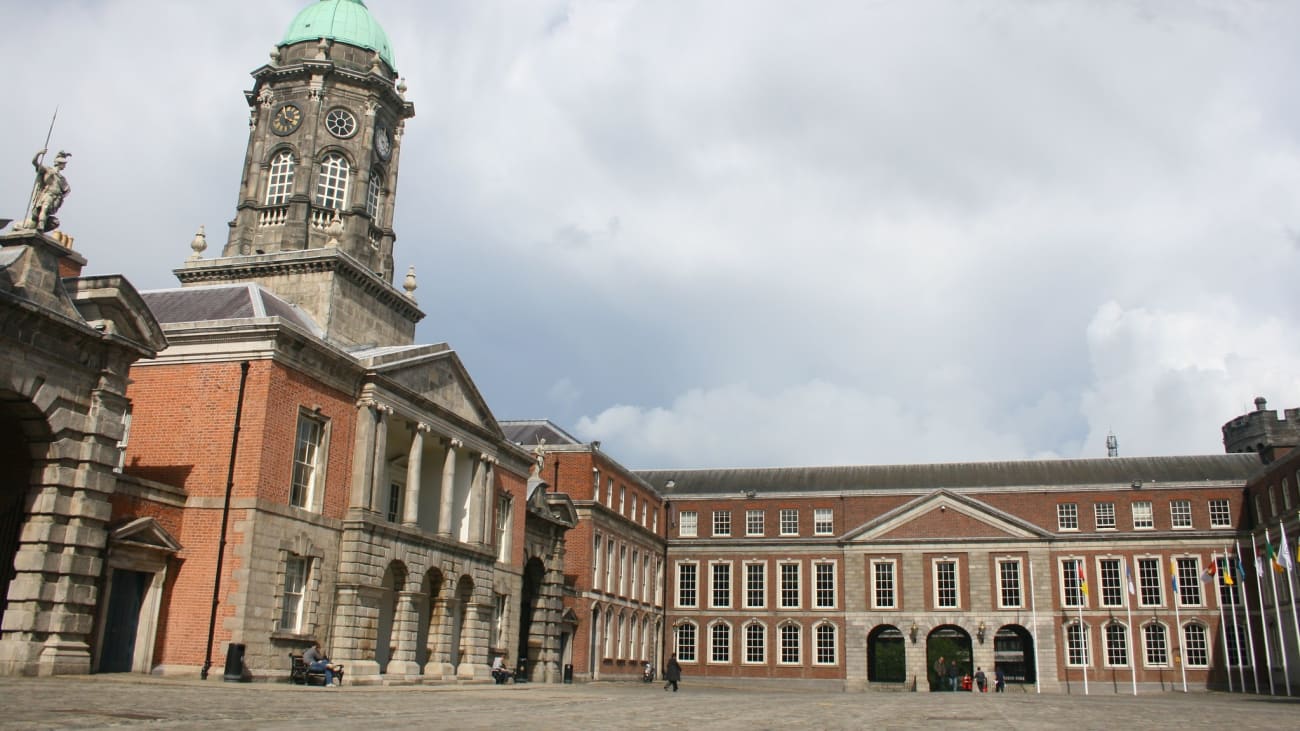 Dublin is a city full of things to see and interesting plans, both in its streets and in its surroundings. The city has a reputation for being always cloudy and cold and, in part, this is one of its charms. Visiting the Irish capital in good weather is comfortable, but being able to come in November makes it much more special.
From welcoming the first Christmas displays, to seeing first hand the first autumn landscapes, through a whole series of festivals and cultural events that you can not miss. If you are thinking of coming to Dublin in November, take note because I am going to tell you the top 10 things you can do and see.
1. Go to the opening of the Christmas Markets
Dublin at Christmas time transforms into a city full of light and tradition. However, it is also full of people and crowds that can make your sightseeing a bit difficult. One of the advantages of coming in November to the capital of Ireland is that you can enjoy the first Christmas displays without having to be subjected to large queues of people.
One of the most anticipated moments for all Dubliners is the installation of Christmas markets, which are usually put on the last week of November. In them you can find all kinds of Christmas decorations, garlands, lights and typical figures, as well as sweets and food according to the holiday.
Main Christmas markets
Wicklow Christmas Market, located in Eireann 133
Dún Laoghaire, located on the coast.
Both are a great opportunity to take home a special piece to put in your home this holiday season.
2. Take shelter from the cold in a famous Irish pub
It's no news that it gets cold in Dublin in November. Especially when it starts to get dark around seven in the evening. If you have had a day of sightseeing and you start to freeze from being out in the street, there is no better plan than to go into one of the many famous Irish pubs around the city.
Here, you can not only sit and eat something typical, but you can try craft and national beers such as Guinness or, if you dare and you have a young soul, taste some of their whiskeys and soak up the Irish atmosphere with a good game of rugby or hurling.
Interesting details
Price: depending on what you want to consume.
Tickets: the pubs in Dublin are free access, you only pay for the drink.
Place: one of the most famous areas with pubs is the Temple Bar neighborhood.
Date: they are open all year round but are usually crowded in the cold months like November.
3. Discover the autumn scenery on a day trip
Dublin is a fantastic city to discover with dozens of places to see. However, you should not overlook the fact that it is close to incredible places of the Irish environment and from here you can make several interesting excursions.
There is no better month to enjoy the Irish atmosphere and bucolic nature than in November, when the cold arrives, the sky is cloudy but the rains have given a truce.
If you want to experience an authentic autumn day near Dublin on a day trip, two of the best destinations are the Giant's Causeway and the Cliffs of Moher.
Giant's Causeway
The Giant's Causeway is one of those places you have to see once in a lifetime. This strange rock formation has been named a UNESCO World Heritage Site and is just a few kilometers from Dublin so you can see it in one day. There are several excursions that, for less than 50 € take you to visit this spectacular landscape and somewhere nearby as the mythical city of Belfast.
Cliffs of Moher
One of the most typical and mentioned landscapes of Ireland are the Cliffs of Moher, a series of staggered cliffs that run along the east coast of the country. From Dublin day trips are organized to visit them and take the most typical pictures for less than 40€ with transfers and a guide who will tell you all the curiosities of the area.
Details of interest
Price: between 40€ and 50€.
Tickets: I recommend that you book these tours in advance through the internet, but you can also buy them in person when you arrive in Dublin.
Location: the Giant's Causeway is in Bushmills and the Cliffs of Moher in the province of Munster.
Date: it is ideal to do it during the first half of November when the weather is still not so cold and the rains are almost nonexistent.
4. Take advantage of the low season to visit the museums
By now, if you have decided to come to Dublin, you will have realized that it is a tremendously touristic city and acclaimed within the continent for its culture, its landscapes and its unique character. In high season, with the arrival of good weather, the streets and tourist attractions are full of people. That is why if you come to Dublin in November you can count on a clear advantage: the lack of crowds.
November is a good month for sightseeing in the city as it has very low rainfall rates but, for reasons of cold and calendar usually does not have many tourists. Therefore you can enjoy without waiting in line the main museums such as the National Gallery or the National Museum of Archaeology, which, besides being two of the major cultural representations of the country, are completely free.
Interesting details
Price: museums in Dublin are free.
Tickets: you can book your ticket to avoid queues on the official websites of the museums and directly at the box office.
Location: the National Gallery is in Merrion Square W and the National Museum of Archaeology is in Kildare St.
Date: the museums are open all year round but in November being low season they are less crowded and it is more comfortable to visit.
5.Experience the culture with the National Book Day in Dublin.
If you like the world of literature and want to know a little better what is being written and is trending in Ireland, November is the ideal month for you. Throughout the month, the Irish capital organizes different events, concerts and fairs dedicated to national literature.
Not to be confused with World Book Day, which in Ireland has the peculiarity of being celebrated on March 2. The Dublin Book Festival aims to be a showcase of Irish culture and pay tribute to all their favorite authors, both new trends and established classics such as James Joyce.
If you come to Dublin in November, you can check the agenda and schedule your visit to different bookstores, public libraries and museums where they will be selling copies, authors will be doing signings and you can attend conferences and literary competitions. Quite a cultural experience!
6. Celebrate the life of Jonathan Swift with a festival in his name
If you come to Dublin, you will quickly realize that its citizens value and treasure their culture very well. They have several days a year to celebrate and celebrate important figures of their tradition and, if you come in November, you can experience firsthand one of them. Specifically the one dedicated to the writer Jonathan Swift, creator of "Gulliver's Travels".
For four days in early November, a festival dedicated to the figure and work of the writer has been held for years, specifically in the Cathedral of St. Patrick, where several events are organized and a fair in the cloister with different booths where you can attend recitals or micro-theaters.
Also, taking advantage of the acoustics of the cathedral, you can attend free choir concerts and readings and lectures.
Details of interest
Price: the festival usually costs 10€.
Tickets: you can book tickets in advance on the official website.
Venue: St. Patrick's Cathedral.
Date: early November.
7. Get to know the new art trends at the Dublin Gallery Weekend
At the end of November, for three days, Dublin's art takes to the streets to be accessible and available to everyone. It is known as the Dublin Gallery Weekend and it is a cultural event in which up to 40 galleries take to the streets.
If you are in Dublin during these dates, you can also enjoy a large number of free art museums, as well as attend events, lectures and conferences. These spaces are not only designed to bring national art and painting to everyone, but also to promote its importance and give visibility to new artists.
Most of the participating galleries and museums are focused on modern art and new avant-garde and authors, such as the Irish Museum of Modern Art, the Dublin City Gallery or the Hugh Lane. If you are interested in trends, you can not miss this event during the last days of the month, which is also completely free.
Details of interest
Price: it is a free event.
Tickets: no admission required.
Venue: in the main modern art museums such as the Irish Museum of Modern Art, the Dublin City Gallery or the Hugh Lane, but also in the street, at the doors of the main galleries in the city center.
Date: end of November.
8. Witness the start of the Christmas illumination
December is undoubtedly the month when Christmas shines with its own light. However, November in Dublin is one of the most awaited moments of the date and of the upcoming festivities: the switching on of the Christmas lights.
If you come to the city during this month, you can attend the official lighting that, year after year is celebrated on November 13. In total there are 30 streets and more than a million bulbs that run through the city center.
Surely, if you have come to Dublin at this time, you will have seen the public staff placing the decorations on trees, lampposts and squares, but it is on the 13th night when, around a massive event full of concerts, games for children and hot food, the lights are turned on, which will remain so until mid-January.
Details of interest
Price: it is free of charge.
Tickets: this is a street event, so no tickets are required.
Place: the lights are distributed throughout the city center.
Date: every year it is held on November 13.
9. Take the opportunity to do some bargain shopping
As in many countries around the world, November is a month where cautious people start doing their Christmas shopping, taking advantage of the best deals and getting ahead of the big crowds and sold out items. If you want to take home a special gift this Christmas and you are on vacation a few days in Dublin in November, let me tell you that these days you have at your disposal the first winter fairs.
Laa in Wolfe Tone Square, for example, is organized every year from mid-November and it is a craft fair where, in addition to having Christmas items, you can buy all kinds of souvenirs and gifts.
Also, do not forget that in Dublin, as in many Western countries, the famous Black Friday is celebrated, so if you are in the capital during those days, you can find exclusive deals on top brands.
Interesting details
Price: depending on what you want to spend on gifts and shopping.
Tickets: no entrance required.
Place: at Wolfe Tone Square Park.
Date: Black Friday is held every year on the last Friday in November and the craft fair is from mid-November.
10. Go ice skating at the largest rink in the country
With the end of autumn also begins in the city the installation of the famous ice skating rinks, a sport that each year attracts both children and adults who want to slide down the rink and spend an afternoon with family or friends.
In addition, if you are in Dublin in November you are in luck because at this time every year the largest ice rink in the country opens. The Blanchardstown ice rink has up to 800 square meters, although there are other equally important rinks such asDundrum on Ice.
All of them are very well located in the city and for less than 15€ you can enjoy a nice walk on ice to squeeze the winter season in November.
Interesting details
Price: around 15 euros.
Tickets: you can buy tickets in advance on the website of the different rinks. This is Dundrum on Ice.
Location: Ice Skating is located in Blanchardstown and Dundrum on Ice in Sandyford Road.
Date: the rinks are usually set up in Dublin from the second half of November.
What is the weather in November in Dublin?
November is a month that heralds the arrival of winter and, therefore, temperatures drop considerably compared to the rest of autumn. As a general statistic, highs do not usually exceed 14 degrees Celsius, while lows can easily hover around 5 degrees Celsius.
However, there is one good thing about coming to Dublin in November and that is that rainfall is almost non-existent, having at most 4 or 5 days of rain per month. However, the sky will remain cloudy most of the time, so forget the sunglasses and get used to the typical gray landscape of Ireland and the UK.
What should you pack to go to Dublin in November?
If you are planning your next vacation to Dublin in November, there are a few basic tips to keep in mind. Among them, the choice of what you pack will be important to cope with the conditions and the weather.
You should not forget to wear comfortable shoes, not only to walk around the city, but also in case you go on an excursion around the capital.
You should also have warm clothes that are light so that you can walk without any problem and comfortably without being cold.
The raincoat or umbrella can take a back seat as it rarely rains during this month.
But I do advise you to bring a hat or some sunscreen because, although it is cloudy and deceiving, the sun can burn you if you are outside all day.
Dublin has everything you need to spend an unforgettable vacation and no doubt November is a good month to enjoy all of them more economically and saving large queues of people.
Just fill your suitcase with warm clothes and come to experience the art, culture, gastronomy and nature of this beautiful city.