12 Things to Do in Budapest in November
Take advantage of the opening of the Christmas markets and the beginning of winter in the city. Here is a list of the most important events in Budapest in November.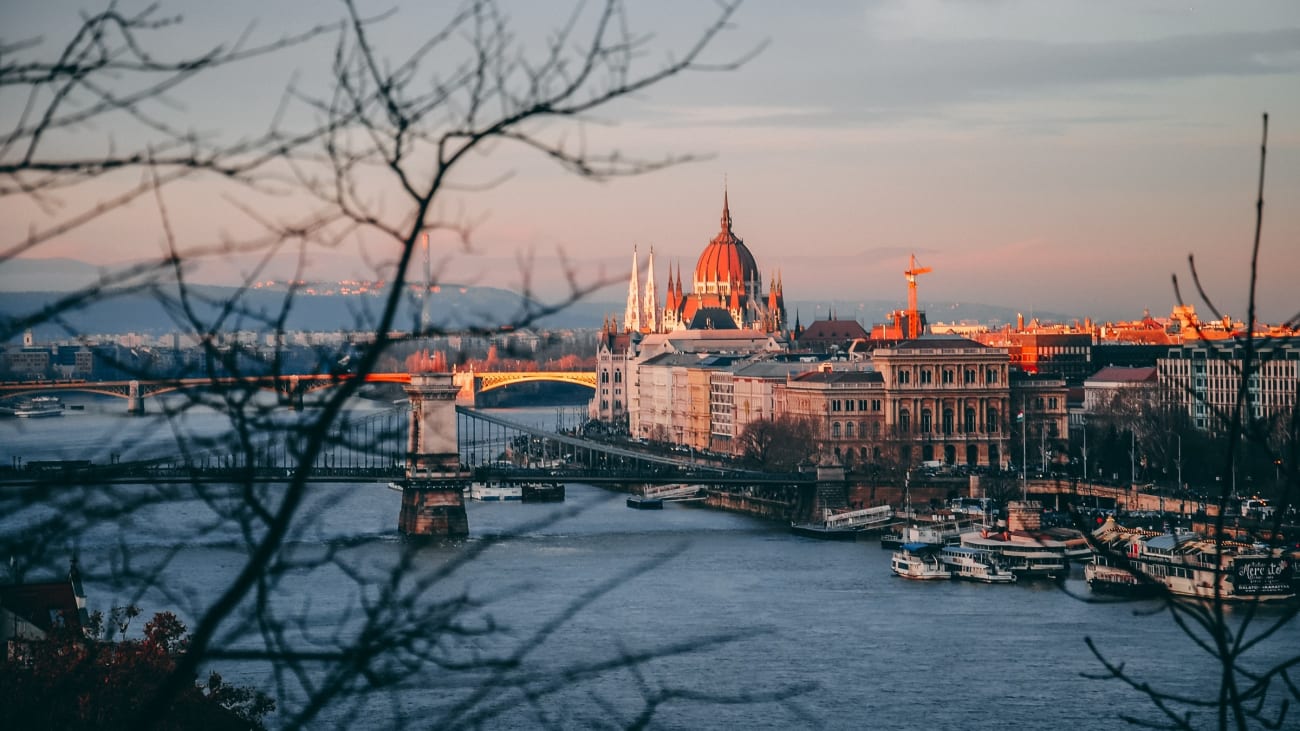 In this month of the year the city comes alive with its youthful atmosphere, vibrant nightlife, world-class classical music scene, legendary ruin bars and thermal baths. While it's true that winter is not yet in full swing, as the days go by you can already feel Budapest's Christmas and winter creeping in.
The Wine Festival, All Saints' Day or Folk Dance Friday will welcome you with open arms. In addition, November is the winter month with the least amount of tourists. What more do you want!
1. Visit the largest medicinal thermal spas in Europe
It is a sin to make a guide of Budapest and not start with the Széchenyi Baths, one of the most outstanding tourist attractions of the city.
Visiting the Széchenyi Spa means to be in a unique place, not only for the specialness of its waters, but also for its beautiful neo-baroque style architecture.
In this spa you can relax both in the external bathing area (consisting of 3 pools), and internal (where there are a total of 15), immersing yourself in its therapeutic waters capable of relieving many conditions, especially those related to the joints. Of course, there are many more people during the weekends, so we recommend that, if you can, you visit from Monday to Friday. Oh, and you can also enjoy the saunas.
2. Enjoy the culture at the Palace of Arts in Budapest
The Budapest Palace of Arts offers an incredible variety of cultural events throughout the month of November. Musical concerts of various genres, dance performances, art exhibitions and art workshops among many other types of events take place.
The best way to get to the Palace of Arts is to take streetcar number 2 and get off at Közvágohíd (Millenium Kulturális Központ). For more information visit the official website of the event, so you have more information about schedules, prices and the program in general.
3. Delight yourself with an organ concert at St. Stephen's Basilica
St. Stephen's Basilica is a real beauty, both inside and out, and one of the best ways to enjoy it is to attend one of its concerts, because it also has a great acoustics.
If you are a lover of classical music and want to listen to pieces by authors such as Vivaldi or Beethoven, you can not miss this opportunity. The concert is in charge of the best Hungarian musicians and opera singers, so it is a unique experience.
To complete the evening, since the concert is at 20:00, you can go to dinner at some of the restaurants in the area and try some typical Hungarian dishes.
4. Don't miss the St. Martin's Day Goose Festival
Taking place during the second week of November along the promenade next to the Allee shopping center (Budapest 1117, Október huszonharmadika utca 8-10), the three-day outdoor spectacle highlights Hungarian traditions with local food and drink.
Visitors can enjoy goose dishes and sip intoxicating beverages provided by local producers, including a variety of Hungarian wines, craft lagers and traditional fruit-based pálinka brandy.
Attractions include many free events for children, such as a petting zoo and craft workshops where kids can make their own lanterns, among many other creative activities. For more information visit the following link.
5. Discover the Wine and Cheese Festival
This two-day festival usually falls at the end of November and features winemakers from all over Hungary presenting their beverages alongside artisanal cheeses. The one-day pass costs almost 6 euros and includes tasting and free admission to the Museum of Hungarian Agriculture (venue of the event).
Not only will be presented drinks and cheeses, but there will also be a whole exhibition related to the pairing Make your palate participate in this event! For more information visit this website.
Oh, and if you're left wanting more, I recommend a visit to the Pálinka Museum. The pálinka is the traditional Hungarian alcoholic beverage made from different types of fruit and in this museum they pay tribute to it by showing its history to visitors. Oh, and also with the entrance you can access a tasting of different varieties.
6. Take shelter from the cold in a ruin bar
The ruin bars or ruin pubs are a real institution in Budapest and love all tourists (and locals) who visit them. They are bars that have been located in abandoned buildings and have managed to give life to areas of the city that were very dark.
The most famous of all and considered the pioneer is the Szimpla Kert, so you can not miss this one. Being located in buildings and not in a single local, the ruin bars usually have large dimensions, plus a very particular and attractive decoration.
They are the perfect excuse to take shelter from the cold November night while tasting some typical drinks, such as mulled wine (which you either love it or hate it). And if you found the history of these places interesting, I recommend you not to miss the rin bars tour where you will visit the 4 most emblematic pubs of the city and you will know all the history behind them.
7. Escape to Vienna and enjoy the pre-Christmas atmosphere
Did you know that Vienna is very close to Budapest? Many people take advantage of their trip to the Hungarian capital to visit the Austrian city, either by car or by train. There are even people who choose to book an excursion to Vienna from Budapest to forget about everything and just enjoy.
Whichever option you choose, I want you to know that making a trip to Vienna from Budapest in November is an excellent idea because in the middle of this month is when they start to put the markets and Christmas fairs in the capital.
If you go with children on your visit to Budapest, I recommend even more this trip, as they will enjoy all the Christmas decorations. But beyond that, Vienna is a very beautiful city that is always worth visiting when passing through Budapest.
8. Attend the 7 Towers Festival
The Festival of the 7 Towers is a celebration at the beginning of November that tries to give a festive touch to the city of Budapest at a time when the cold starts to set in. The motto of the festival is "Music is for everyone!" and it is usually held at the Heroes' Square (no tickets required).
The celebration started as a rural event and ended up becoming one of the most typical celebrations of the month of November in Budapest. Artists from neighboring countries perform here and everything has a cultural touch.
But the Seven Towers is not only about music. Folk music exhibitions, children's programs, professional performances and lectures are also part of the event. So the array of programs is quite colorful, which means you're sure to find something to your liking if you're attracted to folk culture.
9. Sign up for Friday Folk Dance and Hungarian Dinner
This gastronomic and cultural event usually takes place on a Friday in mid-November at 7pm. At this event you can enjoy a classic Hungarian 4-course dinner, accompanied by 3 glasses of local wines.
A live folk music and dance show starts at 8pm showcasing authentic Hungarian folk dances to the rhythm of a string and dulcimer orchestra. For more information about the program visit the following website.
10. Attend the St. Martin's Day Wine Festival
The city's biggest St. Martin's Day celebration is the wine festival, which will take place in the second week of November. During the celebratory gathering, some of the country's best wineries fill the spacious halls of the event venue. This is also known because the tasting tickets will allow you to taste unlimited dishes and flavors of wine. It is undoubtedly one of the most anticipated events, hence the tickets usually sell out earlier than expected.
Savory snacks and street food treats accompany reds, whites and rosés throughout the weekend, including Hungarian cheese specialties, sausages and goose dishes. The St. Martin's Day Wine Festival is usually organized by renowned Hungarian chefs and for event location, times and prices I recommend the following website, as variations are common.
11. Enjoy the first Christmas market in Budapest
While it is true that if you want to enjoy the peak of the Christmas markets you have to visit the city in December, at the end of November takes place the opening of these festive markets, a unique opportunity to stroll and delight the eyes and palate without so many crowds.
What's more, this is when you can enjoy the Advent Fair, held at the end of the month in Vörösmarty Square and featuring the first Christmas market of the year.
As the merriest time of the year approaches, Budapest's squares are dressed in festive lights and vendors set up stalls offering handmade goods, hot mulled wine and local dishes at the city's Yuletide bazaars. You can visit Budapest' s Advent Fair at Vörösmarty tér or see special light shows projected on the façade of St. Stephen's Basilica in late November, just as the Christmas markets begin.
12. Meet the curious Black Food Festival
Charcoal-colored cakes, cocktails, even soups star in a new Budapest gastronomic gathering in early November.
Flow Specialty Coffee Bar hosts the city's Black Food Festival. Between 3 p.m. and 9 p.m., you can sample sesame ice cream, lemonade, tacos and ramen soup - all black, of course. The idea is to be able to enjoy different flavors even when everything seems to have the same color, a mission in which the eye abandons and gives free rein to the palate. Admission is about 15 euros.
---
Weather in Budapest in November
It is cold in Budapest in November, but not below freezing. The average temperature is 5°C, with *the maximum being 7°C and the minimum 2°C. The sky is usually clear, with an average of eight hours of sunshine and gradually decreasing towards the end of the month. As the month progresses, cloudy weather begins to pick up, along with the chances of rain.
Tips for visiting Budapest in November
Christmas markets open in mid-November, so this is the ideal time to shop for gifts.
Be prepared to party indoors, as due to the cold weather in November Budapest's outdoor festivities move indoors.
** Budapest's thermal baths and spas** are much more pleasant in the cold November weather, so be sure to make the most of them.
The Városliget ice rink in Budapest is the largest outdoor rink in Europe. From mid-November, you can rent skates and enjoy a coffee or hot chocolate in the restaurant next to the main building.
Throughout November, many restaurants offer special St. Martin's Day dishes along with other events such as gastronomic tours.
What to bring to Budapest in November?
November temperatures in Budapest don't tend to be as cold as you would feel if you were visiting the city in January or February, but it's still wise to prepare for those cold spikes. I recommend packing:
A waterproof jacket, gloves, scarf and a hat for comfort.
Sunglasses and sunscreen since there are usually sunny days.
A good pair of walking shoes will be very useful, since the best way to get to know Budapest is walking.
An evening dress or going out clothes (elegant) are not bad for the evenings and nights in cafes, bars and restaurants.
Bathing suit for the thermal baths.