Hop on Hop off Bus Tours in Salzburg
If you are planning your vacation in Salzburg and you don't know which is the best route, I suggest you to opt for the tourist bus. It offers two very complete routes with unlimited free stops.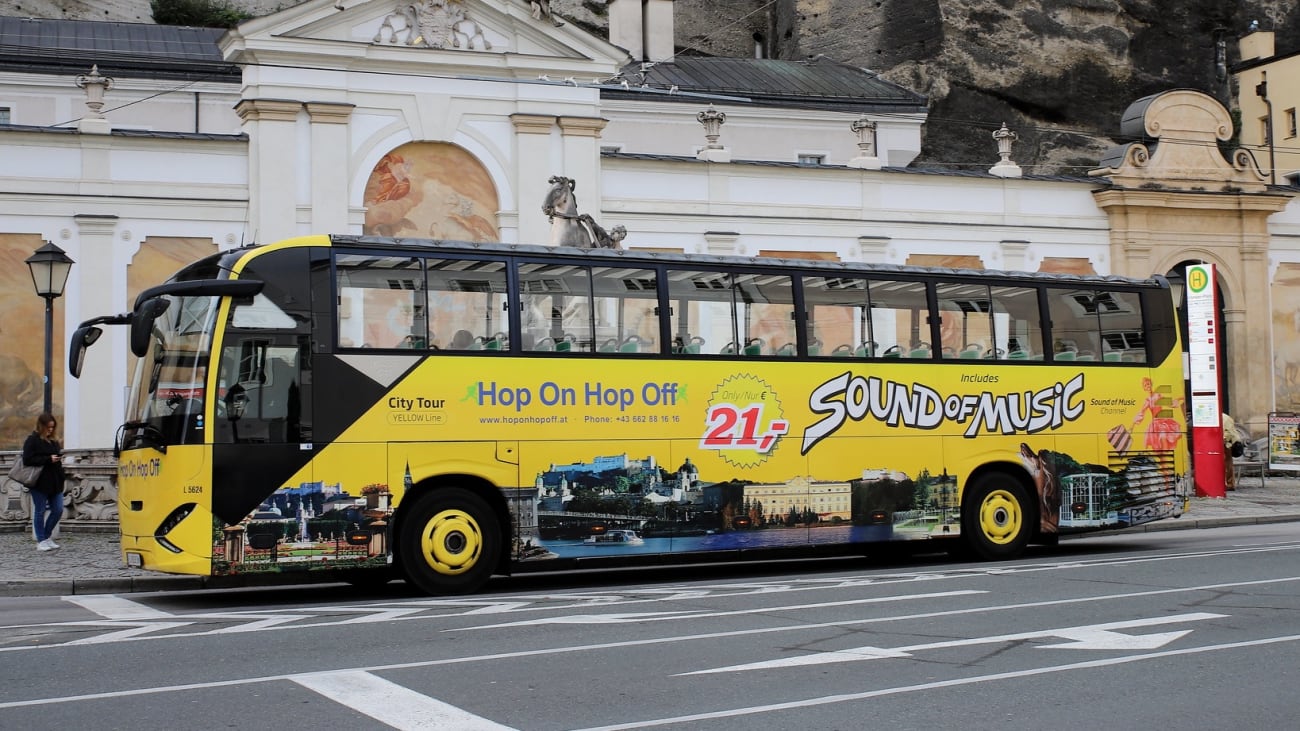 The sightseeing bus tour is one of the best things to do in Salzburg, as it offers a free route that you can organize as you like. It has two lines, the yellow one takes you to historical sites, castles, museums and churches. The blue line allows you to visit the German border and escape to the European Alps.
Activating the ticket is very easy, as it is done automatically after the first use. Keep in mind that there are 24, 48 and 72 hour passes, plan the stops and places you want to visit to optimize your time
The most complete option
Get to know Salzburg in a comfortable sightseeing bus
The ideal way to explore the historic city center or escape to the German border. You can hop on and off at the stops of your interest, while enjoying an audio guide in English.
The Salzburg tourist bus is a very complete option, ideal if you want to plan a family activity or tour the city at your own pace with an audio guide in English. You won't have to worry about anything, the bus drops you off and picks you up at the most interesting places. You are free to combine the blue route with the yellow route, a recommended option to tour the whole city if you plan to visit Salzburg in two days or more.
Recommended if... you want to get to know the city at your own pace, without rushing or too structured itineraries.
Different routes of the Salzburg tour bus
The Salzburg tourist bus is the best option to tour the city in a short time. You can travel on the blue line that connects to the German border, or take advantage of the yellow line to take a leisurely stroll through the city.
You must be attentive and avoid getting on the wrong line, as the route is completely different. This is an ideal activity to optimize your time if you are visiting Salzburg in 1 day.
Yellow line
Its stops in round-trip order are:
Mirabell Square: Mirabell Palace, Mirabell Gardens, Mozarteum, Holy Trinity Church, Mozart Residence.
Hanusch Square: Town Hall, Getreidegasse and Mozart's birthplace, Mönchsberg Mountain, Museum of Modern Art and House of Natural History.
Herbert-von-Karajan Square: Horse bath, Festival Halls, St. Peter's Monastery, Siegmund Gate, Collegiate Church and Green Market.
Leopoldskro Palace: Leopoldskron Palace and Lake Leopoldskron.
Hellbrunn Palace: Hellbrunn Palace, Trick Fountains, Monatschloessl or Folklore Museum and Salzburg Zoo.
Kleingmain: Gwandhaus, Frohnburg Palace, Freisaal Palace and Hellbrunn Avenue.
Palace of Justice: Nonnberg Abbey, St. Erhard's Church, Cajetan Square and Church.
Mozartsteg and Imbergstraße: Mozart Footbridge, Steingasse, Capuchin Hill and Monastery.
St. Andrä: Mirabell Palace and Mirabell Gardens, University Mozarteum, Trinity Church and Mozart Residence.
Central railway station: Direct connections to Linz and Vienna, Tyrol and Vorarlberg and the Salzburg countryside. In addition, border station in the direction of Munich.
Mirabell Square: back to Salzburg.
Blue Line
Its outbound and return stops are:
Mirabell Square: Mirabell Palace and Mirabell Gardens, Mozarteum University, Holy Trinity Church and Mozart's residence.
Hellbrunn Palace: Hellbrunn Palace, Water reservoir, Monatsschlössl, Volkskundemuseum and Hellbrunn Zoo.
St. Leonhard Untersberg Railway: Untersberg mountain.
Old town Hallein square, the Celtic Museum, the Silent Night Museum, Hallein parish church and the Green Market.
Pernerinsel of Hallein.
The Salzburg Worlds: mine show and visit to a Celtic village.
Bad Dürrnberg Zinken Lifts: stop at the longest toboggan run in Salzburg Land, Gutrat ruins, Thürndl ruins.
Obersalzberg: Obersalzberg and Eagle's Nest.
Berchtesgaden market: stop in the city center.
Königssee: mountain slopes of Watzmann and Hagengebirge as well as the Königssee lake.
Berchtesgaden salt mine.
The most important stops of the yellow Salzburg sightseeing bus line
The yellow tourist bus route has 11 stops, where you can hop on and off at your leisure. It is ideal if you want to sightsee, or go shopping in the city. I tell you about some of the stops:
Mirabell Palace and Gardens
Mirabell Palace is a historic building that I recommend you to visit, as it is free of charge.
The best tours of Salzburg will take you to see this emblematic space, whose gardens are very popular for its baroque architecture. Additionally, keep in mind that in this area you can also visit:
Mozarteum University: it is a very prestigious music school, which attracts people from all over the world. It has a concert hall, where sometimes the local orchestra performs live.
Church of the Holy Trinity: it is the largest church in the old town of Salzburg. It offers an observation deck that operates day and night, with the best views of the city.
Mozart's Residence: if you want to experience a tour of Mozart's house, the bus will drop you off right in the area. It is currently a museum, where the most relevant objects of his career and personal life are kept.
Hanusch Square
The next stop where you can get on or off is the Hanusch square, from here you can reach the Salzburg City Hall or the Old City Hall.
It is a building that has been in the city since XIV and was built on a rococo basis, it is a very busy place as nearby is the most important pedestrian street in the city. Other places you can visit in the surroundings are:
Mozart's birth house: it is different from the residence, as this is where he was born and spent his first years of life. It is the most famous house in Salzburg, it is easy to distinguish it thanks to its yellow facade.
Mönchsberg Mountain: it is an Austrian mountain that you can access from the historic center. It has one of the most popular viewpoints in the city.
Museum of Modern Art: it is located on the Mönchsberg mountain, it presents temporary and permanent exhibitions dating from the twentieth and twenty-first century.
Museum of Natural History: it is ideal if you visit Salzburg with your family, since it is an interactive museum where you can learn about science and visit a zoo.
Herbert-von-Karajan Square
It was built in honor of the Austrian conductor Herbert-von-Karajan, from this square you can access concert halls and take a cart ride. Also nearby is St. Peter' s Abbey or St. Peter's Abbey which was the former cathedral of the city.
Leopoldskron Palace
The Leopoldskron Palace is a Rococo building that will make you feel like you are in a scene from a period movie, it is close to the historic center. Once the residence of Leopold Anton Freiherr von Firmian and his family, it is now a hotel with a beautiful pond.
Hellbrunn Palace
Hellbrunn Palace is a baroque villa south of the city, ideal for taking the best pictures. It is also a great stop if you are looking for activities to do in Salzburg with children, as in its facilities you can take advantage of the water games or the Folk Museum.
In addition, just across the street is the Hellbrunn Zoo which has about 800 animals.
Kleingmain
Kleingmain is the best hiking route in Salzburg, for this walk I recommend you use GPS. It is one of the best areas to stay in the city, as it is close to public transport stops and essential services for a comfortable trip.
From here you can visit the Frohnburg Palace, ideal if you are a fan of The Sound of Music, as several scenes of the movie were filmed here. You can also stroll through Freisaal Castle, which has been preserved for years.
Palace of Justice
Better known as Justizgebäude, this is an important site as it is **Salzburg'**s courthouse. You can't go inside, but it has a very striking old facade. It is located near the Nonnberg Abbey: a monastery featured in the movie The Sound of Music.
You can also take the opportunity to visit the Church of St. Erhard, which was built in 1685 and has very important historical details.
Mozartsteg and Imbergstraße
The Mozartsteg Bridge is another stop, surrounded by street art. You can also access the historic Steingasse district, which has a medieval feel and is very close to the river.
Imbergstraße is a passage near Mozartsteg and the river, here there are many traditional restaurants where you can try authentic Austrian food.
The most important stops on the blue line of the Salzburg Sightseeing Bus
The blue route is available in several languages and makes about 11 stops. First you will visit impressive parts of Salzburg as well as small villages on the outskirts. Afterwards you can set off for the Austrian-German border. I'll tell you about some of the stops:
St. leonhard Untersberg Railway.
The St. Leonhard Untersberg Railway from where you can see the highest mountain in the Austrian Alps. You can also use the Untersberg cable car or Untersbergbahn GmbH, which runs until 5:00 pm.
At the top you can eat in a restaurant above sea level, while enjoying the panoramic views.
Old Town Hallein
Hallein Old Town is one of the best places to stay on the border. Its facades are quite old, but safe. Nearby there is a Celtic museum and traditional restaurants. Also located here is the Silent Night Museum in honor of Franz Xaver Gruber, who composed Silent Night.
You can visit any time of the year, but I especially recommend visiting in winter. It is a very special activity if you are planning things to do in Salzburg in December.
The Salzburg Worlds
In this area you will see mining shows taking place just minutes from Salzburg. There are mines on display, which bring together over 2600 years of history. Additionally, in the area there is a themed children's playground and a Celtic museum that honors the Celtic peoples who lived in the mountains.
Bad Dürrnberg Zinken Lifts
The longest toboggan run in the region is located here, ideal if you're looking for things to do in Salzburg in winter. The best thing is that it is also available in summer, with other activities.
Here you can go hiking and visit the ruins of Thürndl and Grutat.
Berchtesgaden Market
It offers seasonal products, as well as special shows and exhibitions during Christmas. It has street proposals at the height of Austrian gastronomy.
Königssee
In this area are located the Watzmann and Hagengebirge mountains, where you can take a short boat ride. It is a quiet stop, ideal to relax and get away from the routine.
Berchtesgaden Salt Mines
The salt mines are located between Austria and Germany, and are one of the most emblematic sites in the region. They were discovered in 1517, since then they are an essential tourist stop. You will be able to explore the subway life, where you will find an impressive lake.
How to book a tourist bus in Salzburg?
To secure your ticket, you can book online. However, you can also buy your pass when you arrive in the city. In low season there is no problem if you leave it to the last minute, however it is always preferable to buy it in advance.
This bus will allow you to enjoy the best things to do in Salzburg. Remember that if you need to cancel, you have a cancellation policy of up to 24 hours.
How to book step by step
Click on the book button.
Check availability, according to the number of people and dates chosen.
Take a look at the available options that will appear on your screen, usually you can choose between 24, 48 and 72 hours tickets, as well as choose a single route or combine the blue and yellow line.
Fill in the travelers' information, select your preferred language and note your special requests.
Make the payment and check the confirmation email with all the information.
Advantages of using the Salzburg Sightseeing Bus
The sightseeing bus is the best way to save money, as it takes you all over the city for the same price. No matter how many times you get on or off, the fare is the same. Additionally, it is a great option if you are looking for things to do in Salzburg with children, as they will be able to get to know the city in a comfortable and interactive transportation.
Another advantage is that you will save a lot of time, plus you won't have to worry about planning. This is the best way to avoid the stress of organizing tours in an unfamiliar city.
In addition, this type of transportation is more comfortable, faster and safer, taking you to the main attractions. Although it is advisable to wear comfortable shoes, you will not have to walk much.
How long is the full Salzburg sightseeing bus tour?
The full tour without getting off the bus takes about an hour, but the duration is up to you. You can start and end the tour wherever you prefer. However, to get the most out of your ticket, I suggest booking at least four hours to a day to use this service.
Remember that the tour bus is ideal if you plan to tour everything in 1 day in Salzburg, or even 2, as you have 24 and 48 hour options. Unlike other guided tours, you won't have to rely on a group or a timed itinerary.
What will I see from the Salzburg sightseeing bus?
Depending on the line you choose, you can see Salzburg's historic city center, major palaces and castles, and cultural heritage sites. You can also head to the German border town on a round trip. And of course, you'll appreciate many of the mountains, lakes, historic streets, churches and street markets that bring the city to life.
How much does the Salzburg sightseeing bus ticket cost?
The cost of the Salzburg sightseeing bus, can vary depending on the line chosen and the duration, there are 24 and 48 hour options. Tickets for the blue line can be found from 26 euros, while the yellow line can be found from 27 euros.
Salzburg tourist bus timetable
The tourist bus operates from 9:30 a.m. to 5.00 p.m., so it's a great option for touring the city. If you are looking for things to do in Salzburg at night, unfortunately the bus does not operate during these hours.
However, you can take advantage of the Salzburg Card to get unlimited rides on public transportation, as well as access to fun activities. This tourist card is very useful, you can get a lot out of it during your stay.
How does the Salzburg sightseeing bus work?
The Salzburg sightseeing bus offers 24, 48 or 72 hour passes, you can choose the most convenient depending on your stay and itinerary. The time limit starts to run from the first use, as you activate the bus card.
It is available in Spanish and in approximately twelve other languages, since the entire route is done with an audio guide in real time. You don't have to worry about keeping up with a group or guide, the stops are up to you.
Depending on the package you purchase, you can visit Salzburg and the surrounding area, or get a combined tour. There are approximately 11 stops, but at each stop you can access several attractions.
During the tour you can enjoy the Sound of Magic channel, which will make you feel part of a tour of the Sound of Music in Salzburg, as it includes commentary from the locations of the movie musical. Additionally, the bus has an open-air area on the second floor, as well as air conditioning on the first floor.
Please allow plenty of time, as in high season buses pass the designated stops every 30 minutes. On the other hand, in low season they take about 45 minutes.
Tips for using the Salzburg Sightseeing Bus
Take a map of the city, in case you can't access the GPS.
Plan the stops to make, as well as the places you want to see.
Connect to the bus WLAN, which is completely free of charge. It is a system that offers WiFi on board the bus.
Avoid eating or drinking on the bus.