Flamenco Shows in Seville
Attending a flamenco show in Seville is one of the most authentic experiences in the city. I will help you choose the best one!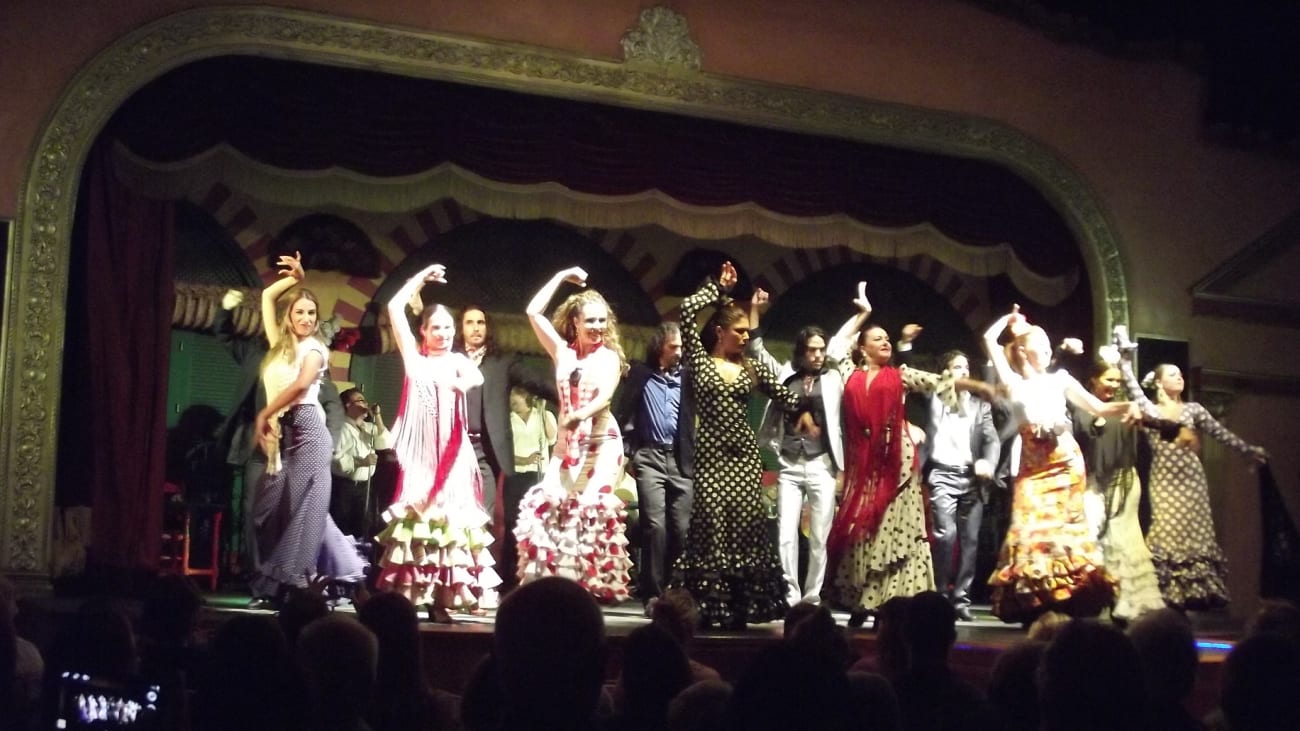 If there is a Spanish region known for its flamenco tradition, it is Andalusia. It is not surprising, therefore, that in its capital there are many opportunities to attend a flamenco show.
1. Where to see a flamenco show in Seville
In Seville flamenco is present in all its corners (it is not strange to hear clapping at sunset when crossing the Triana bridge), but in its halls and tablaos is where it manifests itself in all its fullness. I'll tell you the best ones:
2. Flamenco show at the Casa de la Memoria
To attend a flamenco show at the Casa de la Memoria is to witness an authentic show in a 15th century palace in the historic center of Seville that has been hosting different flamenco professionals for years. You will find an intimate atmosphere with seats arranged around a tablao where two dancers, a singer and a guitarist will perform. No microphones or sound effects to make the show even more authentic.
Useful information about this show
The duration of this flamenco show at the Casa de la Memoria is approximately one hour and the ticket price is $ 25 The shows are held every day of the week and you can choose between an afternoon show or an evening show. The theater is located on Cuna Street, one of the most authentic and well-known in the capital.
About the Casa de la Memoria
In few places will you find more tradition than in this place, since the Casa de la Memoria is also a cultural center that since 1998 has been working to promote the folkloric tradition in Andalusia. The artists that take the stage in this hall may change, but all of them are of recognized quality and artistic trajectory.
3. Flamenco show in the Triana neighborhood
The neighborhood of Triana is one of the most traditional and traditional in Seville and that is where the room that hosts this flamenco show is located. On the banks of the Guadalquivir you will enjoy for about an hour of a show that will leave you breathless.
I recommend booking well in advance as tickets can sell out despite the fact that there are shows every day.
Important tip: be wary of street ticket sales, especially if the prices of the shows are high or strangely cheap.
4. Flamenco show at the Museo del Baile
Few companies can offer a greater reference to the Ballet de Cristina Hoyos, responsible for this flamenco show at the Museo del Baile in Seville. Three dancers, two singers and a guitarist take the stage to review the different rhythms of this art in a theatrical context.
Useful information about this show
The show lasts approximately one hour. Optionally, you can add to your experience a visit to the Museo del Baile (Museum of Dancing) to complete your understanding of this artistic tradition. The building that houses both the show and the museum dates from the 18th century; the show, in particular, is held in a beautiful courtyard.
5. Thematic walking tour with flamenco show included
This option is the VIP experience par excellence to not only enjoy Andalusian flamenco, but also to discover its essence and the mark that this art has left on the city of Seville. For a price of $ 119 you can enjoy a 3-hour thematic guided tour of Seville with a flamenco show afterwards.
The guided tour includes the Guitar Museum of Seville and although you will visit some of the most emblematic places of the capital, the guide's speech will be focused on the tradition of flamenco art in this city.
At the end of the walking tour, your guide will take you to a flamenco tablao where you will enjoy a quality show with a complimentary wine. You can also add a selection of tapas and drinks to your ticket.
Ana's Traveller Tip

Many flamenco shows do not allow very young children. If you are traveling with children, find out beforehand whether or not they are allowed.
6. Useful tips to enjoy flamenco in Seville
Be interested in the tradition
Just as a visit to the Alcázar of Seville is best enjoyed by being aware of the meaning of what you are seeing and knowing its historical context, the same goes for a flamenco show. It is not necessary to read entire books about this art, but if you can inform yourself before attending about how it arises and how it evolves, I am sure you will enjoy the show much more. This is something they do to perfection on guided walking tours of Seville, especially if they are themed.
Go with an open mind
Although it is a hackneyed phrase, normally you either love flamenco or you can't stand it. This discipline, both in song and dance, is unlike any other and if you have not seen any show so far it is very possible that the first time you will be surprised. In any case, respect must always come first; especially if the show includes dinner, the artists deserve to be the main attraction of the evening and not a mere accompaniment.
Let yourself be advised
If you are lucky enough to know someone in Seville who likes flamenco and recommends a show, do not hesitate. In this case you should not be afraid that the place is less known; if you have good references from an aficionado, you may be pleasantly surprised because in Seville the art is not only in the tablaos of renown.
Distinguish between flamenco and "flamenquito"
Art is not exempt from controversy and even less so flamenco art. Colloquially, "flamenquito" means a more commercial style of music that, although it comes from flamenco, has little to do with what you will find in the tablaos of Seville. Examples of "flamenquito" singers include El Barrio, Miguel Poveda or Rosalía.
Of course, they also have their merit and in many bars in the city you will find singers of this style; you just have to know how to distinguish them from other types of shows.
Take a stroll through Triana
The Sevillian neighborhood of Triana is known as the cradle of flamenco and you will see that there is a special sense of pride among the inhabitants of this neighborhood (in not a few stores in the center you will see T-shirts with the phrase "República Independiente de Triana" (Independent Republic of Triana). Get lost in its corners and let yourself be surprised because it is very common to find a group of people concentrated around a guitar in the street.
Don't worry about your clothes
You don't need any special clothing to attend this type of club. In Seville you will find people of all styles and you will not feel out of place if you go with the same attire with which you have toured the city during the morning.
Ana's Traveller Tip

Keep quiet during the show, even if it is held in a tavern, respect for the artists is essential.
7. If you are interested in attending a flamenco show in Seville, you will also be interested in
The interest in attending a flamenco show implies an interest in learning about the culture and traditions of the Andalusian capital. Another experience that will give you the same will be a guided walking tour of Seville. You have different options and you can have a look at all of them in this article on Best Tours and Day Trips from Seville.
In all these tours you are accompanied by an expert local guide who not only tells you about the history and anecdotes of the city, but also about its customs and secrets. And I assure you that Seville has many secrets that will make you fall in love with this city even more. With few experiences you will learn more about the place you are visiting than with this kind of tours.