10 Things to Do in Segovia in Winter
Segovia, a medieval city full of history and impressive architecture that in winter becomes a magical destination where you can spend a few days relaxing away from the crowds.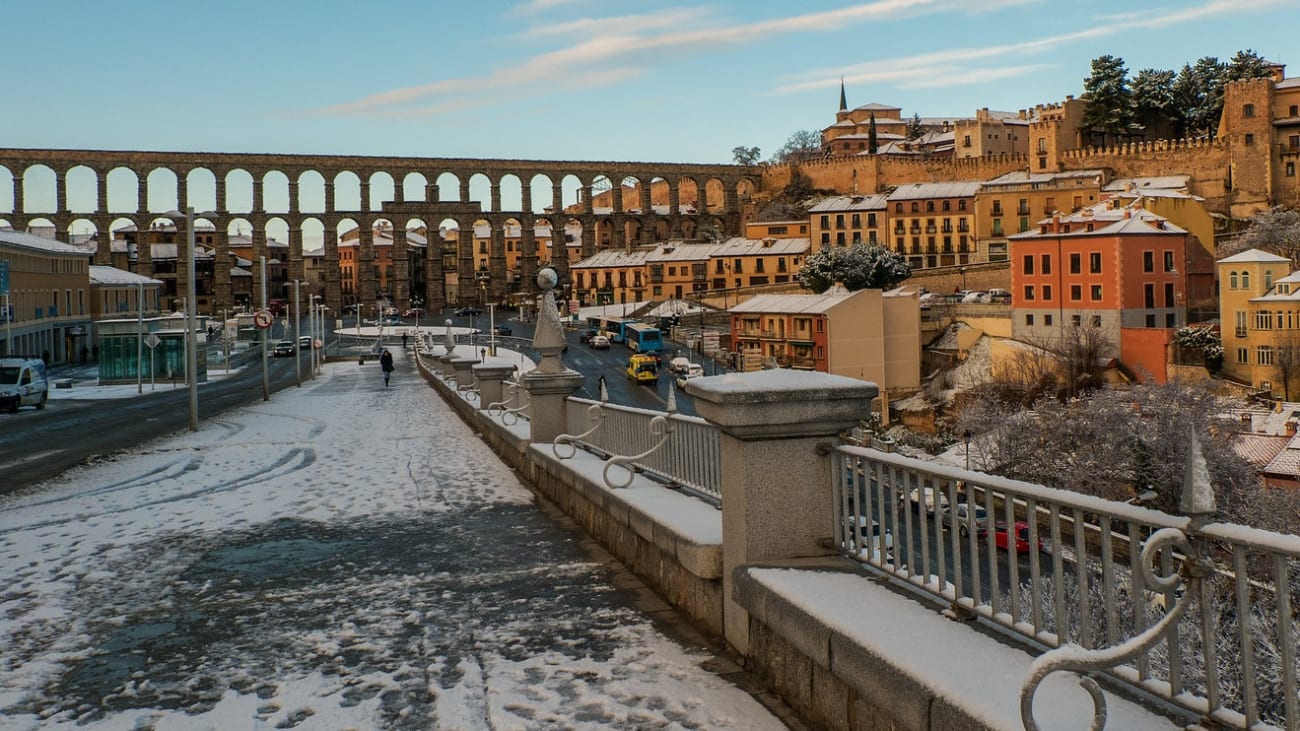 Although winter in Segovia causes temperatures to turn cold, this city compensates by becoming more beautiful if possible. Often, this Castilian city is covered in a fog that makes the Alcázar look like a fairytale castle, even more so than usual. And if you are lucky enough that the snow has buried Segovia under its white mantle, you can enjoy a truly exceptional sight.
Moreover, this time of year is ideal for those who prefer to see the attractions of Segovia in a quieter way, as it is the lowest season for tourism. And if your trip coincides with the arrival of Christmas, you will find it adorned with beautiful lighting that contrasts beautifully with its ancient architecture and smoky chimneys.
1. Experience the magic of Christmas in Segovia
Every year as Christmas approaches, the city of Segovia is decked out to welcome one of the most endearing festivities of the winter season. Strolling through the streets of downtown Segovia under the Christmas decorations is an unforgettable experience, as the cheerful illumination contrasts in a special way with the historic buildings of this medieval city. And, if you are lucky enough that the snow has covered Segovia during your trip, you will find a magical picture that I assure you, will make the cold worth it.
One of the most typical Christmas activities you can do during these dates is to go to see nativity scenes, especially the two most recognized, which are the Bethlehem of the Seminary and the Bethlehem of the Torreón de Lozoya. In addition, I recommend a visit to the Plaza Mayor, where activities take place every year, and where a charming Christmas market has recently begun to be held.
However, the best plan for these dates is to wrap up warm and go out to enjoy the lively life and festive atmosphere that permeates the city. One option if you want to visit all the corners of the city while they tell you the history of this ancient place, is that you can take a guided tour of the city. Best tours of SegoviaYou can book a guided tour of Segovia, in which an expert guide will accompany you through the main places of interest and will tell you some curiosities about the city.
2. Celebrate with the people of Segovia the Feast of St. Agatha
Every year, the town of Zamarramala in Segovia celebrates the Feast of St. Agatha, which takes place on the first Sunday after February 5. Zamarramala is located just 10 minutes by car from Segovia and during this festival, also known as the festival of married women, both Santa Águeda and the Zamarriegas are honored for their role in the times of the Reconquest.
The story goes that when the Alcazar was occupied by the Muslims, these brave women dressed in their best clothes and decided to perform a maneuver to entertain the occupants of the castle by dancing for them and thus distracting them. At that moment, the men took the opportunity to enter the fortress and reconquer it. Since then, this day is celebrated in this small town honoring the women through the celebration of different acts.
If you are lucky and your trip coincides with this festivity, you will have the opportunity to see the typical costumes of this celebration, besides enjoying the other activities that include dances**, parades** and the custom of eating the traditional slice of chorizo, which is cooked in wine.
3. Go and enjoy a play at the great Teatro Juan Bravo
Seeing a play at the prestigious Teatro Juan Bravo is an excellent way to take shelter from the cold while enjoying an entertaining show. And if that were not enough, at this time of the year its programming is especially relevant, since during the winter months there is an uninterrupted succession of plays, music and dance. In addition, there are also some performances for the little ones, so if they are not enough, it will be an ideal plan that they will love. 10 Things to do in Segovia with Kids
The theater is located in the Plaza Mayor of Segovia and its construction dates back to 1917. This building with a neoclassical facade has recently been declared of cultural interest and houses inside an exhibition hall where events and other activities are organized. So, if you decide to take a trip to Segovia during the winter, don't hesitate to check its program and enjoy a fun performance in the stalls of this Segovian theater.
4. Warm up your stomach with a delicious Castilian soup
What better way to warm up after a long walk than with a comforting hot meal? And that's why the next plan on the list is for you to go and taste the exquisite Segovian gastronomy in one of its best rated restaurants, the mythical Mesón de Cándido, which also happens to be the oldest in the whole city.
Once there, you will have the opportunity to try the most famous traditional dishes of Segovia, such as the hearty Castilian soup, prepared in a clay pot and whose ingredients include broth, ham, hard bread, egg and paprika, or the farm beans, another of the stars of the gastronomy of the area.
However, its star dish is its famous roast suckling pig, which you can not miss. Another attraction of this renowned restaurant is its location, as it is located in one of the most important and touristic squares of the city, besides having enviable views of the millenary Aqueduct of Segovia.
Practical information
Where: Mesón de Cándido is located at Plaza Azoguejo number 5.
Opening hours: every day from 1:30 pm to 11:00 pm.
Price: from 35 ¤ to 60 ¤ approximately per person.
.
5. Take an excursion to the Guadarrama National Park
Just a few kilometers from Segovia, you will find the well-known Sierra de Guadarrama National Park, and if you like snow and winter sports, you will love this excursion. In the colder months, the Sierra de Guadarrama is covered in white, giving rise to a beautiful winter landscape, where you can also enjoy different activities.
Some of the winter sports you can enjoy in this spectacular natural space are Nordic skiing, sledding or snowboarding. As if that were not enough, most of these activities are free, but you will have to bring the necessary clothing and sports equipment to carry them out, or rent it in the same park.
The nearest Visitor Center is the one in Valsaín, which is located just 20 minutes by car from Segovia. This center serves as an information point, visitor center and entry point to the National Park. If you decide to take this exciting excursion, keep in mind that you should check the weather beforehand to make sure that the park is in optimal conditions for your visit.
6. Take a break with a hot beverage and the most popular candy
It is always advisable when traveling in cold weather to take a break along the way to have a hot drink and recover your strength. And what better way to accompany your coffee or hot chocolate than with the most typical sweet of Segovia?
To get to know a city completely, you must also know its gastronomy. Segovian punch is the most emblematic sweet of Segovia and its creator was the confectioner Frutos García Martín, whose original recipe remains secret and is protected by patent. This cake alternates layers of sponge cake dipped in syrup with generous layers of pastry cream. Then, the cake is covered with marzipan and finally, it is sprinkled with powdered sugar, which is burned to form its characteristic pattern.
The most mythical place to taste this native sweet of Segovia, is in the same place where it was created, the Confitería el Alcázar, which is located in the always lively Plaza Mayor. So if you find yourself strolling through this emblematic Segovian square, I encourage you to stop by this old place and try the most famous sweet of the city.
Practical information
Where: the Confitería el Alcázar is located at Plaza Mayor number 13.
Opening hours: every day from 10:00 to 19:00 h.
Price: from 3 ¤ to 9 ¤ approximately per person.
.
7. Enter the impressive Cathedral of Segovia
10 Things to Do in Segovia in Summer or during the cold winter, dedicating a part of your time to visit the Segovia Cathedral Opening Hours is an almost obligatory visit. In addition, during this time of year you will have the advantage that the tourist influx is much lower than in other seasons, so you will have the opportunity to know this spectacular temple in a much quieter and more pleasant way.
The Cathedral of Segovia is a late Gothic style building, whose construction took place between the sixteenth and eighteenth centuries. Composed of three large naves, this religious temple is especially striking for its high tower of up to 88 meters high, as well as for its beautiful stained glass windows that let the light pass through creating a spectacle worth admiring. So, if you travel to this charming city, be sure to pay a visit to this magnificent monument, which has been called the Lady of Cathedrals.
8. Pay a visit to the imposing Alcazar of Segovia
For the following plan, I am going to propose you to take advantage of the low tourist influx to visit quietly one of the must-sees of this city, Alcazar Tickets in Segovia: how to buy, prices and discounts. At this time of the year, you can enjoy this impressive medieval castle without the crowds of tourists, making it a much more pleasant visit. In addition, inside you can take shelter from the cold for a while.
The Alcazar of Segovia is a magnificent fortress that has been recognized as a World Heritage Site by Unesco and whose visit will not fail to surprise you from the moment you cross the drawbridge, which looks like something out of a movie scene. Inside, you can marvel at the numerous rooms and halls decorated with Christian and Mudejar elements.
If you are lucky enough that Segovia is snowed in during your trip, you will be able to contemplate one of the most beautiful images you can imagine, as the landscape that is created when the Alcazar, which stands guarding the city on a rock formation, is covered in white by snow, is a truly spectacular image.
9. Take a tour of the most emblematic churches of Segovia
Winter in Segovia is cold, so if you decide to make your trip during this season it would be best to alternate outdoor walks with visits to museums and monuments that will protect you from the low temperatures. With this in mind, the next plan I am going to propose is that you take a tour of the most important churches in Segovia.
The first and one of the most important in the city, is the Church of San Miguel, a Gothic style temple with an important history that is located next to the Plaza Mayor of Segovia. The church that we can see today is a reconstruction of the temple where Queen Isabella I of Castile was proclaimed Queen, which suffered a collapse in the sixteenth century. Another place to visit on this tour is the unique Church of the Vera Cruz, a Romanesque style building that stands out mainly for its original dodecagonal floor plan.
Two temples that are also worth a visit are the Church of San Martin, a medieval building that is located in the busy Calle Real and is known for being one of the most emblematic monuments of Segovia, and the Church of San Esteban, in Romanesque style and noted for its high bell tower, which rises up to 56 meters high.
10. Visit a museum dedicated to the famous poet Antonio Machado
To continue with the visits to interior spaces where the cold can not reach you, I encourage you to go to visit the House Museum Antonio Machado, located in the Calle de los Desamparados. This house was, as its name suggests, the residence of this admired poet for more than 10 years and in it you can see the modest room of the writer, which remains intact and decorated with photographs of the author and portraits signed by artists such as Alvaro Delgado or Pablo Picasso.
Antonio Machado resided in this small guest house while he held a chair in the high school of Segovia. One of the peculiarities that make this museum so interesting to visit is that the house maintains the atmosphere of the time, giving the impression that the author himself still resides there. In addition, it contains his drawings, letters he wrote to his beloved and even a library filled with all his works both in Spanish and in other languages.
Practical information
Where: the Antonio Machado House Museum is located at Calle de los Desamparados number 5.
Opening hours: from Sunday to Tuesday from 11:00 to 14:00 h and from Wednesday to Saturday from 11:00 to 14:00 h and from 16:00 to 18:00 h.
Price: the entrance to this museum is available from 3 ¤.
The weather in Segovia during the winter
The climate in Segovia is partly determined by its altitude, which reaches up to 1000 meters and being located to the north of the Sierra de Guadarrama, which sometimes causes the cold mountain winds to reach the city. Because of this, during the winter in Segovia there are usually low temperatures, often below 0ºC.
Between the months of December to March, the maximum temperatures usually reach an average of about 10ºC, while the minimum temperatures are between -2ºC and 3ºC, so winters in this city are usually quite cold. As for precipitation, it can occur from time to time at this time of year, however, it is not uncommon to encounter snowy days during the winter months.
Segovia's winter tourist flow and prices
Despite the fact that this city is not lacking in charm and dreamy landscapes during the winter season, due to its low temperatures, this becomes the lowest season of tourist affluence in Segovia. Especially during November, January, February and March, as these are the coldest months. In December, the influx is somewhat higher, although not too much, due to the fantastic Christmas atmosphere that is breathed in the city and that combines wonderfully with the snowy landscapes that can be found there.
As for prices, being the season of lower tourist influx, they are also lower than at other times of the year, so you can find very cheap accommodation if you decide to make a visit to Segovia during this season. During the month of December, prices may go up a bit and there may be fewer accommodations available, however, it is also possible to find accommodation at a fair price as long as you book in advance.