10 Things to Do in Granada in August
Granada is a magical city with an incredible Nasrid tradition: Discover its cuisine, its world heritage monuments and enjoy the music in the cradle of Flamenco.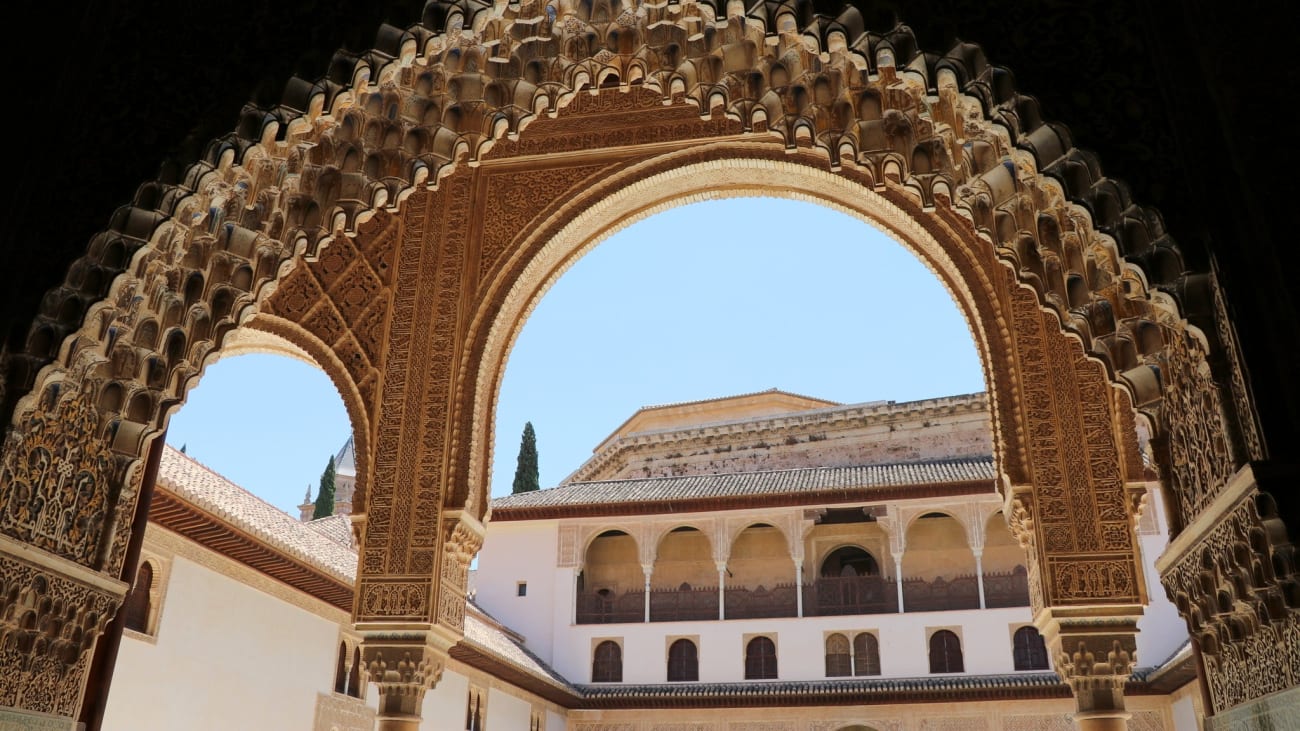 Granada is one of the most beautiful cities in Spain and has a lot to see and do. If you want to visit in summer, August is a great choice. The weather is better than in July, but the tourist industry maintains all the offers of the high summer season.
This city of 230,000 inhabitants is made up of a central area full of tourist attractions that you can easily reach on foot. If you prefer, public transportation is also very accessible and practical, but in no case it will take you too long to visit any part of the city.
Whether you prefer Granada's nightlife, bars and music, or you are more into cultural activities and visiting world heritage monuments or just going out for tapas, Granada has something for you. You can even take a bath and massage in an authentic Arab bath at the foot of the Alhambra!
1. Discover the leisure offer of Granada in August with a free tour
Free tours are one of the best ways to get to know a city. These guides do not have a fixed price, but at the end of the tour, the participants pay the guide the amount they consider appropriate according to their satisfaction.
You may wonder if during the month of August some services will be closed for vacations or if there are summer events that are not usually available. These tours are a fantastic way to get to know Granada's entertainment offer in August, its best bars and restaurants, a general explanation on how to get around the city and give you the keys to the main historical monuments.
The free tours usually last between 1 and 2 hours, and are affordable for all budgets. When you're done, you'll know everything you need to know to enjoy Granada in August.
You can also pay for one of the best guided tours offered by Hellotickets, which include entrance and priority access to the city's monuments.
2. Enjoy tapas at night in the bars of Granada in August
Granada is famous for its cuisine, and you can't leave the city without trying its famous tapas. Luckily for you, its large tourism industry means that Granada is full of bars and restaurants with prices to suit all budgets, and during the month of August they are more than ready to welcome visitors. Those who decide to visit Granada in August will discover that, although there is the option of sheltering from the heat in the bars during the day, tapas are also common on summer nights. Granada is the perfect city to turn an August night into a gastronomic experience.
Granada's tapas are so famous that it has even been proposed that establishments charge for them to recognize their value, but for the moment they are still free. So, if you order two drinks, their accompaniment can serve as dinner.
I recommend that you visit several bars in the city center and if you like tapas, give a chance to rations such as beans with ham or eggplants with honey.
3. Visit the Alhambra
The Alhambra is a monument that you cannot miss, no matter how many days you plan to spend in Granada. If you don't know it, you must take something into account, the Alhambra is a monumental complex built on an Andalusian palatine city and its visit can last about three hours. I leave here an article for you to find out how to get tickets to the Alhambra.
This monumental complex that was named Cultural Heritage of Humanity by UNESCO has some areas of free access such as the Museum of Fine Arts, the Alhambra or the Palace of Charles V. If you want to access the Generalife, the Bath of the Mosque, the Alcazaba, the Nasrid palaces and the gardens you must buy tickets.
We recommend that you buy tickets as soon as possible, as they are usually sold out well in advance. The price varies depending on the facilities you want to access and the time of day. If you plan to visit Granada in August you are in luck, because the Alhambra also offers night visits to escape the summer heat.
If you have time and you are interested in the Andalusian history of Granada, the Patronato de la Alhambra y el Generalife regularly organizes activities, special days and guided tours for you to learn all the secrets of this jewel of the city of Granada. Check their cultural agenda so you don't miss anything.
4. Night and dramatized visit to the cemetery of Granada
Granada's nightlife offers fun for all tastes, you have a varied offer to see and do in Granada at night. If you like to go out to bars or discos, you will not get bored, but there is much more. Cemetery tourism has been booming for a few years now, and the August nights in Granada create the perfect atmosphere to visit the second oldest cemetery in Spain.
Groups offering dramatized tours will make your tour of Granada's necropolis fun, entertaining and educational: Not only will you live a theatrical experience in the open air, but you will also see the remains of an ancient Hispano-Muslim palace and other areas of historical interest.
5. Astronomy nights at the Science Park
The first interactive museum in Andalusia is a great attraction in Granada, especially if you plan to visit this wonderful city with your family. Because traveling with children to Granada is a great idea.
The Science Park offers discounts to children under 18 years old, over 65 years old and visitors with the youth card. It is accessible for people with disabilities and is open almost every day.
The Science Park includes a scientific museum, a biodome that serves as a window to the diversity of life on earth with recreations of natural habitats and an observatory that will drive the little ones crazy. In the museum you will find exhibits on topics such as space exploration, robots and dinosaurs.
In addition, throughout the summer you can enjoy its astronomy nights, also available in August. On crescent moon nights, the observatory opens its doors and guides visitors through the observation of the night sky with telescopes.
If during your stay in August in Granada you decide to visit the Parque de las Ciencias, you can reach it by bus or metro, and it is only a 15-year walk from the historic center of the city.
I show you in this post how to get tickets, opening hours and what to see at the Science Museum.
6. Enjoy the August activities at the Federíco García Lorca House-Museum
Also known as Huerta de San Vicente, it offers you the opportunity to visit the same house where the city's most famous playwright spent his summers and wrote some of the most emblematic plays of Spanish theater.
This is a must-see not only for lovers of the Andalusian writer and theater, but for anyone who wants to know what it was like to live in Andalusia in the early twentieth century. The house museum maintains the furniture and structure of the time. You can also see photos of the family and even a drawing of the writer's friend Salvador Dalí.
Of special interest to tourists visiting Granada in August are the cultural activities that the Huerta de San Vicente organizes throughout the summer months. In August you can enjoy** movie nights, concerts, exhibitions or recitals** according to the program that you can consult on their website.
This institution has a museum vocation and has its own souvenir store. The house museum is located just 10 minutes from the center of Granada on foot.
7. Enjoy the summer activities "Cultura al Fresquito" in the Sacromonte neighborhood
Granada is full of unique neighborhoods where you could lose yourself for days, and one of the most special is Sacromonte. Famous for its relationship with gypsies and flamenco, this neighborhood has gone from being a place to avoid because of its bad reputation, to become one of the emblems of the city and a must-see for any tourist.
This suburb of narrow streets and caves has not very well known jewels such as the Sacromonte Abbey that you will find in the highest part. It is also advisable to visit the museum Cuevas de Sacromonte, opposite the Alhambra, to learn about the history and why the racial character of this special corner of the city of Granada.
If you visit this neighborhood in August, you have the opportunity to enjoy the "Cultura al Fresquito" activities organized by the Sacromonte Caves Museum. Depending on the program you can enjoy flamenco festivals, night tours or open-air cinema.
And if you want to know why Sacromonte is known as the cradle of flamenco, read the following recommendation.
8. Dinner with show in Sacromonte neighborhood
When you walk through the narrow streets and steep slopes of Sacromontes, you will see that many cave-houses and other establishments organize and advertise zambras. A zambra is a flamenco singing and dancing show that is part of the character of this neighborhood and city.
Flamenco is famous all over the world, so don't be surprised if you come across crowds of tourists trying to enjoy one of these shows. Some establishments, such as María la Canastera or the Cueva de La Rocío are especially famous and have a good reputation. Others may be cheaper, but of poorer quality.
One option that is not available all year round, but only during some summer months depending on the establishment, is dinner with a show. So if you visit Sacromonte in August you have the opportunity to taste typical dishes of the area with singing and dancing.
9. Book a hammam or arabic bath in advance and save money
It is impossible to ignore the trace of Arab culture in Granada, and one of its most interesting contributions for anyone who wants to visit Granada in August are the Arab baths. You can enjoy **steam treatments, showers, baths and **massages.
If you plan your getaway to Granada in advance you can save on your hammam, as some of the best Arab baths in Granada often offer discounts for August if you book your ticket well in advance.
But a hammam in Granada is not just any place. Some of the most famous ones are located in centuries-old historic buildings, preserved and reconstructed, and right in the same place where once there was an original hammam.
Having an Arab bath, for example at the foot of the Alhambra, is a historical experience that goes beyond what a conventional treatment in any other city can offer.
10. Refresh yourself in an Arab tea shop
Its Moorish history and tradition mean that the city of Granada is dotted with teahouses, especially in the Albaicín and Sacromonte neighborhoods. You may ask yourself, why visit a tea shop in summer, isn't tea a drink to warm you up in winter? But that is not what the Nasrid wisdom says.
In addition to speaking of its regenerative properties, tradition states that tea is the perfect drink for places with high temperatures, as some of the world's most tea-consuming countries tend to be. Therefore, you won't find a better setting than the summer of August in Granada to soak up the Nasrid tradition in an Arab tea shop.
These establishments not only offer this Arab delicacy, they are also lined with decorations, curtains and lanterns that will transport you to an exotic environment typical of Marrakech. Each tea shop is different, some have specialized in nightlife, while others also have the famous shishas or hookahs.
The favorite street for tea shop enthusiasts is Caldereria Nueva, where you will also find Arab pastry shops and craft stores.
Temperatures in Granada in August
August is a warm month to visit Granada, although less than July, so it is not a bad choice for the summer. It does not usually rain and there are many hours of sunshine.
Be prepared for average temperatures above 25 degrees and over 30 degrees at some times of the day.
Luckily, many of the activities and tours I have recommended are available at night, when the heat subsides and the sun is no longer a problem. Be sure to bring water, otherwise, the city of Granada and its tourist offerings are perfectly prepared for you to enjoy them during the month of August.