Civitavecchia Port Transfers in Rome
If you arrive at the port of Rome aboard a cruise ship, here's how to get to the city quickly to make the most of your day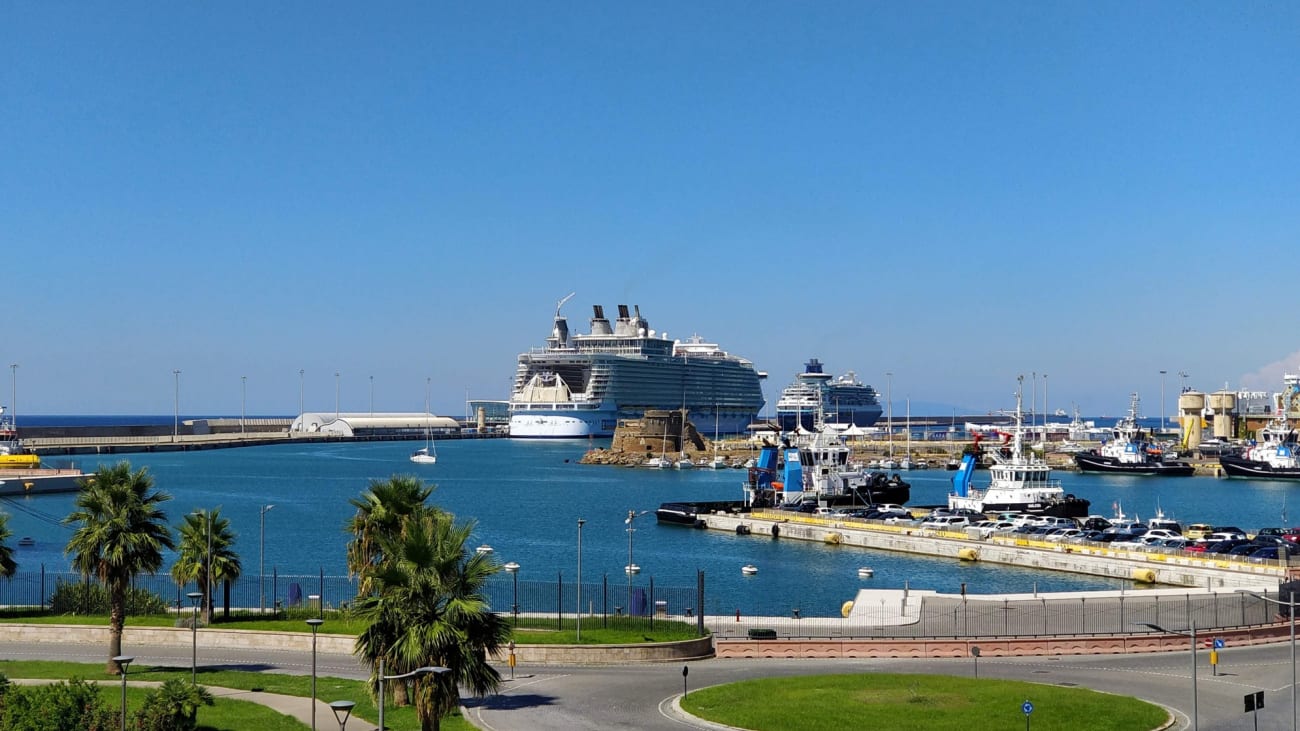 The most common way to get to Rome is by plane, but if you have chosen to reach Rome by crossing the Mediterranean on a ship, do not worry because you will soon arrive in the Eternal City. The nearest port is in Civitavecchia, 50 miles from the capital of Italy.
Whether you are tired after a long boat trip and don't feel like running around looking for a free cab in such a crowded port, or don't want to deal with public transport while carrying suitcases, the most comfortable and fastest way to get to the center of Rome is to book a shared or private transfer. I'll tell you how!
The best option
Hiring a shared transfer is a great option: as soon as you disembark in Rome, you can get into the minivan that will be waiting for you to accompany you to your hotel in Rome. It's that easy. You will share the ride with some other tourists who have the same schedule as you, so you will make some stops along the way to drop them off at their hotels, but the cost is quite cheap compared to what it costs to book this trip just for you and your group.
In addition to its good value for money, I would highlight this shared transfer for the quality of its service. You will travel in a comfortable and modern minivan fully equipped with air conditioning and Wi-Fi. Another reason why I recommend you to book a shared transfer is that you make sure that you pay a fixed amount in advance and that the final fare does not depend on traffic.
This shared transfer is also available to return to the port of Civitavecchia from Rome. Something you will appreciate when after an intense and wonderful visit to the Eternal City you do not want to have to worry about looking for transportation at the last minute, nor to calculate the time to make the most of the visit to Rome without being late for the ship. The driver knows the best routes!
I like it because... it is the most recommended option if you want to travel comfortably but for budget reasons you do not want to use the private transfer or waste precious time transferring on public transport while carrying suitcases.
Recommended if... you want to enjoy all the comforts of a private transport without having to carry the full cost, since on board the minivan will be other tourists and that allows the price to be tighter.
---
The premium option
In short, this option is the same as the previous one, but in this case you will not have to share the trip with anyone but your own group and you will not have to make intermediate stops to drop off anyone else at their hotels. On the day of your arrival in Civitavecchia the driver of your private transfer to Rome will be waiting for you at the port and will be holding a sign with your name on it so that you can easily identify him in the crowd.
Afterward, the driver will help you get settled inside the vehicle and store your luggage inside. You will then enjoy a professional service during the ride, while you relax and enjoy the scenery or even take a snooze.
I like it because... is the most comfortable and fastest way to reach the center of Rome after disembarking in Civitavecchia. You will enjoy a pleasant ride in a luxury vehicle with a professional driver who knows the route between the port and Rome perfectly. In addition, you ensure that you pay a fixed amount in advance and that the fare does not depend on the traffic on your arrival in Rome.
Recommended if... you are looking for the fastest, most comfortable and exclusive option and you don't mind paying a bit more. It is very similar to a cab service but with more personalized attention, a fixed fare (no surprises) and greater on-board comforts.
---
Frequently asked questions about the transfer service between the port of Civitavecchia and Rome
How much luggage can I carry?
Each traveler is allowed a maximum of 1 suitcase and 1 carry-on bag (oversized luggage may have certain restrictions). I recommend you send an email to make sure there is no space problem.
How long is the transfer?
The duration of the transfer is approximately 1 hour, depending on the time of day and traffic conditions.
Is it accessible for people with reduced mobility?
Unlike the shared transfer, the private transfer is wheelchair accessible and pets are allowed.
Can infants or small children travel?
Seats or child seats are available. Both transfers are stroller friendly.
How many people can fit on board?
The shared transfer has a maximum capacity of 7 passengers while the private transfer has a capacity of 8 passengers.
How to book a private or shared transfer?
It's very simple, I'll walk you through it step by step:
Book your seat online. To do this select the date and number of travelers.
At the time of booking you must provide the required information (either hotel address and name, pick-up time, ship name, docking time, disembarkation time and re-embarkation time) and you may add any comments for the service provider regarding the use of wheelchairs, baby carriages, child seats or assistance animals. (In case you do not provide a specific time for the transfer, reference is made to the disembarkation time).
Receive the booking confirmation: upon confirmation of your booking you will receive a "voucher" indicating where and how the driver will pick you up at the port of Civitavecchia or in Rome. You will be provided with the contact details of the company that will pick you up in case of any inconvenience.
When your ship arrives at the port of Civitavecchia your transfer driver will be waiting for you there.
You will board the shared transfer with the rest of the passengers (there are 7 seats) or the private transfer (maximum 8 seats but only for you and your companions) to Rome.
Isabel's Traveler Tip

If you are traveling with more luggage or with bulky luggage you should inform when booking as it may incur additional fees.
Differences between private vs. shared transfers
If you are traveling in a large group (maximum 8 people) maybe it will be cheaper than a shared transfer because you will pay the cost of the trip between all of you.
The driver of the private transfer will be only at your disposal and will be waiting for you at the pier with a sign with your name on it so you can distinguish him in the crowd.
With a private transfer from the port of Civitavecchia to Rome it will take less time to get to your hotel since the vehicle in which you travel will be exclusively for you and will not make stops to drop off other travelers at their hotel.
If you are carrying large luggage you will have more facilities and comfort for you in a private transfer, as you will not have to share the trunk space with other passengers.
Other ways to move between Civitavecchia and Rome: the train
It is the most economical option but also the one I recommend the least because once you disembark at the pier you will have to take a cab or carry your suitcases to the train station, check at the ticket offices if there are tickets available for the schedule you want and make a travel of more than an hour to the train station in Rome (usually Termini, the most important and busiest of the Italian capital).
In addition, when you arrive at Termini you will have to look for another means of transport to take you to your hotel and that could involve several tiring transfers by metro or bus when you could save a lot of time and effort if you hire a chauffeured transfer that will take you quickly and directly from the port of Civitavecchi to your hotel in Rome without having to go around so many times.
What are you going to see and do when you are in Rome?
After finalizing the trip planning by booking the ship tickets and the private or shared transfer to the Eternal City it is time for you to organize the visits to its main tourist attractions.
Rome is one of the most beautiful European cities with an incredible historical and cultural heritage. If you do not know where to start your visit I recommend you to take a look at the article The best things to see and do in Rome.
You will immediately see that Rome is like a big open-air museum. The best way to get to know the city in detail is with a guided tour. As the offer can be overwhelming, in the article The best tours of Rome you will find the most outstanding and interesting ones so you can enjoy the Italian capital to the fullest.
During your getaway you will have the opportunity to visit in person the Vatican Museums, one of the most visited museums in the world. Below you will find everything you need to know to get the tickets to the Vatican Museums in this article.
Frequently asked questions
How far is Civitavecchia Port from Rome?

The distance between Civitavecchia and Rome's city centre is 80km (50mi), with both bus and train journeys taking between 40 - 80 minutes (express train vs local).

What's the cheapest method to get to Rome from Civitavecchia?

The cheapest method, if your visiting Rome solo, is to take a taxi to Civitavecchia train station (€9-€15), then take the train to Rome (€10), totaling at €25.

Is the port far from Civitavecchia train station?

The port is at most a 30 minute walk from the train station, so if you're carrying luggage, you'll want to consider getting a quick taxi ride (at around €9 to €15) to get to the train station.