Best Things To Do in Munich
Gastronomy, history, contrasts and a lot of life. Munich is the perfect city for a weekend getaway - take note of its must-sees!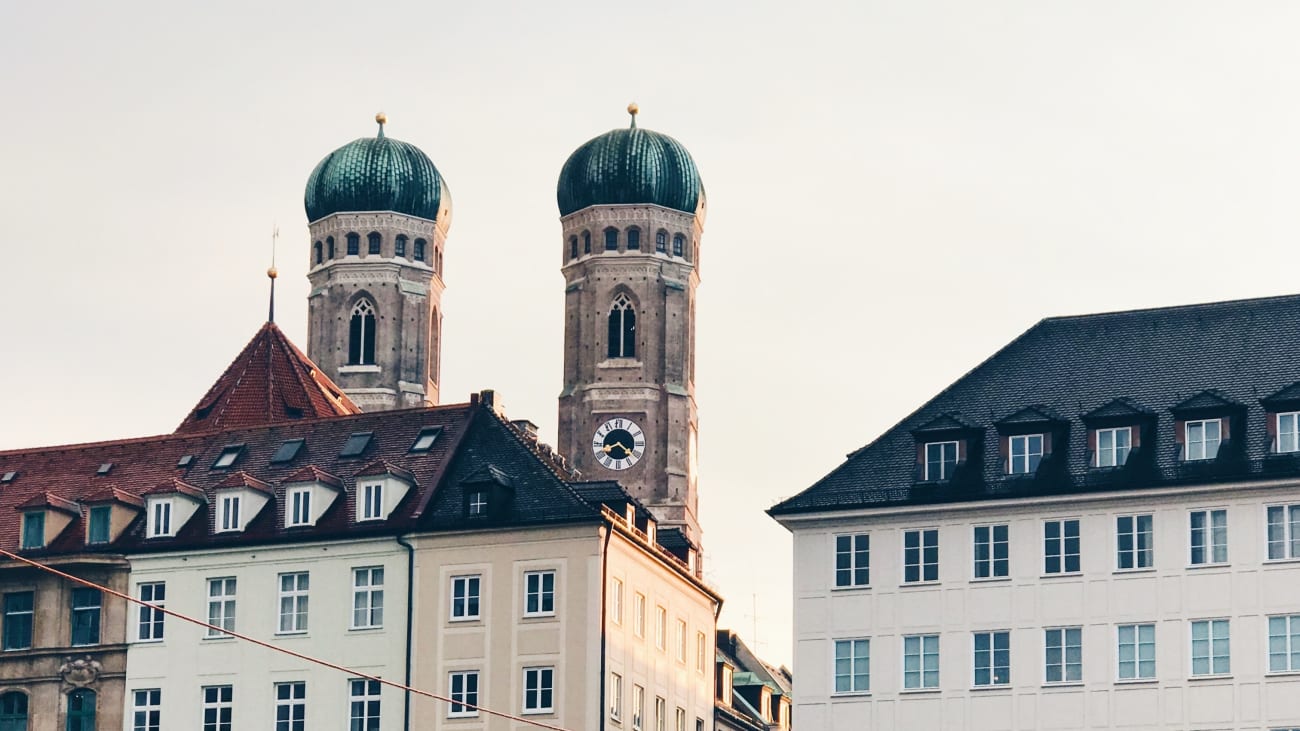 Munich is the most important city in the German area of Bavaria and both it and its surroundings have a lot to offer to the traveler. The more you walk around Munich, the more sights you will discover, but if you are short on time and have to choose, here is what you can't miss:
1. Choose a guided tour of the most relevant places in the city
From my point of view, this is a must-do activity, as few experiences will give you a more complete view of the place you are visiting. Guided tours of Munich are walking tours (although bicycle tours are also very popular) led by an expert guide who shows you the main points of interest of the city while telling you about its history.
Guided tours have always existed, but before they were something reserved for "wealthy" travelers while now there is a wide variety of routes and prices. What you will learn during these tours has little or nothing to do with the fact-filled version that appears in history books; it is a much closer point of view that combines history, legends and local customs.
Itinerary
The route of each tour is different, but most of them cover the main points of interest of the city which are:
Marienplatz
Odeonplatz
St Peter's Church
House of Art (Haus der Kunst)
National Socialist Victims' Square
Viktualienmarkt
Other tours
The city of Munich has a lot of history and many places to visit, but also its surroundings are worth a visit. In any case, with a guided tour you can get to know Munich and its surroundings without having to worry about transportation logistics, schedules, etc. Here is a list of the ones that were the best for me: Best Tours and Day Trips from Munich.
2. Visit the city from the tourist bus
If you're short on time and want to make sure you don't miss a corner of the city, buying a pass for the Munich sightseeing bus is the most practical option. A bus with panoramic views and audio commentary will take you around the main sights of the city quickly and without long walks.
You can use this service in two ways: by taking the full route to see the city or by making use of the free stops option to move between the main monuments saving time and effort. You have at your disposal a pass for one or more days and paying a fixed amount you can use the tourist bus as many times as you want. In this article I tell you a little more: Munich Hop on Hop off Bus Tours.
Places you will see during the trip
Art District (Kunstareal)
Odeonsplatz
English Garden
Deutsches Museum
Marienplatz
Stachus Passagen
Allianz Arena
Munich Academy of Fine Arts
3. Take a historical tour of the Dachau Concentration Camp
The history of Germany is inevitably linked to the Nazi regime. The concentration camps established by Adolf Hitler throughout Europe are famous all over the world; today many of them function as memorial museums that are there to remember the horror of this stage of history and to perpetuate the memory of the victims. During your trip, you can book a guided tour of the Dachau concentration camp from Munich.
The town of Dachau is located about 13 km from Munich and can be reached by train or car. There are different organized tours that include transportation to and from Munich and the services of a guide in English and Spanish during the entire visit. Although you can also visit the camp on your own, I recommend the latter option.
In the Dachau camp you will see places like the monument to the unknown soldier, the count square, the SS training buildings, the barracks or the crematorium. Admission to the former concentration camp is free and the visit is not recommended for children under 14 years old. You can read more about my experience in my article about: Guide to Visiting Dachau Concentration Camp.
4. Visit the Neuschwanstein Castle
Germany is not only a region of big cities, but also of beautiful mountains and breathtaking landscapes. If you take a trip to see Neuschwanstein Castle, one of the best castles you can visit from Munich, you will see this firsthand.
Along with Linderhof Castle (there are also tours to visit both), Neuschwanstein Castle is the most popular castle in Germany and, although you may not know it, one of the most famous in the world. The person responsible for the latter was Walt Disney, who was inspired by it to design Sleeping Beauty's castle.
The visit to the castle of the so-called "Mad King" (if you hire a guided tour they will tell you the whole story) is worth it in itself, but do not forget to enjoy the surrounding landscape crowned by the breathtaking Bavarian mountains. If you are looking for a contrast to the cityscape of Munich during your visit, this tour is the best option to complete your trip. To organize your trip with all the details you need to know, I leave you here my article on How to Visit Neuschwanstein Castle.
5. Discover Salzburg
The city of Munich has many sites to visit and an unquestionable historical and cultural value, but another advantage is its geographical position. From Munich, either by private transport or by train, you can easily and quickly reach many European cities and one of the most popular among travelers is Salzburg.
You can get to Salzburg from Munich on an organized tour or on your own, but if you are short on time and want an expert guide to guide you on your visit I recommend the first option.
The Austrian city of Salzburg is located two hours from Munich and has places to visit such as its famous cathedral, the Mirabell palace and gardens or Mozart's birthplace. If you have seen the movie "The Sound of Music" you may well be familiar with many of these places.
From Munich there are many other places to visit such as Berchtesgaden or Rothenburg. To help you choose which one fits better in your trip I leave you these two posts about The best excursions to Rothenburg from Munich andThe best excursions to Berchtesgaden from Munich.
6. Familiarize yourself with the Marienplatz now!
When you visit a city, there is always one place that sticks in your memory and another that you remember above all others as a landmark.
In Munich, both are probably the same. Marienplatz is not only the nerve center of Munich; this square is also the soul of the city and a place full of life that lends itself to return to it again and again during your stay in the city. Each time you do you will discover something new.
The emblematic Gothic-style building that crowns this square is the Munich City Hall and if you visit it as part of a guided tour you will surely be given several indications to get lost in the contemplation of its facade.
Likewise, you can not fail to observe the column of Santa Maria (XVII century) located in the center of the square or look at the clock carillon. If you visit Munich at Christmas, you will find one of the most charming Christmas markets in the country at Marienplatz.
7. Enter the Residenz or the Royal Palace in Munich
From the 16th to the 20th century, this palace has been the official residence of the Bavarian royal family. Today it has become a museum and thanks to that you can visit it during your stay in Munich and be amazed by its architecture.
What personally impressed me the most were its vaulted ceilings decorated with paintings. Walking through its corridors is like entering a different dimension where time stands still and it is a sensation that you should not miss if you visit the German city.
The Residenz is open to the public all year round until 5 pm (with the last entrance at 4 pm) in winter and until 6 pm in summer. I recommend purchasing the audio guide in your language before starting your visit.
8. Stroll through the English garden
Just one kilometer from the old town of Munich is located what for many is the best park in the city. In the English Garden you can take a pleasant stroll no matter what time of the year it is, and you can also see a Chinese tower or a Japanese tea house.
In every corner of this garden you will find small lakes, sculptures, and picnic spots if you visit the city in summer. When you want to reconcile with nature and take a break from the pace of the city, don't forget to visit this park.
9. Walk around the Viktualienmarkt
The monuments and history of Munich will certainly impress any traveler, but what about the soul of the city? Where is the best place to get a close look at the routine of its inhabitants and, ultimately, breathe the true essence of Munich? For me that place is, without a doubt, the Viktualienmarkt and if I highlight it as an essential area to visit is because I hope it is for you too.
This open-air food market is located in the old town and is open every day of the week except Sunday. All kinds of people congregate there and it's the ideal place to chat with locals. My advice is to buy that product that most catches your eye and try it quietly while you sit on one of the nearby terraces to contemplate the bustle of the area. I tell you more here: Visit the Viktualienmarkt in Munich
10. Taste German beer in mythical breweries such as the Hofbräuhaus
It would not be unreasonable to say that German beer is part of the idiosyncrasy of the country and an essential element of its gastronomy. Leaving Munich without tasting its beer is considered an affront, so it is best to choose the ideal place for this "must" before returning from your trip. That is why you have numerous gastronomic and beer tours in Munich to choose from.
In any tavern you will be served a great beer, but if you go to breweries like the Hofbräuhaus, you will also be breathing in a bit of history. This place, specifically, is today one of the most visited in the city; it had its dark period when Hitler began to give there the speeches on which he cemented the Nazi party and in World War II it was destroyed and later rebuilt.
Today, the Hofbräuhaus is one of the best places to enjoy a mug of beer and a regional dish in a typical local atmosphere. If you visit during the Oktoberfest, the experience will gain even more authenticity. Here is our post on how to get your Oktoberfest tickets in Munich.
When is it best to travel to Munich
Any time of the year is a good time to visit this incredible city. However, for the charm and the magical atmosphere that runs through its streets with the cold of winter perhaps I dare to say that it is the typical time to go.
If you are traveling with children to Munich then Christmas is a special time when this city also has a lot to offer, they will love the Christmas markets!
Another plan that may interest you to go with the kids, regardless of when you travel, is the aquarium of the city, so I leave you also our article on how to get tickets for the Sea Life Aquarium in Munich.
Finally, as a recommendation for your trip to Munich I will tell you that it will be worth a getaway of a few days to visit its main attractions. To help you in your itinerary I leave you this definitive guide with the best things to see and do in Munich for two days that we have created so you do not miss anything and your trip to Munich will be perfect.