Things to do in Munich with Kids
Munich is known for its cultural attractions, but these can not only be enjoyed by adults. Discover all there is to do in Munich with children.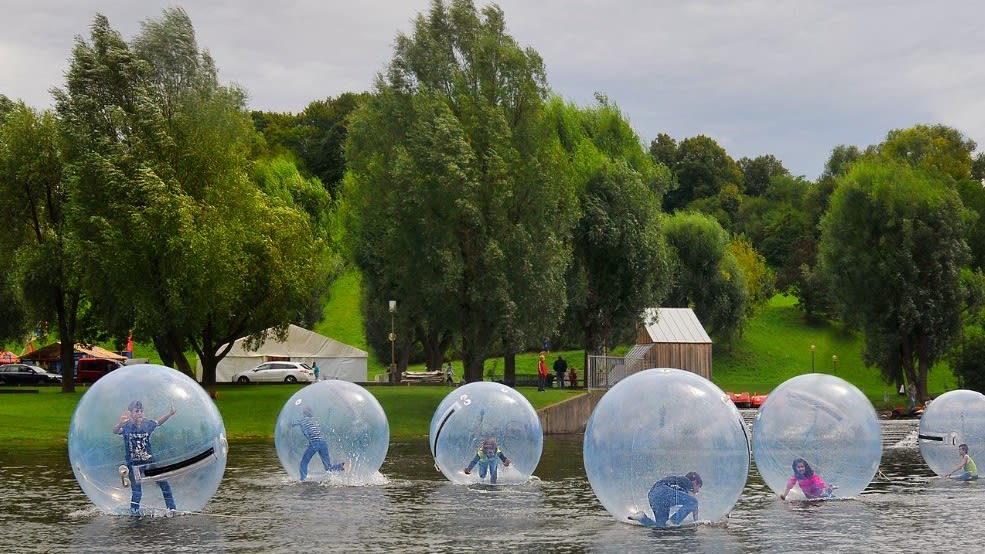 When you travel to the capital of the Bavarian state, you will realize that there is a lot to see and do in Munich. Moreover, the range of activities for children and teenagers in this city is very wide, so you can be sure that your children will not get bored during their stay in Munich.
Options such as taking a bike tour through the city, visiting an aquarium with unique species or climbing on the roof of a stadium are just some of the things that make Munich an attractive city for all members of the family. Read on to find out what you can do in Munich with children.
1. City bike tour
Walking long distances can be tedious for children, so I suggest that during your visit to Munich you consider taking a bike tour of the city. Also, if your child is very young, baby seats are available upon request.
This bike tour will take you and your children through the historic center of Munich, and will allow you to see many of the city's main attractions in a dynamic and entertaining way. During the tour, a bicycle guide will tell you about the history of Munich.
Weather permitting, the tour concludes in the English Park (the largest park in the city) with a visit to the Chinese Tower. This tower has a beer garden, where they serve delicious dishes of traditional Bavarian food, including desserts, making it the ideal option to take a break and have lunch with your little ones.
Activity details
Price: 35 euros
Duration: 3.5 hours
Schedule: tours usually start between 10 a.m. and 1 p.m.
2. Visit to Sea Life Aquarium (Olympic Park)
The Sea Life Aquarium is located in Munich's Olympic Park. It is an interesting attraction where you can find different species of tropical sharks, colorful fish, manta rays and giant turtles.
It is a very special aquarium to take your children, not only because it is one of the largest in Germany (with a tank with a capacity of 4,000,000 liters of water), but also because it has a contact pool for children. In this pool, the little ones can have a great time watching various marine species up close.
Activity details
Price: from 17€ (children under 3 years old are free).
Duration: between 1 and 2 hours
Schedule: Monday to Friday from 10 a.m. to 5 p.m., and Saturdays and Sundays from 1 a.m. to 6 p.m.
3. Visit the Munich Buyer's Stadium
Did you know that this stadium is considered one of the most beautiful in the world? If your children like soccer, a visit to the Buyer's Stadium in Munich is a must.
In this activity you can visit the inside of the Allianz Arena with a guide to learn all the details. And the best of all is that the transfer is included, so it will be more comfortable to do it with your children.
At the end you can stop by the store and buy some souvenirs of your visit. But that's not all, the price also includes a panoramic tour of the whole city. A very complete tour, isn't it?
Activity details
Price: 31 euros for children and 48 euros for adults.
Duration: 5 hours
Schedule: the activity usually starts at 10:00 a.m.
4. Guided tour of Neuschwanstein Castle
Every child is fascinated by the image of a castle with a medieval design, so during your stay in Munich, a must-see attraction is a visit to Neuschwanstein Castle, famous for having inspired Disney's Beauty and the Beast castle. The castle was left unfinished after the death of the king (1886), but even so, the magic of its facade is fascinating for children.
This guided tour also includes Linderhof Palace and, to get the most out of the tour, I recommend that you request an English-speaking guide for your visit.
Inside the palace your children will be able to observe the traditional luxuries of a European monarch's home. But this part of the tour also includes surprises such as the Hall of Mirrors, a room that as its name suggests is covered with mirrors, and the royal gardens, of great elegance, as they are inspired by those of Versailles.
Activity details
Price: from 76 euros
Duration: between 9 and 10 hours
Hours: Monday to Sunday from 8 a.m. to 7 p.m.
Starting point: Munich city center (tour includes transportation)
5. Visit to Hellabrunn Zoo
If you want your children to have an unforgettable experience during your stay in Munich, you can't miss the Hellabrunn Zoo. Located on the east bank of the Isar River (and south of the city), Hellabrunn Zoo is a zoo that brings together animals from all seven continents.
Inside Hellabrunn Zoo children can see animals such as elephants, lions, tigers, rhinoceroses, wolves, macaws, toucans, lemurs, and penguins, among many others.
There is also a contact habitat for children, where the little ones can interact with deer and goats, petting them or even giving them food.
Activity details
Price: 5 euros for children and 17 euros for adults.
Duration: between 2 and 4 hours
Hours: Monday to Sunday, 9 a.m. to 5 p.m. (may vary in winter)
How to get there: by bus number 52.
6. BMW World Tour
If your child is passionate about vehicles or futuristic technologies, a tour of the BMW World and its museum should not be missing in your itinerary.
The BMW World is a complex with two buildings where you can take a tour through more than 100 years of history of this important automotive brand. A fixed exhibition of automobiles in the museum allows visitors to learn about the past and present of the brand.
There is also an area of the museum dedicated to the brand's motorcycles. However, the favorite attraction for young and old alike is the BWM World futuristic hall, where the most intrepid automotive engineers and designers let their imaginations run wild to give us a glimpse of what the cars of tomorrow might look like.
Activity details
Price: 7 euros
Duration: between 2 and 3 hours
Hours: Monday to Saturday from 7.30 a.m. to 12.00 a.m. (on Sundays it opens at 9.00 a.m.)
7. Stroll through the Freizeitpark Märchenwald, the Fairy Park
One option that younger children will love is the Freizeitpark Märchenwald, or Fairy Park. This park is located just 20 minutes from Munich, and offers different attractions for children, such as ride-on machines, playhouses in the forest and storytelling (although only in English and German).
If your kids get hungry or thirsty after a couple of hours of play, no problem either, as within the park premises you'll find a beer garden where visitors are allowed to bring their own food and drinks.
Activity details
Price: 13 euros for adults, 12 euros for children over 85 centimeters and free for children under 85 centimeters.
Duration: between 1 and 2 hours
Hours: Monday to Sunday from 9 a.m. to 6 p.m. (although park entrance time ends at 4 p.m.)
8. Surf in the Eisbachwelle (English Garden)
At the southern end of the English Garden is one of the attractions that attracts the most attention from teenagers: the Eisbachwelle, a man-made river (a tributary of the Isar River) that has waves throughout the year. It is considered the best place for river surfing because of its stable current and central location.
Surfing on a river in the center of a city is a unique experience, and for that reason alone your children will probably want to participate in this adventure. However, if you want to take your kids to this river, there are a few things to keep in mind, such as the park authorities only allow surfers 14 years of age or older to enter the Eisbachwelle.
If you have small children, another great idea is to sit in front of the river to get wet. This is a refreshing area, especially in the summer.
Activity details
Price: free
Duration: as there is no time limit, it will depend on the parents' planning.
Hours: Wednesday to Sunday, 10 a.m. to 6 p.m.
9. Visit to the Museum of Science and Technology in Munich
Are you looking for an attraction where your children can learn while having fun? Then you should visit the Munich Museum of Science and Technology.
The museum has different interactive exhibits aimed at both adults and children, which deal with topics such as energy, aviation, computer science, etc. There are also several specimens of original machines in the museum's fixed exhibitions, including old printers, submarines, airplanes and even a lunar rover.
But the museum also has a section dedicated to children where the little ones can perform experiments, run on a giant mouse wheel, drive a spaceship, walk through an artificial coal mine and much more.
Activity details
Price: 8 euros for children and 17 euros for adults.
Duration: between 2 and 3 hours.
Hours: Monday to Sunday from 9 a.m. to 5 p.m.
How to get there: by subway line S-Bahn or on foot for 10 minutes from Marienplatz.
10. Bavarian Film Studios Tour
If your children love movies, an unforgettable experience for them will be a guided tour of the Bavarian Film Studios, one of the largest film studios in Europe.
You can discover as a family how is the process of making a film and many other surprises. If you want to get your tickets, I recommend that you buy them directly from the studio's website.
During this tour, your guide will take you and your children through different sets where movies for film and television are shot. Your kids will be able to enter a submarine, a spaceship and also meet the animatron of Falkor, the dragon from The Neverending Story. At the end, your little ones will have the chance to record a short film.
Activity details
Price: 17 euros for children and 20 euros for adults.
Duration: 1 ½ hour (90 minutes)
Hours: Monday to Sunday from 9 a.m. to 6 p.m.
How to get there: by streetcar no. 25 to Bavariafilmplatz station, which will drop you off just a few steps from the studio entrance.
When is the best time to travel to Munich with children?
Several of the most popular activities for children in Munich take place outdoors, so the weather is an important factor to consider when planning your trip to the capital of the Bavarian state.
Ideally, if you are planning to travel to Munich with children, you should choose a time of year when there is little rain. For this reason, you will get the most out of your visit if you go to Munich between June and September.
Disabled accessibility in Munich?
Munich is a city that cares about inclusion and many of its tourist attractions are accessible to people with disabilities.
However, my advice is to contact the company that organizes the activity you are interested in beforehand. This way you can find out if the attraction has the necessary infrastructure to guarantee access for people with disabilities (both children and adults).