How to Visit Neuschwanstein Castle
Whether you are a fan of Disney stories or not, this famous castle will leave you speechless. I'll tell you how to visit it and walk around inside... Let's dream!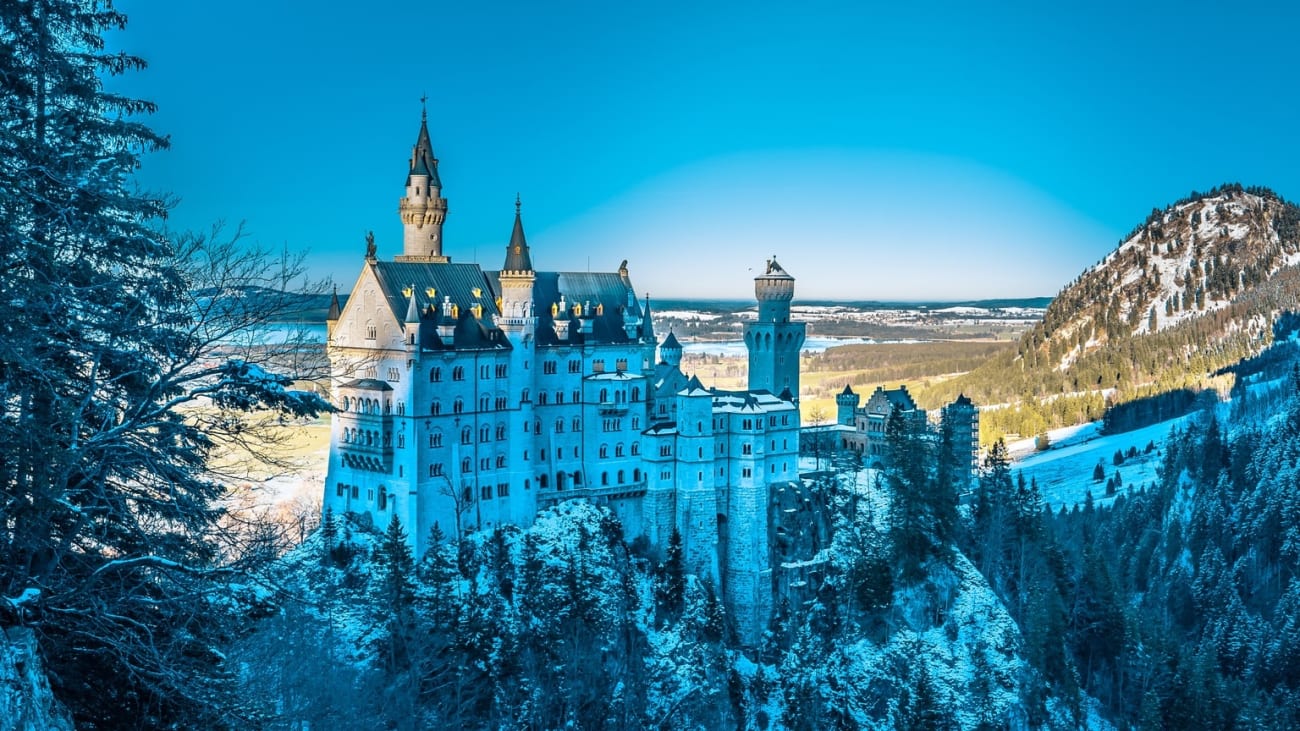 Located in the region of Bavaria and built by Ludwig II, this castle is known as the castle of "The Mad King". It is considered one of the most beautiful in the world and can be visited with a day trip from Munich. Tickets for Neuschwanstein Castle can be purchased online or at the ticket office, but the most recommended option is to join an organized tour from Munich. I tell you the best ones:
The best option
The great thing about visiting Neuschwanstein Castle with an organized tour is that you don't have to worry about transportation or waiting in line for tickets, and most of them include a personalized guide. This tour includes, in addition to Neuschwanstein Castle, Linderhof Castle, located less than an hour away from Neuschwanstein Castle. With this tour to Neuschwanstein and Linderhof you will get to know the two most important castles in Germany in one day.
The day trip to Neuschwanstein and Linderhof Castles from Munich is available in English and Spanish. This cost includes transportation by coach from Munich city center and the services of a guide for the duration of the tour. Entrance to the castles is at your own expense, but the organization of this tour guarantees that you will not have to wait in line.
Also, once you arrive at Neuschwanstein, you can choose whether you want to visit the castle on your own or with a guided tour. Although the order of the visit can change, it is usual to see Linderhof Castle first and finish the day at Neuschwanstein with enough time to have lunch, see the castle and have a look at the surroundings.
Why I like this tour: You will make much better use of your time, as you will be able to see two castles in one day, both set in the unique landscape of the Bavarian Alps. The fact that you travel by bus also allows you to enjoy the views along the way.
---
Small group
Day Trip: Neuschwanstein Castle (Small Group)
Tour Neuschwanstein Castle in small groups for a more intimate visit
If you don't like large organized groups, this option will take you to Neuschwanstein Castle in a small group. You will be able to better connect with the place and enjoy a more premium experience
Duration: 9 hours
From $ 60 at Hellotickets
If you have decided to visit Neuschwanstein Castle not only for its beauty and historical importance, but also to escape the crowds of Munich, you may prefer to do this tour with a small group. If you choose the visit to Neuschwanstein Castle for small groups you will share the day with a maximum of 14 people, allowing you to enjoy more peace and quiet and make the most of the guide.
Your day will start at the Munich train station, where you will meet your guide at the agreed time (you will receive detailed information by email upon booking) to begin the journey to Neuschwanstein. The train ride, included in the tour price, is about two and a half hours.
Once you arrive at Neuschwanstein Castle, you will have no queue access (although you must pay your own entrance fee) and your guide will give you a tour of the interior in English or Spanish depending on the language you choose when you make your reservation. After the guided tour of the castle and before returning to Munich, you will have time to walk around and enjoy the views of a beautiful lake, a gorge with a waterfall and, of course, the Bavarian mountain scenery.
Why I like this tour: The intimacy created with the guide will allow him to step away from the historical facts to tell you about lesser-known legends about Neuschwanstein Castle. You will also be able to share impressions about the customs and way of life in and around Munich, something that will greatly enrich your trip.
---
When to go to Neuschwanstein Castle
Neuschwanstein Castle is open all year round. In winter it can be quite a spectacle to see it in the snow, but only if you are one of those who can stand the cold... In high season, it is best to book tickets in advance to avoid waiting.
Schedules
Between the months of April and October, you can visit Neuschwanstein Castle from 9 am to 6 pm. The rest of the year, the entrance is delayed by one hour (10 am) and the closing is brought forward to 4 pm.
Visit the Castle with children
The visit to Neuschwanstein Castle is suitable and recommended for children, but the climb up to the castle can be hard for them as it is about 40 minutes uphill. In any case, you can also go up by bus or horse-drawn carriage. What you have to take into account is that the access to the castle with baby carriages is not allowed.
Organize the visit
If you go on an excursion or arranged visit, as soon as you arrive at Neuschwanstein Castle you can visit the interior, but if you visit it on your own you may not enter immediately after buying your ticket because, to avoid crowds, the passes are organized in slots of 10 or 15 minutes.
Free admission
Children under 17 years old enter free to the castle, for the rest the entrance fee is about 13 euros.
Where to eat
At the base of the castle you will find some fast food stalls to satisfy your hunger, but my recommendation is that you wait until after your visit to eat in one of the surrounding villages where the food will be tastier and more authentic.
The best views
Before going up to Neuschwanstein, you have to climb the Marienbrucke Bridge to contemplate it in all its immensity. From there you will find the best views of the castle. The Bavarian mountains make up the surrounding area, which is not to be underestimated either.
Ana's Traveller Tip

To access Neuschwanstein Castle, you will have to walk uphill, but you can save yourself the effort by hiring a bus ride there.
How to get to Neuschwanstein Castle on your own
Neuschwanstein Castle is located at a distance from Munich of one and a half hours by road, while by train the travel time is about two and a half hours. Many organized tours offer the trip by bus, which saves travel time, but train remains the most popular means of transportation because of the comfort it provides.
Trains depart approximately every hour from 5 am to 4 pm; it is important to note that the last train back to Munich is at 6 pm. As for the price of the round trip, it is around 23 euros.
What to see at Neuschwanstein Castle
Neuschwanstein Castle was built by King Ludwig II in the 19th century. The monarch nicknamed "The Mad King" wanted a dream castle in the mountains of Bavaria and did not let up until he got it. Years later, the castle would serve as inspiration for Walt Disney, as the famous architecture of Sleeping Beauty's castle is based on it.
In the surroundings
One of the main attractions of this enclave is its surroundings; the landscape is breathtaking and that is why I recommend you not to miss it regardless of whether you go on your own or with an organized visit. From the bridge of Marienbrucke you can contemplate extraordinary views and the surrounding villages are also very worthwhile. It is also advisable to visit Linderhof Palace, located about 50 minutes away from Neuschwanstein Castle.
Inside
As for the inside of the castle, the visit usually lasts about 40 minutes as you will see only the main rooms of the complex. What you will like most are the private rooms of Louis II, including the bedroom, the dining room, the chapel or the office. The throne room is also remarkable, as it is said that Wagner took inspiration from it to compose several of his operas.
If you are interested in visiting Neuschwanstein Castle, you will also be interested in...
The visit to Neuschwanstein Castle is one of the most popular among visitors to Munich. It is followed on the podium by another visit of a completely different term: the visit to the Dachau concentration camp.
To know this camp turned into a museum you have different tours organized from Munich, I leave them all explained here: Guide to Visiting Dachau Concentration Camp. Although it is hard, it is a highly recommended visit for those who want to know more about the historical period of the Second World War.
If you want to see other excursions that can be done from Munich, here is an article from Best Tours and Day Trips from Munich for you to have a look.
Frequently asked questions
What are the best castles near Munich?

Perhaps the best castle to visit would be Neuschwanstein Castle, the famous castle that Walt Disney styled his own Disney castles on, though you won't be able to enter the castle without a tour. Following from Neuschwanstein Castle is Burghausen Castle a fortified castle that sits right on the border with Austria, the castle's red-coned rooftoops and cylindrical towers can actually boast being the longest castle in the world. Finally there is the Hohenschwangau Castle, which actually sits opposite Neuschwanstein Castle, and is a truly charming sight, if not over shadowed by its fairytale neighbour.

How far is Neuschwanstein Castle from Munich?

Neuschwanstein Castle sits around 108 km (67 mi) south-west of Munich and takes around 110 minutes to drive there. Unfortunately, relying on public transport to reach the castle almost doubles your journey time, so you're better off joining a tour or hiring a car to visit the fairytale castle.

How far is Burghausen Castle from Munich?

Burghausen Castle is located around 90 km (56 mi) east of Munich, and takes roughly 90 minutes to reach, making it a day trip to the castle more than doable.