Maiorca Airport Transfers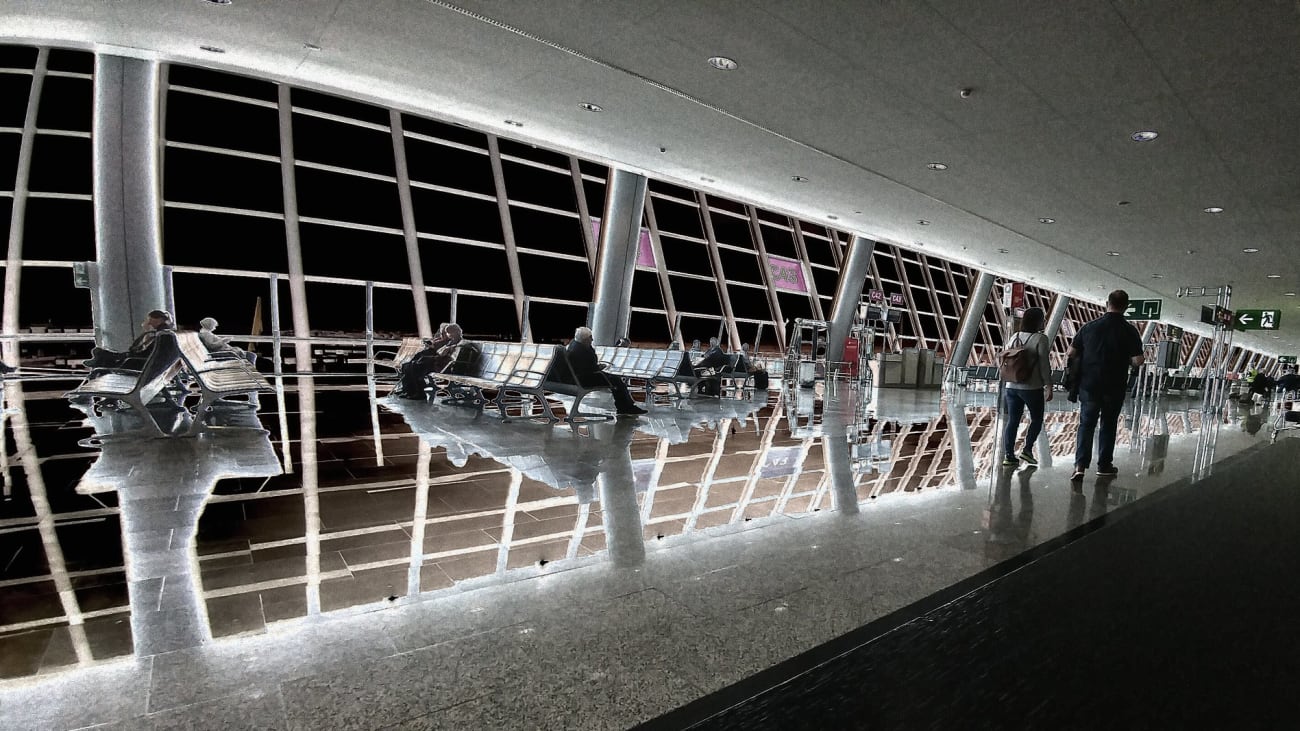 Whether it is because you are stressed the day you have to fly back home and do not want to go around carrying suitcases looking for a free cab or because you are not familiar with the public transport network of Palma de Mallorca and prefer not to make transfers to avoid getting lost, the fastest and most comfortable way to get to the airport is by private transfer.
No waiting and no stress, with the peace of mind of knowing that you will arrive on time to board the plane and that you will not pay an exorbitant price for it. I'll tell you how!
1. Private Airport Transfer: Palma de Mallorca to Palma de Mallorca Airport (PMI)
image|url=https://res.cloudinary.com/hello-tickets/image/upload/v1618994964/post_images/Maiorca-213/traslados-aeropuerto/dan-gold-kARZuSYMfrA-unsplash_Cropped.jpg|caption=Private Transfer | ©Dan Gold:::
Booking a private airport transfer from your hotel in Palma de Mallorca: is the best way to catch your flight back home without worrying about having to look for a free cab at the last minute on the day of your trip or making multiple transfers by public transport to the airport carrying suitcases, with all the stress that entails.
With this private airport transfer in Palma de Mallorca you will be picked up at your hotel by a certified professional driver, in a spacious and comfortable air-conditioned vehicle, to take you to the terminal where you will take your return flight. Moreover, the price is more than reasonable: you can get it From $ 69:.
No rush and no waiting. With the security of knowing that you will arrive on time at the airport without paying an exorbitant amount.
2. How does the Mallorca airport transfer work?
The private transfer service to Palma de Mallorca airport is available 7 days a week, 24 hours a day.
At the time of booking, depending on the number of people you are going to use this service, you will have to choose between a private transfer in a standard or premium sedan for 3 passengers, a minivan that can take up to 7 passengers or a large minibus that can take up to 12 passengers.
Then you will have to indicate the details of your flight departure and the complete address of your hotel, apartment or private address in Palma de Mallorca. Your transfer will be instantly confirmed and you will be given a voucher to present to the driver.
Once the driver picks you up at your hotel, all you have to do is get into the vehicle and settle into your seat to enjoy a smooth and quick trip. It's that simple!
How long does it take to get from the hotel to the airport?
The travel time from Palma de Mallorca to the airport is 15 minutes. Normally, it is recommended to be at the airport 2 hours before your flight departs, although 3 hours in advance is ideal.
Depending on the time of day, traffic may be more or less congested. In this regard, I advise you to calculate some additional time to determine your hotel pick-up time.
3. About luggage
On the day of the transfer, the driver will be waiting for you a maximum of 20 minutes (free of charge) at the door of your hotel or residence in Palma de Mallorca to take you to the airport on time.
Although usually the service is limited to one suitcase per passenger, being a private transport the vehicles that make this type of transfers have enough space to carry some more luggage and there will be no inconvenience as long as you specify it in the special requirements section at the moment of making the reservation.
The size of the luggage
Each declared bag or suitcase must not exceed a maximum combined size (length + width + height) of 62 inches or 158 centimeters. There is no maximum weight restriction for this transfer service.
Smaller items that fit in the passenger's foot space do not need to be declared. For example, a carry-on bag, a laptop sleeve or a shoulder bag.
Excess baggage or oversized baggage such as bicycles, surfboards or golf clubs may have certain restrictions. Therefore, I advise you to contact the operator prior to travel to confirm if your excess baggage is acceptable.
The passenger will be responsible for all costs incurred if additional vehicles are required to transport the undeclared excess baggage.
Remember that if you have special or baggage needs, you can contact the company once you have made your reservation to resolve any questions. This is a personalized service.
About the price
This private transfer to Palma de Mallorca airport has a very good quality-price ratio, $ 69, taking into account that the service is very similar to a cab but you make sure that you pay in advance a fixed amount and that the fare does not depend on the traffic in the city.
This added to a modern car with air conditioning and comfortable and spacious seats, make this option the best choice if you want to go to the airport without hassle.
How to book a transfer?
Choose the date you will need to use the service and indicate the number of people who will travel in the vehicle.
Choose the type of car** you prefer. There are several options, each with a different price.
You will be asked for the first and last name of all passengers as well as the pick-up address within the Palma city area and your flight information.
In the last field you can tell the operator if you have any special needs (accessibility, child seats, pets on board, etc.) or if you are traveling with more than one suitcase.
After payment, your reservation will be confirmed and you will receive an email with all the details of your reservation. Check that all the details are correct.
On the day of your trip the driver will be waiting for you in the lobby or outside the hotel for a maximum of 20 minutes (free of charge). In case of unexpected delays in your flight or hotel departure time you will have to contact the driver by phone. You can find the number on your voucher.
Remember that for additional requests or more information you can contact the operator's customer service team in English, German, Spanish, French, Dutch and Portuguese.
6. Advantages of choosing a private transfer
The main advantage of a private airport transfer in Palma de Mallorca over shared transfers or public transport is that you will receive personalized attention. Both the vehicle and the driver will be at your disposal and that of your companions and you will not have to share it with other travelers.

The vehicles have several seats** depending on the option you choose. There are 3, 7 and 12 seats to suit your group. If for example there are 6 of you, the most economical way is to book two separate 3-seater cars so as not to pay for the empty seat.

You will make the transfer to the airport more comfortable than if you travel by bus, subway or cab. It is a door to door service.

The driver is professional and reliable. **He will be waiting to pick you up and will also help you with your luggage.

Communication with the company 24 hours a day, 7 days a week.

It is accessible for baby strollers.

Vehicle with air conditioning (something you will appreciate if you travel in summer).

You have enough space for your luggage. If you have special luggage you must communicate it before.

Free cancellation** at least 24 hours before the date of the service.
Is pick-up at my hotel guaranteed on departure transfer?
If you want to make sure that the private transfer will pick you up at the exact location of your hotel, you must book at least 2 days in advance. With less than 2 days notice, your transfer and pick-up must be confirmed and is subject to availability.
Alternative options to private transfer
Perhaps you are traveling to the Balearic Islands with little luggage or on a tight budget and do not want to make use of the private transfer service. In that case, you have the option of public transport to the airport.
Palma de Mallorca is a city that is well connected thanks to its wide and efficient public transport network with the international airport of Son Sant Joan, the third with the highest volume of passengers in Spain after Madrid and Barcelona. I will tell you what alternatives to private transport you have at your disposal:
Bus
Bus line A1 makes a circular route that connects the center of Palma de Mallorca with the airport.
The bus departs from the Arrivals area (floor 0) and Departures (floor 2) of the airport and during its route it stops at some of the most touristic places of the city. It ends its route at Passeig Mallorca, a few minutes walk from the port of Palma de Mallorca.
The ticket price for the A1 line (airport-Palma de Mallorca) is 5 euros each way and can be purchased at the vending machine next to the airport stop or directly from the driver.
Line A1 operates every day. The Airport-Palma bus schedule is from 04:45 AM to 11:35 PM from the center of Palma de Mallorca to the airport. Conversely, the bus schedule is from 06:10 AM to 12:15 AM.
The journey time is approximately 20 minutes and the bus frequency in both directions is only 15 minutes. Next, I leave you the schedules of the A1 line in this link: so that you can print them and consult them.
Taxi
Another way to move around Palma de Mallorca are cabs. **They offer their services uninterruptedly every day.
The price of a cab to go from Palma de Mallorca to the airport ranges between 15 and 20 euros although the amount varies depending on the time of the year and the time of the day, since supplements are applied to the race.
Travel time varies depending on traffic and where you are leaving from, but expect about 15 minutes. If you want to save money and time try to hail a cab going in the same direction you are headed.
Next to private transport it is the most comfortable and fastest option to go to the airport in Mallorca but if you travel to Palma in summer it is very likely that you will have to wait a long time to find a free cab, which can be a very stressful situation that you don't want to live the day of your flight.
Uber or Cabify
It has become a very popular means of transportation and you can book it conveniently from the app. They have the advantage that you pay a fixed price and you know in advance what the trip will cost you but if there are few drivers and the demand is very high, fares skyrocket.
9. You may also be interested in...
image|url=https://res.cloudinary.com/hello-tickets/image/upload/v1618993844/post_images/Maiorca-213/traslados-aeropuerto/miquel-gelabert-bRGy5Wd5BB4-unsplash_Cropped.jpg|caption=Sail the waters of Mallorca :: ©Miquel Gelabert:::
Palma de Mallorca is one of the most loved holiday destinations by travelers from all over the world. There are countless things to see and do in the city but getting to know the spectacular landscapes of the island is one of those unmissable experiences that you have to live.
That's why I recommend including in your trip a boat cruise to explore Palma by land and sea, there are real natural treasures to discover! If you want to know more, don't miss the article Boat excursions in Mallorca:. You will have a great time!