10 Things to Do in Santorini in February
Santorini is a beautiful island that thanks to its natural beauty and multiple activities to do, you can visit it even in winter. Here are some plans for February.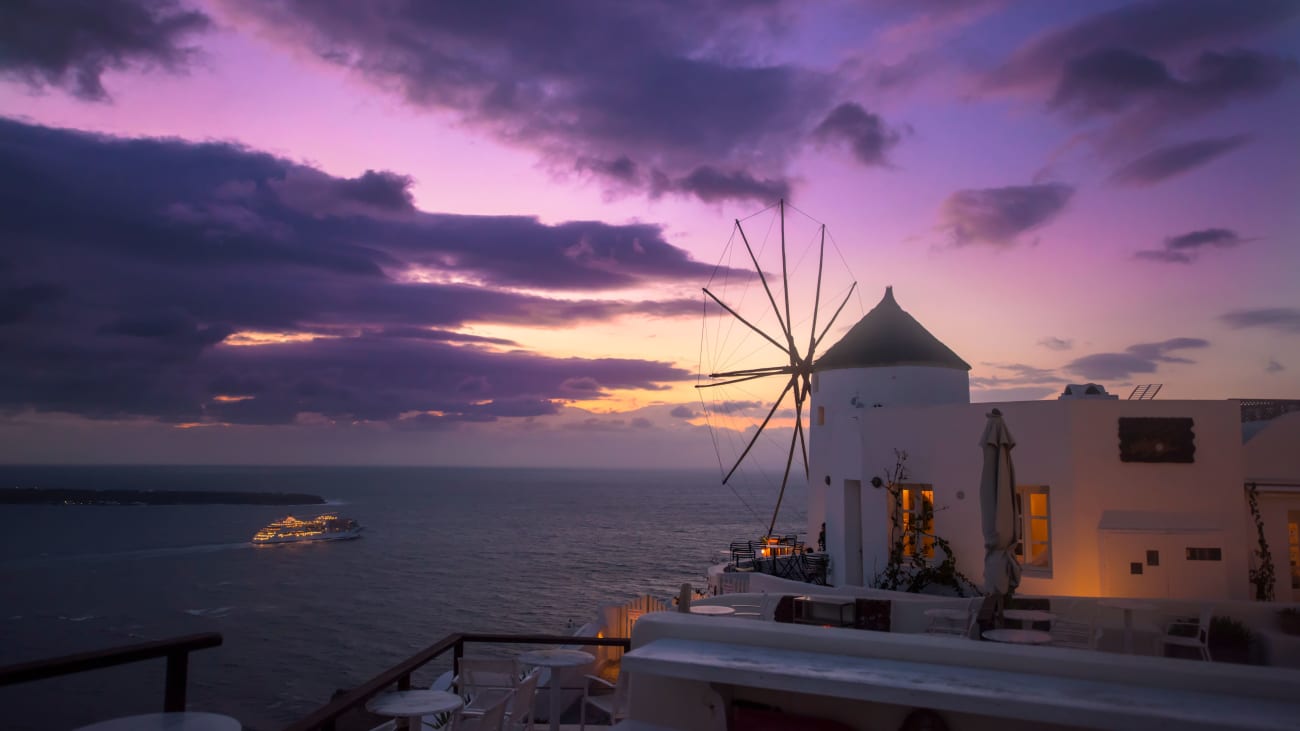 Although February is not considered the best time to visit the island due to its low temperatures, there are many things to see and do in Santorini. One of the main attractions is to visit the ancient archaeological ruins to learn about the local history and culture.
Another interesting activity in Santorini in February is to visit local wineries and vineyards, considering that the island is famous for its wine production. But in addition, during the month of February there are some seasonal festivals that you can enjoy.
1. Santorini Carnival
Undoubtedly, one of the most popular events during the month of February on the island is the carnival. As part of theCarnival celebrations, the island is filled with a festive and colorful energy with costume parades and a variety of activities, where you will even have the opportunity to enjoy local food and drinks.
The Greek Carnival begins three weeks before the start of Christian Lent and ends on the weekend before Great Monday, a Greek holiday celebrated on the Monday before Ash Wednesday, and usually occurs during the month of February. During the Greek carnival you will see parades with floats, extravagant costumes, dancing and live music.
You can also enjoy typical food and drink during these events, including wine and a variety of traditional sweets such as loukoumades, baklava, tiganites and other typical desserts. Carnival is also a good time to sign up for a tour of Santorini to learn more about the culture of this region, especially during this season.
Details of interest
Price: you don't have to pay anything to enjoy this annual spectacle.
Hours: Carnival celebrations usually take place throughout the day.
Location: the whole island gets excited with the different carnival celebrations.
2. Wine tourism and tasting of local wines
February is one of the best months of the year to get to know the wine culture in Santorini, mainly because it is a winter month, when the crowds go down and you can see and get to know the island in a different way. With this in mind, you are going to have the opportunity to explore the island's wine heritage by visiting places like the Santo Winery or the Koutsoyannopoulos Wine Museum.
Each of these places have their own particular attractions, for example, if you visit the Santo Winery in Santorini you can learn about its production of high quality wines, but you also have the opportunity to take a guided tour to learn about the long winemaking tradition of the island and taste some of the most delicious wines of Greece. If you go in summer, I recommend tasting the island's wines aboard one of the Santorini cruises.
On the other hand, a visit to the Koutsoyannopoulos Wine Museum in Santorini will be a unique opportunity for you to learn about the history of the island's viticulture and wine production, but also to enjoy an interesting atmosphere inside a volcanic cave. Part of what you'll love most about this museum is that you'll be able to learn first-hand about the history of wine in Santorini, from the Bronze Age to the present.
Details of interest
Price: doing a wine tour in Santorini can cost you around 120 euros per person.
Hours: you can usually enjoy this kind of activities from morning to afternoon.
Location: these wineries are located just a few minutes from Fira.
3. Get to know the culture and history of Santorini
Despite the challenging February weather in Santorini, during this month you will have a great opportunity to get to know the cultural features of this island. For this reason I recommend you to sign up for the different cultural activities available in the peninsular area, which will help you to explore the archaeological culture of the island and learn about it.
One of those activities that I recommend you to do during the month of February is to visit the Archaeological Museum of Santorini, where you can mainly admire pieces dating back to the Bronze Age, including pottery, sculptures and other ancient artifacts. Inside the museum you will also learn about the origins of the Cycladic civilization through the exhibits of ancient objects and tools.
Oia is another ideal place to visit in February and get to know the culture of the city, in this case through its famous white architecture and blue domes on the hill that stand out in the caldera of Santorini. The best thing about including this tour among the best things to see and do in Santorini in winter, is that the crowds drop considerably, leaving you more opportunity to get to know the whole place with more tranquility.
Details of interest
Price: to do these tours on your own you won't have to pay anything. But if you decide to do a guided tour of the village of Oia you would have to pay around 100 euros per person. And if you decide to visit the Archaeological Museum of Santorini you would have to pay around 30 euros for admission.
Opening hours: the opening hours of the museum are generally from 9:00 and 19:00.
Location: the museum is located very close to Fira.
4. Go and see the local gastronomy in Santorini
Santorini is famous not only for its stunning architecture of white and blue houses, but also for its delicious local gastronomy, which I recommend you to take the opportunity to get to know and taste during the month of February, when the most famous restaurants of the island start to reopen and become fashionable during the summer months.
In most of these restaurants you will have the opportunity to try some of the traditional dishes of Santorini, among which are the Moussaka, Souvlaki, Pastisio or Gyros. But also, you have to know that winter is a perfect time to enjoy a warm and comforting meal after exploring the island during the day, especially considering that Santorini's gastronomy stands out for its rich Mediterranean flavor.
Among the restaurants I recommend you to visit during your Santorini tour in February are: To Psaraki, Metaxi Mas, Selene and Argo, each in a different region of the island, but generally offering traditional dishes of Greek cuisine that you can't miss.
Details of interest
Price: dishes at these restaurants range in price from €15 to €30 per person. While appetizers and desserts can cost between 5 to 15 euros and drinks between 2 and 5 euros, approximately.
Hours: restaurants are usually open for lunch, afternoon snack and dinner.
Location: you can find restaurants open all over the island.
5. Take advantage of the low cost of shopping and attractions
February is a good time to visit Santorini if you are looking to save money, taking into account that it is low season on this island, which means fewer tourists and lower prices on everything related to flights, hotels, shopping and attractions. Something that, without a doubt, you have to take advantage of in your trip, so I recommend you to go and buy products in the local markets.
In this type of local markets you will be able to find different types of products, some of them fresh, as well as meats, cheeses or vegetables. Or you will even have the opportunity to buy some souvenirs to take as a souvenir of your trip. If you want to travel to Santorini during the month of February, or even if you make a trip to Santorini in January, something you can't miss are the offers on travel packages and attractions.
Details of interest
Price: prices may vary according to what you are looking for, but they generally go down during the month of February.
Schedule: the schedules of the activities you are going to do may vary according to the type of activity you expect to do.
Location: all over the island of Santorini you can find activities to do.
6. Hiking in Santorini
Much more than during the month of January, February is the perfect time to enjoy hiking in Santorini, this thanks to its cooler weather that you can experience right during this time of the year. One of the most popular options is to do the challenging eight-mile hike between Fira and Oia, which is an excellent activity if you want to experience the best of hiking on the island.
This hike, despite being a long and somewhat difficult trek, is a good introduction to the natural beauty of Santorini. It will generally take you between 2.5 and 5 hours to complete this trip, depending on your fitness level and speed. The entire route is filled with spectacular views, which will allow you to take several photos of your trip.
But in addition to this route, there are other hiking routes in Santorini that you will love to enjoy during the month of February. These include walks along the cliffs of Santorini' s caldera and hikes through the island's beautiful traditional villages. Overall, on each of these routes you will have the opportunity to see breathtaking panoramic views.
Details of interest
Price: doing the tour from Fira to Oia in a guided way can cost around 120 euros per person. If you go on your own you won't have to pay anything, but keep in mind that you will have to buy some drinks to hydrate yourself along the way.
Schedule: you can do this route from the morning to arrive in Oia at noon, or you can also start the hike at noon to arrive around 17:00.
Location: this route has an approximate distance of about 10 kilometers.
7. Tour the village of Imerovigli and admire its architecture.
Imerovigli is one of the smallest and most charming villages of Santorini. It is located on top of a cliff and part of its main attractions are its spectacular views of the caldera of Santorini and the coast. The month of February, considering that it is the month of Valentine's Day, is a good time to have a romantic getaway to this village.
Its main attraction is that it is a quiet place ideal for relaxing and disconnecting from the rest of the island's more bustling activities. Another feature that Imerovigli has is its traditional white architecture, blended with the natural environment.
You have to know that besides Oia, in this village, you can also enjoy the most beautiful sunsets of the island. In fact, if you go to Santorini in September, when it is summer, you can take a boat trip to explore the area. If you are a person who admires religion and the cultural dynamics of the places you visit, you have to know that in Imerovigli there are several interesting churches to know, each with its own history and architecture.
Details of interest
Price: to visit this town on your own, you won't have to pay anything. In case you want to make an excursion to this place, you will have to pay a little more than 100 euros per person.
Schedule: the idea of visiting this town is to do it early in the morning to get to know the place better, although if you go during the sunset, you will be able to see all the incredible places in the area.
Location: this village is located on a hill on the island of Santorini.
8. Visit to the Orthodox Metropolitan Cathedral
As temperatures in Santorini tend to be cooler and with occasional rainfall during the winter, compared to the summer months, it is a good time to go and see places that you would not visit in summer. In this case, two of the places I recommend you to visit during the month of February is to explore the religious and cultural life of Fira, the capital of the island.
Within its boundaries you can find several interesting churches and museums, among which are the Orthodox Metropolitan Cathedral and the Prehistoric Museum of Thera, the latter being most famous for exhibiting artifacts found in the nearby sites of Akrotiri.
The cathedral, meanwhile, is known for its large blue bell tower and impressive frescoes inside, which are both ancient and modern. It will also draw your attention to its architecture characteristic of Greek Orthodox churches. Although Santorini is known for its picturesque churches and chapels, the Orthodox Cathedral of the Holy Trinity, without a doubt, is among the most outstanding on the island.
Details of interest
Price: visiting the churches is priceless, you are free to go inside and admire the exterior. There are no guided tours but you will have to do it on your own.
Hours: generally you can make this tour during the morning, taking into account that the churches are usually open to the public from early hours of the morning.
Location: the church is located on the seafront of the city of Fira.
9. Visit the old Emporium
As February is still winter season, it is the best time to go and visit the village of Emporio. This is one of the most interesting places to visit in Santorini thanks to its narrow streets and white buildings with blue roofs, but also its different churches and sites to see. Besides that, Emporio offers something unique and different and that is that this village was founded during the Venetian occupation of the island.
Inside you can find one of the five castles of Santorini and an important commercial center, with its own port in Perissa. Strolling through the historic center of the village is like traveling back in time, and best of all, you can enjoy an authentic and much less touristy experience than in other villages on the island.
Details of interest
Price: you don't need to pay anything to visit this village, and in the case of the castle, you will have to visit it on the outside, because it is not possible to see it inside.
Hours: you can go at any time you want to see it.
Location: it is located in the village of Emporio on the island of Santorini.
10. Visiting Akrotiri, the Pompeii of Greece
Another amazing area to visit during the month of February is undoubtedly Akrotiri, which is known as the Pompeii of Greece. During this month you will have the advantage of getting to know the complex thanks to the fact that the weather is still cool enough to enjoy the tour, but it is also true that winter is being left behind.
If you visit Santorini in March or in any other spring or winter month, it is mandatory to go for a walk around this archaeological site because it is among the most important of the Aegean era. The complex dates back to the Bronze Age and has been compared to Pompeii because it was covered by the ashes of a volcanic eruption in the 17th century BC.
The difference between it and its Roman counterpart is that it is believed that most of its inhabitants managed to escape before the city was buried. Inside the complex you will see evidence of a thriving and advanced community, with beautiful wall decorations, complex drainage systems and even public baths.
In addition to the excavations that can be visited during a guided tour, there is an archaeological museum on site that features artifacts found in the ancient city.
Details of interest
Price: to take a guided tour of Akrotiri you will have to pay just over 120 euros per person.
Hours: generally this place is open all day long, although I recommend you to visit it during the morning hours.
Location: it is located very close to the city of Fira.