Potsdam Day Trips From Berlin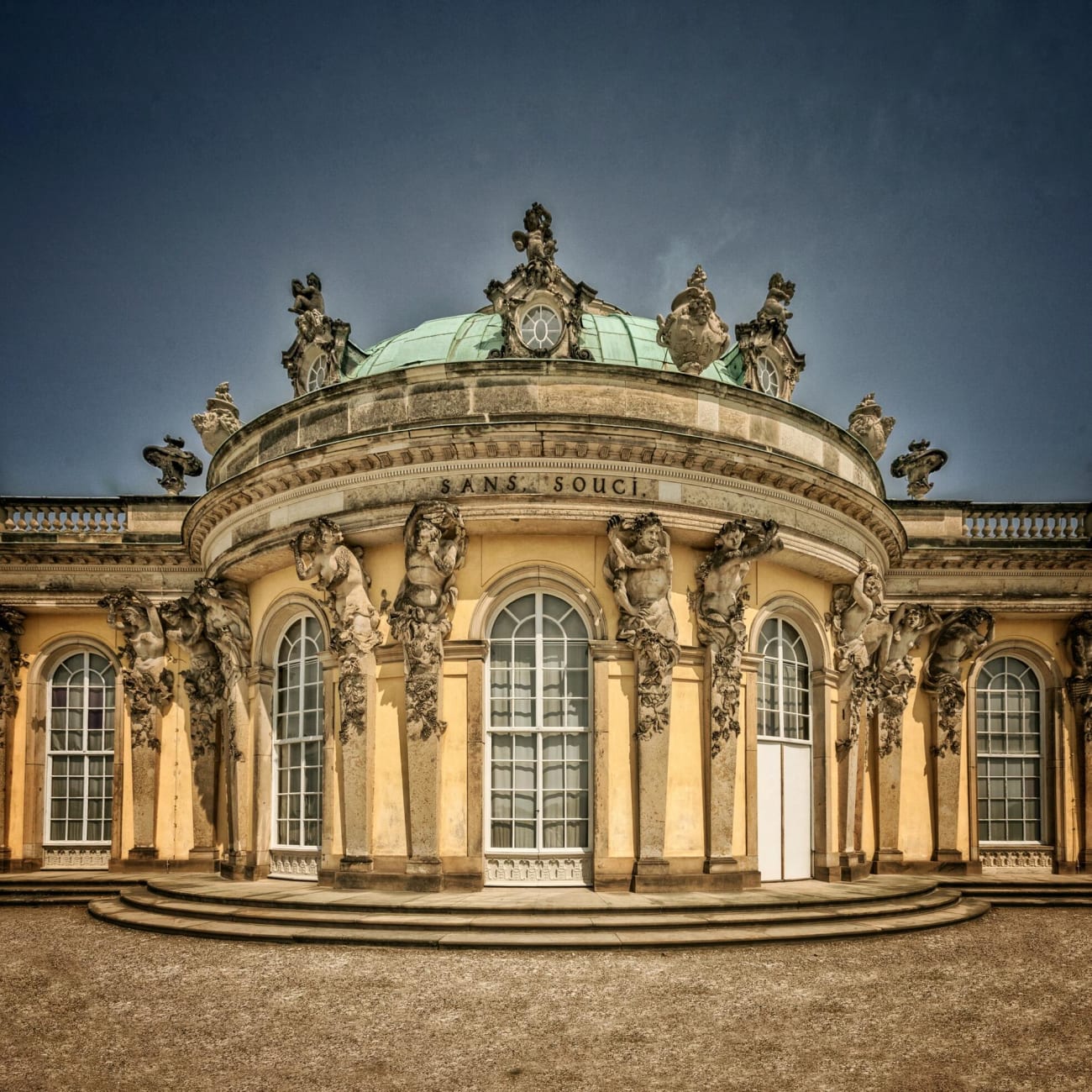 Berlin is an amazing city. Modern, creative, multicultural... always full of things to see and where every corner breathes culture and history. A different place that is easy to get caught because it is always renewed and surprises us with many novelties.
However, on the outskirts of the German capital is located a magnificent city that is worth leaving Berlin and reserve a day of your vacation to visit it. It represents the ideal combination of nature, history and art and for many years was home to Prussian royalty - I'm talking about Potsdam, one of the most beautiful cities in Europe!
1. The best excursions to Potsdam from Berlin
Potsdam is known for being the former residence of the Prussian royal family and the German kaisers, so it abounds with stately palaces and beautiful gardens.
Its baroque architecture and the role that this city played at the end of World War II (with the famous letter of the Potsdam Conference) are reasons that attract thousands of travelers every year. These are the best excursions to visit Potsdam:
Potsdam city and palace tour - Stadt und Schloesserrundfahrt Potsdam.
2. City and palace tour of Potsdam - Stadt und Schloesserrundfahrt Potsdam
This tour of Potsdam and its palaces is ideal for those travelers who visit Berlin but do not have much time in the agenda to make an excursion in the outskirts because in only 3 hours you can see the highlights of the city with a professional guide, who will tell you historical anecdotes, curiosities and will also show you details of sites that might go unnoticed if you do the visit on your own.
During the bus tour of Potsdam you will be able to use headphones so as not to miss any of the guide's explanations and you will visit on foot the New Palace (with a Renaissance air) and the majestic Sanssouci Palace (known as the German Versailles) and Cecilienhof (with a British country house look). You will also stroll through the beautiful baroque old town of Potsdam and walk in the footsteps of Frederick II "the Great".
At the end of the Potsdam tour, I recommend you to visit inside some of the palaces of the city because they are amazing. And if your excursion to Potsdam coincides with the summer months, you're in luck! Because this activity includes a ticket in tourist bus with free stops to explore the town comfortably seated with fantastic views.
What will you see?
Old Town Potsdam
Sanssouci Palace
Cecilienhof Castle
New Palace
Useful information
Duration: 3 hours
Local guide in German.
Audioguide languages: English, Spanish, French, German, Italian, Russian and Spanish.
Bus tour with walking stops outside the Sanssouci, Cecilienhof and New Palace.
Ticket included for a sightseeing bus tour of Potsdam during the summer months.
Departure from: Babelsberger Str. 16, 14473 Potsdam at 11 AM.
Recommended: for those who want to take an express way to enjoy the palatial architecture and gardens of this beautiful city while learning about its history and culture both on foot and aboard a sightseeing bus in summer.
3. Half-day excursion to Potsdam
:
If during your stay in Berlin you have more time to go on an excursion, then the most suitable for you is this half-day excursion to discover Potsdam on foot and hand in hand with a guide on an exciting 6 hours tour through the streets of this city declared World Heritage Site by Unesco.
During the route you will see the main tourist attractions of Potsdam that have given it its international fame as the Gardens and Sanssouci Palace (rococo airs), the Marble Palace of Frederick William II (summer residence of the Prussian monarch), the Cecilienhof Castle (site of the Potsdam Conference at the end of World War II) or the Babelsberg Castle (which has a breathtaking view over the Havel River).
Other sights you will have the chance to see on this Potsdam tour include the picturesque Dutch Quarter, crossing the popular "Bridge of Spies " or walking through the Brandenburg Gate (older than that of the German capital).
Before returning to Berlin, you will have time for lunch on your own** in one of the local restaurants to sample local specialties.
And if you wish, at the end of the tour of Potsdam you can do the route again by yourself, visiting in more detail those places that have caught your attention, entering some of the palaces you have seen or even stay for dinner because the return to Berlin is up to you, so you decide how you manage your time.
What will you see?
Gardens and Sanssouci Palace.
Marble Palace of Friedrich Wilhelm II
Cecilienhof Castle
Babelsberg Castle
The Dutch Quarter
Bridge of Spies
Brandenburg Gate
Useful information
Duration: 6 hours
Local guide
Languages: English.
Departure from: Neue Promenade 3, 10178 Berlin at 9:30 AM.
Recommended: for those who want to discover the "Imperial City" in detail and soak up a little more about Germany's history, culture and traditions.
What to see in Potsdam?
Gardens and Sanssouci Palace.
This impressive 18th century palace was built by order of the Prussian King Frederick II "the Great" with the intention of being his summer residence near Berlin and a meeting place for artists, philosophers, musicians and other intellectuals of the time with whom he shared concerns.
The Sanssouci Palace (which means "carefree") is considered the "German Versailles" for its elegant architecture and tasteful decorations, although it is a small building compared to the French palace.
Undoubtedly, the Sanssouci Palace is one of the most interesting places in Potsdam and I recommend you to enjoy a relaxing stroll through the beautiful gardens that surround it, which are a Unesco heritage site.
Marble Palace of Frederick William II
The monarch also commissioned the Marble Palace on the shores of Lake Heiliger See as his summer residence.
It is striking because of the beautiful surrounding landscape and because it is the only Prussian palace in the Classicist style with a cubic shape. The truth is that when it came to creating, Prussian architects were quite original and racked their brains so that no palace looked like the others.
Cecilienhof Castle
This beautiful palace built in Gothic-Tudor style by order of Emperor Wilhelm II and reminiscent of a large English country house is not only striking for its appearance, but because here took place an important chapter of European history of the twentieth century.
It was the place where Churchill (Great Britain), Truman (USA) and Stalin (USSR) met at the end of World War II to draw up the charter of the Potsdam Conference where they agreed on how Germany would be administered after the conflict and how Europe would be divided into areas of influence.
New Palace
Near Sanssouci is the New Palace, the largest of all those in Potsdam, which was also erected by King Frederick II in the 18th century.
It stands out for its Renaissance style and sober appearance on the outside but, if you have time, it is worth visiting the inside after the tour because it is amazing. You will have the opportunity to contemplate the sumptuous reception rooms, the marble gallery and the luxurious palatial rooms, among other spaces.
Pay attention to the marine gallery! Its walls are decorated with precious stones, marble and shells.
Babelsberg Castle
This is another of Potsdam's most charming castles. It dates back to the 19th century and has spectacular views over the Havel River - be warned, you won't stop taking pictures!
The Dutch Quarter
This is one of the most peculiar places in Potsdam. In the eighteenth century many Dutch workers and craftsmen who came to work in the city at the invitation of King Frederick William I settled here.
It is affectionately called "little Amsterdam" because its reddish brick buildings are very reminiscent of those in the capital of the Netherlands. In fact, the Dutch themselves came to feel at home here and if you have visited Amsterdam you can certainly understand them.
Bridge of the Spies
This bridge has an amazing history. Located over the waters of the Have River, during the Cold War it became a kind of border for the USSR and the United States in which they carried out their respective exchanges of prisoners and spies captured by the adversary. Curious, isn't it? That's where it gets its peculiar name, and also from the many movies about spies that have been filmed here.
Brandenburg Gate
Although the most famous Brandenburg Gate is located in the German capital, the oldest is actually in Potsdam. It dates back to the 18th century and was built in the historic center (next to the Luisenplatz) inspired by the Arch of Constantine in Rome.
Potsdam Old Town
During the tour you will have the opportunity to stroll through the beautiful old town of Potsdam. A place that despite having suffered several bombings during World War II was later restored to regain its former grandeur.
Take the opportunity to visit the main shopping street of the old town known as Brandenburger Strasse and buy some souvenirs of your visit, there are very cool local stores!
Why take this tour?
:
Given the proximity of Potsdam to Berlin (it is located only 25 kilometers southwest of the German capital) it is a good idea to reserve a day of your vacation to make a trip to this ancient city that was the residence of the Prussian kings and the German kaisers and thus get to know a little better the surroundings of Berlin.
As an "Imperial City" it preserves a very well maintained and really beautiful historical center. King Frederick II "the Great" had a weakness for this town, so he devoted much effort to beautify it and turn it into a place worthy of admiration by building many palaces and gardens.
In fact, it is said that Potsdam represents the ideal fusion between nature, history and art and in my opinion there is something true in it because who has ever visited Potsdam knows that it is a jewel.
Another reason to take a trip to Potsdam from Berlin is to get to know more about Europe's recent history. This is the site of the Potsdam Conference where the victors of World War II divided up Germany and other areas of influence.
If you like the historical theme, and specifically this period, you can combine the visit to Berlin and Potsdam with the visit to the concentration camp Sachsenhausen, which is also located very close to the capital of Germany. I tell you more about it in the post Visit Sachsenhausen concentration camp:.
6. Useful information to go to Potsdam
:
How much do tickets cost?
I recommend you to have a look at the tickets to go on a tour to Potsdam from Berlin at Hellotickets: because there are several options and the prices are quite tight. Here you can compare ticket availability, prices, schedules and guided tours.
How to get to Potsdam?
When booking online any of these tours to Potsdam from Berlin you must take into account that they do not include the transfer to and from Potsdam. This means that you are responsible for your own transportation. The easiest and fastest way to get to Potsdam from Berlin is by train.
In Berlin, S-Bahn trains run from Hackescher Markt to Potsdam Central Station directly and the journey takes about 45 minutes. An all-day ticket for the ABC zone costs 7.70 euros but you can also buy a ticket for 3.40 euros for the ABC zone that is valid for two hours.
The good news is that to get around Potsdam by public transport you can use the transport pass you use in Berlin, as long as it is valid for the ABC zones.
When is the best time to go to Potsdam?
The best time to take a trip to Potsdam from Berlin is summer. However, the city is still just as beautiful during other seasons but the weather gets colder and there is a greater chance of rain. My advice is to plan your getaway for the months of July, August and September.
How to make a reservation?
If you plan to take a tour to Potsdam from Berlin in summer, i.e. in high season, I recommend booking online as early as possible.
Booking your place on the tour is very easy. All you have to do is choose the date you want to do the activity and select the number of participants. To secure your place in the group you will have to pay at the time of booking.
If you liked this excursion, you might also be interested in...
Berlin is a lively and constantly changing city where there are always new places to see and things to do. In addition, it is one of the European cities with more history and personality.
If you want to discover all the secrets of Berlin during your vacation, take a look at the article The best tours and excursions from Berlin where you will find a selection of very interesting tours to make the most of your trip.
Frequently asked questions
How far away is Potsdam from Berlin?

Potsdam is 31 kilometers (21 miles) away from Berlin, and driving there will take you 45 minutes, which makes it perfect for a day trip.

What can I do in Potsdam in one day?

You can expect to cover most of the landmarks of this city once home to royalty, such as the Cecilienhof Palace, the Dutch quarter, King Frederick William II's Marble Palace, and the UNESCO-listed Sanssouci Palace and Gardens.

What is Potsdam famous for?

A city famous for its castles and rich history, Potsdam will take you back to old times with its Dutch district, Russian town, and its many UNESCO World Heritage sites.