How to Get to Antwerp from Brussels
Take a stroll through the jewel of Belgium, Antwerp, very close to Brussels. A city with many attractions and many iconic places to offer.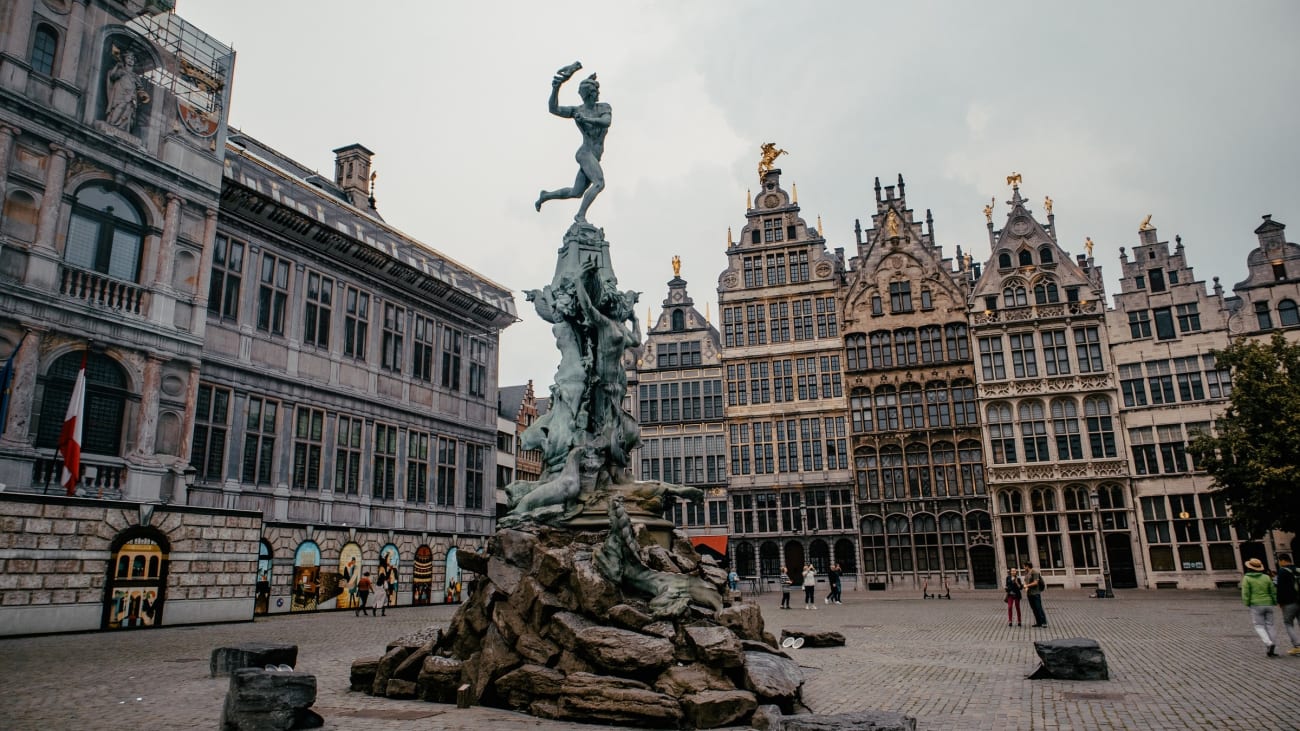 The distance between Brussels and Antwerp is 56 kilometers, this makes it possible to reach your destination in a relatively short time, from Brussels you can go to Antwerp by train, bus or car(either by cab, private or rented car).
Although Antwerp is served by a small airport, it only serves the United Kingdom, hence Brussels Airport remains the best option for getting to Antwerp from other parts of the world. Round-trip travel from Brussels to Antwerp is also available.
Antwerp is a city located in the Belgian region of Flanders, known for being the "diamond city" leader in the manufacture of jewelry with this precious crystal. It is a very welcoming city, certainly an exemplary visit if you are in Brussels, especially for how close it is.
Antwerp Day Tour from Brussels: The best way to visit Antwerp
The day tour to Antwerp is a highly recommended option if you are looking for a full-fledged experience and not just a way to get from one place to another.
The tour starts at the Grand Palace in Brussels at 9:30 am. From there you will depart to Antwerp by a road that will allow you to enjoy the wonderful landscapes of Flanders.
During the trip the guide will mention the historical highlights of Antwerp, the places you will visit, the different activities you can do and when you will return to Brussels.
The tour will last about 40 minutes and will end at Antwerp Central Station, also known as the Iron Cathedral, an incredible architectural jewel.
On the tour to Antwerp you will also enjoy moments of solitude to enjoy the city at your leisure. The tour will end at 8pm and from Antwerp Central Station you will return to Brussels.
Duration: Full day
Price: From 65€.
Recommended if: You are looking to get to know the city of Antwerp and make the most of your short stay.
From Brussels to Antwerp by train: The most comfortable option
The fastest way to visit the city of Antwerp is by train, a ticket from any of the train stations in Brussels to Antwerp costs approximately 12 € and takes approximately 45 minutes to reach the city.
Direct trains from Brussels Midi Station to Antwerp (Antwerpen Centraal) are operated by SNCB and Thalys. There are daily departures, almost every 30 min and the journey takes between 36 min and 40 min, depending on the train you choose. The adult 2nd class single ticket costs 6,70 €.
There are several trains that go direct and take very little time. If you want to take as little time as possible I recommend taking the train from Brussels North station and getting off at the Antwerpen-Berchem stop. This is a direct and fast trip, it takes between 30 and 45 minutes.
If you need to travel from Brussels airport, take the train from Brussels Noord (Bruxelles Nord) to Antwerpen Centraal. It takes 45 min and there are daily departures, every 32 minutes. The adult 2nd class single ticket also costs 6,70 €.
Duration: 45 minutes
Price: 12 €.
Recommended if: You are looking for comfort and an affordable price.
How many trains run from Brussels to Antwerp per day?
Train trips from these two cities are the order of the day, with an estimated 25 trains per day. However, I recommend that you check the schedule and travel time for your specific date, as scheduled bus and train services may vary depending on the season or day of the week.
Brussels to Antwerp by bus: The cheapest option
There is a direct bus service departing from Brussels airport every hour. It departs from the back of platform B. In Antwerp it stops at "De Keyserlei" (near the central station) and on request it can also stop at **"Crowne Plaza''.**On weekdays the first departure is at 5 a.m. while on weekends it is at 7 a.m.
Once you enjoy your trip and tour to Antwerp and decide to return to Brussels you should take a bus from the stop "De Keyserlei" or the stop "Crowne Plaza". The bus leaves every hour, starting around 4 am and usually arrives at its destination in about 60 minutes. To make sure that there are no changes in departure locations or bus schedules, I recommend that you check the information ahead of time on the companies' websites.
Generally regardless of where you take the bus the fare is around 7€ for adults (one way) and 5€ for children or minors (one way).
To buy bus tickets I recommend the following websites: Omio, Flixbus and Busbud. On these websites you can also get more detailed information about schedules, prices....
Duration: 1 hour
Price: 7€.
Recommended if: You are looking for the cheapest option
Going by car from Brussels to Antwerp: The most interesting option
In this case you have two options: Rent a car or go by cab.
The most comfortable and luxurious way to move from Brussels to Antwerp is to go by cab, the trip will take about 30 minutes and the price will range between 100 € and 130 €. For this you can count on the companies Kiwitaxi and Airporttaxis.
If you go by car you should know that the distance between Antwerp and Brussels is 44.78 km. If you travel by car with an average speed of 100 km/hour, the travel time will be almost 27 minutes. For this last case you have the options of Rentalcarsy Europcar.
Duration: 30 minutes
Price: 100€-130€.
Recommended if:If you are looking for an option that depends exclusively on your planning
Essential visits in Antwerp
If you have chosen the organized tour option, the tours usually last about four hours. In the case of going on your own, obviously the duration of the tour will depend on whether you will be returning to Brussels on the same day. Regardless of how you make the visit, there are several points not to be missed during your stay in the city:
The Central Train Station, known as the "iron cathedral" and considered one of the most beautiful train stations in the world.
The diamond district, where you will learn about the history and process of diamond cutting, and admire some unique pieces of jewelry.
"The Meir", the main shopping street of Antwerp and where you can admire fashionable stores in a beautiful architectural setting.
The "Meir Palace", a rococo mansion that was Napoleon's palace. I recommend tasting the artisanal coffee and handmade chocolate in what is now one of the most famous chocolate stores in Belgium.
Cathedral of Our Lady, the largest Gothic church in Belgium and famous for its striking tower. Inside, you can admire an art collection that includes four masterpieces by Paul Peter Rubens.
Church of St. Charles Borromeo, a jewel of baroque architecture in the city that treasures one of the most beautiful baroque confessionals in the world.
The "Het Steen", a medieval castle located in the old port of the city, from where you can admire the Scheldt River and watch a sunset by the water.
Frequently asked questions to go from Brussels to Antwerp
In this section I answer some of the most frequently asked questions that are of most interest when planning your trip. Of course, I will always recommend you to visit the websites of the transportation or ticketing websites for the most updated and accurate information.
When to go to Antwerp from Brussels
If you are looking for that sweet spot of good weather and less crowds of tourists to visit Antwerp from Brussels, I recommend you to make the most of the post-summer break and visit the city in September.
Antwerp's maritime climate is quite mild throughout the year, gray and rainy days are common; however, the weather turns quite cold in January. On the other hand, the Antwerp travel season peaks during the summer, thanks in part to warm weather that lasts from late spring to early autumn.
What is the cheapest way to get to Antwerp?
The cheapest way to get to Antwerp from Brussels is to take a bus that can cost as much as (6€). The disadvantage is that you can hardly know exactly what time you will arrive in Antwerp. There can be a margin of error of up to 15 minutes due to traffic, weather conditions...
What is the best way to travel from Brussels to Antwerp?
The most sensible and pleasant way to travel to Antwerp from Brussels is by train; moreover, I would recommend you to opt for this option without thinking twice, unless you are particularly interested in using another means of transport.
This is so because going by train you will arrive earlier than by bus, the price is not so unreasonable; moreover, the journey is especially pleasant thanks to the comfort you will feel and the Belgian landscapes you will see on the way. By train it will take about 40 minutes to get there, while by bus the minimum would be about 50 minutes.
What are the cheapest operators to travel from Brussels to Antwerp?
While it is true that ticket prices tend to vary depending on the date, day of the week, time, and even according to the supply and demand of the moment, these variations are not usually so drastic.
For this reason, the cheapest option by bus is Flixbus, where prices can reach up to 5 € the trip. While by train, the cheapest option is with SNCB, where tickets can be as low as 10€ a trip.