10 Things to Do in Santiago de Compostela at Night
The night is young in Santiago de Compostela! Dare to walk around this lively city all night long while you listen to ghost stories or enjoy a good beer.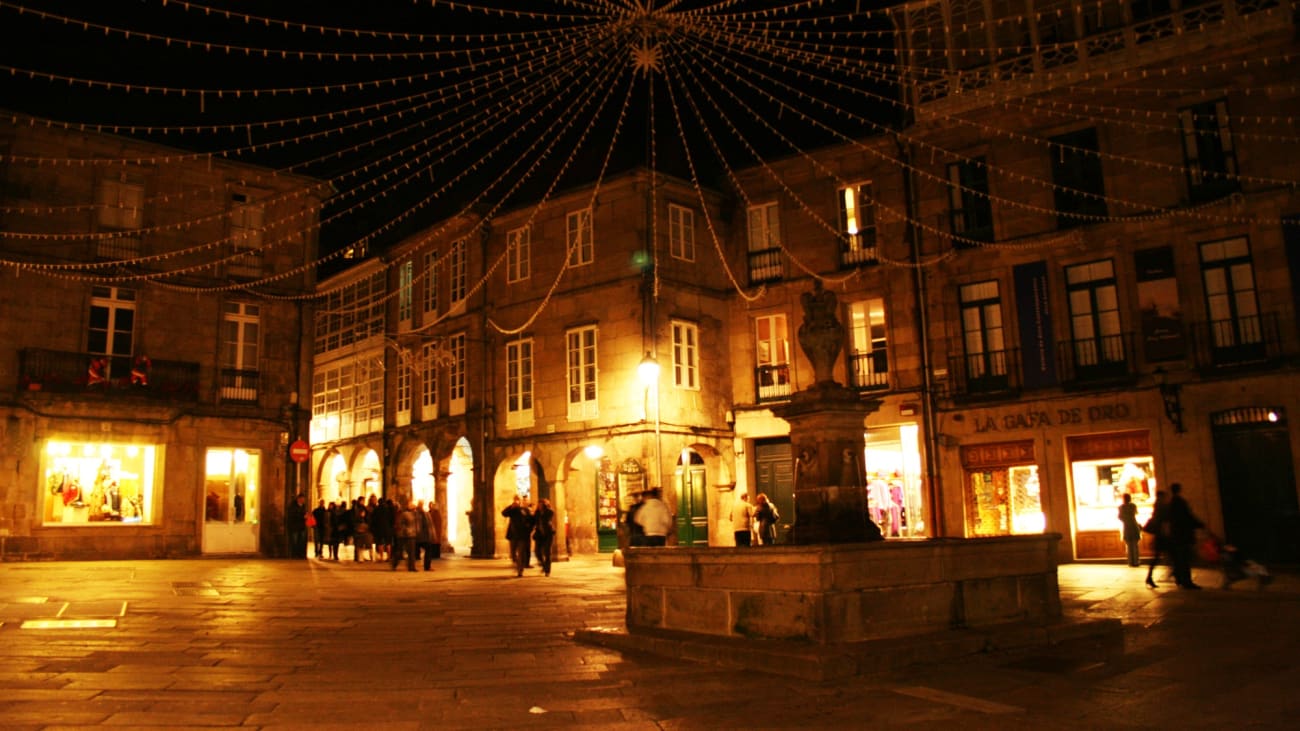 Among the best things to see and do in Santiago de Compostela are the night activities. During your vacation you surely want to take advantage of every moment, including the night, so I recommend several activities. You can go to eat and drink the most typical of the capital of Galicia or walk the streets while listening to ghost stories, do you like the idea?
If you want a more celebratory plan, then you have many nightclubs to visit. Each one has its own special attraction. On the other hand, if you travel with your pets, in Santiago you will find different places to go with them. Have you already decided to visit the capital of Galicia?
1. Do a gastronomic night tour in Santiago de Compostela
If you want to take a gastronomic tour in Santiago de Compostela, I recommend going at night, as you will see a livelier side of the city. Usually these tours start at 8 pm and end around 11 pm and the average price is about 65 €.
In this type of tour the guide will take you and your group for a walk through the streets of Santiago. You will be able to see the lights of the city and the stars in the sky. The first stop before dinner will be at a pub where you will have a Queimada, a fiery drink. It is said to have magical properties that scare away evil spirits.
When it is almost 10 pm it will be time to eat in a typical Galician restaurant where you will taste a traditional dinner: Galician octopus or clams in a marinière style. You will also enjoy a delicious dessert such as filloas or apple empanadas. At the end of your dinner you will return to the starting point with your guide and your group.
Details of interest
Price: around 65 €.
Duration: approximately 4 hours.
Means of transport: walking tour.
2. Theatricalized night tour of the stories of spirits and witches of Santiago de Compostela
If you like stories of mystery and legends, then this type of night tour is for you. Your guide will be a witch, a Meiga Volandeira with her classic black cloak and a broom who will wait for you in the Plaza del Obradoiro and tell you the stories of legends and mysteries. Are you ready?
These tours have an average price of 20 € or less and usually last about two hours, during which you will pass through some of the most emblematic points of the Galician capital such as:
The Hostal de los Reyes Católicos, which used to be a pilgrims' hospital.
The Cathedral of Santiago, a place that hides many secrets and where the witch will tell you about the legend of the Santa Compaña. I'll just tell you that this is a story from the Middle Ages where a man was followed by a line of dead people. How scary!
Several little known streets, until you reach the old cemetery.
The convent of San Francisco.
The pazo of San Xerome.
The Bonaval park.
Although each point has a dark history of magic behind it, your witch guide will protect you from all the evil spirits. At the end of this tour you can continue enjoying the night in Santiago, if you are not too afraid...
Details of interest
Price: about 20 €.
Duration: about 2 hours.
Means of transport: walking tour.
3. Visit the Cathedral of Santiago
The Cathedral of Santiago is an iconic site of the capital of Galicia.
Before entering, I recommend that you take a short tour of the exterior. Nearby you can visit the Plaza del Obradoiro, Plaza de Platerías, Plaza de la Quintana and Plaza de la Inmaculada. Each of them has its own beauty and charm, so it is worth visiting them.
Then you can enter the Cathedral through the Platerías Doors, in the south area. Before reaching the main nave you will come across the baroque style High Altar where you will also see the famous Botafumeiro, a very large suspended censer that is a symbol and icon of the city.
Behind the High Altar you will see the "camarín" with the figure of the Apostle Santiago. To access and embrace the saint, a tradition in this cathedral, you must pass through a narrow corridor. You can also go down to the crypt to see the relics of this apostle. Finally, I recommend you go to the Cathedral Museum. In its rooms you will find objects considered as a historical heritage of humanity.
Details of interest
Location: Plaza de Platerías, s/n, 15704 Santiago de Compostela, A Coruña.
When to go: Tuesday to Sunday.
Price: around 25 €.
Hours: from 10 pm to 11 pm.
4. Go for tapas in the city of Santiago de Compostela
The night in the capital of Galicia can be very lively, you just need a perfect plan. One of them can be to go for tapas in the pubs and bars of the city. If you prefer to drink beer, I recommend you to visit first La Cervecería Internacional, where you can try some beers and have a snack.
After eating and drinking a bit, you can head to El Ensanche, an area of the city where a lot of stores, bars and restaurants with food from all over the world are concentrated, and then head to some squares to see improvised shows or street performers in Praterías square or A Quintana square.
If you want to continue discovering the city's most iconic sites, I recommend planning a full day in Santiago de Compostela so you don't waste any time. This city is full of history and picturesque sites that you must visit.
5. Night tour of the Camino de Santiago
The last stage of the Camino de Santiago can also be done at night. However, this will be a physical and mental challenge because you must walk at least 7 kilometers to reach your destination. If you do the tour at night you will also face the cold, so it is best to be well prepared.
In this type of tour you can be accompanied by a group of people to walk together along the way. The local guide will not always be with the group, as the idea is that you and your team can walk the trail alone, but don't worry! At various points along the way your guide will be waiting for you to tell you anecdotes about this tour.
When you arrive at Monte do Gozo you will make a stop for the guide to tell you anecdotes about this site. Then you will continue walking until you reach the Obradoiro Square, where you can visit the Cathedral. The tour of the Camino de Santiago normally starts at 6:00 pm and ends at approximately 10:00 pm.
Details of interest
When to go: any day of the week.
Price: about 20 €.
Duration: approximately 4 hours.
Means of transport: walking tour.
Traveller tip
To do the Camino de Santiago you should be well prepared with comfortable clothes and comfortable sports shoes. You will also need to bring some snacks for the walk. Energy bars can be a good option to have enough energy. Also, your water bottle is a must and since it is a night tour, don't forget to bring a sweater.
6. Enjoy a nice massage
Whether or not you have walked a section of the Camino de Santiago, you will surely love this fantastic plan to relax your body and mind. It is a one-hour massage that can also be booked at night.
You can choose between a full body session or a massage for some specific areas, such as the back, legs or feet, depending on your tastes and needs.
All this, accompanied by natural creams and oils with arnica and harpagofito that will help you revitalize the body and relieve pain. A real treat for the senses!
7. Visit the oldest pub in Santiago: the Modus Vivendi
The Modus Vivendi is the oldest pub in Galicia and you should definitely visit it when you go to Santiago de Compostela. This place has been active since the seventies and during all that time it has been a pub frequented mostly by university students, although it is also visited by the general public.
In Modus Vivendi you will find two different atmospheres. The first consists of the bar and stools, ideal for spending the evening with a friend or your partner. The second, one floor below, where the stables were located, there is a large table where visitors gather to eat and talk.
Although it is a small place, you can have a spectacular night here. You can just enjoy your drink and food or enjoy a music and theater show that takes place at least once a week. The music you will hear in this pub is rock, funky, Latin-jazz, among other styles.
Details of interest
Location: Praza de Feixóo, 1, 15704 Santiago de Compostela, A Coruña
When to go: any day of the week.
Price: admission is free, the price of what is consumed may vary.
Hours: the pub is open from 6 pm until 4 am.
8. Visit the discotheques of Santiago de Compostela
If you prefer a more party plan, dancing, listening to music and drinking, I recommend you to go to the discos in the capital of Galicia. The city almost never sleeps and has so many clubs that you will not be able to decide easily. To save you the trouble, I will recommend several of the most popular ones:
Discoteca La Ruta: It is a reference place for the youngest in the city. It is a very cozy nightclub that allows you to dance at ease or sit down for a drink and talk with friends. The style of music usually played here is Latin or reggaeton, so be prepared to dance all night long.
La Quintana Pub: It has a large terrace that allows you to have excellent views. Here you will have a youthful atmosphere, besides being a place that is usually frequented by celebrities and celebrities, maybe you will run into some celebrity!
Disco Maycar: one of the mythical Galician nightclubs.
On the way you will surely see other places. If you are in the mood, remember that the night is young! Visit the most interesting ones and enjoy the nightlife of Santiago de Compostela.
9. Go to a concert or a theater play
Santiago de Compostela also has more relaxed plans for those who enjoy tranquility and art. After 6 p.m. several theaters and concert halls offer performances so you can enjoy the evening. It is preferable that you buy your tickets in advance at Zona C, the point of sale for tickets to Santiago's cultural centers.
One of the places I recommend you to go to is Auditorio de Galicia in Santiago de Compostela. Here they usually present concerts of the Philharmonic Orchestra of Galicia, plays, comedy monologues, recitals, dances and much more.
The Teatro Principal is also another place you will like to visit. Here you can listen to concerts of local or national artists, see plays or dance shows. If you like opera, this is the place for you. Tickets to these sites are usually around 10 € and 20 €. It is certainly a quiet plan that you will love if you like cultural events and art.
10. Visit the O Bandullo do Lambón for beers
O Bandullo do Lambón is undoubtedly a paradise for beer lovers in Santiago de Compostela. If you love beer you must visit this place and try the craft beer sold here. In the place there are more than six taps so you can try a variety of Galician drinks.
Also in the fridge there is a variety of original beers from various countries around the world, so you will not only know what Galicia tastes like, but what the beers of the world taste like. To accompany your drink you can order some tapas from the menu. These are usually typical Galician recipes, so you are sure to find a seafood-based snack.
In addition to good food and drink, you can enjoy a good musical atmosphere at this place. There is usually a variety of rock from the 60's, 80's and 90's, as well as relaxing jazz to get you through your evening in the best possible way. If you don't know which beer to choose, I recommend you ask the bartender to recommend something special.
Details of interest
Location: Rúa da Raíña, 9, 15702 Santiago de Compostela, A Coruña.
When to go: any day of the week.
Price: you can enter for free, the price of what is consumed may vary.
Opening hours: The restaurant is open from 12:00 noon until 9:00 pm.