Best Things To Do in Taormina
Are you traveling to Taormina, but don't know what to do? I present you the best places and plans you can enjoy in this city!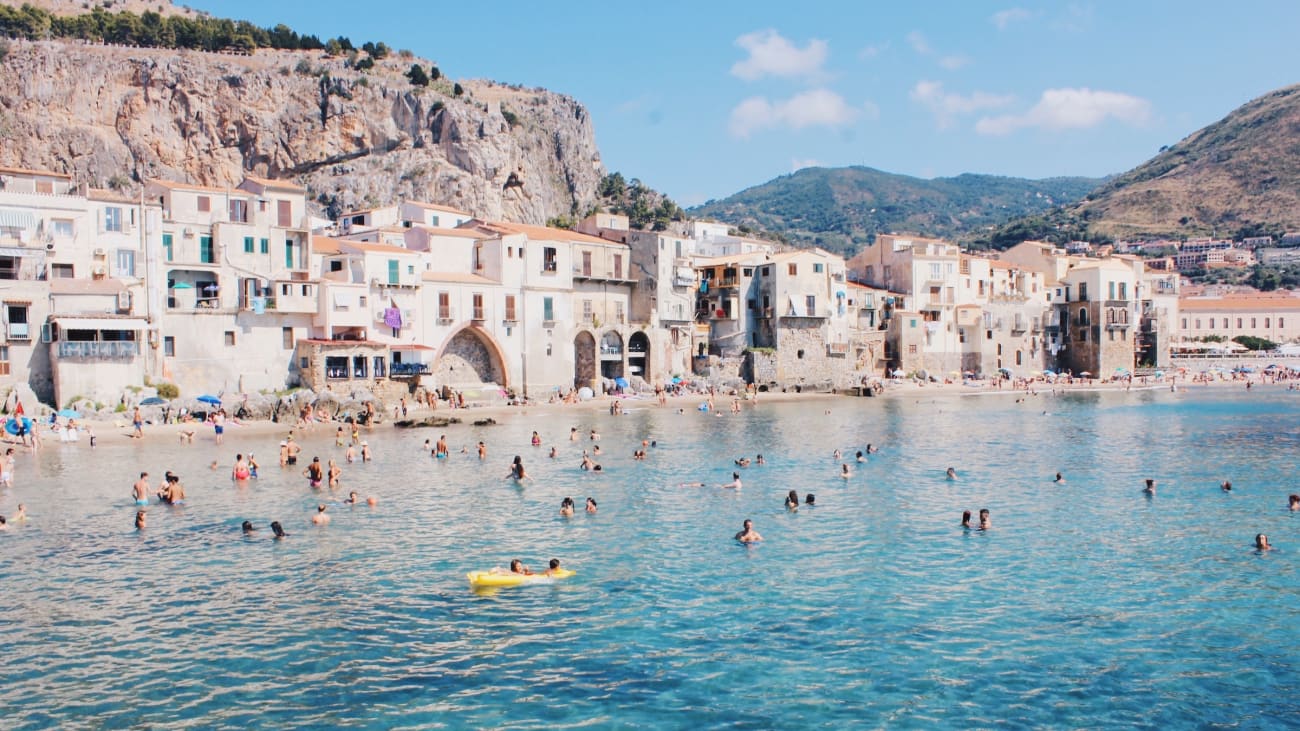 When you travel to Taormina you should not miss the best things to do in this city. It is a town full of history and impressive architectural works. The best thing is that most of them are completely free and you can visit them in just one day.
Taormina is a paradise for architecture lovers. In all the buildings you will see beautiful works in Arabic, Nordic and Gothic styles. In addition, each site hides a great historical value that will surprise you, but that's not all! In this beautiful area of Sicily you can also enjoy the sea and, if you have time, you can visit Mount Etna. Let's start!
1. Visit the Greek Theater of Taormina
One of the sites I recommend you to visit when you go to Taormina is the Greek Theater of Taormina. It is an iconic site in this city from where you can see the Etna volcano and the town of Giardini-Naxos. It was built in Hellenistic times and rebuilt during the Roman domination. Famous events such as the Taormina Film Festival are held here.
Whenever you take a tour of Taormina you should always include this theater. To visit it you should go to Via del Teatro Greco, 40. You can go any day of the week from nine in the morning until seven in the evening. Sunset can be an ideal time to take the best pictures.
Please note that tickets are priced between 10 € and 20 €. These can be easily purchased at the box office outside the theater. When you enter, you will be able to see its different areas which are the orchestra, the stage, the audience and the porticos.
Practical information
Location: Via del Teatro Greco, 1, 98039 Taormina ME, Italy.

When to go: the best season is during the summer.

Price: between 10 € and 20 €.

Hours: from 9 am to 7 pm.
2. Visit Taormina Castle
Taormina Castle, also known as Arab-Norman castle or even Castello di Monte Tauro, is located on a rock of Mount Tauro, almost 400 meters above the sea. From there you can enjoy an incredible view - take advantage of the moment and take the best pictures of your trip!
If you spend a day in Taormina, you must include this visit in your itinerary. This imposing castle was built on an ancient acropolis during the Middle Ages. Its base is trapezoidal and it also has a tower. Today you can only see the courtyard, the surrounding walls, the high reservoir and the remains of a tower.
Getting to the castle only takes about 15 minutes. Just walk from the center of Taormina until you come across its stairs. These are a bit long, so you might get a bit tired. The good thing is that you can go at any time of the day and without buying a ticket. Its doors are open to the public most of the time.
Practical information
Location: Via Madonna della Rocca, 9, 98039 Taormina ME, Italy.

When to go: any time of the year.

Price: free admission.

Hours: from 9 am to 8 pm.
3. Stroll through the historic center
There is certainly no better place to get to know a new city than its historic center. In the case of Taormina, this site is located along Corso Umberto. This is the main pedestrian artery of the city. You can walk freely along it and visit different stores, restaurants and see its beautiful facades.
If you like to take pictures of curious places and beautiful details, I recommend you to walk carefully along this street. In some of its corners you will see that there are very peculiar and colorful ceramic decorations. Note that this road is crossed by the Porta Catania and Porta Messina, gates of the ancient wall of this city. If you do not pass through them, your visit to Taormina would be incomplete.
In total, the tour can take you only about 15 minutes. I recommend you to bring sunscreen and comfortable clothes to walk quietly through the streets. Don't forget to take the opportunity to eat a good Italian pizza in restaurants like Pizzeria Villa Zuccaro.
Traveler Tip
Taormina is a city that you can easily get around on foot. That's why I recommend that you wear comfortable clothes and shoes to walk around its historic center. While strolling along Corso Umberto, try to wander through its alleys and stores. This way you will make the tour more interesting.
4. Visiting the Duomo di Taormina
When you are walking through the historic center, near Porta Catania, you will find the Duomo di Taormina. It is a cathedral located in Piazza Duomo and if you are an architecture buff, you will love this place. You will also have the opportunity to see the town hall of Taormina.
This cathedral is known for being the main place of worship in the historic center of Taormina, the sybaritic corner of Sicily, for its exclusive gastronomy. It is worth mentioning that it belongs to the archdiocese of Messina-Lipari-Santa Lucia del Mela. You can visit it any day of the week and the entrance is totally free.
In its main facade you will see two pointed windows. On each side of the door you will see two fluted columns in Corinthian style. In turn, the columns of the main nave are made of pink marble. When you enter, you will notice that it has the shape of a Latin cross with three naves and three apses.
Practical information
Location: Piazza Duomo, 98039 Taormina ME, Italy.

When to go: any time of the year.

Price: free admission.

Hours: from 9 am to 8 pm.
5. Spend a day at Isola Bella
Not everything in Taormina are trips to buildings and architectural works. If you fancy a different atmosphere, I recommend you to visit Isola Bella, one of the most famous beaches in Sicily. It is located right at the foot of Taormina and under Mount Tauron. You will definitely enjoy spending time there during your vacation.
To get to this beach, you can take the bus from Piazza San Pancrazio. It is the fastest and cheapest option, as the trip has an average cost of 1 €. In addition to its good price, I recommend this option, as in high season it is difficult to find a place to park.
This beach is protected from wind and water currents. In addition, it is spread out on both sides of the island. It has no sand, but the pebbles are small so there is no problem to walk along the beach. In the surroundings you can find several restaurants such as Ristorante Magnolia to eat and have a nice time.
Some people prefer to take a trip to the beach. This plan usually includes the Capo Taormina and the Grotta Azzurra sea cave. If you head towards these destinations, you can dive in the clear waters of the area.
6. Visiting the Palazzo Duchi di Santo Stefano
In Taormina, considered the happy coast of Sicily, there are many architectural beauties worth visiting. Among them is the Palazzo Duchi di Santo Stefano. Moreover, I recommend you to visit it, as you will be able to tour it in a short time and the entrance is free, so you can easily include it in your itinerary.
The Palazzo Duchi Di Santo Stefano is considered by many to be a masterpiece of Sicilian Gothic art. It is a fusion of Arab and Norman art styles. Its decoration on the upper part characterized by a wide frieze extending along the entire east and north facade highlights the Arab style of the building.
On the other hand, its square floor plan in the shape of a tower and its battlements are reminiscent of Norman art. The entrance to the first floor has a pointed arch that was built with white granite bricks, black basalt and lava stone. On the second floor you can see windows in Gothic style through which you can get an unparalleled view of the city and the sea.
In addition to its structure, you can appreciate other works that are usually in temporary exhibitions. Around the palace you will see a beautiful garden with a variety of trees. Take advantage of your stay in this place and visit all its corners.
Practical information about the palace
Location: Via De Spuches, 98039 Taormina ME, Italy.

When to go: any time of the year.

Price: free admission.

Hours: from 10 am to 7 pm.
7. Visit the Odeon Theater
The Greek Theater of Taormina is not the only one in town. You can also visit the Odeon Theater of Taormina, another incredible building built in the Roman imperial era, during the time of Caesar Augustus Octavianus.
This site is located just behind the hill of St. Catherine of Alexandria, next to Palazzo Corvaja. If you visit it, you will notice that its structure resembles that of the Greek Theater. However, its dimensions are smaller, as it was built for a select audience of at least 200 people. Musical shows and other special events used to be held there.
You can visit it at any time of the day between nine in the morning and four in the afternoon. Admission is free and allows you to enjoy its different parts. Inside, you will see the cavea or bleachers, the orchestra (special area for the choir and musicians) and the stage.
Practical info
Location: Via Timeo, 31A, 98039 Taormina ME, Italy.

When to go: any time of the year.

Price: free admission.

Hours: from 10 am to 7 pm.
8. Visiting Palazzo Corvaja
Sicily is a charming Mediterranean island that hides beautiful places, starting with the city of Taormina. In turn, in this city you will find buildings worth visiting such as Palazzo Corvaja. I recommend that you take note of all the buildings that are worth visiting and thus make a very complete walking tour.
Like many buildings in Sicily and Taormina, this palace was rebuilt and different parts were added over the years. In recent years, it has even received maintenance and restoration works. This is why it is now possible to see the mixture of different architectural styles. However, this makes it more valuable for the city.
Its current name is due to the noble family Corvaja, who lived there between 1538 and 1945. The following year, the architect Armando Dillon made renovations to improve the appearance of the palace. When you visit it, you will not only be able to admire its construction, but also the works of art it houses. You will find them on the second floor, since there is a tourist information office on the first floor.
Practical information
Location: Piazza Vittorio Emanuele II, 98039 Taormina ME, Italy.

When to go: any time of the year.

Price: free admission.

Hours: from 10 am to 7 pm.
9. Visit Mount Etna
When you are in Taormina you can take advantage of the time to visit the most active volcano in Europe. It is Mount Etna, located just an hour and a few minutes from the city of Taormina. I recommend you to visit it with time in a guided tour. This is the best way to visit it, as you will have the help of an expert guide and the experience will last about six hours. It is one of the best excursions to do in Taormina.
This type of excursion usually includes private transportation, which is usually a van with a few passengers. Your guide will pick you up at a specific point and take you to the height of the Rifugio Sapienza. From there, it is common to start the tour on foot. Keep in mind that this is a hiking adventure, so be prepared for that.
Did you know that Mount Etna was declared a UNESCO World Heritage Site? All the more reason you should visit it and enjoy your experience. On the way, your guide will take you to see the upper craters of Monti Silvestri. You will also have the opportunity to enjoy the beautiful panoramic views that this mountain offers.
You can have this experience in different ways. There are guides that offer transportation in a 4x4 jeep type vehicle. This way can be more adventurous for some people. Also, other tours offer a gastronomic experience where you can even taste different types of wines.
Practical information
Transportation: van, although it depends on the type of tour.
Duration: about 6 hours.
Price: approximately 50 €.
10. Gastronomic tour in Taormina
If you are looking for things to do in Taormina at night, I recommend a gastronomic tour. Food is always a good way to get to know a new city. Plus, there are always different options you can choose from. Some even offer a variety of wines that I'm sure you'll love.
These tours usually last three hours or more and are led by local guides. This ensures that you will only visit the best restaurants on the tour. It's also a great advantage, as you won't have to search the internet for the best places in the area. Your guide already knows this information beforehand and will take you directly to them.
Among the meals you will usually eat on this type of tour are the traditional fresh fish and bruschetta. If you like desserts, then Sicilian sweet pastries will be your favorite. Also, within the food samples, you will surely taste other regional specialties. Some of these tours even include cooking classes, so you can recreate the recipes when you return home.
All the dishes you try can be complemented with a delicious glass of red or white wine, prosecco or Italian liqueur. I recommend that for this tour you have not eaten anything heavy before you start. This way you will be able to taste all the samples and dishes without any problem.
Finally, I recommend you to take a look at the transfers between Taormina and Palermo airport, so that once you land you only have to worry about enjoying what will surely be an unforgettable trip. I hope you enjoy it!