10 Things to Do in Taormina at Night
Taormina is a medieval city with many nightlife activities to discover alone, with family or friends. Here is a list of the ones that I consider a must during your stay.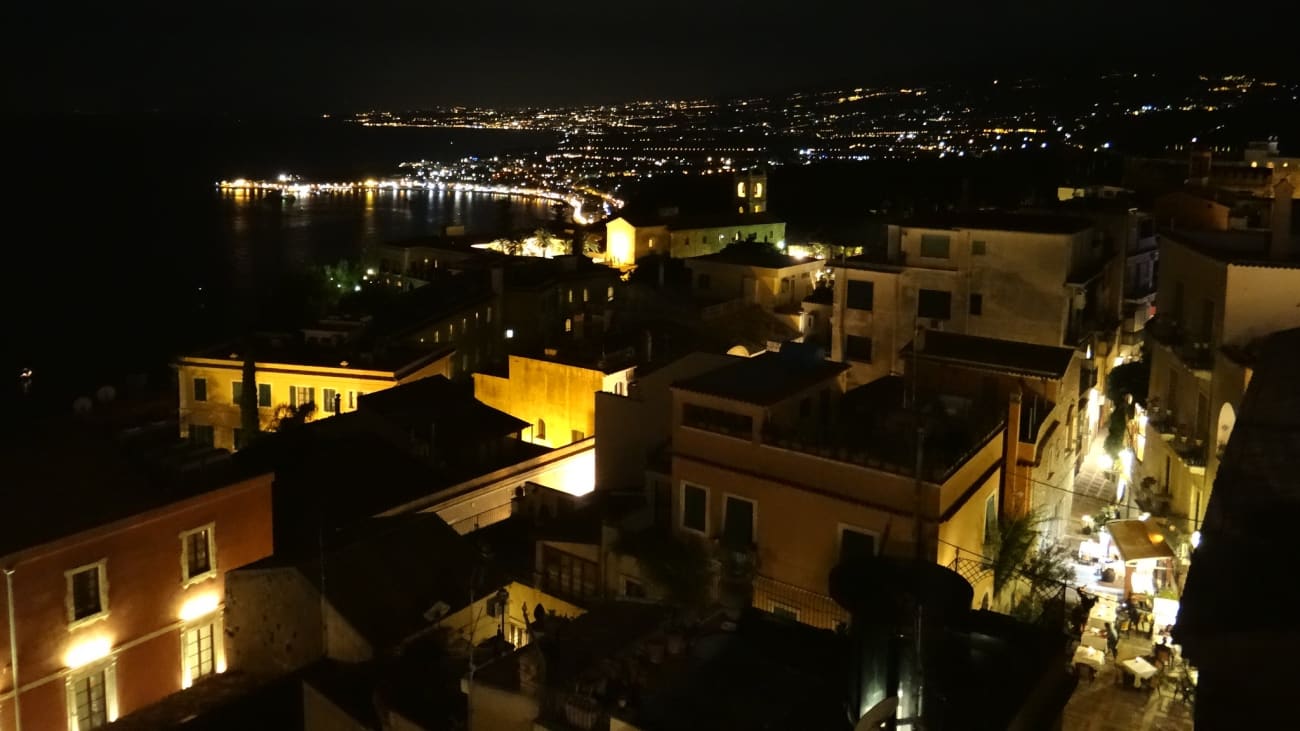 As you pass through Taormina you will be amazed by the medieval charm of this city, built on a mountain right on the Mediterranean Sea on the Sicilian coast. You will get privileged panoramic views from any point of this town, due to its staggered formation. In addition, you will be amazed by the picturesque cobblestone streets, surrounded by handicrafts, flowers, galleries, monuments, restaurants, bars and stores.
Among the best things to do in Taormina at nightfall, you can walk along the pedestrian street Corso Umberto, discover the history and architecture of the place visiting the Cathedral, the ancient Greek theater, among others. You will also have the option to get away from the hustle and bustle to connect with nature in the famous Public Gardens, spend a day at the Spisone or Mazzarò beach and much more.
1. Live an evening dining experience in Taormina
If you are a food enthusiast and don't know what to see and do in Taormina at night, then taking part in a local cooking class or embarking on a tour of the city's restaurants will be good options for you. You will learn how to cook and taste delicious dishes, while enjoying a beautiful night view of the Mediterranean from the terraces of the restaurants visited.
Cooking classes
In the best cooking classes in Taormina, a professional chef in his restaurant will teach you the step by step of some dishes with Sicilian tradition. For example, fresh pasta, caponata (eggplant, tomato, celery and olive stew) and a delicious cannoli for dessert.
Afterwards, you will sit on the terrace to taste the preparations, accompanied by a glass of wine and the privileged night view of the city.
Price: the average price of these cooking classes starts at 85€ per person.
Duration: this type of experience usually lasts from 2 to 4 hours, depending on the type of preparations you make.
Gastronomic tour
The gastronomic tour of Taormina by night is an activity that you can do on your own. All you have to do is select a few restaurants and visit them one by one. You will discover the Sicilian cuisine and learn about the cultural importance of each preparation.
Although the variety of restaurants is very wide, here are a few to consider:
Bodega Modì on Corso Umberto. There, from the terrace of the place you will taste Italian and Mediterranean cuisine. It also has an extensive wine list.
La Scala on Via d'Orville, specializing in pasta, Mediterranean food, desserts and wine list.
TreQuarti, on Corso Umberto. You will taste a variety of vegetarian and vegan dishes, Mediterranean food and Sicilian specialties.
2. Discover Taormina's lively nightlife in the local pubs and clubs
During your stay you can not only enjoy the best tours of Taormina to discover its architecture, landscapes and history. Also, when the sun goes down, you will have the opportunity to discover the lively nightlife of the city through its pubs and nightclubs.
You will have no problem to have fun at night, whether you want to dance until dawn or relax in a quiet atmosphere. All this, while enjoying an aperitif accompanied by a drink. Whichever option you like, you should know that you will find it in Taormina.
For example, among the most popular pubs and discos, frequented daily by locals and tourists, the following stand out:
Seventh: this is a disco located in Via San Pancrazio (city center). You will enjoy theme nights and disco groove music until 5:00 am.
Morgana, in Scesa Morgana. This is a lounge bar with a wide cocktail menu, VIP areas, live DJs every night and theme parties until 3:00 am.
The Pub, in Corso Umberto. This is a quiet and elegant place that closes its doors at midnight. You will find delicious cocktails, wine list, snacks and music.
3. Visit the beaches of Taormina by night and relax on the sand under the moonlight
Among the things to see and do in the city at night you can incorporate a walk along the beach of Mazzarò and the beach of Spisone. In this way, you will enjoy a different perspective of these natural spaces. You can watch the sunset and then contemplate how the stars and the moon gradually appear in the sky.
Mazzarò Beach
This free-access beach, also known as Isola Bella, is a nine-minute drive from the center of Taormina. You can also reach it via the city's cable car.
Once on the beach you will walk quietly on the small stone and gravel that make it up. Meanwhile, you can watch how the sea and the sky embrace under the moonlight, creating a magical and romantic setting.
Spisone Beach
This is another beach with free access areas, considered among the most visited of Taormina. You can reach it from the city center via Interbus, in a route of about 30 minutes from Piazza San Pancrazio.
At Spisone beach you will be surrounded by rock formations, see crystal clear waters and enjoy a peaceful atmosphere. In addition, you can climb one of the terraces that surround the place, to get a privileged panoramic view of the entire beach at night.
Without a doubt, the visit to both beaches is an activity that you can incorporate into your itinerary and do it in the evening, right after participating in a day trip from Taormina or walking the streets of the city visiting monuments and shopping.
4. Take an evening tour and enjoy the celebratory atmosphere of Taormina's Corso Umberto I
Taking a night tour during your stay of at least 1 day in Taormina turns out to be a must-do activity for any tourist. You can enjoy a truly celebratory atmosphere in the pedestrian street Corso Umberto I.
You will feel that Taormina has been splashed with color, thanks to the lights on the facades of the buildings and monuments. This way, you will get a more dazzling perspective of the city, ideal for you to take some pictures.
During the tour you will walk along Corso Umberto I, considered the main artery of the whole city and visited annually by thousands of tourists. There, you will be surrounded by stores, terraces with restaurants, bars and cafes, which line the street.
In addition, you will be able to contemplate several tourist attractions. Some of them are:
The Porta Catania or arched entrance to the south of the city. It is a fortification erected by the Arabs around 1440.
The Clock Tower or Porta di Mezzo, which dates back to the 12th century and leads to the historic center of the city.
The Porta Messina: this is the historic entrance to the city, located to the north and built in 1808.
5. Attend an evening of Italian opera at the Nazarena theater in Taormina
If you want to have an encounter with Italian culture, you will have to dedicate an evening of your itinerary in Taormina to enjoy some world-renowned Italian operas. All of them, performed by talented local singers.
This opera night usually takes place several times a week in the halls of the Teatro Nazarena. Therefore, no matter what time of year you visit the city, you will be able to attend a recital.
Throughout this experience of about 2 hours, you will witness amazing arias and duets from Italian operas. Some of them are:
La Traviata, (1853): a three-act opera by Italian composer Giuseppe Verdi.
La Bohème (1895): a four-act opera by Italian composer Giacomo Puccini.
La Tosca (1900): this is another work by Giacomo Puccini. It is a three-act opera premiered in Rome.
Information of interest
Price: the average price for this type of activity usually starts at 30€ per person. Children under 10 years old have free admission to the recital.
Schedule: the activity usually starts at 21:00 hours.
Where: Nazarena Theater. Via Fontana Vecchia, 3, 98039 Taormina.
6. Come to the Cathedral of Taormina at night to visit its interior and surroundings
The Cathedral of Taormina is a monument of great historical and architectural value in the city, which you can visit at any time of the day. However, during the evening hours, the structure and its surroundings are illuminated, acquiring a particular charm that will make you feel like you have traveled back in time.
The entrance to the medieval Cathedral is free and is open until 8:00 pm. In it, you will be able to enjoy its stone facade and imposing bell tower. You will also see:
The central nave: the structure is supported by six columns, some of pink marble and others monolithic. On them four arches stand out.
Its chapels: located next to the central apse. One of them is representative of the baroque of the XVII century and dedicated to the Sacrament, while the second is in honor of the Virgin of the Graces.
The wooden ceilings: these are located over the transept and the naves. You will notice the detailed work through the Arab motifs carved on the corbels that top the imposing beams.
Also, right in front of the cathedral you will notice a baroque fountain with a crowned centaur, standing out in its center with a globe and a scepter in his hands. This is one of the most representative symbols of the city, whose construction dates from the seventeenth century.
7. Visit the Trevelyan Park or Villa Comunale and get away from the bustle of the streets of Taormina
Visiting the Trevelyan Park or Villa Comunale is another of the things to see and do in Taormina at night. This beautiful Italian park is open to the public until 20:00 hours in winter and 24:00 hours in summer, being a very popular tourist attraction.
This historic garden of approximately 22,400 m² has become the main natural lung of the city center. There, you will find a pleasant natural space to walk and relax, while enjoying picturesque landscapes and panoramic views of the Mediterranean.
During the tour you will be surrounded by a quite heterogeneous vegetation: a variety of trees, exotic flowers and Mediterranean plants. You will also take a walk through the main emblematic areas of the garden.
Some of them are: - North region: this is an area composed of two levels and connected by a ramp. There, a central square stands out, used in ancient times for rest and leisure.
Central region: you will contemplate a Monument dedicated to the Fallen of the War of 1915 to 1918, a cannon of 1915, an imposing tower, among others.
Southern region: this part of the garden pays homage to the fallen in war through a row of olive trees.
8. Live a photographic experience in Taormina by night
Taormina by night offers an amazing medieval scene. You will see a different perspective of the city, thanks to the lighting on the facades and monuments, making it ideal for you to live a photographic experience on your own or on a guided tour with a professional photographer.
Self-guided tour
Taormina is a city with a fantastic location to be photographed: night landscape scenes and historical monuments. Just walk through its streets and, little by little, you will discover amazing places.
You can walk along Corso Umberto, enter the terraces of some restaurants and cafes to take advantage of the panoramic views, pass by Palazzo Corvaja, Porta Catania, the historic center of Taormina, among other places.
Photographic tour
If you opt for a photographic tour of Taormina by night, you will be accompanied by a professional guide, who will teach you some tips and tricks to take pictures with professional quality. You will be able to create, together with him, a route through the city according to your tastes and needs. Afterwards, you will set off on foot in search of the most photogenic places.
Price: the average cost of this photographic tour of Taormina by night usually starts at €399 per person.
Duration: this photographic experience with a professional guide usually lasts about 2 hours.
9. Take a close look at the Greco-Roman archaeological ruins at the Ancient Theater of Taormina
The Ancient Theater of Taormina is another tourist destination that opens its doors until 7:00 pm, allowing you to take a nighttime look at these important archaeological ruins from the 3rd century B.C.
You can tour the site at your own pace, while observing the different samples of predominant Greco-Roman architecture. For example:
The imposing amphitheater with a capacity for 10,000 people.
The arena area, which in ancient times was the stage for gladiatorial fights.
In addition, if your trip coincides with one of the concerts or musical performances held monthly, you can extend your cultural experience.
The entrance fee to this monument is approximately 10 ¤ per person. However, you will find reduced prices of 5 ¤ (18 to 25 years) and free for children under 18 years.
10. Visit the Sanctuary of the Madonna della Rocca and climb to the highest area of Taormina at night
The Sanctuary of the Madonna della Rocca is a must-see destination, and even more so after sunset, because you can enjoy an incredible panoramic view at night from the highest point of Taormina.
You will have to climb a kilometer-long flight of stairs along via Salita Castello, which will take you directly to the sanctuary, whose doors are open every day until 7:00 pm.
Upon arrival you will be amazed by the beauty and simplicity of this church, built inside a grotto. There, you will be able to see:
The rustic stone facade, has a door with an engraved lintel and two symmetrical windows.
A lateral building destined to the sacristy.
A small hermitage, located at the back.
The reinforced concrete cross, whose history dates back to 1930 and which is illuminated every night from the eastern area of the cliff.
In addition, you will find some food stores with stunning views of the coast. Here you can eat, drink and relax before returning to the city center, either to catch your transfer service to Taormina airport or to continue enjoying this medieval city.