10 Things to do in Punta Cana with Kids
Punta Cana seems to be a place for adult tourism, but nothing could be further from the truth. Children can also have a great time on this tour.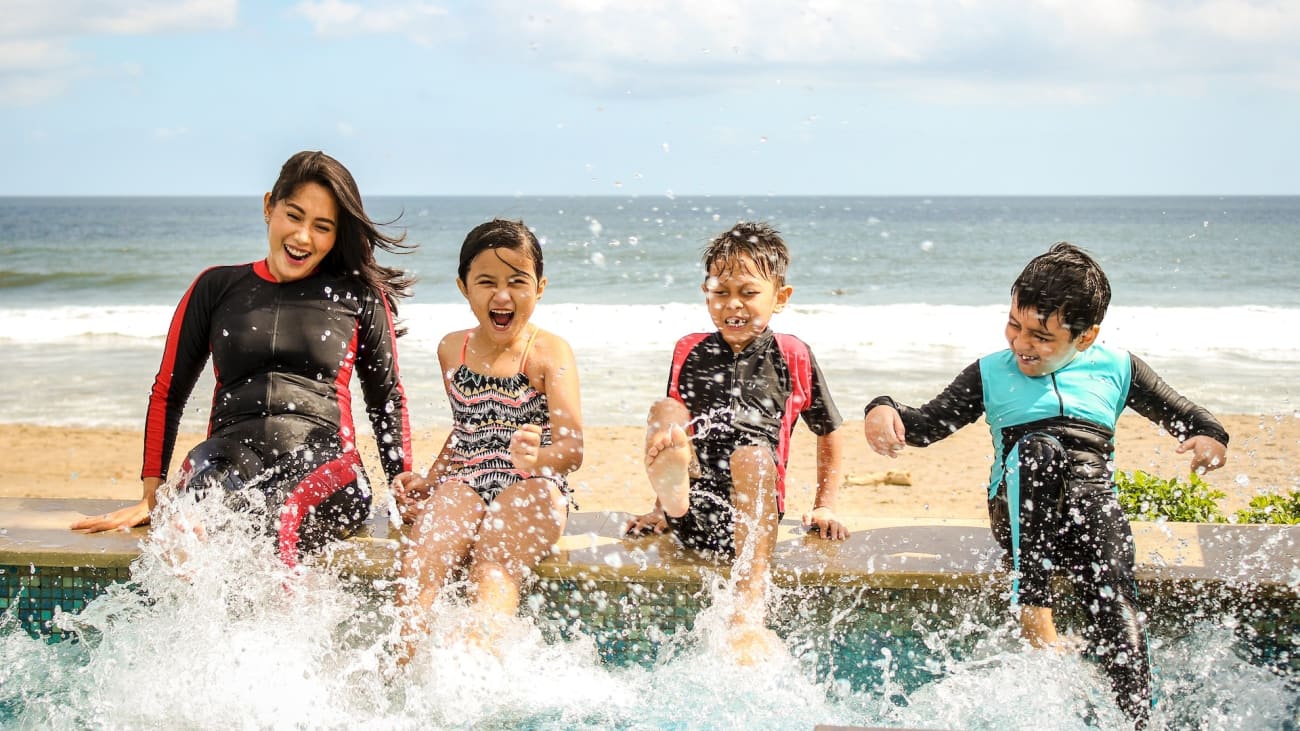 Theme parks, beaches with calm, crystal-clear waters and outdoor rides are some of the best things to see and do in Punta Cana with kids. But when you go to this place in the Caribbean, it is important to keep in mind some tips that will make your stay (and theirs) more pleasant.
Punta Cana is a more than fun place for the little ones, because in addition to visiting incredible attractions, they will be able to see and enjoy the Caribbean nature and the species that live in it. One of my favorite attractions in Punta Cana is the interaction with the dolphins and the water parks.
1. Bring all the children's documentation
It is important to bring all the documents that identify the children, whether you are their parents or not, because in many attractions you will be asked for documents such as birth certificate, vaccination card or other identification that can verify the age and health of the children.
Avoid having to leave out any activity because you don't have these documents requested in some attractions. If you are going to swim with dolphins, for example, it is important to bring the children's birth certificate to prove their age and to take advantage of the offers for them.
For this experience it is also important to present this document to know if the child is old enough to participate in the basic, intermediate or complete plan. Depending on the age of the children, they can swim alone or with an adult, this is why the child's documentation is requested.
If you are visiting Punta Cana from another country, it is vital that you bring the child's information with you. And in case they are not your children, it is important that you have an authorization from their parents, which allows you to travel and walk with the little ones throughout the Dominican territory.
2. Take advantage of free admission for children under 5 years old to the dolphin swim
Also in the swim with dolphins experience, you have the opportunity to take advantage of free admission for children under five years old. Depending on the company with which you decide to live this experience, you can choose between several packages to swim with dolphins.
The good thing is that in any of the experiences, from the most basic to the most complete, children between one and five years old do not pay for the swim with dolphins. Of course, in order for children to enter for free, they must be accompanied by an adult who has previously paid their entrance fee and selected their swim with dolphins package.
You can also take advantage of offers for older children, such as reduced-price tickets and other such benefits. To find out about all these offers and promotions, it is best to check online before you venture out to live this experience.
3. Pack insect repellent in your suitcase to venture out on the cultural trail
One of the most interesting parks where you can go with the little ones, and where they will have fun in each of the attractions it has, is Scape Park. In this park you can do different outdoor activities, including the cultural route, where you can see replicas of the dwellings of the Taino Indians, Spanish and Dominican peasants.
The most interesting thing about this activity is that it takes place in the middle of the humid jungle, where mosquitoes and other insects abound and, if you don't protect yourself against them, they can be really annoying.
This is a route that I recommend doing with children because it is always interesting for them to learn about the life of past generations, but it is important to take care of them against the bites of these insects. In addition to repellent creams, I advise you to dress the children in layers so that when visiting the cultural route they can go fresh but covered to avoid insects.
If you are going to embark on one of the excursions to Monkeyland from Punta Cana, which is another interesting attraction of jungle tourism, I also recommend taking insect repellent to avoid bites and irritation.
4. Protect the kids from the sun when visiting the beaches
Punta Cana is a tropical zone, so the weather is quite hot and the sun is inclement. The sun's rays can have a negative impact on children's skin, causing them to suffer from sunstroke. To prevent this from happening, it is important to cover them with sunscreen.
The hours of greatest solar impact on the beaches are from 11:00 to 15:00, approximately. So it is important that you apply enough sunscreen and repeat as many times as necessary to ensure that the little ones are protected at all times from the sun's rays. Especially in Playa Saona where the sun's rays are intense most of the day.
Don't hesitate to rent beach umbrellas when you arrive, this way you can also protect the children from the sun. And don't hesitate to put them in semi-covered bathing suits and even put a visor or a hat to cover their face and prevent them from being bothered by the sun.
5. Put them in context before visiting historical and cultural sites
Before visiting Punta Cana, you should know that the Dominican Republic is a very cultural country that likes to show tourists the Taino and native roots of its popular culture. Therefore, you will find many interesting historical places to visit, castles and other similar buildings.
To visit these sites with children, I recommend that you first put them in context about the history of the Dominican Republic and the Caribbean in a didactic way and without going into depth, only with the intention that they can enjoy the visit to these places without getting bored.
But in case your children do not like to walk too much and are not very avid to learn about history, then you can take them to the Casco Historico where you will find the Trampolín Children's Museum where you can hire guided tours for children between 2 and 12 years old.
6. Go to the Chocomuseo in the morning hours
Surely chocolate is one of the things that children love the most, that is why the Chocomuseo is an ideal place to go with them, but I recommend that you plan this outing for morning hours, because the tour has tasting included.
If you take the kids to the Chocomuseo in the morning, the tasting of all the types of chocolate you can imagine will give them energy to do other activities during the rest of the day, plus they will be more alert in each of the rides.
Another advantage of placing this activity in the morning is that the effect that chocolate has on children will disappear by nightfall when it is time to go to bed. In addition, it is an excellent idea to start the day and to encourage them to live other equally entertaining experiences during the course of the day in Punta Cana.
7. Include the floats to visit water parks
I recommend taking floats for the kids if you want to visit water parks, and they will also work if you plan to take the kids to a pool or the beach. This is a must-have accessory to secure the kids and avoid accidents during your family's enjoyment.
In fact, in many private places such as swimming pools and even public beaches, they usually request that children wear this type of floats to avoid accidents. But even if they have the floats on, be careful not to leave them alone at beaches, pools or water parks. Always maintain supervision.
8. Bring electronic devices for long flights
If you are traveling to Punta Cana from other parts of the world and the flight is very long, I recommend bringing electronic devices such as tablets or cell phones to prevent them from getting bored during the flight. This can also be incredibly helpful if you are taking long road trips.
This is also a very functional alternative in case you have to wait in line to enter an attraction that you haven't booked before. But always try to limit the use of these types of devices to the really necessary moments and when you want the children to participate in group activities, simply dispense with these devices.
9. Book as much as you can online before traveling with kids
This is one of the most usual alternatives for you. If it can be annoying for adults to stand in line to enter the different attractions, imagine for children. Believe it or not, they tend to get exhausted easily while they have to wait so long, so if you want to keep their energy charge for the rest of the activity it is better not to put them to queue.
To avoid unnecessary queues, it is best to make all reservations online even before you leave for your trip. Another advantage of this option is that you can save money especially in high season, because you can make the reservation for a lower price than you can get if you go in person at the time of your trip.
By booking online you can also get discounts for children's tickets to the different attractions, which is a plus when you are traveling with little ones. The percentages of lower prices for online booking will depend on the age of each child.
10. Offers several alternatives of activities to choose from
Kids love to know that they can choose to do one thing or another, that is why this will be very useful when you go on vacation with them to any place. In the specific case of Punta Cana, it is much easier to offer alternatives because most of the activities you can do in this place, it is possible to do them with children.
You can propose simple activities such as visiting a beach or you can propose other activities such as visiting a theme park that abound in Punta Cana. Within the option of theme parks you have multiple places to go to, from outdoor parks where you will discover caves and animals of the area, to water and mechanical parks to spend a different day.
As long as the child has the opportunity to choose what he/she wants to do, he/she will feel much more at ease with each of the activities he/she will do during the trip. This advice applies especially to older children and teens who are already experiencing growth changes and want to try out more of their independence.
11. Bring fall protection such as helmets and knee pads
Yes, you have to pack some safety measures in your suitcase, especially if you are traveling with small children, because there are places where you can ride a segway or even take a bike tour, so it is preferable to keep the children well secured during the ride.
In many of the places where they offer this service they usually rent this type of implements, but it is not always the case, and they do not always have the sizes for small children, that is why I recommend you to carry these tools on your own, so you make sure that the children are always protected.
12. Make sure each excursion offers breakfast, lunch or dinner, or snacks
This is very important, because otherwise, you would have to bring snacks for the little ones, especially if you decide to do a safari in Punta Cana, because generally this tour is completed in about 7 hours.
Depending on the company you hire the safari with, you will have access to snacks or not. That is why my recommendation before taking the kids on this kind of excursion is to ask if you will have access to snacks during the tour, so you will know what kind of food to bring for the kids.
I recommend you to take the kids to this kind of experiences, and in fact, you can find a lot of options among the best excursions from Punta Cana in which kids can participate and that they will love for sure.
13. Visit restaurants with dedicated children's menus
We know that it is very difficult for children to want to eat different types of food, especially if it is some foods that they have never tried before. The same can happen if you want to go to a restaurant to taste typical local food. For that, in Punta Cana you can find a lot of child-friendly restaurants.
In most of these restaurants you will be able to order specialized menus for children, where french fries, chicken nuggets and hamburgers are the most abundant and offered. Although you can also look for options with healthier meals for children, because they are also available.
Some of these restaurants that cater to children's tastes are: The Grill, Toc Beach Bar & Restaurant and Pastrata Punta Cana. In some of these places you can also find playgrounds for children, with the idea that they can have some fun before continuing with the trip.
14. Take advantage of children's rates at airports
If you are traveling from other countries to Punta Cana you will have to board a plane, and in that case the costs of a children's ticket may go down. These ticket offers generally apply for children between 3 and 7 years old. But in case you are traveling with children under 2 years old, some airlines may waive your ticket.
Of course, depending on the class you are traveling in, you may or may not be able to choose where on the plane you will travel, but it is definitely a plus that you can save some money on the children's ticket.
Generally these discounted tickets for children can be found in low season, so it is a great idea to go to Punta Cana when there is little influx of tourists, and the best time to go to Punta Cana and save money is from April to September. This way you are sure to get discounted or free airfare for the children traveling with you.
15. Stay at a hotel with kid-friendly attractions
In Punta Cana there are a lot of accommodations with playgrounds for children inside, this is a great advantage if you travel to this place with children because they will not only have fun when leaving the hotel, but inside the facilities.
This will help you to rest if you are going to Punta Cana in 10 days or more and you want to stay one day resting in the hotel but the children have so much energy that they want to continue playing and enjoying the trip.
Generally in the accommodations that have these spaces for children, they also offer the attractions divided by age, that is to say that the older children have a space for them and the younger ones also have a safer space to enjoy the play area.