Best time to go to Punta Cana
It is clear that Punta Cana is one of the most paradisiacal places to visit in the Caribbean, but what is the best time to visit the island? Let's take a look.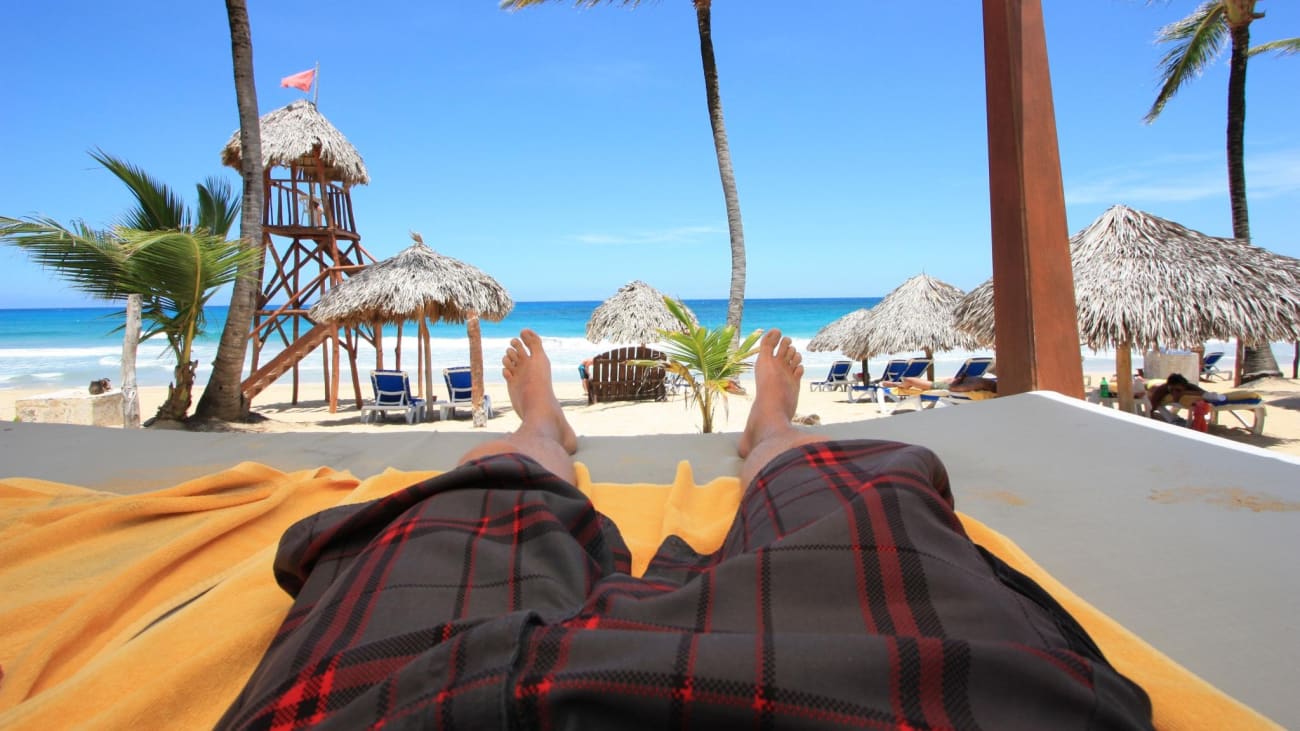 Knowing the best time to visit Punta Cana depends on the type of trip you want to take to the island, whether it's a family trip, a business trip or a couple's trip. But if you are looking for things to see and do in Punta Cana, you definitely need to know that your trip will rarely be marred by bad weather.
As a general rule, the best time to visit the Dominican Republic, and Punta Cana specifically, is during the summer season. But judging by the tropical climate of this island, the whole year is summer, except for some typical months when the rains fall.
When is the best time to visit Punta Cana?
Let's say that in terms of weather, the best time to visit Punta Cana is definitely during the summer season. Although this is a very generalized opinion, because in reality in Punta Cana almost all year round is summer.
But tropical reality aside, the best time to visit the island can be summer because in addition to the fact that most of the attractions are open and working, you can find a lot of excursions that take you to know the island and the whole town of Punta Cana.
The disadvantage, to say the least, of going to Punta Cana in summer is that the weather is usually really very hot. Temperatures in Punta Cana during the summer season can reach up to 32ºC and the lowest temperatures can be as low as 24ºC.
If you want to visit Punta Cana in summer, another thing you need to know is that it is absolutely necessary to make reservations well in advance, since in summer hotels and other services for tourists tend to collapse easily.
Visiting Punta Cana between October and December
Since Punta Cana's tropical climate allows for a mild and stable temperature all year round, summer can be divided into different times when it can be hotter or cooler on the island. That is what happens with the months of October to December.
In these months the rainy season is already behind on the island. However, the weather is still pleasant. In fact, something that regularly affects Punta Cana is the large number of tropical storms and hurricanes that hit the island. Although these storms arrive with little force and fade away after a short time.
But returning to the advantage of traveling between October and December, the thing about these months is that, in addition to having left behind the winter and hurricane season, the influx of tourists is lower than when the summer is well underway. In addition, the weather is usually a little more pleasant, sunny like all year round, but with temperatures that do not exceed 30 ºC on extremely hot days.
As for reservations and prices, this is considered the middle season in Punta Cana, which means that you will find low prices in some cases and very high prices in other cases.
But above all you have to keep in mind the importance of booking before traveling on these dates because although it is likely to find places to stay, restaurants and other services, it is definitely better to take a reservation in advance.
Visiting Punta Cana on weekdays
If you are passing through Punta Cana either for pleasure or business, and you want to visit some beaches, enjoy the tropical paradise landscape or take the kids to a water park on the island, I recommend you to do it during the weekdays and before your visit review a list of 10 things to do in Punta Cana with kids.
On weekends the island usually becomes the headquarters of the party and fun, but if you go as a family, weekdays are perfect to get to know new attractions, also to know the roads to the beaches and take the opportunity to enjoy the sun with tranquility.
On weekdays you can also find deals on tourist attractions and you can even get lower prices to get into one or another tourist attraction. Of course this also depends to a large extent on the season in which you visit the island.
In high season, for example, tourists hoard Punta Cana during the whole week, because they are usually on vacation for a limited time and take the opportunity to enjoy and get to know each of the interesting places the island has to offer.
During the low season I recommend you to apply this technique of visiting each one of the places during the week. Of course, before visiting a specific attraction, you should check the official website to find out the opening hours and verify that they work during the week.
Best time to go to Punta Cana if you travel with kids
On a trip with children, any time is a great time to visit Punta Cana, but generally the ideal time to do so is during high season when children are on vacation from school.
During holidays it is an excellent idea to take the kids to Punta Cana, let's say Easter or even Christmas. In fact, the latter is one of the best dates because the weather is usually quite nice and the Christmas decorations are always something the little ones love to see.
There is nothing better than Christmas in the tropics because, at least in the case of Punta Cana, temperatures rarely drop below 23 ºC or rise above 30 ºC. In fact, if the kids you are traveling with like extreme sports and you also want to try adventure, October through December are the months to try this.
In Punta Cana there are many options where children can practice extreme activities such as kitesurfing, windsurfing and even parasailing, of course always with the supervision and company of an adult.
Attractions to take the kids on vacation in Punta Cana
Another advantage to take the kids to Punta Cana during the December season is that you will find very good prices on tickets to the most popular attractions for the little ones, such as water parks or jungle discovery parks such as an excursion to Monkeyland from Punta Cana.
Also in December you can find good prices to go swimming with dolphins and even to go to other attractions such as water parks and even the Scape Park. And if what you want is to visit the beaches, you have many options to take the kids on vacation.
One of the family beaches par excellence where you have to go with the kids in December because of the atmosphere, the weather and the freshness of its waters is Playa Juanillo. Another beach I recommend you to visit during the month of December is Playa Bávaro, one of the most sought after by tourists but also one of the most appreciated by children.
Best time to go to Punta Cana if you want to save money
If you want to save money when visiting Punta Cana then the best time to go to the island is during the low season, that is, winter. The only drawback of going to the island during this time is that there are usually hurricanes due to the rainy season. Also the rains tend to be insistent during this time.
However, the weather is very changeable in Punta Cana and even though it is a harsh winter, the sun comes out quite often, so the rains won't dampen your visit or your walks on the beach.
When you go during the low season you can save enough money on lodging, restaurants, shopping and especially on tourist attractions. If you want to hire tourist excursions and these types of tours but you also want to save money, you can go during the low season, as you will surely find offers in this type of tourist packages.
Another offer you can't miss when traveling to Punta Cana in low season are the low prices of airline tickets and transfers from Punta Cana airport. To get to Punta Cana you will usually need to board a plane, whose tickets usually have a high cost, but when traveling in low season, when supply is higher and demand is lower, you can find real deals.
Best time to go to Punta Cana if you are short on time
If you want to go to the island but don't expect to have a 7-day trip in Punta Cana, then you have to go in low season time. The low season includes the months between April and September which are the winter months.
And I tell you that the best season to visit the island with little time is at that time of the year because there are fewer tourists, which leaves you the opportunity to visit the most places without queuing up almost anywhere.
In addition, if you have little time you can choose the option of doing combined excursions in which you can visit two places at the same time, that way you can take advantage of the amount of hours you will stay on the island.
One of the must-do things to do in Punta Cana if you are going for a short time is to take a trip to an island such as an excursion from Punta Cana to Saona Island, but you can also do water sports to complete the adventure experience in Punta Cana.
Another experience that you can live during the low season is to make one of the best excursions to Santo Domingo from Punta Cana, which will take you to tour the historic center so that in addition to taking a nice beach experience, you can also learn a little more about the history of the Dominican Republic and how it has evolved over the years, since the time of the conquest.
Best time to go to Punta Cana if you want to see it with less people
If you want to see it with few people, the best time to visit the island is still the low season. The low season months are between April and September, times of the year when you can find a lot of offers both in accommodation and other services for tourists.
Another advantage of going during these months if you want to know Punta Cana with few people is that you can find good prices and good places to enjoy the different excursions in the most interesting places of the island, both in Punta Cana and in the rest of the places of the Dominican Republic.
Of course, if you go in low season and want to see the island with few people you will not have much of a problem because during this season there is usually little influx of tourists. But if on the other hand, you want to go in summer to the island and enjoy the weather, you can book some of the best excursions from Punta Cana to the most remote places where tourists do not go often.
Places to see Punta Cana with few people during the summer season
Among the best places you can find to enjoy with few people in summer is the Uvero Alto beach, a special place for people looking for a quiet stay without so many tourists.
Los Haitises National Park is another favorite place to visit if you want to get to know Punta Cana with few people. You can go both in summer and winter season and you can still find lots of beaches, waterfalls and completely unspoiled mangroves.
These paradisiacal places are not only little sought after by tourists, but also offer landscapes that you will not find anywhere else on the island. Another activity that you will surely enjoy if you want to go in the summer season but do not find many tourists, is to go on a whale watching tour.
If you want to do this whale watching tour, you can first visit the bay of Samaná, which is also a beautiful natural landscape with few tourists. An advantage of doing this tour is that you will be able to visit two beautiful landscapes in one excursion.