Hop on Hop off Bus Tours in Vienna
The sightseeing bus allows you to discover Vienna in a fast and comfortable way while making sure you see all its monuments and buildings, and without having to take public transportation. Read on and discover all its advantages!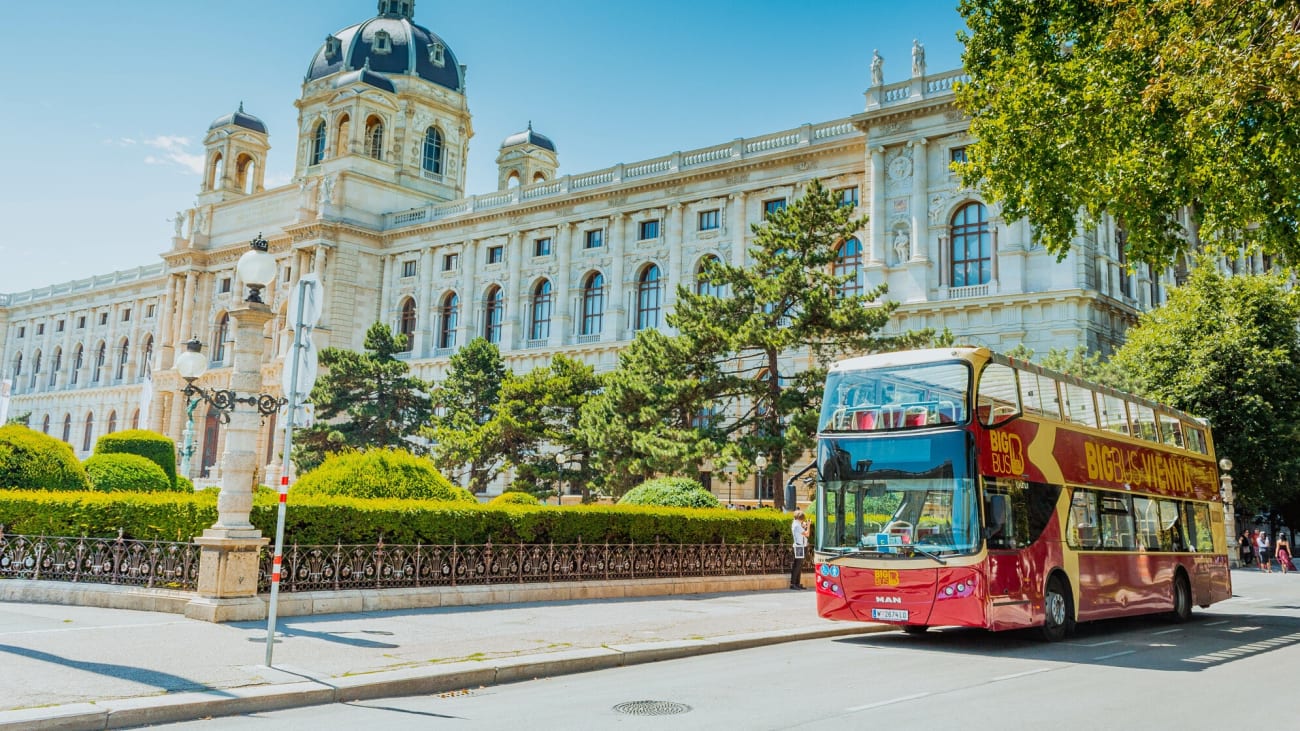 Vienna is one of the great capitals of Europe and, despite how much you enjoy a walk through its streets, the distances can be long. This is a drawback that the tourist bus solves.
1. Types of tourist buses in Vienna
Enjoying the elegance of the Austrian capital from a privileged point of view, without getting tired and in a comfortable way is what the different tourist bus companies operating in the city offer you.
2. 1, 2 or 3 day pass for Big Bus sightseeing bus with free stops
This is the cheapest option and therefore one of the most sought-after. The price starts at $ 26 (increases if you want to use the tourist bus for more than one day) and for this amount, you can access any of the two routes of the Big Bus. The red route passes by the most important monuments and sights in the center of Vienna and the blue route focuses on the area of the city where Schoenbrunn Palace is located.
You can buy a pass for the Big Bus sightseeing bus with free stops and you can add additional experiences such as a walking tour through the center of Vienna, a boat ride, or a night tour of the city with a live guide to the sightseeing bus. If any of these activities appeal to you, booking them along with your Vienna Big Bus pass is one way to save.
Blue route stops
Vienna State Opera / Albertina Museum
Museumsquartier / Mariahilferstrasse
Zoo Aqua Terra / Haus des Meeres
Hotel Mariahilferstrasse / IBIS
Schönbrunn Palace + Zoo / Schloss Schönbrunn + Tiergarten Schönbrunn
Main train station / Hauptbahnhof
Upper Belvedere / Oberes Belvedere
Lower Belvedere / Unteres Belvedere
The Hundertwasserhouse / Hundertwasserhaus
Citypark / Stadtpark
Red route stops
Opera / Oper
House of Music / Haus der Musik
Museumsquartier / Mariahilfer Straße
Museums / Hofburg
Town Hall / Rathaus
Votive Church / Votivkirche
Augarten
UNO City / DC Tower
Danube Island / Donauinsel
Blue Danube
Schwedenplatz / Danube Canal
City Park / Stadtpark
Ana's Traveller Tip

Some tour bus routes have a stop at the central train station, keep this in mind when you arrive in the city.
3. Vienna Sightseeing 1, 2 or 3 day pass for Vienna Sightseeing bus with boat tour
The Vienna Sightseeing sightseeing bus with free stops and a boat trip is the most complete option as the Vienna Sightseeing bus is one of the most variety of routes and the pass also includes other advantages such as a guided walking tour of Vienna, a boat trip or a series of discounts on tickets to some of the city's most popular attractions.
In addition, the Vienna Sightseeing sightseeing bus has among its on-board commentary a specific channel for children available in German and English. You can choose between a one, two, or three-day pass and during that time you will be able to move around the city through more than 50 stops distributed in four different routes.
You will not leave out anything to see in Vienna with this alternative. My advice is that you take advantage of the variety by planning your day-to-day in Vienna and interspersing bus sections with walking tours of the city. When you purchase this pass you will receive a Vienna guide to help you do this.
About the cruise
As for the boat trip, when you make your reservation you will be able to choose the day you want to do it and via email you will receive all the details about times and departure point. The river cruise lasts approximately one hour and takes place along the Danube River that runs through Vienna. It is a highly recommended option for those who want to enjoy the city and its sights from a different perspective and get away from the stress and rush. The boat tour also includes audio commentary.
Red route stops
Vienna State Opera
Kunsthistorisches Museum Wien
Mariahilfer Straße
Rathaus
Liebenberg-Denkmal
Schwedenbrücke
Schwedenplatz
Museum of Applied Arts
Kursalon Hübner
Votivkirche
Blue route stops
Museum of Applied Arts
Kunst Haus Wien. Museum Hundertwasser
Wien Praterstern Bahnhof
Alte Donau
Vienna International Centre
Reichsbrücke
Remise - Transport Museum of Wiener Linien
Yellow route stops
Vienna State Opera
Kunsthistorisches Museum Wien
Westbahnhof
Schloss Schönbrunn
Südtiroler Platz
Museum of Military History
Schwarzenbergplatz
Haus des Meeres
Schloss Belvedere
Green route stops
Votivkirche
Rathaus
Liebenberg-Denkmal
Museum - Sigmund Freud Museum
Liechtenstein Garden Palace
Grinzing
Kahlenberg
Schlumberger Kellerwelten
-Roßauer Lände
4. 1, 2, 3, or 6-day Vienna Sightseeing Bus Pass + Vienna Pass Card
If you are determined to use the Vienna sightseeing bus for one or several days, you probably also plan to visit important points of interest in the city such as Schönbrunn Palace, Hofburg Imperial Palace, or the Natural History Museum.
Before making any decision I recommend that you check out the advantages of the Vienna Pass; a tourist card that not only includes unlimited use of the Vienna Sightseeing sightseeing bus but also free access to these and other museums and monuments in the city.
When buying a "city pass", the main question is whether it is worth it or not, but if you are already interested in using the tourist bus, with that and the visit to three monuments or museums would already be amortized Vienna Pass one day. The conditions of use of the sightseeing bus would be exactly the same as if you buy the Vienna Sightseeing pass separately: audio commentary, panoramic views, unlimited use, and free stops.
If you are interested in the idea of purchasing a sightseeing card, I recommend this article about the advantages of the Vienna Card.
5. How Vienna's sightseeing buses work
Make the routes complete
There are two ways to take advantage of Vienna's sightseeing buses. The first is to take the complete tour (or tours, as some companies offer more than one) to enjoy panoramic views of the city while listening to the audio commentary on the major points of interest you will encounter along the way. All tours take place daily, although schedules may change during the low season.
Hop on and off whenever you want
The second is to use the option of free stops; this means that during the time you have contracted the use of the tourist bus you can use it as a means of transport to use getting on and off at the stops you want as many times as you want. The difference, apart from the views or the audio commentary, is that the tour is specifically designed for those who visit the city and want to see its main points of interest.
Day Pass
Vienna sightseeing bus passes can be for one or several days and you can choose depending on the time you have available and your travel plans. With either option you can hop on and off the bus as many times as you like during the days it is active. The time of use starts counting from the first time you get on the tourist bus.
Ana's Traveller Tip

Activate your sightseeing bus pass first thing in the morning to get the most out of your usage time.
6. If you're interested in taking a sightseeing bus tour in Vienna, you'll also be interested in...
When looking at the various Vienna tour bus routes, you will find that many of them pass through Schönbrunn. This is an area further away from the center where the long-time summer palace of the Habsburgs is located. Schönbrunn Palace and its majestic gardens are Vienna's most popular visit.
You have various options to visit it: a tour of the interior, a tour that combines the interior with exclusive areas of the gardens, enjoy dinner or a concert inside... In this article on Schonbrunn Palace Tickets and Tours you will find all the information you need to take advantage of the tour bus route and easily reach the palace.