Ibiza in 4 Days: a guidebook for getting the most out of your visit
Four days is enough time to tour Ibiza, as long as you know how to organize your itinerary. Do not waste time and hurry to discover the most important destinations on the island.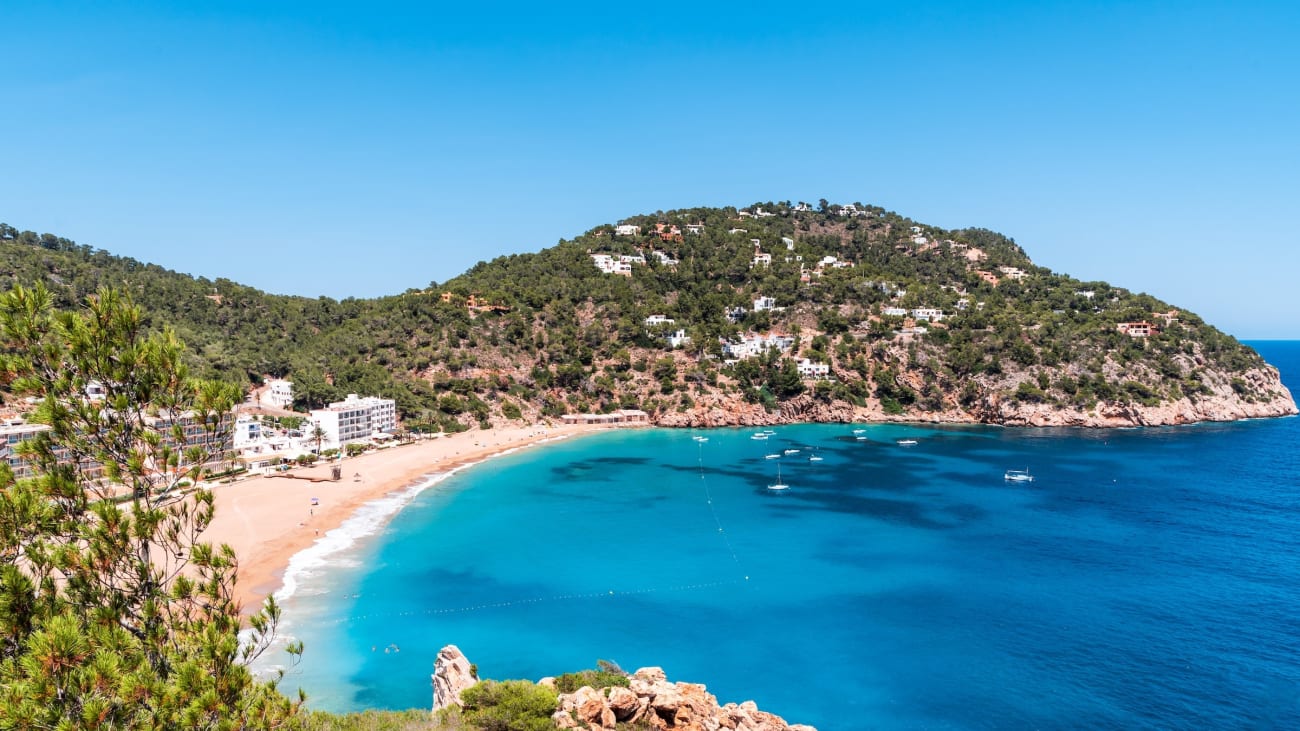 Ibiza is a Spanish island located in the Mediterranean Sea, known for its beaches, viewpoints and historical monuments. You can visit each of its tourist destinations in a four-day visit, although, of course, you should organize an itinerary to avoid distractions and take advantage of every minute.
Among the best things to do in Ibiza are a tour of the old town, visit Formentera (nearby island), Las Dalias, Playa Aigües Blanques, Sa Marina and San Antonio Abad.
Day 1: Tour the old town of Ibiza and see the most important sites
For your first day in Ibiza, the plan is simple: walk around the historic center, also known as Dalt Vila.
This way, you will discover the architectural treasures that this walled enclosure has preserved for centuries.
Portal de Ses Taules
The tour begins at the Portal de Ses Taules, which welcomes you to Dalt Vila. You will be amazed by this imposing arched gateway and the immense Renaissance walls, declared a World Heritage Site since 1999 and built in the sixteenth century by order of King Philip II, to protect the city.
You will also see next to the triumphal arch a couple of replicas of Roman statues and the royal coat of arms.
As soon as you cross the Portal de Ses Taules, you will find the Patio de Armas, which features a total of 10 arches. This area was once occupied by the **island'**s famous hippie market.
Baroque Church of Santo Domingo
Approximately five minutes away from the last destination, is the baroque church of Santo Domingo, whose history dates back to the sixteenth and seventeenth centuries. You can contemplate the architectural beauty of this monument, which formerly housed the convent of the Dominican Fathers.
During the visit, you will have the opportunity to appreciate the interior nave of the church, which reaches a dimension of 31 meters. Also, you will see the main altar, which highlights a Genoese baroque altarpiece, the dome topped with tiles in an ocher tone and five side chapels, arranged on each side.
Ibiza Cathedral
At the end of the visit to the Baroque Church of Santo Domingo, you can go to the Cathedral of Ibiza (about 7 minutes walk). If you prefer, this religious building can be visited as part of many bike tours in Ibiza.
This is one of the most emblematic monuments of the island, as it was built during the 13th century and it was the site of the Yebisah mosque.
When you enter the cathedral, you will notice how the Baroque style predominates throughout the nave, while the Gothic-Catalan style is very marked in the rest of the structure.
In addition, if you have traveled to Ibiza in August, specifically on the 5th, you will be able to enjoy an atmosphere of celebration due to the procession of the Virgin of the Snows through the streets. This is the patron saint of the island, whose image is in the cathedral.
Price: free admission.
Hours: Tuesday to Saturday (10:00 to 14:00 hours and 17:00 to 19:00 hours).
Where: Cathedral of Ibiza. Historical center.
The Town Hall of Ibiza
The town hall is another of the obligatory stops in the old town. It consists of a pair of buildings: the palace of Can Botino and the Cloister of the Dominicans. Both buildings have a simple architectural style with low, white walls.
You can access them from Monday to Friday from 8:30 a.m. to 1:30 p.m. to visit what was once the Convent of the Dominican Friars.
In addition, the town hall is surrounded by some palm trees and right next to it you will find a small viewpoint. There you can rest while you contemplate a panoramic view of the Mediterranean Sea and the cruise ships that move in these waters.
Price: free admission.
Hours: Monday to Friday (8:30 am to 1:30 pm).
Where: Ibiza Town Hall. Historical center.
Puget Museum
When leaving the cathedral you will see the Can Comasema palace (two minutes on foot). There, since 2007 the Puget Museum was established, where you will find an important collection of 130 works: photographs, watercolors, drawings and oil paintings.
You can visit it from Tuesday to Sunday from 10:00 am to 2:00 pm and from 5:00 pm to 8:00 pm. In addition, it is free.
According to some coats of arms of the Francolí family found, the structure of this museum dates back to the 15th century. Later, during the 19th century, it belonged to the Palou de Comasema family, which owns the artistic legacy exhibited today.
Chapel of San Ciriaco
Finally, you can go to the Chapel of San Ciriaco. This is a small devotional space, built in honor of that saint during the year 1754. The altar is located on the street, so you can visit it at any time of the day.
You will see right under the altar a curious tunnel entrance, which was simulated to remember the event of August 8, 1232, when the first Christian conquerors entered the city. This, thanks to the help of the son of an Arab sheikh who betrayed his brother, allying himself with the enemy.
Day 2: Visit Formentera from Ibiza
For the second day, you can visit Formentera from Ibiza. It is a small neighboring island with great tourist attractions to enjoy.
La Savina
When you get off the ferry from Ibiza the first thing you will see is the colorful village of La Savina. There you can enjoy a beautiful natural view of the sea, the ships and the famous islet nearby. All this while walking along the promenade.
Afterwards, you will find a flea market (from 10:00 am to 00:00 am), where you can buy handicrafts, clothes, jewelry and souvenirs. You will see many restaurants, cafes and bars for breakfast or lunch.
Also, if you wish, you can book a tour that will take you to see all that the nearby Es Vedra has to offer or take another tour within Formentera, which will help you prioritize the destinations, being quite convenient if you have traveled to Ibiza with children, as they could get tired easily.
Levante Beach and Ses Canyes Beach
Approximately 10 minutes away from the previous destination, you will find Levante Beach, with beautiful white sand, occupying a coastline of 1450 meters and turquoise waters in which you can dive.
It also features a system of dunes and a small forest, which lead to the salt ponds.
Also, 50 meters from Playa de Levante, you can enjoy the quiet nudist beach of ses Canyes, which is characterized by the absence of vegetation and for having a series of rocky cliffs. Ideal if you want to get away from the crowds that you will find if you have traveled to Ibiza in summer.
Es Pujols
Es Pujols is a small town with a lot to offer. You can sit in one of its lively cafes and eat and drink in the restaurants or bars. Also, on the pedestrian promenade, you will find a large shopping area with trendy stores and every evening you will enjoy the craft markets.
You will also enjoy the beautiful scenery of the coves where the local fishermen leave their boats. However, the best thing you can do on the beach of Es Pujols is to lie on the sand and swim in its calm waters.
Sa Tanca Vella Chapel
After visiting Es Pujols, I recommend you to go to the Capella de Sa Tanca Vella (10 minutes away by car). It is a construction dating back to 1336, considered the oldest chapel in Formentera.
During the visit you can take a close look at this one-storey European Romanesque construction and learn about its history. The structure is similar to a small castle, the walls are robust and pure white, inside the barrel vault and a series of simple ornaments stand out, but that will capture your attention immediately.
La Mola Lighthouse
The Faro de la Mola Lighthouse, approximately 16 minutes from the Capella de Sa Tanca Vella, will be the last destination of this second day.
You can climb this historic construction of 22 meters high, inaugurated at the end of 1861. From its viewpoint you will enjoy a privileged panoramic view of the Mediterranean Sea and the sunset.
After this experience at the lighthouse, you can go to the nearby restaurants to taste the Mediterranean and Mallorcan gastronomy or, if you wish, go to one of the bars to drink and dance before leaving for Ibiza.
Price: from 4,5€.
Hours: Tuesday to Sunday (10:00 to 14:00 hours and 17:00 to 21:00 hours).
Where: Lighthouse of La Mola. El Pilar de la Mola, Formentera.
Day 3: Las Dalias flea market, Aigües Blanques beach and Sa Marina
Continuing with the itinerary, the aim is for you to make the most of the third day in Ibiza by doing some shopping in a historical market and fashion stores, snorkeling on a beach with crystal clear waters and tasting the island's gastronomy and drinks.
Las Dalias flea market
Start the day at the Las Dalias flea market, whose history dates back to the mid-1950s, when it first opened as an informal street-side bar. It is an emblematic place for locals and a must for tourists.
When you arrive at Las Dalias in Ibiza you will be enveloped in a colorful atmosphere of constant celebration.
You can enjoy a great gastronomic offer in its food stalls, restaurants, cafes and bars. Also, you will find several stores and in the craft market you can buy souvenirs, jewelry, leather goods, paintings, among other objects.
In addition, if you have decided to visit Ibiza in December or Easter, you will find special markets, which are only open during those dates.
Price: free admission.
Hours: Saturday (10:00 am), Sunday (11:00 am). In summer it opens on Mondays, Tuesdays and Sundays (from 7:00 p.m.). Holy Week (open on the four days of religious celebration).
Where: Las Dalias street market. Las Dalias of Ibiza.
Beach Aigües Blanques
At the end of your visit to the Las Dalias flea market, I advise you to go to Aigües Blanques Beach. There you can lie on its white sand to rest, while enjoying the horizon of this picturesque coastline, surrounded by cliffs. Also, you can swim in its crystal clear waters safely, because they are shallow.
Also, if you want to live one of the best snorkeling experiences in Ibiza, you can hire a guided tour, which will provide you with the necessary equipment and tips for the dive.
In this way, you will be able to explore the reef of this beach and, thus, get to know its marine life. Certainly, a good plan to incorporate among the things to do in Ibiza in June, July or August, which tend to be the warmer months.
Sa Marina
A last destination for this day is Sa Marina, known as the fishermen's quarter, located next to Dalt Vila or the historic center of the island.
There, you will be able to go shopping in fashionable stores such as the historic Sombrerería Bonet (1916), Bamba Adlib, or Noss Ibiza, among others.
You will also find a number of cafes, cocktail bars and restaurants with Mediterranean or Italian menu, among others. Such is the case of La Tana, Bar Maravillas, Mamá Pomela, etc. You can also take a stroll along the harbor to enjoy the view and, if you are lucky, you will find a hippie market.
Day 4: San Antonio de Portmany
The fourth and last day in Ibiza you can explore the parish of San Antonio de Portmany, to discover its landscapes, monuments, urban art and nightlife.
Sa Punta des Molí Cultural Space
The first destination to visit in the town of San Antonio is the Cultural Space Sa Punta des Molí, located at one end of the beach s'Arenal. There, you will see an emblematic windmill and you can explore its interior.
You will also find a waterwheel with which water was extracted from the wells and a trull or mill, formerly used for crushing olives to distill oil. Finally, there is an exhibition room installed in a house next to the windmill.
Price: free admission.
Hours: Tuesday to Saturday (10:00 am to 1:00 pm and 5:00 pm to 8:00 pm).
Where: Cultural Space Sa Punta des Molí. San Antonio de Ibiza.
Take a free tour of San Antonio
After visiting the Cultural Space Sa Punta des Molí, you can join a free walking tour to discover the town or you can hire one of the bike tours in Ibiza.
Whichever option you choose, you will have the opportunity to contemplate the main monuments and learn about their history.
You will visit the Columbus Egg, a 6-meter work that shows the caravel Santa Maria. While pedaling through the streets you will see samples of urban art on some facades, belonging to local and international artists(Pablo Herrero and Phlegm).
Also, you will pass by the church of San Antonio (XIV century), the yacht club, the Town Hall and the old Colonial House, today known as the painters' square.
Take a boat ride
To continue with your itinerary, nothing better than sailing in Ibiza and, thus, enjoy a different perspective.
You should go to the promenade and book a boat tour. In fact, some of these tours incorporate water activities such as snorkeling, jumping platforms, jet skiing and surfing, among others.
Likewise, boat tours in that location usually offer small parties on board, with DJs, food and drinks. Therefore, everything will depend on your preference when choosing the type of experience you want.
Approach the Ses Variades promenade
Before leaving you can not miss the Ses Variades promenade, to contemplate the incredible sunset from this rocky coast and, thus, take some pictures. You can also eat, drink and relax in the cafes, restaurants and bars of this busy place.
Among the highlights are the emblematic Café del Mar, founded in 1980 and Café Mambo, where you will find daily live DJs with great chill out sessions.
Also, if you want to get a taste of San Antonio's famous nightlife, head to the Es Paradis club or Eden.
Public transport in Ibiza
Public transport in Ibiza usually offers several routes, which will allow you to travel around the island with ease. Thus, you will be able to move from the airport, access the main towns and other tourist areas.
Of course, you should keep in mind that public transport journeys are usually longer, compared to a private car. Therefore, you should take your precautions regarding the time to get in and out of them.
In fact, during the high season in Ibiza, the routes usually go through some stops every 30 minutes, to improve the service.
Day 1: Historical center of Ibiza
Ibiza Cathedral
Free entrance
Tuesday to Saturday.
Location: Walled city. Historical center.
Day 2: Formentera from Ibiza
La Savina
Transfer by ferry from 17€.
Every day
Location: Formentera Island
Day 3: Las Dalias market, Aigües Blanques Beach and Sa Marina
Las Dalias flea market
Free entrance
Saturday and Sunday. In summer (Monday, Tuesday and Sunday)
Location: Las Dalias of Ibiza
Day 4: San Antonio de Portmany
Cultural Space Sa Punta des Molí. San Antonio de Ibiza
Free admission
From Tuesday to Saturday
Location: Parish of San Antonio de Ibiza