Best Tours in Sorrento
Sorrento has been a vacation destination since ancient Rome. When you see its terraced lemon groves and the old town by the sea, it will be hard not to fall in love with this city.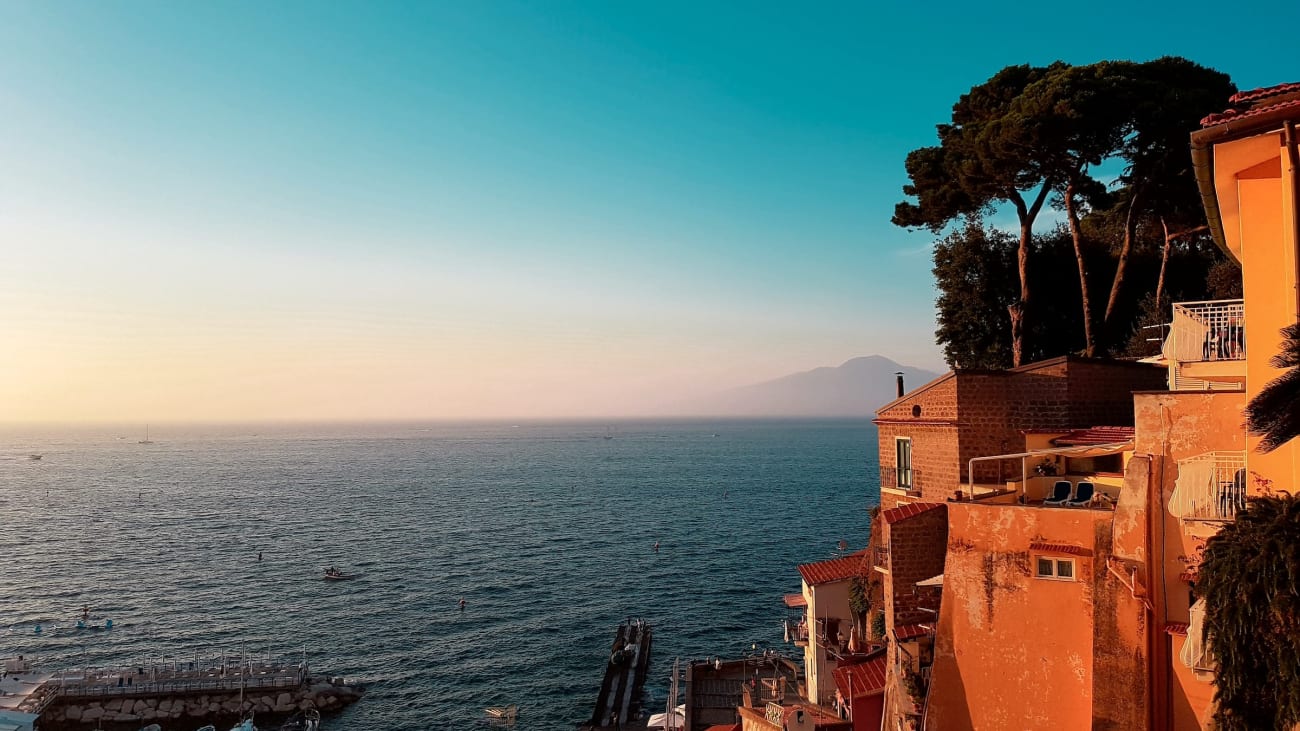 What is the best way to discover what to see and do in Sorrento? Easy! An organized tour. You can get the most out of your one-day visit or choose a more specific route in case you stay longer.
In addition, in this Italian town you can find tours that cover various themes, from general to gastronomic. You can not miss those that include a small promenade.
1. Guided tour of Sorrento
A walking tour of Sorrento is always a good option to get to know all its secrets. They have local guides who know in depth the history of their city.
This is a great way to get a first impression of the attractions of the town in order to visit them later at your leisure, especially if your stay in Sorrento is going to be about 3 days.
Sorrento is not very big but it gathers attractions with a long history behind them. One of these is the cathedral that was originally located in another part of the city.
Another destination not to be missed is the Vallone dei Mulini, a valley that lies behind the central Piazza Tasso and is known for an abandoned sawmill.
Itching for a walk? With a walking tour you will discover the secrets of Picasso and see the buildings and natural beauties that have attracted millions of travelers since ancient Rome.
Duration: about 2 hours
Price: from 30 €.
Recommended for those who want to take a walk with a local guide.
2. Tour among lemons
A few meters from the Museo Correale is La Limonaia, a restaurant with a garden full of lemon trees. In addition to dinners and lunches, they organize tours dedicated to the king of the local fruit: the "ovale di Sorrento".
This is the name given to the lemon of the Sorrento peninsula; it is a medium to large fruit, elliptical in shape and with an intensely fragrant skin. Compared to the traditional lemon, its juice is richer in vitamin C and mineral salts. The real limoncello is made from this fruit and you will have the option to taste it at the end of the visit.
Before tasting the famous liqueur, you will walk through the 8,000 square meter grove. Along the way, an expert guide will explain the cultivation methods and characteristics of this extraordinary fruit. In addition to the limoncello, the tasting usually includes jams and lemon-flavored extra virgin olive oil.
Duration: less than 1 hour
Price: about 25 € per person. If you wish to have lunch or dinner, the price is about 50 € (excluding drinks).
Recommended for those who want to walk in a lemon grove in the heart of Sorrento.
3. Gastronomic tour of Sorrento
Undoubtedly one of the best tours of Sorrento. The gastronomy of the Amalfi Coast benefits from an unbeatable setting, halfway between the Mediterranean and the green mountains of the hinterland. The list below gathers the typical delicacies:
Alici di Cetara, delicious anchovies caught in the sea off the Amalfi Coast. Artisans clean them, add salt and put them under a weight. The liquid produced by pressing is known as colatura and is mainly used as a condiment for pasta. It is believed to be a relative of garo, the fish sauce that triumphed in ancient Rome.
Totani alla praianese, squid cooked over high heat with potatoes, olive oil and garlic. It is a classic summer recipe
Scialatielli allo scoglio, a cut of pasta similar to spaghetti but shorter and irregular in shape. They are served with a sauce based on fresh fish.
Gnocchi alla sorrentina, a recipe known all over the world. They are gnocchi with tomato, basil, mozzarella and grated cheese. Once cooked, they are baked in the oven for a few minutes to reach the ideal texture.
Torta Caprese, a light yet delicious sweet. It is a cake without flour but with dark chocolate and almonds. It is typical of Capri but can be found all along the Amalfi Coast.
Gastronomic tours usually start with an Italian style aperitif. You will be able to taste local cured meats and cheeses accompanied by a glass of Spritz. The dishes mentioned above are just an example, tours could include other typical recipes.
Duration: about 3 hours
Price: more than 100 €.
Recommended for those who want to discover the most delicious ingredients and recipes of the Amalfi Coast.
4. Sunset boat trip
A private tour with transfer from your hotel in Sorrento. The navigation is done on a Sorrento gozzo, the typical local boat reinterpreted in a modern version. You will see a very suggestive stretch of the Sorrento coast, with inlets and imposing cliffs.
In my opinion, the most interesting point is near the Roman Villa of Pollio Felice. On a small promontory are the ruins of the summer residence that belonged to Pollio Felice, a member of a noble family of Pozzuoli.
Another landmark of the route is the Bagno della Regina Giovanna, a natural pool on the promontory of Punta Capo.
These tours include stops for a dip or snorkeling. The navigation takes place in a protected marine area, an oasis of peace with crystal clear waters. During the whole experience you will also enjoy an aperitif (a glass of prosecco or other options) with snacks. At the end of the experience, a minibus will take you back to your hotel.
It is not an economical option but it is definitely worth it. If you want to spend less, there are boat trips at more affordable prices. You can find all the information in the article about the best boat trips from Sorrento.
Duration: about 3 hours
Price: the rent of a private boat is around 400 €.
Recommended for those who want to enjoy an exclusive experience.
5. Wine tasting in Sorrento
If the coastal towns have become internationally renowned tourist destinations, the hinterland has retained its agricultural vocation. In the hills of the area, white and red grapes are still harvested to produce some of the best wines of the transalpine country.
Tastings usually consist of four glasses, two reds and two whites. As for the varieties, these are the best known:
Aglianico, a full-bodied red, aromas of black cherry and red fruits with a slight note of black pepper. Its origin is unknown, it could have been imported by the Etruscans, come from Greece or perhaps from Spain. What is certain is that it is one of the most popular wines of southern Italy.
Falanghina, a fresh and aromatic white, ideal to accompany any recipe based on fish and seafood. Falanghina grows mainly in volcanic soils and is believed to have been introduced in Roman times.
Tintore, a robust red grown in the Tramonti countryside. It is a mountain grape that benefits from sea breezes.
Pepella, straw yellow in color with soft green highlights. It grows only in three municipalities of the Amalfi Coast: Ravello, Scala and Tramonti. It is a rare vine since production is limited compared to other varieties.
If you want to go home with a souvenir, I recommend Decanter Sorrento, an enoteca with restaurant within walking distance of the old town (Via Atigliana 6).
Duration: about 3 hours
Price: about 100 €.
Recommended for those who want to deepen their knowledge of wine with an expert sommelier.
6. Ebike tour in Sorrento
The Amalfi Coast is not only known for the sea but also for the mountains that surround it. An ebike tour will give you the opportunity to pedal among the olive groves and the famous cultivated terraces.
The tour starts in Sorrento and ends in nearby Massa Lubrense. The entire itinerary runs on the less traveled roads of the hinterland, has a length of 15 kilometers while the overall difference in altitude is 100 meters.
Don't worry, it's an experience within everyone's reach: the pedal assistance helps to overcome the toughest climbs.
Normally, the price includes a stop with limoncello tasting at Il Convento, a farmhouse in Massa Lubrense. Their lemons are grown without herbicides, respecting the environment.
You can buy a bottle as a souvenir and not only of limoncello; Il Convento also produces myrtle (obtained from the homonymous berries), arancello (orange liqueur), nocillo (nut elixir) and more.
As a general rule, these tours include an expert guide qualified by the Italian Cycling Federation, as well as the rental of an electric bike, a helmet and a few bottles of water. Find more info on the Enjoy Bike Sorrento website.
Duration: about 2 hours
Price: 60 € or little more
Recommended for those who want to do an activity that moves away from the traditional tourist routes.
7. Photo tour in a vintage Fiat 500
The Fiat 500 was the car that powered Italy. It was released in 1957 and is the symbol not only of made in Italy in the world, but also of the country's economic miracle. For these reasons, Italians hold it in high esteem and it is not uncommon to see well-preserved models on the country's roads.
In Sorrento, you can choose the routes organized by Positano Dolce Vita. In my opinion, their proposal is the best available. They have a team of photographers who will immortalize the most significant moments of the activity. In addition, the service includes a driver, hotel pick-up and a Polaroid souvenir photo.
If you choose the sunset option, you will also enjoy an aperitif in a luxury hotel. The tour is available all year round, but the departure time varies according to the seasons: in summer it starts around 18:30 while in spring, autumn and winter you will leave at 17:00.
Duration: about 2 hours
Price: between 250 € and 300 €.
Recommended for those who want to relive the atmospheres of the past.
When is the best time to visit Sorrento?
If you do not want to find too many tourists, it is preferable to travel in spring. Highs usually exceed 20 degrees and rainy days are rare. It is the ideal time to stroll, visit monuments and take an excursion to Capri from Sorrento.
Another advisable season is autumn. When the leaves turn red, Sorrento takes on a different charm. Winter is rather quieter and many hotels and restaurants are closed. However, it can be a good option to find budget accommodation. Summer is a great season but there will be many tourists.
Where to have a drink in Sorrento?
After a day of sightseeing it is worth relaxing with a cocktail in your hands, especially if you can enjoy at the same time a view over the Mediterranean. In Sorrento you can have a good drink in the following bars: