Naples in 1 Day: a guidebook for getting the most out of your visit
Only have one day to get to know the capital of southern Italy? Don't worry: from morning to night you can make the most of the best of this beautiful city in a quick tour.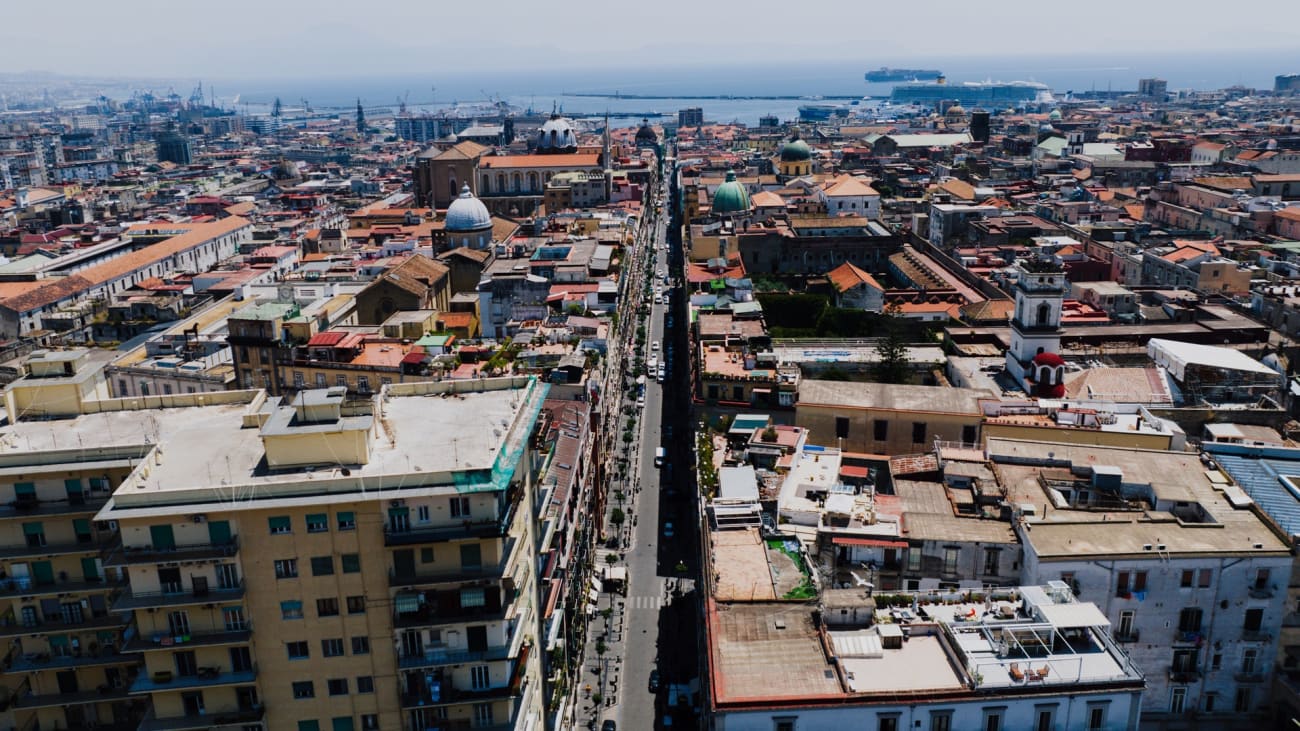 The south of Italy does not only exist in the movies and if you go to Naples, even if it's just for a day, you will realize how worthwhile it is. You will fall in love with this city, but if you are short on time, here is an itinerary to get to know the best of it. In the morning, you could start the walk from the top of the Vomero, one of the most important hills of the city. And you can close the day by the coast, watching the sun set over the sea.
It's true that much of what you can see will depend on the weather, the climate and how much you want to see. So that you have no excuse, I have prepared a list with a one-day tour of the city so that you know exactly what to see and do in Naples in a short time. Are you up for this whirlwind tour?
1. Dazzle yourself with the view from Castel Sant'Elmo
And what better way to start than from the top of the Vomero hill? If you come in a cab from the airport, you won't get lost getting there, because you can see it from all over the city.
Here you will see the huge castle that presides over this hill: Castel Sant'Elmo. It is gigantic and you will be amazed, because from there you can admire the whole city and it is already 700 years old.
It is a medieval fortification of military character that the then king of Naples decided to build because of its strategic position. Ideally you should be here from 8:30 am which is when it opens and you can visit it for free, so you don't have to spend more money.
This castle was already there centuries before the whole of Vomero was populated and even before most of the city. In addition to its sublime architecture and views, the castle houses a permanent museum, dedicated to all kinds of works produced between 1910 and 1980. For sure, if you visit it you can find more cultural activities and collective events that gather hundreds of people.
If you have very little time, do not complicate: from Castel Sant'Elmo you can take all the pictures you want and you can take the image of one of the best symbols of Naples.
Tour in half an hour its fortification posts, its grottoes and internal ramps and so, you will have the best view of the interior and exterior of the city.
2. Get ready to go down by subway or funicular
It's still early, so when you finish your visit to Castel Sant'Elmo, prepare your ride down the hill. You could take the Vanvitelli station on metro line 1 to get off and stay at the Museo station, our next stop, but that would not be as iconic as going by funicular.
There are four funicular systems in Naples, three of which go up to the Vomero, making them an indispensable part of the city's public transportation. Not many cities use these funiculars and for those who don't know them, they are an attraction in themselves, as they look like trains going downhill.
Although there are three options which are the Centrale, Chiaia, Merghellina and Montesanto funiculars, the latter is the one you should take.
When you go on the funicular, it is best to stay at the Corso Vittorio Emanuele station. This is an amazing, panoramic street that you can enjoy walking down for its views. If you stay at this station, you can walk about fifteen minutes north, cross at via Salvator Rosa and you will arrive at our next stop: the Archaeological Museum.
3. A visit to the Archaeological Museum
Now yes: welcome to the National Archaeological Museum, one of the largest archaeological centers in all of Europe. It makes perfect sense, because the proximity to the ruins of Pompeii and Herculaneum is enormous and therefore Naples has become an archaeological capital.
This building was built at the end of the 16th century, but it was first a riding school and then a university, so the museum only came much later. It was only in 1777 that the first museum work began and in 1860, after the unification of Italy, it became the National Museum.
If you arrive at this museum at about 10 or 11 in the morning, you will be able to do a very powerful tour in two hours. In case you stay 2 days in the city or more, it would be best if you could see more exhibits. But do you really want to leave Naples without having passed through here?
A couple of hours are enough to understand what this museum is all about and you can extend your tour until around 1 pm without being delayed any further from the itinerary.
The entrance fee is 15 euros and it is worth it from start to finish. When you're inside the museum, you can see up to five levels of collections, but my advice is to focus on two: on the first floor you can see the Farnese collection, which houses the Farnese Bull, one of the most important sculptures of antiquity.
Then you can go down to the basement, where there are the beautiful mosaics that have been discovered in Naples and the Egyptian collection.
4. In via Toledo, trattorias and promenades
If you finished your great visit to the Archaeological Museum then let there be no doubt: it's time for lunch. From the museum you can start walking down two streets along via Enrico Pessina until you reach the dazzling Piazza Dante, where a street that is the heart of the city begins: via Toledo.
If you have more time, nothing better than hiring a gastronomic tour of Naples to discover its food. In any case, you don't have to worry either, because in this street you will discover how amazing it is to eat in this city.
Right in Piazza Dante you can have lunch in some of the best restaurants and trattorias in Naples, such as the trattoria Leon d'Oro or the Antichi Sapori. All of them conquer the palates of tourists and locals alike. Enjoy your lunch with a view of the beautiful square and rest for a while, because there is still more to do.
When you finish eating, continue down via Toledo so you can stumble upon picturesque stores, such as Mario Talarico's handmade umbrella store, a symbol of the city.
This is one of the most famous and characteristic streets of Naples that crosses the entire edge of the Quartieri Spagnoli and connects you to the Umberto I Gallery. If you missed something to buy or if you want to spend a few extra hours shopping, then via Toledo is the place.
This via is a good meeting point to plan new tours and itineraries, within Naples and in the whole Campania region. Once you've gone down a few blocks, just cross over to the Galleria Umberto I.
5. Take a slight detour to Galleria Umberto I
Keep going down towards the sea. If you take a slight detour, you will enter the Umberto I gallery, one of the most beautiful places in the city. As its name suggests, it is a gallery where you can shop in the best stores in town. Its roof is made of iron and glass, which makes it totally transparent and allows sunlight to enter.
Even if you are not going to buy a pair of socks, the Umberto I gallery is a spectacle in itself. In the center of the gallery there is an octagon from which you can take all the pictures you want.
Its dome is imposing and can be seen from most of the city. In addition, its internal buildings are really spectacular, combining tradition with modernity.
The restoration of many buildings has given magnificent results, so inside and outside, you can taste all kinds of food or even see nightlife venues or potential rooms for rent. Plenty of luxury worth visiting.
6. Stop at the San Carlos Theater
Admittedly, there's a lot to do, but passing by Europe's oldest theater is not an option.
When you exit the gallery, you'll have the Teatro de San Carlos in front of you. Although many dispute this title, it is a fact that the Teatro di San Carlo, as it is known in Italian, is the oldest opera house still in operation in Europe. Moreover, it is a truly beautiful structure.
Founded in 1737, this theater is older than Italy itself and saw the greats of opera come and go, as well as serving as a model for the construction of many more theaters. In the mid-19th century, one of its managers was even Giuseppe Verdi, one of the most notable Italian opera composers.
You will most likely only have time to take a photo, but sometimes there are operas in the street and right in this space, facing Piazza Trieste and Trento, you can have a snack and a coffee at the historic Café Gambrinus, where all the stars have passed through in Naples.
7. From Piazza Plebiscito to Piazza Municipio
We are approaching the end of the walk and now there is only contemplation left. That's why, next to the theater of San Carlo is Piazza Plebiscito, a really big space. On its sides are beautiful buildings such as the Basilica of San Francesco di Paola or the Royal Palace.
This square is really big, so do not be surprised if when you visit it there is a cultural event or even a rally. Of course, there will be more chances to find some event if you travel to Naples in summer.
You can not miss the beauty of the Royal Palace, nor the basilica, which if you go well timed, you can enter about five minutes for all its architectural and artistic beauty.
If you walk a little further east, you can reach the square Municipio which is an elongated square that has an impressive fountain: the fountain of Neptune.
The truth is that everyone who passes by here can not fail to take a look at the god Neptune. Much less if in the background you see the Castel Nuovo, a medieval castle that looks like something out of a movie.
8. The sunset and dinner from Castel dell'Ovo
Is it getting close to sunset already? Well, it's been a long ride, hasn't it? Don't say goodbye too soon, the Castel dell'Ovo or Castel dell'Ovo, in English, is the best place for you to watch the sunset.
This castle, located right next to the sea, is the oldest in the city and began to be built in the first century BC. You will only have to walk along via Ammiraglio Ferdinando Acton for a couple of kilometers, bordering the coast until you reach via Partenope and then go down to the tiny peninsula where the castle is located.
If you take a guided tour of this beautiful castle, you will surely be told that its name comes from a legend that held that the poet Virgil had hidden in the castle a magic egg that was responsible for the construction never to be destroyed. However, the egg was broken and in addition to the collapse of the castle, the city was plagued with different evils.
What about you? Do you think this could have been true? This is a topic you can discuss over dinner, so head to the cafes and restaurants in the marina behind the castle, such as the Trattoria Castel dell'Ovo for the best pizzas or the Officina del Mare, if you want to taste the best seafood while watching the night fall and breathing in the sea air.
Walking or using public transportation in Naples?
If you are only going to be in Naples for a day and you want to do some extensive sightseeing, then be prepared to walk. However, this is not the only option. For starters, you have tour bus options in the city that can take you on fantastic tours, without you having to use public transportation. If you are looking for comfort, this is a great option.
But if you decide to use public transportation, Naples has a metro system with two lines (1 and 6) and there are also several train lines that pass through the city and can even take you to places a bit farther away. Add to that the iconic and fantastic funiculars and buses. In total you have:
Lines 1 and 6 of the Naples metro.
Line 2, operated by Trenitalia
Naples Funiculars (Chiaiaia, Morghen, Montesanto and Mergellina)
Circumvesuviana Train (Naples-Sorrento)
Circumlegrea Train
Cumana Train (Naples-Pozzuoli)
All the route I suggested can be done on foot, but there are places where it is advisable to take the funicular, especially from the Vomero to the lower part of the city. Even if you need to go quickly to the coast, you can take the metro line 1 from the top of the city.
In any case, you can buy the Unico Napoli card, with which you can use all the transport systems, no matter if they are operated by different companies.
Although individual trips cost just over one euro, you can play it safe and buy the card, especially if you are using Naples as a starting point for excursions to other places in the region, such as Pompeii or Mount Vesuvius.